An Update on Updates: Vocal's Upcoming Features
What's coming to Vocal over the next few months.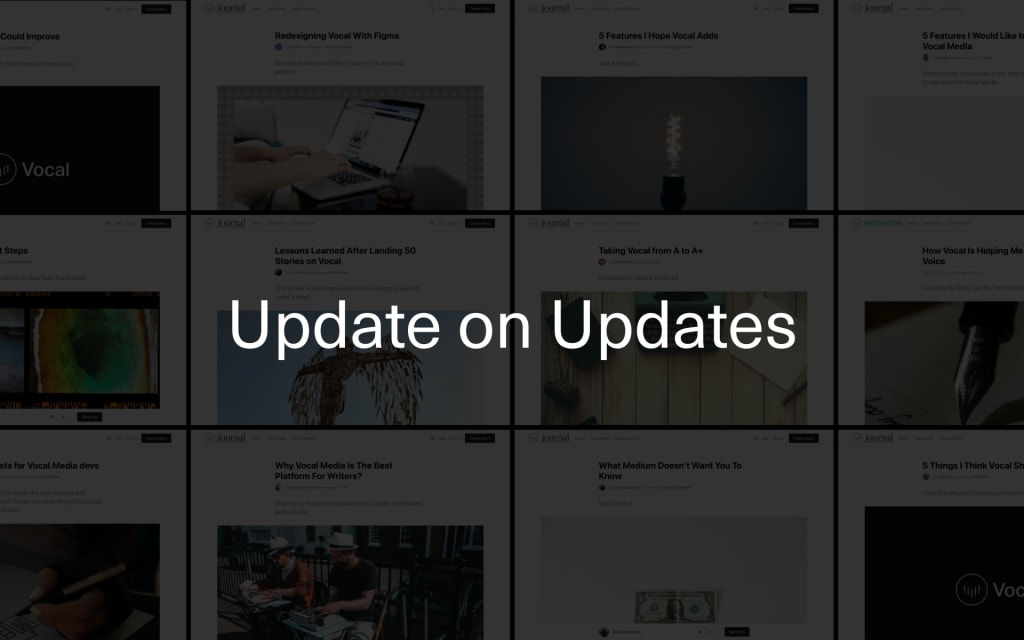 Two years ago, in May of 2019, we introduced Founding Memberships to Vocal+, which asked our creators to be some of the first to test out Vocal+ membership. We've always relied on creator feedback to help us build new features and services to improve the Vocal community. And now, a year and a half since we launched recurring Vocal+ memberships, Vocal has grown significantly—we're now home to over 1 million creators and their stories, and over 25,000 Vocal+ members.
We've been continuously impressed by how you, our creators, are so invested in building this community alongside us. We want to bring you up to speed on the platform that serves as the home to your stories—where we've come thanks to your support, and where the future will take us together.
It's all thanks to you
One of the biggest ways you as a community have shown us that you have a true interest in the future of Vocal is by publishing so many stories that provide us with feedback on the platform itself. Over the last year or so, we've received hundreds of submissions including suggestions and requests.
At Vocal, we believe in championing creators, and we want to thank you for sharing your ideas on how we can do that better.
We'd like to thank creators like:
To these and all creators who write stories with feedback and suggestions about Vocal, we see you and we appreciate the time that you take to share your thoughts and opinions about the platform. We want you to know that our team reads every single one of your stories—we share your pieces of feedback with each other, we discuss them in our roadmap sessions, and we take your requests directly into account when planning for the future. Every update and new feature we build isn't just for you, it's because of you.
Changes we've recently made to Vocal
With that in mind, we want to give you a rundown on some of the exciting updates and features we've introduced since last year. Vocal recently released significant design and functionality improvements on the platform to enhance user experience and support the outstanding growth of the Vocal community.
Some of these recent updates include:
A full platform redesign, featuring a more refined navigation experience for your readers. This supports increased discoverability and a clearer, more straightforward user experience.
Surfaced community metrics that highlight the health, safety, and user volume of the creators and communities on the Vocal platform.
A new Challenges interface.
Back-end infrastructure enhancements, to help keep the platform running smoothly.
Important accessibility improvements.
Creator Bonuses, which allow us to reward you more directly through your Wallet.
The ability to sign up or sign in with Apple.
And most recently, we're excited to introduce our newest feature: The Vocal Ambassador Program. Vocal's Ambassador Program allows you to create your own unique links, to help you spread the word about Vocal membership and to share your stories. If any of your followers or readers visit your link and upgrades to a Vocal+ membership, you'll be rewarded with direct payments. We know how many of you are out there actively encouraging other creators, liking and sharing their stories, and we hope that this Ambassador Program will be just one more way to reward you for getting your audience involved.
Sign up for our Ambassador Program to invite your friends and get rewarded.
New features we're looking forward to
In addition to these changes that we've already implemented, we have exciting new updates scheduled for release over the coming months. We want to help you strengthen the relationship you have with your fans and audience, and many of these planned features and updates are meant to help you engage with your community and build your audience.
Quick Edit
Maybe our most-requested feature update yet: Editing gives you necessary control over your own stories, but it's more complicated than it sounds for a platform that values safety and proactive moderation as much as Vocal does. We're working hard to build a feature that allows creators to edit their story after it's been fully moderated without putting our community at risk with too much un-reviewed content on the platform. And we've come up with a solution that we think works, coming soon: Quick Edit will allow creators to edit only the contents of the body text of their story, and will be the first step towards a more robust suite of post-publish options, including the ability to unpublish your own stories.
Following
We are excited to roll out community-building features that facilitate on-platform engagement, including the ability for you to follow one another. Following is important for you as a creator, but it's also crucial for readers as well. This way, not only will you be able to build up an audience of fellow creators and fans who want to support you, but you'll also find it easier to keep up with and support other creators whose stories you really love.
Commenting
Commenting features, which are also expected to be released in the coming months, will allow Vocal creators and audiences the ability to communicate directly with each other. We've heard your requests for more ways to connect with your favorite creators on Vocal, and to receive feedback on the stories you share—and we think that these features, along with other engagement updates down the line, will facilitate that direct connection.
Recurring Creator Support
After reviewing the success and feedback since the introduction of Tipping, we knew that we needed to give fans another way to reward their favorite creators. By implementing a recurring monthly support model, your fans are able to subscribe to your profile, providing you with the stability of monthly support—and the incentive to keep creating regularly. We're always looking for more ways to help creators earn, so we're thrilled to add this monthly recurring support structure to our growing arsenal of monetization features like Creator Bonuses, Reads, Tips, and Challenges.
We hope that these new features and updates (both implemented and upcoming) will continue to provide you with a platform that's enriching and inspiring. We are truly thankful for the support that you've shown us as we continue to build a sustainable home for creators and their audiences alike.
If you have any feedback or suggestions, please always feel free to get in touch with our customer support team.
About the Creator
Founder and President of Creatd (Nasdaq: CRTD), the parent company of the Vocal platform.
Reader insights
Be the first to share your insights about this piece.
Add your insights