Vocal's Next Steps
8 Things Vocal Should Do to Take Over the Internet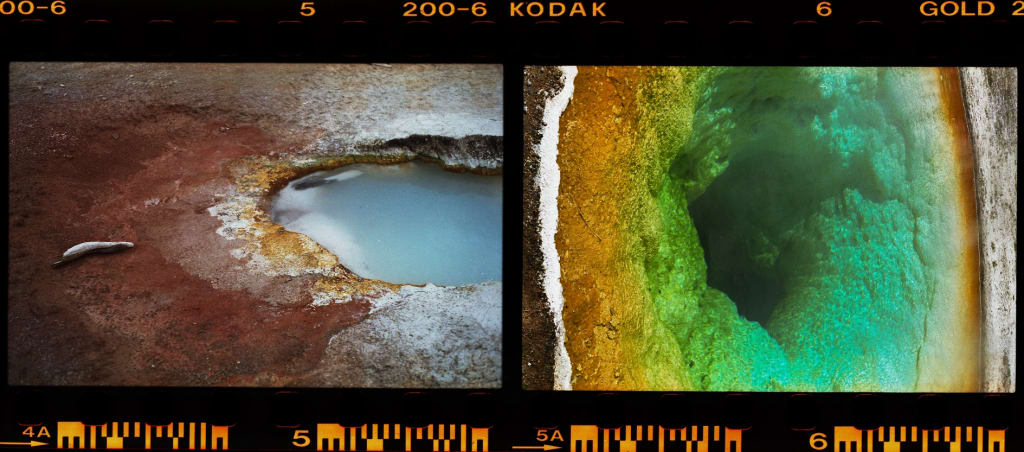 After 15 stories, 8 "top stories" featured on the front page, 1 story place in a challenge, and more than 2,000 story views, I'd like to think that I've become familiar enough with Vocal to share some thoughts and ideas.
I've really enjoyed Vocal, and have even "broken even" on my yearlong Vocal Plus subscription already. But there are a few improvements that would make it an even more compelling option for creatives (and artists) everywhere.
Without further ado, here are 8 Things Vocal Should Do to Take Over the Internet.
1. Add the Ability to Follow Creators
This feature shouldn't come as a surprise, and is even listed as "coming soon" on the Vocal Plus info page. Adding the ability to follow your favorite creators will be a huge benefit for writers and readers alike.
Writers will be able to see an increase in reads when they post new stories, and readers can be served more stories from their favorite writers.
It hasn't been announced how this feature will work, but adding an "email subscription" box underneath each story and on the Vocal creator pages would make it easy for people to receive email notifications when new stories are posted by writers they enjoy. Requiring only an email would be convenient for Vocal members and visitors alike. If visitors are required to make an account with Vocal in order to "follow" a writer, I worry that might be enough friction to make them change their minds and go without.
One of the benefits of Vocal is that creators are on a level playing field. There are no "follower counts" or visible "likes" on stories or creator pages. I would recommend keeping it this way, and making follower counts visible only to the creators. (Being able to view and send messages to followers' emails directly would be a huge plus, too.)
2. Make it Easier to Edit Articles
It's possible to edit stories that have been posted to Vocal, but it requires emailing the Vocal support team and waiting for them to revert your published story back into a draft. Changes then have to go through the moderation approval process too.
Don't get me wrong, the Vocal support and moderation teams are fantastic! (I like to think I help keep them busy and in business.) But for the sustainability of the platform, Vocal will have to find a better way for quicker, easier editing--a way that doesn't result in broken links while stories are being edited.
3. Focus on Recruiting Readers, Not Just Writers
As many of Vocal's 25,000 paid subscribers can attest, Vocal's targeted social media advertisements are pretty effective. They often promote a challenge and the possibility of cash prizes as an incentive to encourage creators to join the platform and contribute a story. (It worked on me.)
Thanks to these advertising efforts, it seems that the overwhelming majority of visitors to Vocal are creators. It's up to these creators to find audiences for their stories and leverage their own platforms and marketing efforts to gain reads. As a result, lots of people visit Vocal to read a specific story that catches their eye, but not enough of them are sticking around to read other stories.
SEMrush reveals that Vocal receives around 1-2 million organic visitors per month. Wow! With figures like this in mind, I expected my first "Top Story" (also my very first post to Vocal!) to blow up overnight. Sadly, that wasn't the case--and hasn't been for any of my 7 other "Top Stories" since. (Confession: Even my most-viewed story has yet to break 500 views.)
Vocal should invest a portion of their advertising budget to gaining the attention of readers and not just creators. (Perhaps they promote each community to people on social media who have related interests.)
4. Update Featured Posts After Each Story
One of my most-wanted features would also help increase the amount of readers that visit--and stay--on Vocal.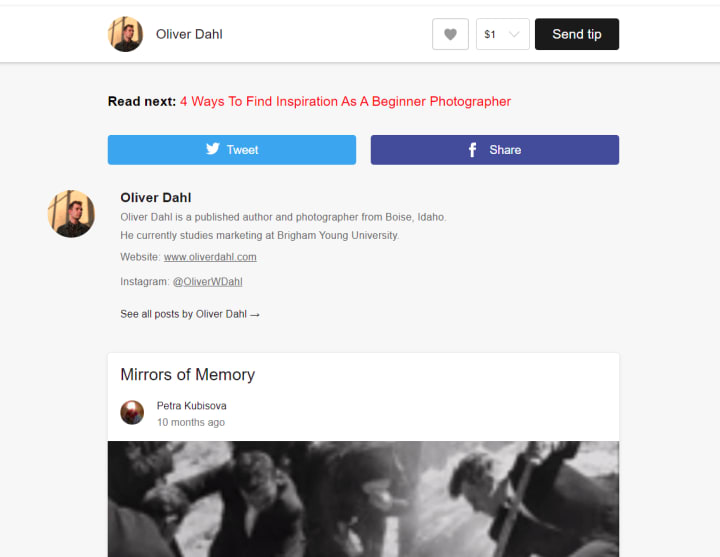 At the end of each story on Vocal, there are a few different items: a bar with a link to the creator's page and an option to send them a tip, a suggested article to "Read Next," options to share the story on social media, the author's bio, a small link to see more posts by them, and then a series of recommended posts. (These aren't customized and seem to be standardized across the tag that the story is posted on.)
Because so many of Vocal's visitors seem to leave after reading whatever story they visited for, the bottom of each story page deserves particular attention as it is likely the last thing these visitors see before leaving.
Accordingly, Vocal should replace the current recommendations with more posts from the author. Instead of a tiny "See all posts by Oliver Dahl" link, the entire footer should automatically be filled with more of my posts. Make it as easy as possible for people to keep reading more from the creators they enjoy.
There is also room to clean up the footer area and make it easier for readers to leave a tip and share the post on social media. Adding other networks like LinkedIn and Pinterest to the share options can help attract wider demographics of readers and establish Vocal as a thought leadership platform on par with Medium.
5. Update Featured Creators
On Vocal's home page, there's a section below the "Top Stories" and "Challenges" dedicated to featuring some of Vocal's favorite creators. There are two problems with this feature.
1. There are too many people featured at once to allow any of them to stand out. If there were only 4-6 with a brief bio or a top story from each person, they'd be more successful in helping promote the featured writers.
2. It seems like the creators are randomly featured, and the list changes by the minute. With this particular selection of "Creators We're Loving," only two of them had posted within the last month. (One of whom is the CEO of Vocal.) The rest hadn't posted in 2 months or longer, and some had even been silent for 8 months or longer. One of them doesn't even have a profile photo!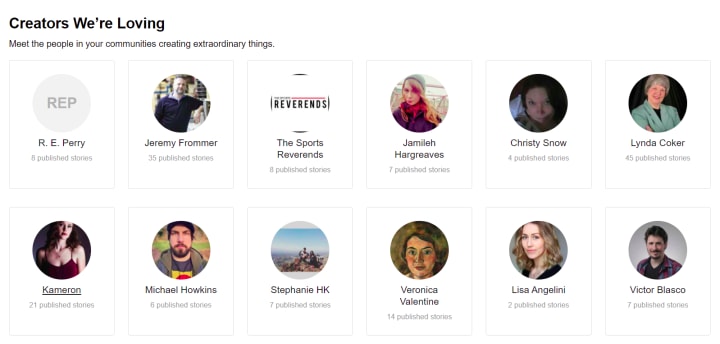 Updating the list of top creators more frequently and carefully (curating them as well as the "top stories" are) would be a great way to help cultivate increased readership among Vocal's visitors.
6. Improve Image Quality
This is a big one.
Several of the ads I saw for Vocal before signing up were targeted at photographers--an audience that has a lot of potential here. I've used Vocal mostly to share my photos. I love how I can tell more of the story, point out more details, and include more insightful artist statements with my work. Vocal provides a depth of photo-sharing that platforms like Instagram and Twitter just can't compete with.
(But...)
As of right now, image uploads are limited to file sizes of 5Mb or less. And on top of that, it seems like images are compressed even smaller afterward. This may not be something that the casual viewer notices, but for me (and pixel-peeping photographers like me) it's almost enough to be a deal breaker. Having to resize my photos before being able to upload is an absolute pain, and diminishes the quality. (It also slows me down and results in me posting less frequently.)
For a platform that has specifically targeted itself towards photographers, (and frequently features photography challenges) Vocal really needs to adapt to allow higher resolution images.
They could even go above and beyond by adding a "lightbox" feature. This would allow readers to click or tap on an image, and then view the image in full screen. In my book, this would rank Vocal among the best image-viewing experiences on the web. (Which is a high-paying field they should aim for as Instagram seems determined to kill itself off.)
7. Create a Fiction Community
Despite my beginnings as a fiction novelist, I haven't used Vocal to share any of my fiction work.
Vocal doesn't currently have a "Fiction" community the way it does for "Photography" or "Poetry," and instead fields fiction stories out to the closest-to-relevant community, often alongside nonfiction or memoir pieces.
From a reader's perspective, visiting any of Vocal's communities would lead me to expect primarily non-fiction pieces--essays, blogs, tips, and so on. Communities like "Horror" and "Filthy" might be conducive to these fiction pieces as well, but it seems like writers and readers alike would benefit from a dedicated community for fiction. (At least the kind of fiction and short stories that wouldn't fit under "horror" or "filthy.")
With massive competitors like Wattpad and others, Vocal could probably stand on its own and find an explosion of growth by separately categorizing fiction from its other content. (I imagine a "fanfiction" community would grow pretty quickly, and likely gain a serious following.) Adding these communities would also help the other communities remain more focused and relevant.
8. Take "Tips" to the Next Level
Thanks to extraordinarily kind readers, I've earned more than 3x as much in tips as I have from "reads." I love that my posts are publicly accessible and free to view, but that people can still leave a tip if they want to.
That said, I can't help but think of ways that Vocal might improve their system to become more profitable for creators and to compete more directly with some of their membership platform competitors.
Vocal currently supports one-off tips, but what if they also allowed readers to opt in to a monthly tip? I think there is a percentage of readers who would be willing to "tip" $1+ a month to some of their favorite creators. This kind of recurring revenue for creators could quickly become life-changing as audience sizes grow. (Patreon, which is built strictly on this business model, boasts $4 million in monthly revenue for their creators.)
I also think there's room for creators to do some innovative things to reward, thank, and incentivize their supporters.
For example, what if certain articles were "unlocked" for anyone who left a tip on a creator's profile? Maybe even more stories could be unlocked for the readers who opt-in to a monthly subscription.
This "unlockable" content idea, and even the potential for subscription/tip "tiers" could help Vocal compete more directly and capably for creators against other platforms like Patreon, Buy Me a Coffee, Substack, and even sites like OnlyFans.
That's a lot of potential revenue on the table, and Vocal's already unique platform for long-form stories has powerful potential to stand out.
Conclusion
Vocal is a capable, attractive, and... imperfect platform for online creators. It invests a lot into its writers and has done so much for so many. With a little extra work and investment, I truly believe Vocal could represent and become the future of online publishing.
Implementing these 8 suggestions won't just improve my experience on Vocal. It will help Vocal become a more universal, more competitive, and more successful platform as a whole--for creators and readers alike.
Oliver Dahl
My Procedure:
I examined accessible website statistics and social media display ads to determine that Vocal should take action to encourage readership and reduce their bounce rate. By studying some of Vocal's competitors in the online publishing, photo sharing, and membership platform spaces, possibilities for growth in creator revenue and fiction categories became clear and promising opportunities. Finally, through reflecting on my own user experience, a few frustrations highlighted additional opportunities for change that would help Vocal fulfill its goals of increasing readership and maintaining creator subscriptions. Participating in Facebook Groups with other Vocal creators helped reaffirm some of these recommendations.
To hire me for a website audit, competitive analysis, user experience study, portfolio review, or for publishing help, please visit my website. I'm happy to provide consulting services for your creative projects and businesses.
About the Creator
Oliver Dahl is a published author and photographer from Boise, Idaho.
He currently studies marketing at Brigham Young University.
Website: www.oliverdahl.com
Instagram: @OliverWDahl
Reader insights
Be the first to share your insights about this piece.
Add your insights