Dopamine Rushes
I get a dopamine rush whenever I view faded, worn shutters in varying shades of turquoise traveling in Portugal, Greece, Spain, Italy, Egypt, or Morocco. My mood heightens if there are pink geraniums or bougainvillea nearby. I love to wear turquoise jewelry, and it is the first paint I like to splash on a blank canvas. I also especially love the contrast of a color palette with bright pink and turquoise.
What is it about turquoise and the psyche? We know color can stimulate the mind and affect our mood and emotions. If only I lived in a house with turquoise around me….
Turquoise in Nature
Memories of Summer holidays, swimming in clear turquoise waters clothe me in feelings of tranquility. When I try to make myself sleep, my overactive mind quietens by dreams of turquoise waters. I imagine swimming slowly through calm turquoise waters with schools of fish moving around me. I float in nothingness count each fish until I fall asleep. I choose to dream of pink, orange, or black-colored fish against a shimmering, turquoise background. Like watching a slow-moving screen saver, visualization is a meditation for me and sends me deeply asleep.
Curating Images of Turquoise
I curate images of houses with turquoise on Pinterest. One board curates images of shutters and French Doors- new and shiny or tired and worn. Another board curates interiors with splashes of turquoise in soft furnishings or tiles. A turquoise vase or tiles capture my attention, or even a turquoise coffee cup in a white kitchen. Jewelry with turquoise is dived into separate boards- "Turquoise Necklaces," "Turquoise Earrings," and "Turquoise Bracelets."
Turquoise Jewelry
Turquoise was prized as a stone of good luck across time and place. Throughout the ages, jewelry with turquoise was attractive and symbolic. A protective gem symbolizing tranquility, wisdom, hope, and protective powers. The turquoise of the sea of the sky is captured permanently in a wearable gem. The Aztec culture prized turquoise. In Nepal and Tibet, the turquoise represents the sky and is a token of love. In Morocco, turquoise features strongly in art, design, and again in jewelry. Tibetan, Moroccan and Indian jewelry featuring turquoise traveled through Arabia along the camel routes and the silk roads to Morocco and European countries. Now the "Aramex Trade Route" delivers turquoise jewelry to women of all cultures across global destinations.
Shopping Online
I see a house with turquoise shutters advertised online. The dopamine lights up in my brain. In a frenzy, I search for different images with different views and angles. The final photo shows the turquoise sea views from the roof. It captures my imagination.
The faded, turquoise shutters, cry out " Restore Me" in my dreams like a siren to the sailors from the turquoise seas.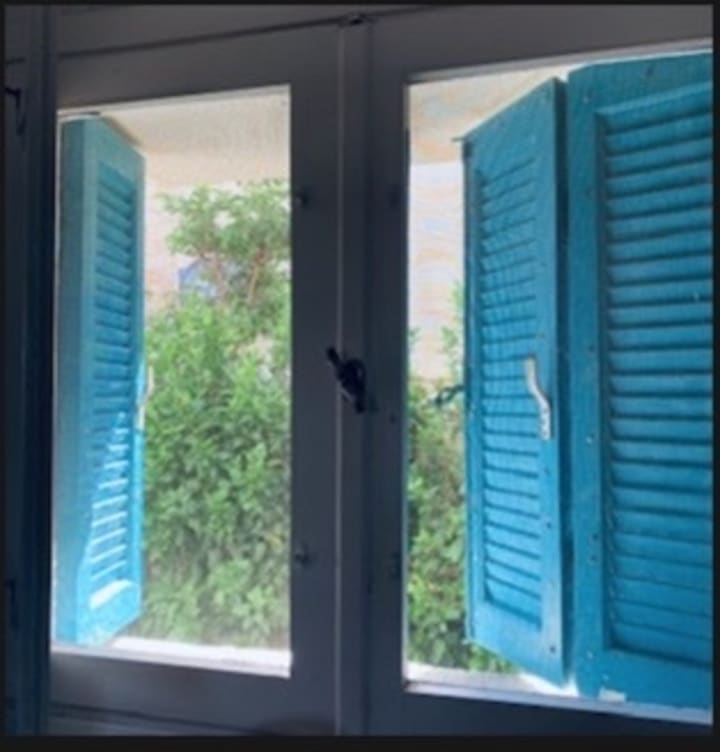 I look the next day again. The turquoise shutters brightly punctuate the sandy-colored exterior and blend with the terracotta tile awnings. I see bougainvillaea in the distance. Upstairs, the shutters frame views of the turquoise sea. The dopamine rush of living in a house with turquoise shutters and a turquoise sea was overwhelming, and so I made an offer well below the listed price.
I waited and designed a garden with bright pink geraniums in terracotta pots, palms, and pink bougainvillaea dripping over the fence. The following month, I imagined plans for the interior. By February, during the lockdown, I designed a boho vibe interior, playing with the idea of distressed turquoise paint to recycle and give new life to the old furniture that came with the house. In March, I curated images of white kitchens with turquoise highlights and explored traditional Moroccan bathrooms.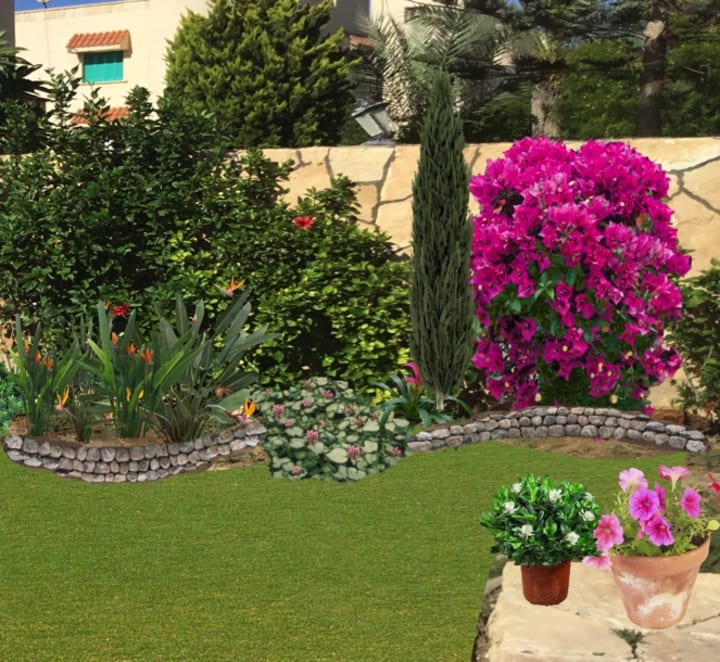 I waited four months and dreamt of turquoise seas and shutters. In April of last year, the owner accepted my offer. I was ecstatic and bought the house online!
Briddy is an Australian writer enjoying freedom in her Feisty Fifties. Her Twitter handle is @BriddyBrigid.
Source: Slightly adapted from my original Article published in Medium https://medium.com/illumination/my-turquoise-obsession-2e060b8d4dfa