Depression, Anxiety, & the Troubles That Ail Us!
This is my story!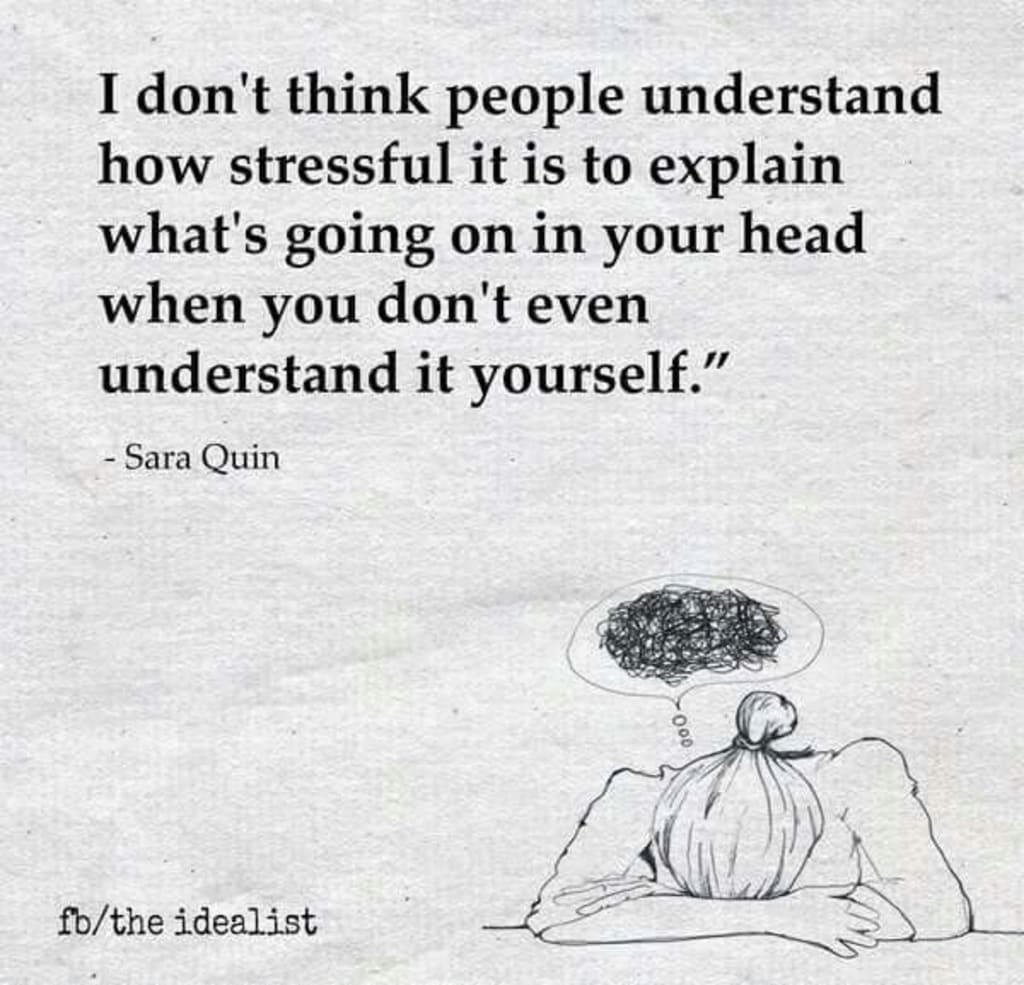 About a month ago I suffered a major anxiety attack. I was at work doing my thing and everything was fine... until I went outside to water the flowers and BAM it hit me!! It hit me like a ton of bricks!
ALL I could think about was dying and how who knows what happens when we pass. It terrified the hell out of me and it's ALL I could think about for days. That feeling you get in your stomach that makes you feel like you'd rather be in bed indefinitely...
For days it bothered me more than I can even begin to explain. Over the past two to three weeks, I've started to feel a bit better; however, now I have acid reflux, or should I say GERD! I've started to feel depressed again and feel like I'm slowly falling apart.
I've been to the doctors three times in the past two and a half weeks. In July 2012, I was in a car accident and rear ended by some ignorant driver who wasn't paying attention. I became severely depressed after this. Things were going great in my life before this happened and since then nothing has been the same.
After a year of crying, screaming, dizziness, suicidal thoughts, and thinking if I have to live in pain, I'd rather not live, I complained to my family doctor (who was my doctor from the day I was born) about everything I was going through and he never took me seriously... He had excuses as to why specialists wouldn't see me or he'd just give me prescription after prescription. I went to see him EVERY month and still he didn't do his job as my doctor... He was a person I relied on until he proved he wasn't trustworthy.
It took my husband watching me self-distrust to get me the help I needed. He works in the medical field and he got me an appointment to see a psychiatrist... A YEAR AFTER MY ACCIDENT! He saw my doctor—a LICENSED MEDICAL PROFESSIONAL—treat me horribly and through connections got me in to see a psychiatrist within just a few weeks.
I attended that appointment and explained everything I went through and was then diagnosed with "Major Depressive Disorder." I then went back to my doctor and he had me fill out this sheet only to determine I in fact had severe depression—A YEAR LATER!!
It was then that he prescribed me EFFEXOR XR. Now, knowing what I know about it, I'd NEVER recommend ANYONE take this medication... Having said that, it has helped me overcome my depression over the past five years!! It helps when you really need it... BUT it's very difficult to come off of. I have tried twice and let me tell you, the withdrawal is TERRIBLE!! Basically, you need to VERY SLOWLY taper down your dose. You basically need to detox off of it the way you would with any addictive drug.
I am now starting my third taper off of it because I am starting to feel depressed again and don't feel as I did a month ago, a year ago, or before the accident. I'm starting to hate my job, starting to hate working, and all I want is to be with my family. I'm short tempered and feeling anxious, and am now trying to wean off of the Effexor and starting something new... because the withdrawal off Effexor is THAT BAD! Had I known this, I would have said NOOOOOO WAY!! Again, my idiot doctor prescribed this... the psychiatrist prescribed Prozac... and I should have just told him I'll take that instead, but like an idiot I trusted him.
Today, I asked my doctor to switch my antidepressants because I can't live feeling the way I do. It's exhausting mentally, physically, and emotionally!! I need to feel happy and think about the important things in life and not worry about the things I can't control. I can control my mental health with the help of my doctor. By the way, after I settled my car accident, I found a new doctor!
Next week I am also going to see a Naturopath to see her view on things, because they have a different way of doing things and maybe she will tell me things I don't know. Thank goodness for good benefits!!!
I don't know how tapering off Effexor and starting a new antidepressant will effect me, but I'm optimistic that this change will be good.
One thing I can suggest is that you do research BEFORE you take an antidepressant and don't take Effexor if you ever want to stop taking it... Because it's not a walk in the park.
Just remember no matter what you feel, you are worth it...