Shootin' The Breeze
Recipes For A Perfect Moment Of Summer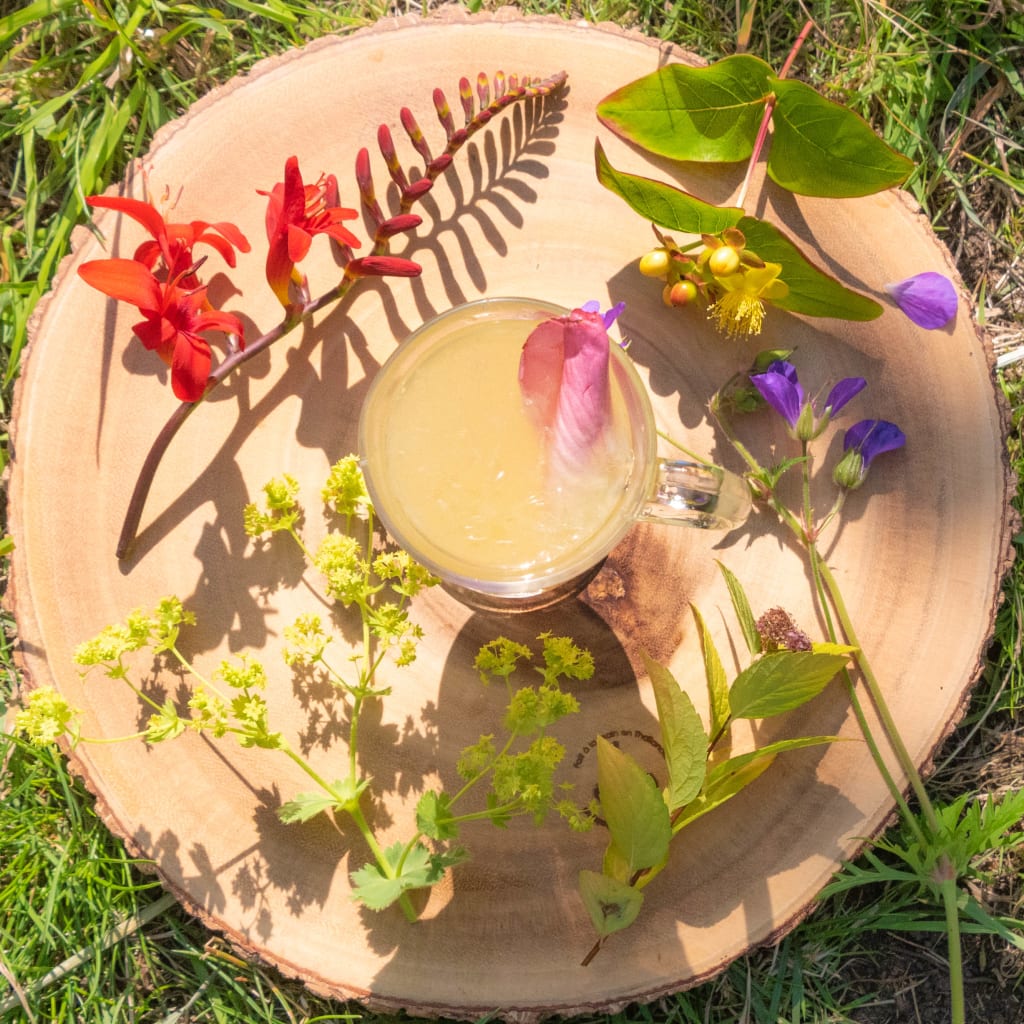 Summer is here; the birds are singing, the bees are buzzing, the grass tickles beneath your bare feet and the smell of sun-cream is already transporting you to far-flung places filled with heat and relaxation.
To me, the perfect summer cocktail should be something that captures the moment. Something that has the power - where or whenever you next take a sip - to transport you right back there, to long summer days - and even longer nights - of freedom and happiness. A moment of summer held in a glass.
It's in summer, when we're diving head-first into relaxation and just soaking-in the moment, that we're able to feel most connected to the world around us. It's only right then, that a moment-capturing cocktail should also contain a part of the world around us. Something carefully crafted, distilled from the environment of the moment. That key ingredient, of course, is honey.
Honey is marvellous stuff, and so greatly influenced by the place and time that it's made by busy bees that every drop tells a story. A story of the wide world, of what was in bloom on that particular day, and how each little bee in the hive danced away, all working together, to create something magical.
Honey is something I can get a little picky with too, because while the flavour is very important, where the honey comes from is even more important. I'm talking about the bees themselves. Without bees, our world simply wouldn't work, and we wouldn't have the luxury of making special memories in perfect moments and sipping impeccible cocktails.
So my one recommendation for a key ingredient is to carefully select your honey. Choose organic honey, so you know that you're helping support a pesticide-free environment, which makes for happy healthy bees. And if you can choose local or wildflower honey, even better. Here's to the bees!
Now allow me to share some on my favourite honey-infused, moment-inspired summer cocktails with you.
Sharing a drink with someone gives you the chance to share a moment, to share a story, and maybe to create new memories. So it is my pleasure to share with you not one, but three moments that I could equally describe as the essence of a perfect summer memory.
___________________________________________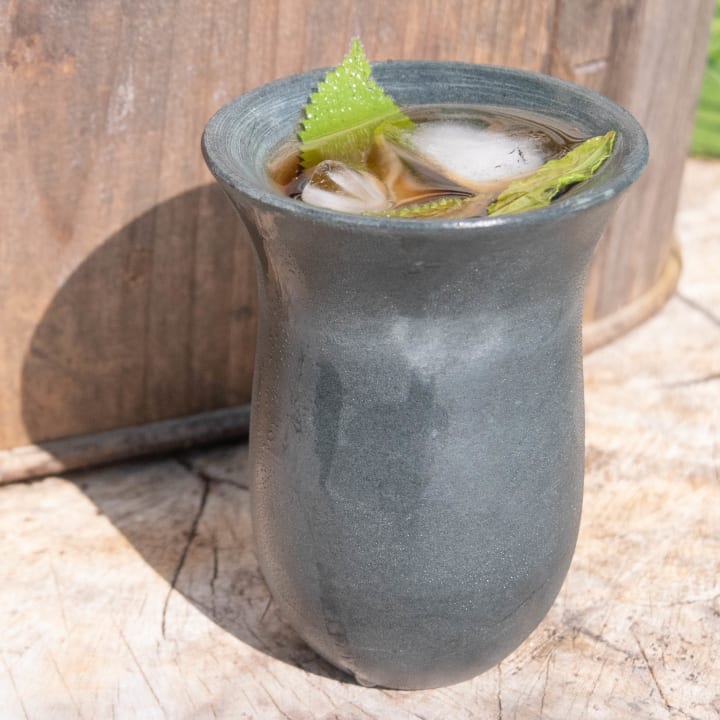 1. Mint Julep
It was an oppressively hot day when I first discovered the classic that is the Mint Julep. My partner and I were visiting friends in Belfast at the time, and the height of summer in the city-centre made the air thick and clingy, leaving us wilted and clammy by 11am. But that's just part of the joy of summer, and we enthusiastically set out on a sight-seeing adventure, doing all of the classic tourist-y things that our friends, as residents, hadn't done, and then exploiting their local expertise to discover even more of the city.
That was how we found ourselves at a fantastic little bar with a terrace for a 'quick refreshment' after lunch. The sun was still high in the sky when we picked up the cocktail menu and each chose something at random, and by a twist of fate I was served my first Mint Julep. This drink is one of the most incredibly refreshing cocktails I've ever tasted, and it's simplicity serves as a sweet reminder that whatever comes our way, one of the best things in life is good company with which to while away an afternoon.
Ingredients:
Double-measure of bourbon.
Spoonful of runny honey.
Sprig of fresh mint.
Directions:
This drink is about simplicity and patience.
Start by mixing the honey and the bourbon in the bottom of the glass. Once the honey's dissolved, add half a dozen fresh mint leaves and aggressively muddle it all together – you're wanting to smash the leaves up a bit, releasing the flavour into the mixture. As you start to smell the aroma of mint and the bourbon rising, fill the glass with ice, and stir stir stir. This is one of those cocktails where you want the ice to water the liquor down for you, and it's best enjoyed ice-cold.
Once the ice has melted enough to fill the space between the cubes, you're good to go.
(I like to serve mine in this neat stone-cup that can be stored in the freezer, just to keep the julep perfectly chilled in the summer sun).
___________________________________________
2. Bee's Knees
There's something utterly wonderful about this powerful little cocktail, and I was introduced to it rather unusually; I read about it in a book called The Starless Sea, by Erin Morgenstern.
It was earlier in the year, starting to dream of the summer that was yet to come, and feeling generally a bit weighed-down by the monotony of it all. So a new release by one of my favourite authors provided the perfect bit of escapism. Morgenstern's writing is fantastically immersive, and while she paints vibrant environments and fascinating characters, she's also generous with her descriptions of food and drink. It really is a multi-sensory experience, reading one of her novels.
Towards the end of The Starless Sea, the protagonist Zachary Ezra Rawlins (a bit of a cocktail buff himself) is presented with this cocktail by a hive of magical bees living in a dolls-house of (presumably) their own creation. From the author's short but sweet description of the drink it sounded delightful, and I decided I had to try it.
Ingredients:
1 measure of gin (your favourite).
1 measure of fresh-squeezed lemon juice.
½ a tablespoon of set honey.
Dash of Orange Bitters (if you have it).
Directions:
First, mix the honey and the lemon juice together in the bottom of a glass. Once the honey's dissolved, add ice, pour over the gin and add a dash of orange bitters. Stir until it's suitably chilled, then serve with just one or two ice-cubes. Easy.
Then comes the garnish, and this is a great opportunity to have some fun with edible flowers. Pansys, violets, primroses and even lavendar would all garnish this drink beautifully, but my personal favourite is simply a single rose petal.
As the sun starts sinking lower in the sky, this punchy little cocktail is a great accompaniment to a boozy afternoon tea, or as a pick-me-up after a siesta. The intense sweetness of the honey with the sour citrus is the most delicious lip-smacking bonanza, but all that sugar and acid is a dentist's worst nightmare, so enjoy it gently as it flows across your tongue like nectar.
___________________________________________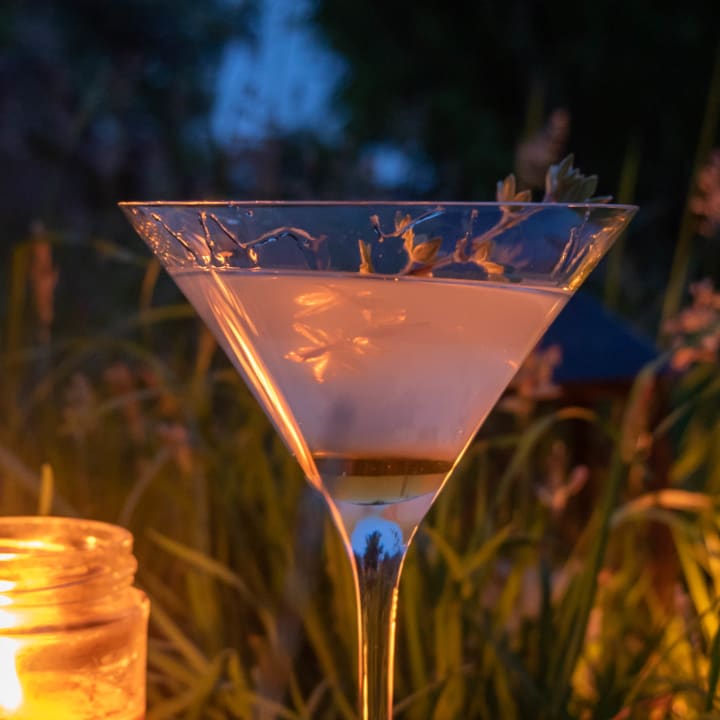 3. Târnava-Martini
A few years ago I was part of a conservation expedition to a remote part of Romania called Târnava-Mare, in the region of Transylvania, nestled in the foothills of the Carpathian Mountains.
It's an incredible place; rural doesn't begin to describe it. Local customs have prevented farming practices from changing for about 600 years, with only the slightest modernisations creeping in. Ancient breeds of cattle and sheep graze the pastures all day long – and literally bring themselves home every evening. The lifestyle of the people who live there is un-hurried, tranquil, harmonious. And covering hill after rolling hill, are blankets of wildflowers.
From a conservation perspective, it's truly remarkable; the sheer number and diversity of grasses, herbs and flower species found in any square meter there boggles the mind, and is one of the last remaining places on earth where such floral biodiversity is possible.
It smells phenomenal; an olfactory cocktail of flowers, herbs and sweet earth on a warm breeze. And the local honey is amazing.
We didn't really experience drinking during our brief visit to this rural paradise, so it wasn't until about a year after my return home that I was able to revisit Târnava-Mare with a meadow-inspired cocktail of my own creation.
The bitter-sweet tones of this interpretation of a martini hark to memories of life in the carpathians – so far from what we mostly know as 'civilisation'; life there is so much richer for it. It's also an appreciation of everything the wild has to bring to the table; grasses, herbs, flowers, bugs and birds and all forms of life in every shape and size, crammed comfortably together in this pocket of eternal history.
Best enjoyed as the sun is going down, in the cool of the evening as merriment flows and dreams take flight. Allow me to welcome you to Târnava-Mare, where life is distilled to the things that matter the most, and all of time stretches forth, bursting with possibility.
Ingredients:
1 tbsp of runny honey.
½ measure of dry vermouth.
1 measure of Buffalo-Grass Vodka.
3 measures of gin (the more botanical the better).
2 sprigs of fresh thyme.
Directions:
Strip the leaves from one sprig of Thyme, and mash them into the vermouth in the bottom of a cocktail shaker to release the aroma. Half-fill the shaker with ice, then pour in the gin and the vodka. Shake vigorously to chill, then set to the side.
Now to dress the glass. In a chilled classic martini glass, take a spoonful of honey and drizzle a web-pattern all over the inside of the glass – starting in the bottom of the glass and flicking up, right to the very rim of the glass. If your cocktail is suitably chilled, most of this honey will very slowly dissolve into the cocktail as it's drunk, slowly flavouring the drink as the sun sets.
Once the glass is ready, give your cocktail a final shake so it's as cold as possible, and strain into the glass.
Garnish with the other spring of thyme, which you can either leave floating on the surface, or you can anchor it by pressing it into the little pool of honey in very bottom of the glass.
Enjoy!
___________________________________________
Drink these cocktails responsibly, of course, and in good company. And try your own interpretations on them as you go. It's one reason I love having wildflowers and herbs in my garden (apart from how good for the bees it is) – you can try little flavour experiments as the mood seizes you. Try it with friends and you'll make more than memories – you'll have created a magical way to return to a moment of pure summer bliss whenever you want, with just a simple sip.
___________________________________________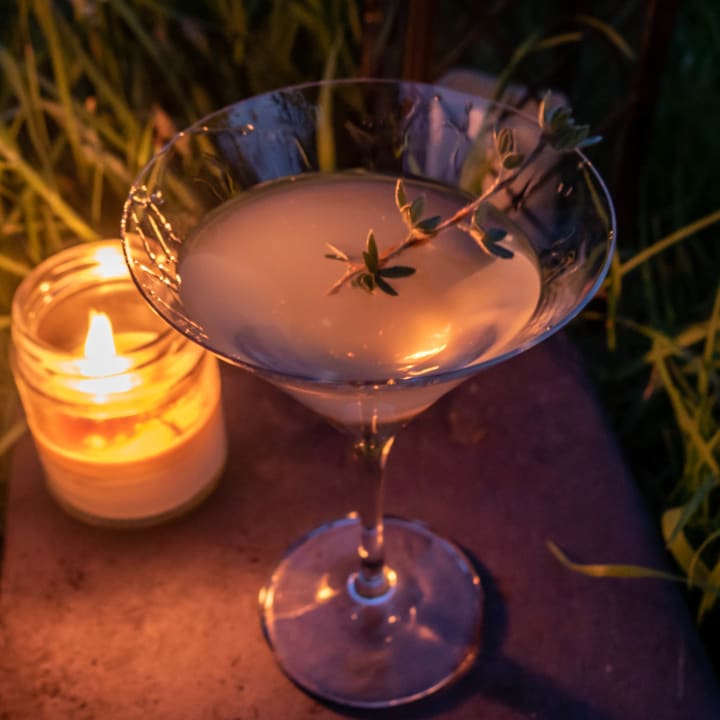 ___________________________________________