Not your Ordinary Highball (the Sequel)
Japanese Whisky. Shinko Pear. Hoji-Cha. Calvados. Ginger. Amaro Nonino. Maple
"Mercy Mercy, Me"
In an earlier post, I discussed the creative process in conceptualizing a quality cocktail. The cocktail was named, "Mercy Mercy, Me". A cocktail made with a synergistic merge of Japanese influenced ingredients. It combines green tea, Japanese whisky, Asian pear, and ginger. All coalesced in the style of a highball; embellished with the effervescence of a Shinko Pear Cider.
The Prep:
Hojicha Tea Infusion
750ml Japanese whisky (Suntory Toki is suggested)
.75 cup of loose leaf Hojicha tea
Infuse 24 hours, stored in a warm area
Asian Pear - Ginger Shrub
Brew 12oz loose leaf Hojicha Tea (3Tbsp to 2 cups of tea) for 5 minutes. Strain through . Measure for 12oz. Sip the rest, and feel the comfort. (Note: Brewing at 12oz instead of will yield less volume as it is soaked up in the leaves, do not press the tea to extract more as this produces off flavors)
Combine 16oz grade a maple syrup into the strained hojicha tea until well incorporated.
Juice 16oz Asian pear juice and strain through a chinois.
Add 16oz of pear purée
Juice ginger to yield .50 cup of ginger juice and strain.
.50 cup of apple cider vinegar
1tsp of salt
combine all ingredients and strain through chinois
*shrub should hold for 1-2weeks
What's a shrub anyways?
For those of you that are unfamiliar with shrubs. Essentially, a shrub is a syrup stabilized with vinegar. The power of the shrub is that it afford touches of acidity without citrus the flavors. I love the way it brings balance to a cocktail. This element of drink making also lends itself to be consumed in non-alcoholic beverages as well. You can introduce depth of flavor into your shrub by choosing what style of vinegar as well. For example, if you were to make an apple-sage shrub, you can utilize an apple cider vinegar to compliment or even white wine vinegar. Also I follow rules such as, "color with color", which is utilized in shrubs containing pomegranate, in that case I'd employ red wine vinegar. Essentially the main components are: Sugar, Water, Fruit Puree (and/or Juice), and vinegar. Use it often, and use it wisely.
The Build:
.50 Hoji-Cha infused Japanese Whisky
.50 Calvados
.50 Pear Liqueur (Clear Creek Liqueur)
.25 Amaro Nonino
1.25oz Pear-Ginger Shrub
.50 lemon
Shake with ice, top with Mission Trail Perry Cider (1oz), strain into a highball glass over ice.
Garnished with a Pear fan on a pick. Or a lemon expression works just fine.
It's more than likely that the home-tender will realize that this is a bit complicated and arduous. And then rightfully proceed to grab a shot and a beer. Because, who really has access to all this stuff? Not many home-tenders have the tools required to execute this drink easily, or even the ability to source these spirits. However, I really just want to highlight a culinary perspective to approach cocktails and inspire some creativity. Personally, this aspect of the cocktail world is exciting. Bars that pushes the envelope, like the Aviary in Chicago, do some incredible things in the realm of imbibe. Cocktails are a creative medium. And to all the "purists" rolling their eyes...I get it. This shit is "boujee". But respectfully, there's a time and a place for a classic and then there's a time and place for a one of a kind.
Oh, P.S
here's a bonus recipe to keep your hearts full, and your souls warm: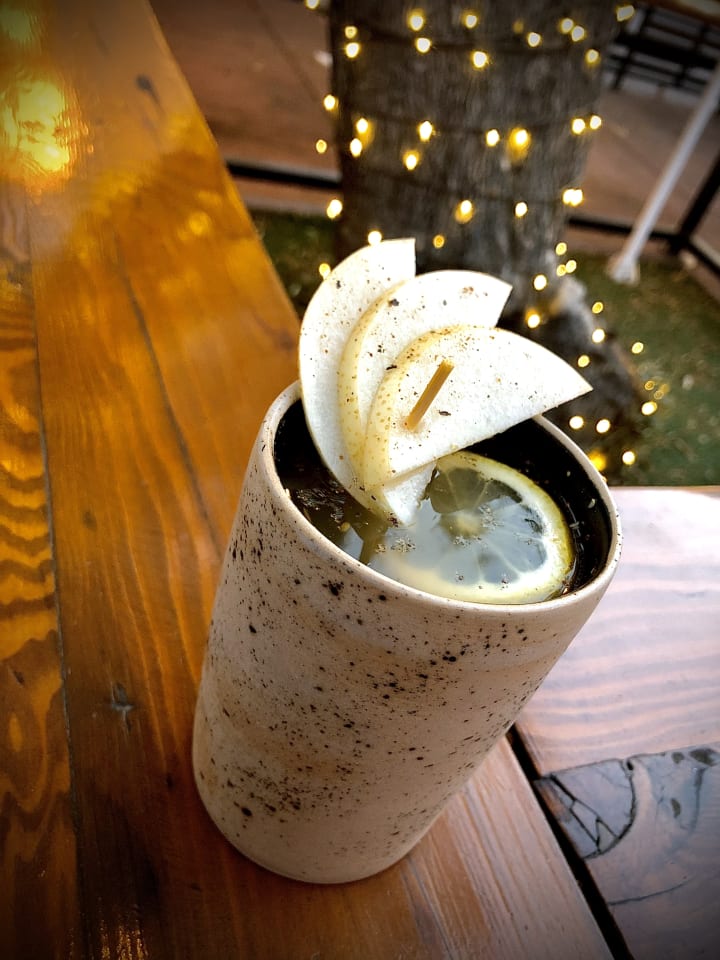 .75oz Hojicha whisky
.50oz Calvados
.50oz pear liqueur
.25oz amaro Nonino
1.5 oz pear shrub
.50oz lemon
3-4oz hot water
Garnish with pear slice, lemon wheel, cracked Szechuan pepper