Not Your Ordinary Highball
A Japanese staple dressed in a winter coat.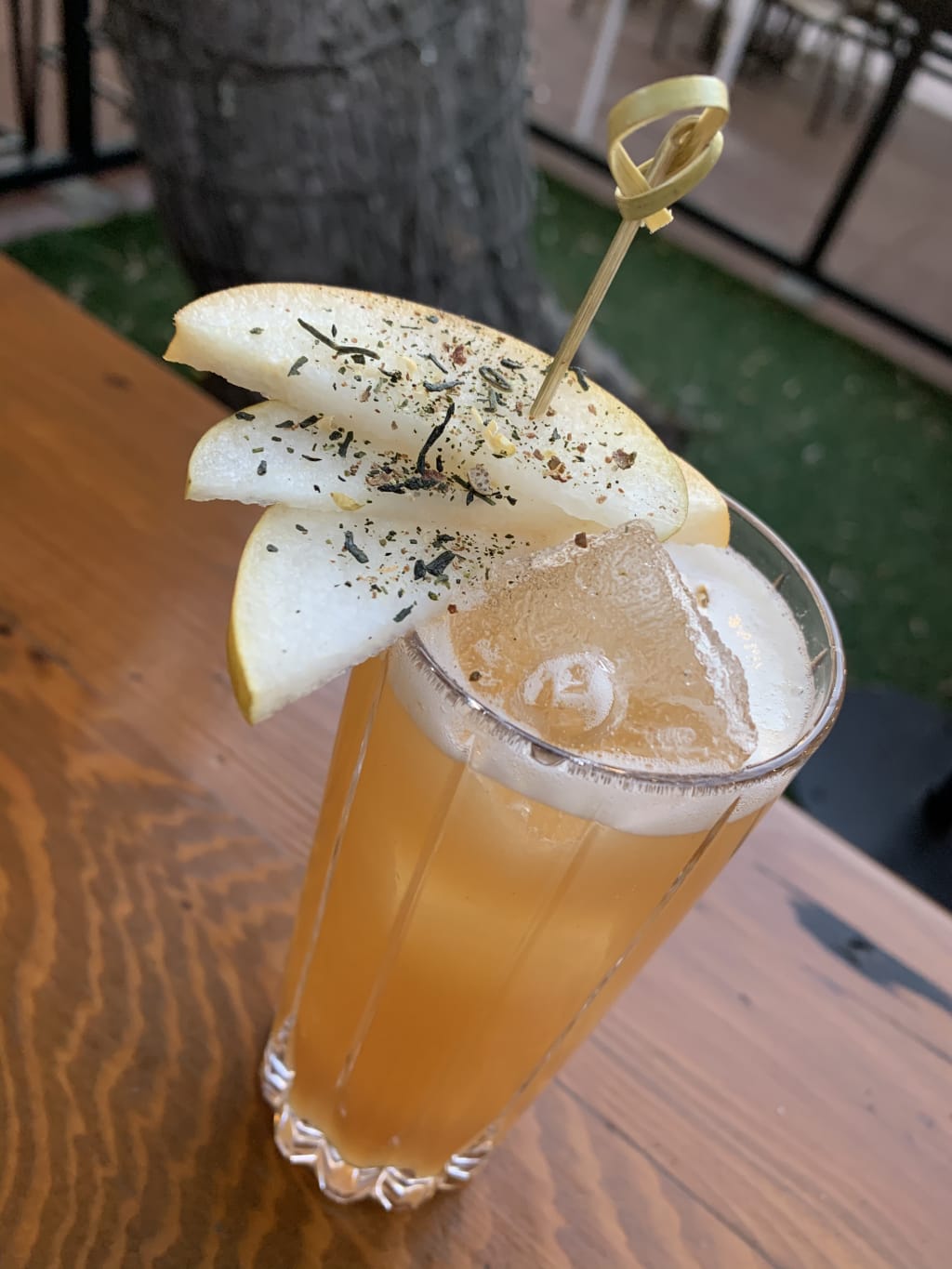 "Mercy Mercy, Me" (Drink Slanger: Reynaldo Ung)
Great things are achieved when bridging a culinary focus to the realm of booze. Here, I'll highlight the creative process that I follow to dial in an adventurous drink, with unique qualities, while remaining deliciously balanced.
My name is Reynaldo Ung, I work at a restaurant in Campbell, CA called Orchard City Kitchen. I consider this place my home, and my laboratory. With the pandemic, restaurants world wide are getting butt fucked (and lube has been 86'd) I've got no ownership in this place, I'm just the bartender who cares deeply about a restaurant that has groomed me into a decent drink -slanger. By showing me the creativity involved in the kitchen and mimicking their process, I've applied it to the bar. From this luxury, Orchard City Kitchen's cocktail program is a top contender in the Bay Area. Yeah, I said it...right up there with the likes of Trick Dog, Bourbon and Branch, Smuggler's Cove, etc.
"Mercy Mercy, Me"
.75oz Suntory Toki (Infused with Hoji -Cha tea)
.50oz Calvados
.50oz Amaro Nonino
1.25oz Pear Ginger Shrub
.50oz Lemon Juice
3 dashes of Maple Bitters
Top w/ 1.5 oz Mission Trail Shinko Perry
For in-depth specs, I'll be featuring that in another article. I merely want to focus your attention on the conceptialization and the creative process involved when I make drinks. Planning your approach will effectively reduce costs of R&D, while giving yourself a roadmap to success so you aren't left defeated when something doesn't seem to work.
To me, there are three elements in cocktail making:
Inspiration.
Applying your knowledge.
Prep.
Inspiration:
In regards to the "Mercy Mercy, Me", it all started some tea. Hoji-Cha. A roasted Japanese green tea, that has savory, nutty, and robust winter flavors. Similar to gen-mai-cha tea. I had it for the first time at an O.G San Francisco coffee shop called, Blue Bottle. It was in the form of a hot OAT MILK latte...Yeah, I know. Kinda douche-y, but oat milk's pleasant sweet, nuttiness complemented the shit out of that drink, because upon the first sip, I was in awe and infatuated by it. I obsessed over it. Kinda like the first time I watched porn. You see, it came unexpectedly (also kinda like the first time I watched porn). Inspiration is always around us, we just have to learn how to pay attention to it. To me, Inspiration is excitement. It's a feeling. At the bar, we call it being "horned up". And from that first sip, I was real aroused. My mind instantly went to work. I asked myself how? How do I execute? How do I capture this feeling of this winter warmer, that nurtured my soul with its comforting flavor profile?
Apply your knowledge (or I like to call this part - Nerd the Fuck Out):
When my mind goes to work, I start with what I know. I know cuisines well, especially Japanese or Asian flavors in general. I worked in a Ramen shop, and I come from a southeast Asian family rich with love and expressed through food. I would call this area of flavor, my expertise.bI grew up in the kitchen with my grandmother, so I can confidently say Cambodian/Thai/Vietnamese food is my shit. However it was my exposure to Japanese culture, that really helped me hone in this particular drink. I carry a decent understanding of spirits themselves. I feel like I can taste certain spirits on my palate by just thinking about them (that comes from years of drinking behaviors that can onset cirrhosis) and in combination with food, I used my knowledge to execute. As you know, it started with the tea. Following that is the base spirit, Suntory Toki Whisky, a gentle, nutty dram kissed with a tinge of apple and pears. From that, I use complementary flavors to fortify the cocktail. Calvados. A French apple brandy, giving the cocktail fruit and spice. But it needs complexity, and for complexity, an amaro is usually my answer. For this case, Amaro Nonino, a grappa based amaro macerated with herbs, spice, and orange peel. It clocks in at 30%abv, there's high octane intentionally used in every spirit, that way we reach balance, since the drink only calls for 1.75oz of liquor. With toki, my mind takes me toward a highball-style cocktail, which is what the O.Gs drink alongside their yakitoris. So, how do I bring in that effervescence? Soda water? No. Too simple. Too boring. Cider! And not just any cider, the homies from Mission Trail Cider has an award-winning Asian Pear Cider. That's it! I love these guys and their products. They put out kick ass nectar. But this drink is far from complete, it's cold outside, how do we drive it home for winter and yet keep the drink refreshing? The answer: A Bartlett Pear-Ginger shrub (Bartlett pears are also known as Asian Pear or Shinko). Ginger is a commonly used ingredient in Japanese cuisine to bring in a brightness with its sharp spice. With any shrub there is an element of sweet, so we used pure maple syrup to really give this cocktail the seasonal coat. I love this part of the process. This is when your mind puts together the puzzle. This is where you get in the zone. So make sure you write all this shit down.
Prep:
This is where you put in the work. Set your foundation, order your product, start your infusions. Plan your prep so that when it comes to building the drink, you have all your elements dialed in or at least close. I tasted the hojicha infusion after one day, and boy was she singin'. Perfect. Now the focus was on the Shrub. This part is always tricky, because you won't know how the shrub will portray itself when the drink is in its final form. It could be that the shrub itself is excellent, but you really need to conceptualize how it translates across the combination of the other ingredients. I approach shrubs by making them a little louder, if you will. For example if it tastes on its own like there's enough pear, add a tad more. It needs to show up in the cocktail. Don't be scurred. As you curate your elements by tasting them at their various stages, once they're solid, it's time to put them together and let the sparks fly.
Thanks for reading. I really hope this article helps you get through this pandemic by allowing you to be creative and at the very least, inebriated.