Best Christmas Vodka Cocktails
We're going to teach you how to make drinks that aren't eggnog for Christmas. Our gift to you is a list of the best Christmas vodka cocktails.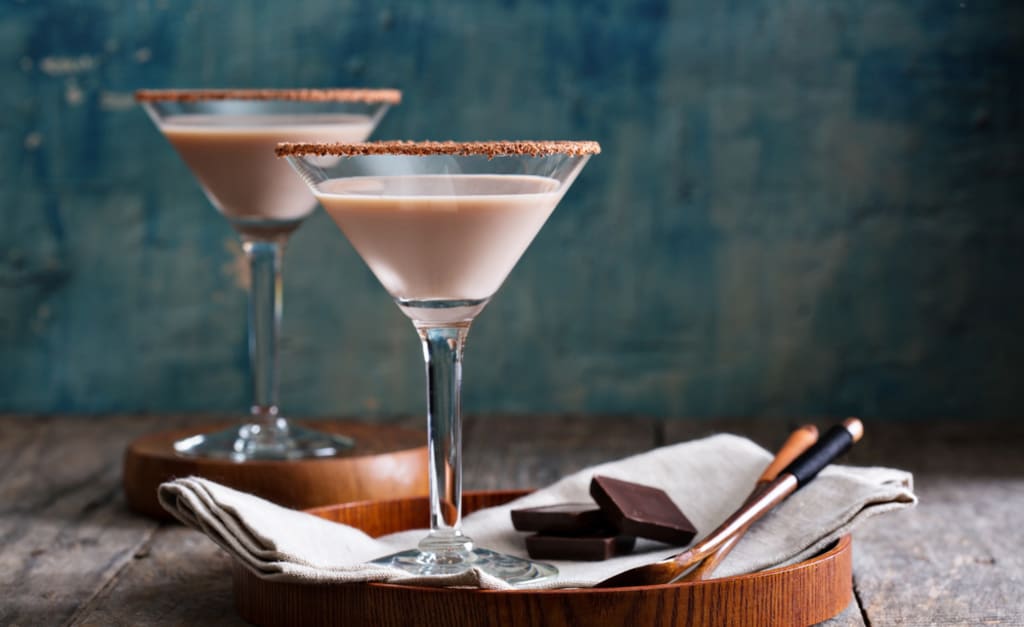 People dress up and decorate their houses for Christmas, but one of the best parts of the holiday is dressing up your cocktails! This is the time to serve creative, themed drinks and enjoy them to your heart's content. If you're a vodka lover, we've got a treat just for you. Check out the best Christmas vodka cocktails right now.
Peppermint Vodka Martini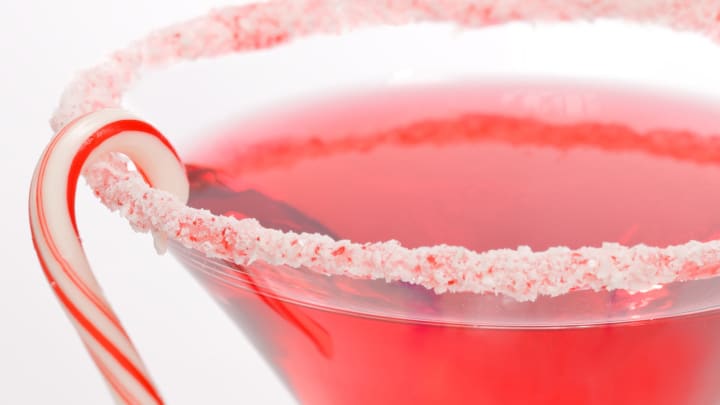 Christmas means candy canes, and thus it also candy cane flavored cocktails! Make a peppermint vodka martini to get you in the holiday spirit. It only has four ingredients—one of which is the garnish—so you couldn't mess it up if you tried.
First you'll want to rim the glass. Take a candy cane and crush it up into little bits on a small plate. Wet the rim of the glass, flip it upside down, and press it into the candy cane bits. Turn the glass slowly to make sure you coat the rim equally all around. Then flip it back over and look at how pretty it is!
Now it's time to pull out your shaker and combine 1 1/4 ounces vanilla flavored vodka, 1 1/4 ounces white crème de cacao, and 3/4 ounce peppermint schnapps. Shake, strain out the ice, pour, and voila! You already have one of the best Christmas vodka cocktails.
The Grinch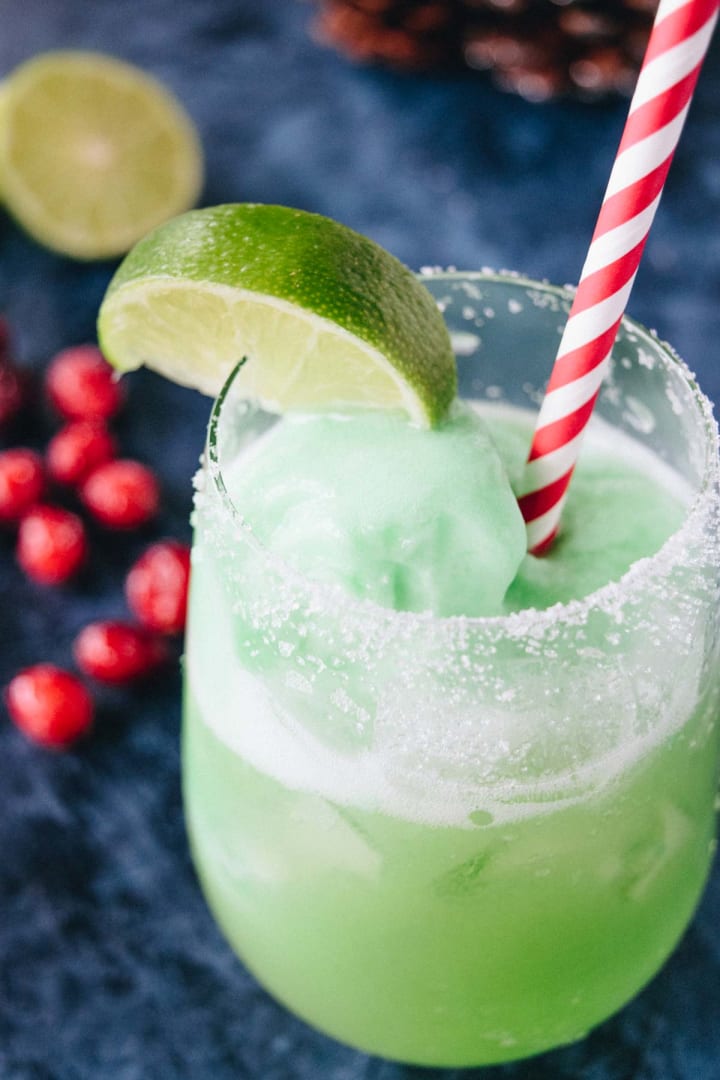 A list of Christmas cocktails wouldn't be complete without one of our favorite Christmas characters—The Grinch! This green beauty mixes 2 ounces Midori with 1/2 ounce lemon juice, 1 tsp simple syrup, and of course, an ounce of vodka. You might feel like The Grinch before drinking this, but that'll sure change once you taste this baby!
Sugar Cookie Cocktail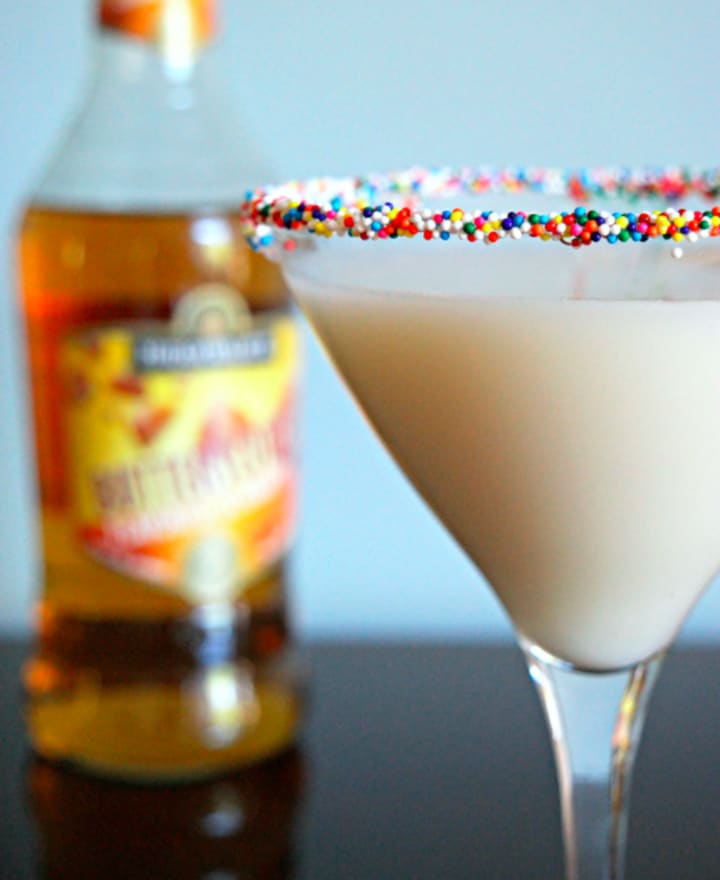 You're supposed to leave cookies out for Santa, but that doesn't mean you can't enjoy the wonderful flavor of a sugar cookie. This sugar cookie cocktail is adorable as it is effective.
This cocktail also calls for a rimmed glass. This time, you're going to use honey and color sprinkles for your rim. (How cute!) Next you'll put 1 ounce of sugar cookie or vanilla vodka, 1 ounce vanilla creme liqueur, and 1/4 cup half-and-half into your shaker. Shake, strain the ice, pour, and you've got one of the best Christmas vodka cocktails—a boozy liquid sugar cookie!
The Chocolate Girl Scout Cookie Cocktail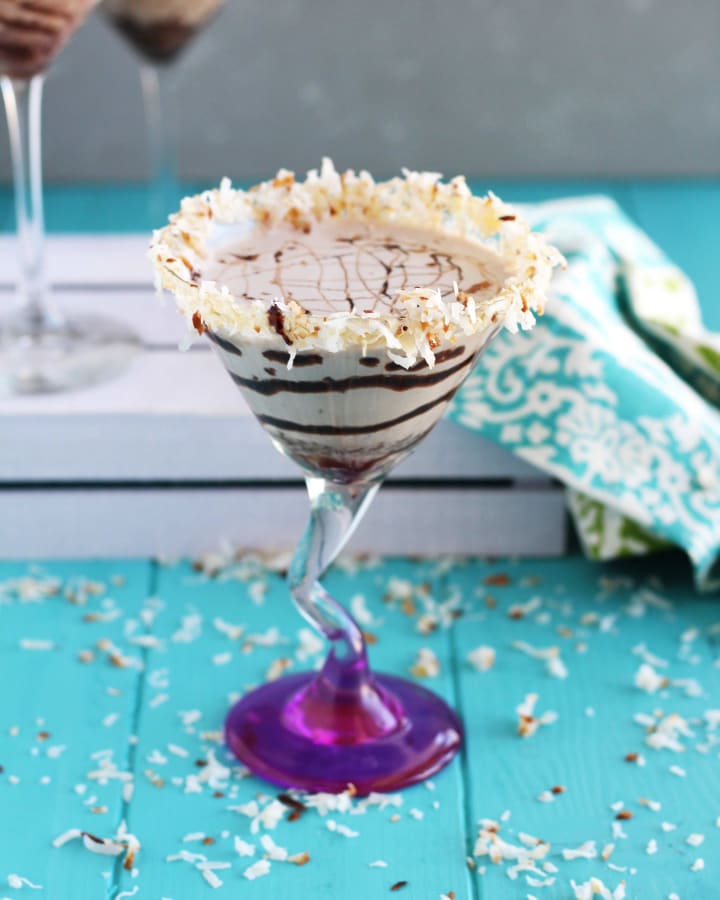 If we can make a sugar cookie cocktail, then we can't leave out a chocolate cookie cocktail, now can we? Like the sugar cookie cocktail, this one is going to be very simple. Since tons of people love mint chocolate girl scout cookies, we're going to base the recipe on that.
What makes this drink recipe super easy is that all the measurements are the same. Shake 1/2 ounce vodka, chocolate liqueur, creme de menthe, and Irish cream in your shaker. Strain the ice and you're done! If you want to up the decoration a bit, grab a chocolate cookie and bite just enough out of it so that it can sit on the rim of your glass.
Gingerbread Vodka Martini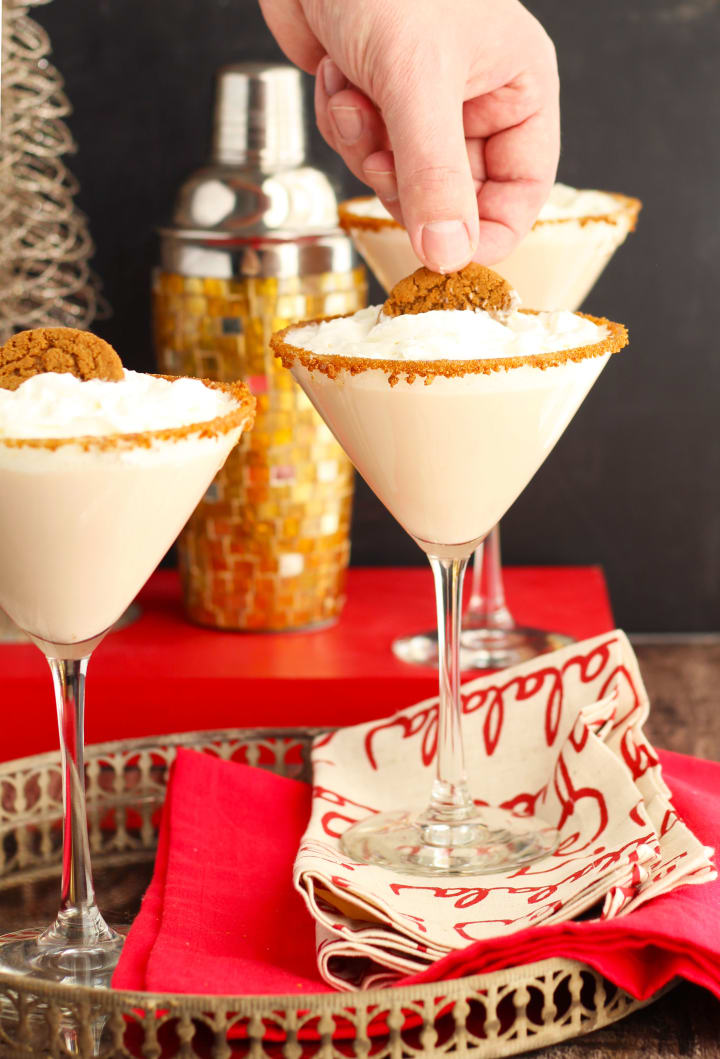 Building gingerbread houses is a Christmas tradition for millions of people. So let's spice it up a little bit, shall we? This martini is one you're going to want to serve (and by serve, we mean brag about) to your friends.
Believe it or not, they actually make gingerbread flavored syrup; you'll need 2 ounces for your Christmas cocktail. Mix that in a shaker with 4 ounces Irish cream liqueur, 4 ounces vodka, 2 ounces coffee liqueur, and finally 2 scoops vanilla ice cream. It doesn't take a genius to realize that mixing frozen ice cream is pretty difficult to do, so make sure you take the ice cream out of the freezer ahead of time to let it soften.
Shake this mixture, strain the ice, and pour 4 glasses. Make it look even more tantalizing by putting some whipped cream and crushed gingerbread cookie on top. Is this one of the best Christmas vodka cocktails or what?
Spiked Hot Chocolate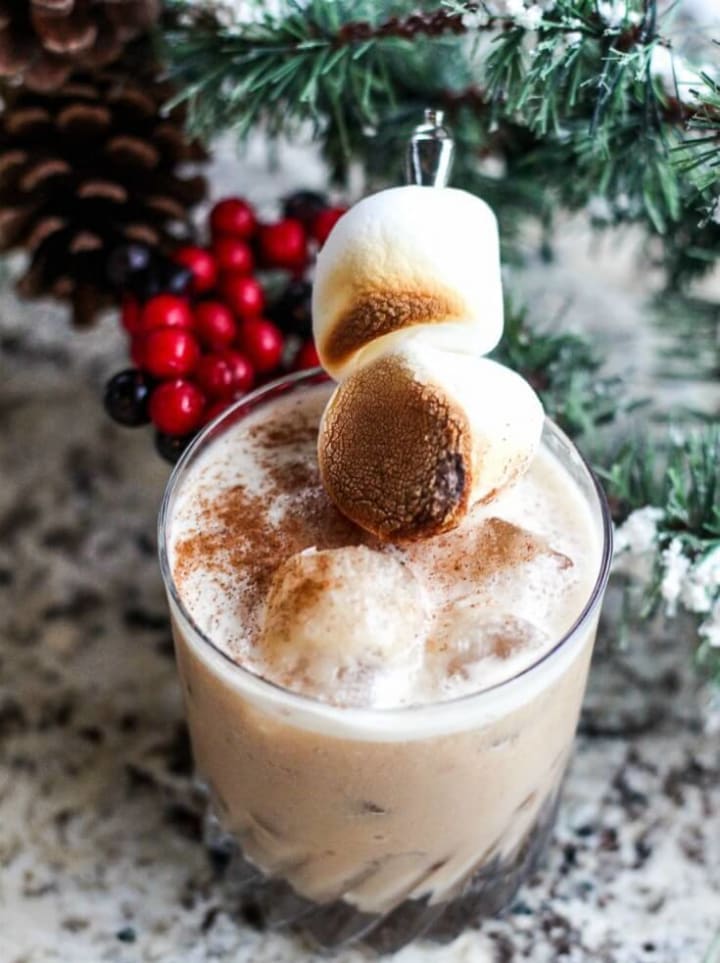 Everyone wants hot chocolate in the winter, regardless of if they celebrate Christmas. Warm yourself up with this incredibly simple spiked hot chocolate recipe. (No one has to know!)
All you need to do is start off like you're going to make hot chocolate the normal way. Get 5 ounces hot cocoa and 3/4 ounces heavy cream. Then throw in 1 ounce vodka. Feel free to use a flavored vodka instead of normal vodka, like vanilla, marshmallow, or even cake vodka. (The possibilities really are endless these days.)
Make your spiked hot cocoa extra heartwarming by putting some whipped cream top, sprinkled with cinnamon, nutmeg, or sprinkles!
The Toasted S'more Martini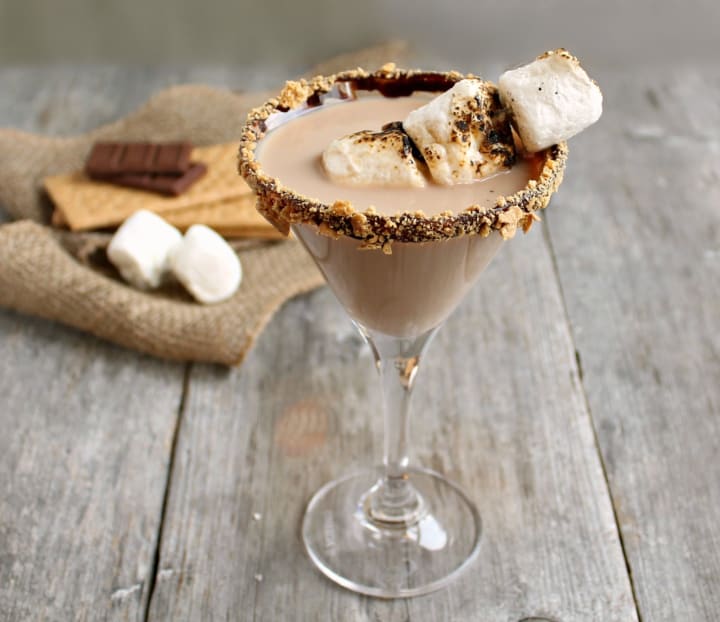 We know you're already drooling at the name of this cocktail. This cocktail is so good it's sinful. Take your martini glass and rim it with chocolate syrup and crushed graham crackers. We haven't even added the alcohol yet and this is already one of the best Christmas vodka cocktails.
Now it's time to start layering our other ingredients to make it look like a true s'more. Pour 1 ounce chocolate liqueur over an upside down spoon and into the glass. You'll do the same with a mixture of 1/2 ounce marshmallow vodka and heavy cream. Make sure you pour each ingredient very slowly to get the best layering effect.
Finally, it's time to toast some marshmallows! Put a few small marshmallows (or one big one) on a skewer and toast over a flame. Just be careful because, you know, fire. Place your marshmallow skewer on top of your martini and there you have it! Absolutely delish.
The Drunken Cranberry Cocktail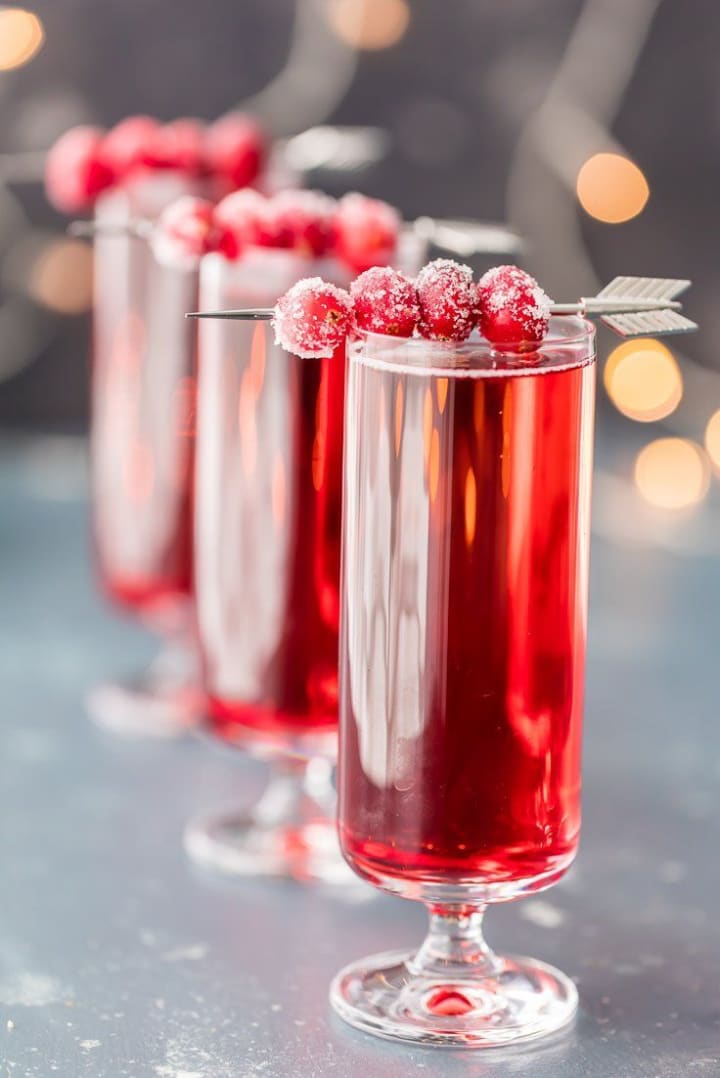 The most basic vodka cocktail of all time is the vodka cranberry. Since so many people love it, let's take it up a notch to get you and your guests into the holiday spirit!
Be warned: this cocktail requires some preparation. Give yourself ample time to prepare your drunken cranberries before your guests arrive. First, you need one bag of cranberries. Rinse them. Put them in an dish that is safe to put in the oven and mix in 1 cup sugar and 3/4 cups brandy. Cover your mixture with foil and pop the berries in the oven for about an hour at 300 degrees. Once you take them out and let them cool, you'll have the perfect drunken cranberries to use as a garnish for your cocktail!
You'll make the vodka cranberry cocktail as you normally would—that part doesn't change. If you want, add a little bit of ginger beer, but the star here is the presentation.
The Cake By The Ocean Cocktail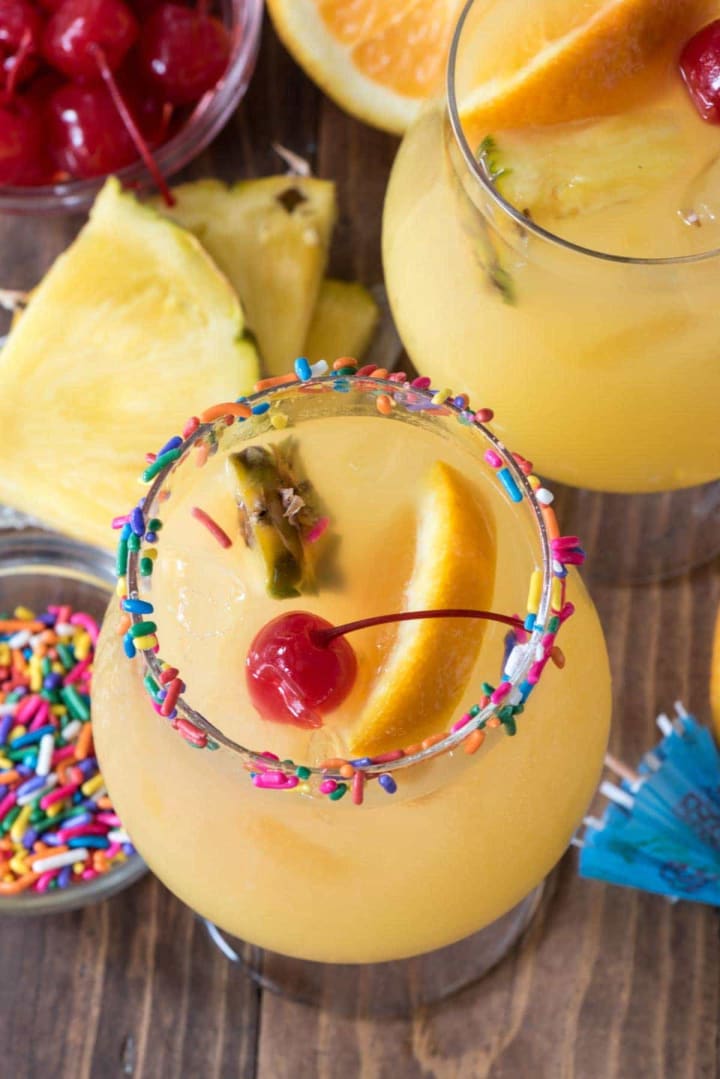 For those of you who never understood what the hell the song "Cake By The Ocean" by DNCE refers to, now you do. The Cake By The Ocean is actually a great-tasting, indulgent cocktail.
A lot of families prepare a glazed ham for their Christmas dinner, often with pieces of pineapple attached to the sides. We figured, what better cocktail to help wash down your holiday ham than a pineapple-flavored one!
This is one of the best Christmas vodka cocktails because it also functions as a dessert. Basically, it's a liquid pineapple upside down cake. So get excited because you're going to rim your glass with sprinkles again! Once you've done that, shake 2 cake flavored vodka, coconut rum, pineapple juice, and orange juice. Strain the ice, pour, and garnish with some Maraschino cherries. You could also garnish with pineapple or orange slices—or all of the above!
The Goddaughter Cocktail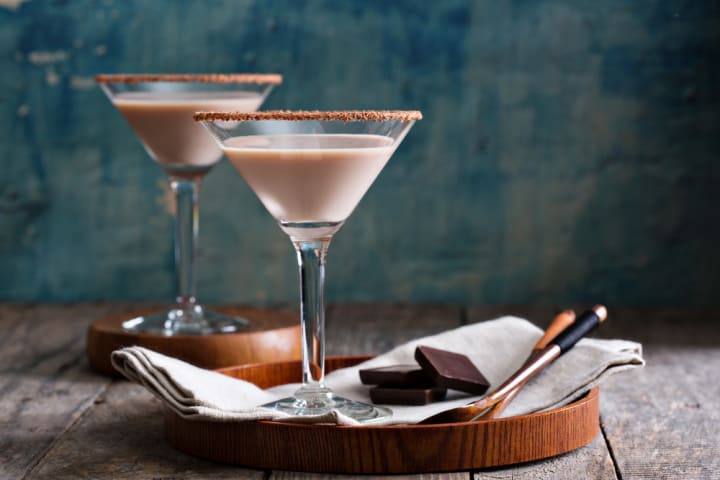 Take milk and cookies to the next level with this milky cocktail. Put 1 1/2 ounces vodka, 4 ounces milk, and 3/4 ounces amaretto into a shaker. Shake, strain the ice, and pour. It's that simple. Make sure you have ice in your glass to keep the drink chilled—and enough cookies to dunk—and you're good to go.
Merry Christmas!
cocktails
"This might be more than a simple conversation." - Underoath
Receive stories by Taylor Markarian in

your feed