Bad Behavior Postpones the Return of Booze on Flights
Is 2021 the Year of Sober Travel?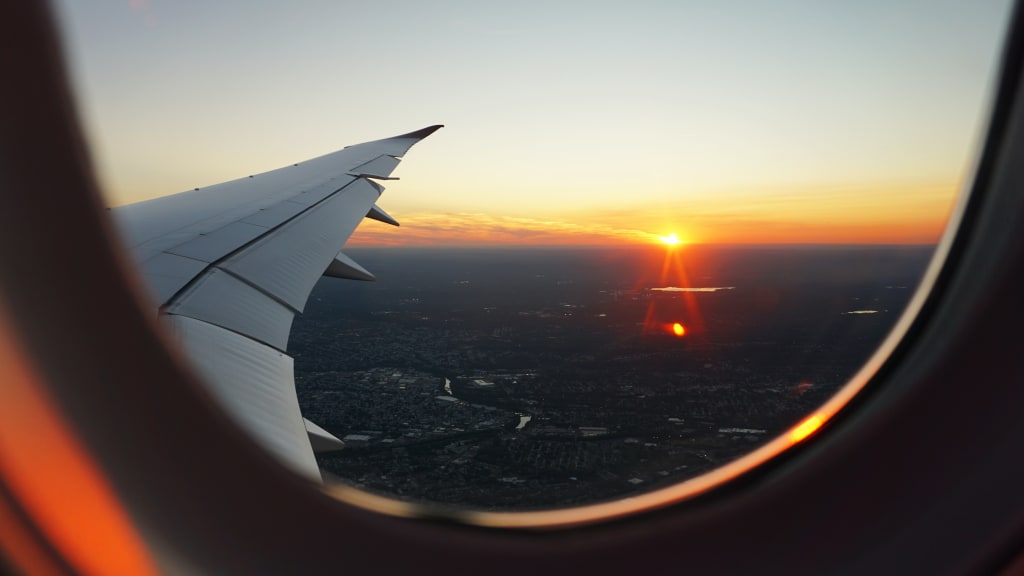 photo by Eva Darron on Unsplash
Too Good to be True?
Just when we thought things were finally getting back to normal...
Lock downs have been lifted and smiling faces are visible once again, as almost half of Americans are vaccinated.
People are going back to work, kids are going to camp, and airline travel is bouncing back.
According to TSA statistics, during the last week, domestic air travel was back to 73% of the 2019 figures. (7 day average 5/27–6/2)
Compare that to the same week in 2020, when travel dropped to 17% of the preceding year's totals.
Both American Airlines and Delta have recently announced plans to add new routes and increase seat capacity by this summer.
Things are looking up!
With some families able to squirrel away some of the economic stimulus payouts, a lot of folks are ready to splurge on that dreamed-about exotic vacation.
Hey, after all we've been through, we deserve a little fun!
Still, you may have to wait till you reach your location to have that celebratory cocktail…
---
The Bad News
American Airlines and Southwest Airlines have just announced they will be postponing the return of in-flight alcohol sales, which were scheduled to be reinstated soon.
You may remember in 2020, serving in flight beverages (besides water) was discontinued aboard almost all US flights, in an effort to keep passengers masked as much as possible and also limit restroom usage.
American Airlines reinstated beverage services, including alcohol, on May 1 in all of its domestic premium cabins.
Alcohol sales were initially slated to resume for the airline's main cabin on June 1, but now will remain paused until September 13. They will continue to serve alcoholic beverages to first class and business class passengers.
Southwest Airlines has paused their reinstatement of alcoholic beverages indefinitely.
Delta and United Airlines will be restricting their own alcohol sales to flights over two hours long.
---
Why the Prohibition Attitude?
The decision came only days ago, but is based on an entire year of increased verbal and physical altercations between passengers and airline personnel, the majority of which stemmed from passengers' unwillingness to comply with the mask policy.
And it's only getting worse, as more people are returning to the not-so-friendly-skies.
Since the beginning of the 2021, about 2,500 reports of unruly behavior by passengers have been reported, including about 1,900 reports of passengers refusing to comply with the federal face mask mandate, the FAA said in a news release on May 24.
The FAA also reports it has, so far this year, fined five passengers, in penalties ranging from $9,000 to $15,000, for unsafe/unruly behavior, including two passengers accused of assaulting crew members.
Compare that to pre-pandemic times (remember way back then?), when domestic airlines would only file 100–150 reports of unruly passengers for an entire year.
Sara Nelson, the president of the Association of Flight Attendants - CWA, welcomes the extended ban of alcohol, calling the amount of unruly behavior on planes "complete nuts", in a statement to CNBC last week.
"A lot of times these events are exacerbated by alcohol, so we've been asking the government and the airlines to make sure they're not selling alcohol right now because that's only adding to the problem that is clearly out of control."- Sara Nelson, president of the Association of Flight Attendants - CWA
---
The Latest Incident
The latest incident, which seems to have prompted airlines to rethink the reinstatement, was very serious, and occurred on May 23, 2021.
A 28 year old female passenger on a Southwest Airlines flight from Sacramento to San Diego, allegedly became belligerent, and then violent with a flight attendant who instructed her to buckle her seat belt and put away her tray table.
According to witnesses, the passenger assaulted the flight attendant with her fists, causing serious injury and bloodying the woman's face.
Lyn Montgomery, president of TWU Local 556 (union for Southwest Airlines flight attendants) later reported the victim had lost two teeth from the incident, and sustained serious bodily injury.
Port of San Diego Harbor police officials arrested the passenger, identifying her as 28-year-old Vyvianna Quinonez. She was charged with battery causing serious bodily injury and booked into the Las Colinas Detention Facility.
In this specific incident, no mention of alcoholic impairment was made, but here's what Julie Hedrick, president of the AFPA, released in a recent statement, regarding the American Airlines decision.
"It is no secret that the threats Flight Attendants face each day have dramatically increased. Every day, we are subjected to verbal and sometimes physical altercations, mainly centered around mask compliance. These altercations are often exacerbated when customers have consumed alcohol in the airport or alcohol they have brought onboard."- Julie Hedrick, AFPA president
---
Increased Violence Not Limited to the Skies
It's really no wonder that we're seeing an increase in violence in air travel. Just take a look around. There was a tremendous increase in violence in the US in 2020 in general, and the level appears to be rising still, in 2021.
Violent crime and homicides in big cities are up substantially, according to this report in The New York Times on June 2, 2021.
"The F.B.I. does not release full statistics until September, but homicide rates in large cities were up more than 30 percent on average last year, and up another 24 percent for the beginning of this year, according to criminologists." The New York Times
Through the first three months of 2021, a number of major cities have indicated they are still experiencing high rates of violent crime, according to Laura Cooper, executive director of the Major Cities Chiefs Association. "Some cities are set to outpace last year's numbers," she said.
We've all seen the tragic and shocking stories of never-ending gun violence in 2021. It seems as though there's a new case every day.
As of May 28, there have been 225 mass shootings in the US, this year alone. (mass shooting defined as 4 or more people shot, not including shooter)
According to data from the Gun Violence Archive, more than 15,299 people have already died this year from gun-related violence, with an additional 12,531 gun-related injuries. (Data from May 28 2021)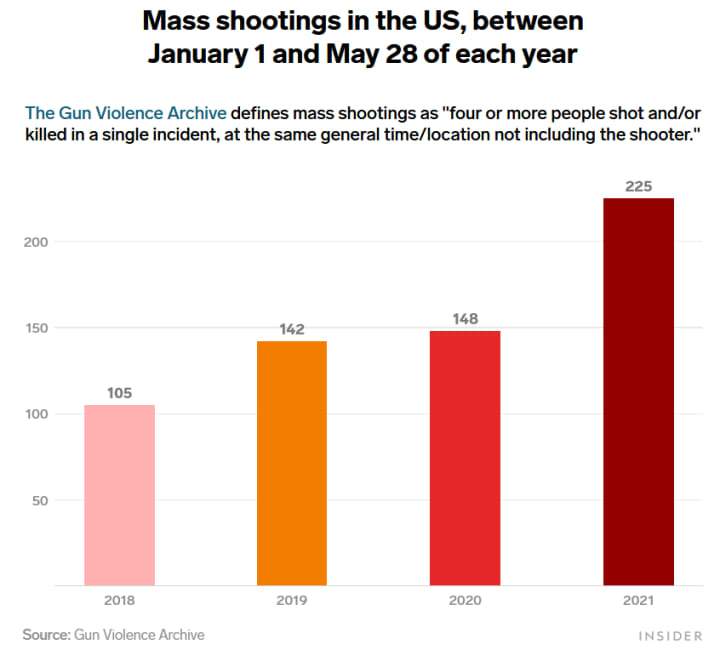 Some experts attribute the enforced isolation of 2020 as having had a devastating effect on those already suffering from mental illness, and now, as things are opening up, we are seeing the results, in acts of violence across our nation.
If you need help, there's always someone to talk to! Call 1–800–662-HELP (4357). It's free, it's confidential, and there are mental health professionals staffing the lines 24/7, available in English and Spanish.
---
Too Much Revenue Lost to Last Forever
As much as it might hurt your feelings to not be able to relax in-flight with a glass of wine, believe me, it's hurting the airlines' wallets more.
Though traditionally, airlines are very cagey about how much profit they get from in-flight alcohol sales (like you couldn't guess from that $10 beer in a can), there was a report released several years ago by technology company, GuestLogix.
"Of the 8 million in-flight transactions studied, the combined sales of liquor, wine and beer earned the airlines more than $43 million over the course of four months."- GuestLogix
Yes, that's $43 million over a four month span. The report was released several years before the pandemic, but I would only expect the profit on in-flight alcoholic beverages has increased since then.
So, fear not! If it's costing the airlines that much to halt alcohol sales, it's unlikely to last long.
In the meantime, go ahead and take that well-deserved vacation!
2021 may be the year of sober travel, but it's still undoubtedly an improvement over the year 2020.
---
Thanks for reading! If you enjoyed my article, please consider reading this next:
---
References:
https://fox40.com/news/local-news/local-travelers-share-moments-before-flight-attendant-was-punched-on-southwest-flight/
https://www.cnn.com/2021/05/29/business/airlines-alcohol-suspension/index.html
https://www.marketwatch.com/story/american-airlines-joins-southwest-in-extending-suspension-of-alcohol-sales-11622423318
https://mailchi.mp/apfa.org/return-of-alcoholic-beverages-further-delayed
https://www.nytimes.com/2021/06/01/us/shootings-in-us.html