These 14 Secret Cannabis Containers Will Keep Your Weed Safe and Hidden
Let's face it, we don't want anyone finding our stash, and it's not like you can just stuff it in your sock drawer and hope for the best; instead, snag one of these secret cannabis containers.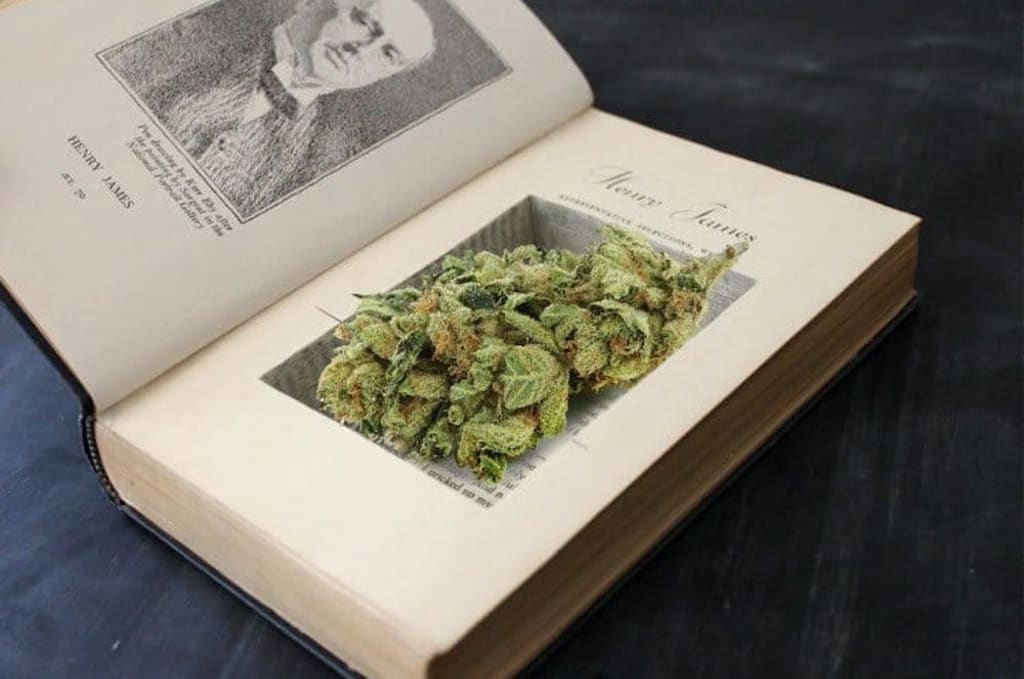 You know one of the great ways to conserve your weed stash? Hide it from yourself, it literally always works. You know why? Because potheads tend to forget things, and it's especially worse if said "things" are literally hidden in plain view, like a freaking potted cactus. There's about a 13 percent chance I'd ever guess valuables, much less weed, were hidden inside a house plant, but I digress. It's not that you're trying to hide your stash from yourself, it's stringent upon you keeping your cannabis goods safe, plus whatever else you may stuff into these awesome containers.
Props to whoever thought up these nifty and secret cannabis containers (whoever they were, they had to have been high as hot air balloons). It can be anywhere from "smuggler belts," which sound more like something Boba Fett might use, to the more unnoticeable diversion containers, like the can of Sprite kept on my dresser in the hopes some idiot might pick it up and attempt to drink it. More than simply some of the best smoking accessories, these almost mundane containers simply keep your marijuana safe; what more could you ask for?
Ahh, ain't much else better than a hot bowl of Cambell's chicken noodle, except maybe a fat blunt. With these secret cannabis containers, which are actually made from real Cambell's soup cans, you'll fool everyone into thinking your weed stash is their favorite soup delicatessen.
Yet, in fact, it's nothing more than one of the best hiding places for your sticky, icky smelly green goodies. Especially for only $11, these nostalgic safes will keep on the vultures away and ensure your marijuana remains untouched.
Probably the least likely spot anyone would ever think to look for valuables is in the surge protector, for which this crafty smell proof container utilizes like a charm. The only thing I'd be worried about with this hiding place is getting electrocuted (I'm kidding, it doesn't actually work).
Home Safe is actually well-known for their neat secret cannabis containers, and the surge protector is probably the best iteration from the company. Hide you stash in the best spot in the house, just hope no one tries to use it to charge their iPhone!
A tad bit smaller than your typical hidden compartment, the Suave Hairspray Safe is rather ingenious to be honest, despite the fact that you may need to carry a little less weed to fit it all in this hiding spot.
With a screw off bottom, added weight to feel authentic, and plenty of inside room for whatever your stash may be, this diversion safe is one of the best for hiding valuables in literal plain sight. It's one of the few secret cannabis containers that actually requires you to know a little stoner safety: don't spray this shit in your eyes! (Realistically there's nothing inside the bottle but whatever you put in it).
While keeping your valuables safe, this super secret wall clock safe will also give you the time, which is most ideal for potheads strolling in looking for a 4:20 joint when it's already 4:26.
Plus, SINOCMP sells this pretty hefty addition among secret cannabis containers for only $11! That's a steal, especially for one of the largest odor proof stash boxes on this list. At least all your friends will know what time it is, even if they have no clue what's hiding right behind it.
Probably the most unique of all these secret cannabis containers, the SafeInside flower pot looks and even feels like real cactus pottery. Except, what lies inside is an odor proof hidden compartment that makes a regular old house plant decorative display turn into one of the best hiding spots in your home.
If you're looking for a really nifty hiding spot that's in plain sight, this secret flower pot is perfect because it comes with a lock and key, too! So, even if your most pot-minded friends find the container, they won't be getting to your weed when it's locked up tight.
The best hiding spot ever recorded on film, thanks largely to the infamous Holy Bible scene from The Shawshank Redemption, a book safe is probably your best bet in keeping not only your valuable marijuana safe from grubby hands, but also ensures none of your actual valuables are taken.
What's awesome about the book safe by Jssmst is that they come in a variety of colors and sizes, plus you get a combination lock so your valuables aren't just hidden but are also kept secured at all costs.
Used more for the hiding of actual nugs and maybe even joints themselves, these secret cannabis containers are a lighter-loser's best friend (unless, of course, they lose their weed and light, 'cuz then you're shit out of luck).
Available in four varied colors and costing altogether only $8, these lighters make for some of the most versatile hiding places around. Plus, you can keep them safe on your dresser, or even in your pocket! Carrying your weed safely anywhere sounds like a dream come true, if you ask me.
We went from the living room to the kitchen, and now we find ourselves in the bathroom of all places with this Home Safe secret brush. Capped like any bottled soft drink, this sweet hair brush is one of the most unnoticeable secret cannabis containers and contains ample room for all of your favorite strains.
So it may not be smell proof, but the secret hair brush will certainly keep your weed safe in plain sight. Hopefully no one accidentally uses it and busts open your Mary Jane, though, and do be careful not to forget which of your thousand different brushes is the cannabis container, as well.
These are some of the sleekest looking secret cannabis containers, for not only are they hand crafted, but they also weigh the same as a real full can. You don't have to keep solely marijuana inside this nifty hiding spot, you can also keep jewelry and money, as well—anything of value will be kept safe and secure.
The W-40 diversion container is unlike any before it, simply because the actual brand itself is rarely ever used and the spray is honestly so dangerous many people actually fear using it. No one's touching this awesome cannabis container!
Like salt? Love marijuana? Well, now you can seemingly utilize both—if using salt means using their container, that is. The Morton Salt diversion safe is straight back to the kitchen in keeping your weed hidden in plain sight.
For a little over $13, Safety Technology's selling one of the coolest secret cannabis containers on the market, if only because no one's trying to be salty. Whether that's because they can't find the weed, or because they give up the search remains to be seen, but at least your weed is safe, if only a little salty itself.
Yikes! Talk about really dangerous hiding places, the Clorox bottle is among the most scary secret cannabis containers, because I doubt anyone would ever even try to open it, let alone pick it up. You could keep this on your living room coffee counter and no one would even touch it.
If you really want to scare your friends, utilize this awesome diversion bottle by pulling your weed out of it as if you dunked your greens in actual Clorox. Seeing the looks on all their faces is definitely worth the $30 price tag.
Fan of peanut butter? Well, whether you're allergic or not, no one's thinking of opening this awesome addition to secret cannabis containers. For only $15 lousy bucks, less than even a dub of cannabis, you can keep all of your favorite greens locked down in the most open of spaces without anyone thinking otherwise.
Odorless, weighted for extra security, and made to look as if filled with golden peanut buttery goodness, the Jif diversion safe is your best bet in hiding cannabis from the worst of marijuana moochers around.
Even if you aren't a fan of the energy drink, you can't deny that hiding your weed in this RockStar diversion safe is not only safe and secure, but almost hilarious for its pure brilliance.
Toss this bad boy in the fridge filled with all your weed or valuables of any kind and not a single person will even look twice, unless of course they like RockStar (which is slim, since not many of them are out there).
Thanks to livingsocial.com, you can buy up four variants of secret cannabis containers, all of which not only look super cool, but are smell proof and keep your valuables safe beyond measure.
I mean, come on! Who's gonna even think to look inside a freaking paint can? No one, that's who. Even the best of nosed potheads won't be able to smell what you hide inside these hiding places, just be sure to not keep it too hidden so you don't draw too much suspicion to it.
About the Creator
English psycho therapist. I like to help people and oftentimes do, when people take my advice seriously. It's all in the mind, you'll see...
Reader insights
Be the first to share your insights about this piece.
Add your insights