Emma Heming Willis Opens Up About Bruce Willis' Dementia Battle: A Heartfelt Journey of Love and Resilience
An Emotional Update on Hollywood Star Bruce Willis' Health Battle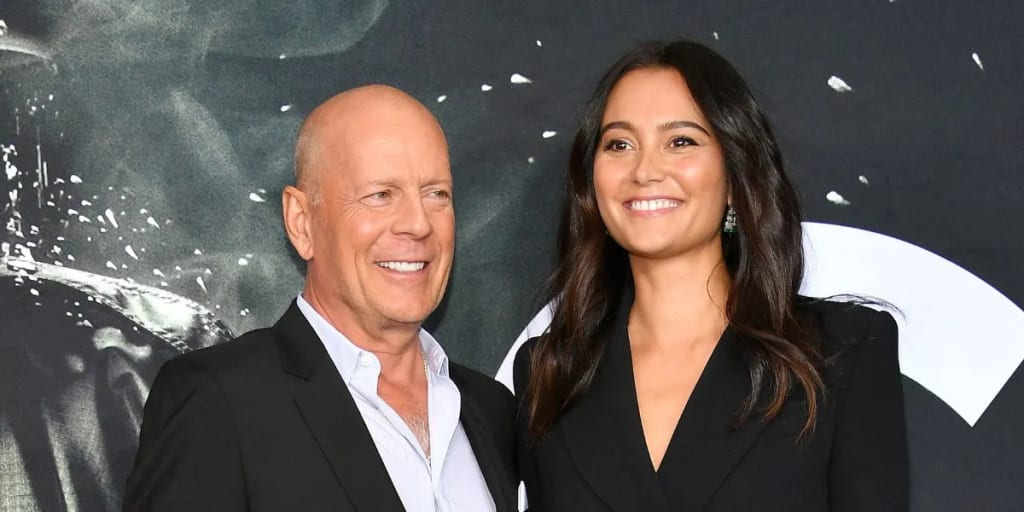 In a poignant and candid interview, Emma Heming Willis, the wife of iconic Hollywood actor Bruce Willis, has publicly shared her experiences since her husband's diagnosis with frontotemporal dementia (FTD) earlier this year. This deeply personal revelation sheds light on the challenges faced by their family and the remarkable strength and resilience that binds them together.
During an emotional conversation with Hoda Kotb on US Today, Emma Heming Willis was asked if Bruce, her husband of 14 years, is aware of his condition. In response, she expressed the difficulty of gauging his awareness, highlighting the complexity of dementia's impact on individuals.
Bruce Willis, renowned for his roles in over 100 films, including classics like "The Sixth Sense" and "Armageddon," officially retired from acting in the previous year. His decision came after being diagnosed with aphasia, a condition that impairs speech comprehension and expression.
This unexpected turn in his career was accompanied by the revelation, in February, of his diagnosis with frontotemporal dementia. The Willis family, known for its tight-knit bond over the years, embarked on a journey filled with emotional challenges and unwavering support for Bruce.
Emma Heming Willis, who shares two daughters, Mabel and Evelyn, with Bruce, joined forces with his three daughters from his previous marriage to Demi Moore – Rumer, Scout, and Tallulah. Together, they form a blended family that has remained resilient amid adversity.
Addressing the impact of dementia on her family, Emma Heming Willis acknowledged its profound effects on both the person diagnosed and their loved ones. She emphasized that, indeed, dementia is a "family disease" that tests the strength of every member involved.
World Frontotemporal Dementia Awareness week, spanning from September 24 to October 1, served as the backdrop for Emma Heming Willis' decision to share her family's journey. In the interview, she shared her perspective on the challenges they've faced and the importance of understanding and acceptance.
"I think it was the blessing and the curse. You know, to sort of finally understand what was happening so that I can be into the acceptance of what is," she remarked, reflecting on her husband's diagnosis. While acknowledging the enduring pain of their situation, Emma Heming Willis underscored the significance of embracing acceptance and focusing on the positive aspects of their lives.
She described herself as a "care partner" rather than a "care taker," emphasizing the importance of self-care for those in a similar role. Emma Heming Willis stressed that maintaining personal well-being is crucial to being the best possible support for her husband.
Despite the challenges, Emma Heming Willis fondly referred to Bruce as "the gift that keeps on giving." She shared how he has imparted invaluable life lessons to their daughters, Mabel and Evelyn, including love, patience, and resilience. Even amid the sadness, their journey has brought forth moments of beauty and connection.
To shed light on the unique aspects of frontotemporal dementia, Emma Heming Willis was joined on the studio set by Susan Dickinson, CEO of the Association for Frontotemporal Degeneration. Dickinson explained the distinctions between FTD and Alzheimer's disease, highlighting FTD's impact on language processing and behaviour, rather than memory.
FTD, often misdiagnosed, exhibits specific symptoms that Dickinson outlined. These include alterations in speech, personality, behaviour, and executive functioning. It can manifest as difficulty articulating coherent sentences, struggles with word recall, financial issues, workplace problems, and impaired decision-making.
Following the studio interview, Scout Willis, Bruce's daughter, expressed her deep admiration and love for Emma Heming Willis through an emotional message on her Instagram. She commended her stepmother's courage and strength, underscoring the profound bond within their family.
In conclusion, Emma Heming Willis' heartfelt interview provides an intimate glimpse into the Willis family's journey as they navigate the complexities of Bruce Willis' frontotemporal dementia diagnosis. Their story is a testament to love, resilience, and the unwavering support that family can offer in the face of adversity. Emma's message of acceptance and focusing on the positive aspects of life serves as an inspiring example for those confronting similar challenges, and her dedication as a care partner reflects the importance of self-care and compassion in the journey of caregiving.
About the Creator
I'm passionate about writing diverse topics, like thrilling word adventures, where imagination knows no bounds. Exploring ideas and stories is my forte, and I'm eager to share them with you.
Reader insights
Be the first to share your insights about this piece.
Add your insights