Cannabis Products that Aren't Edible 
You don't have to smoke to get the benefits of cannabis.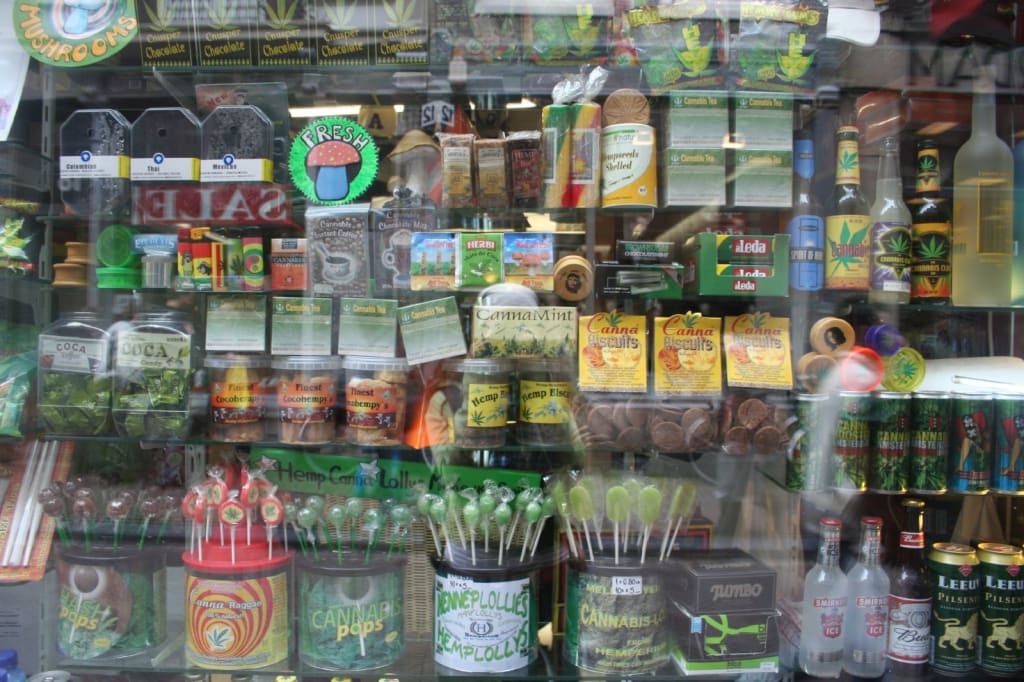 Edible cannabis products in a storefront in Amsterdam
When it comes to marijuana, the first thing everybody thinks about is smoking, whether that's rolling up a fat joint or doing huge bong rips. After smoking or vaporizing, most people think about brownies, chocolates, drinks, candy or other cannabis edibles. But that's not all there is in the world of cannabis products. Legalization has opened up a whole new world for marijuana enthusiasts, and now you can incorporate cannabis into pretty much every aspect of your life. There are also people for whom smoking or eating cannabis might not be the best option for delivery of the healthful compounds CBD and THC, so other products can literally be lifesavers. Let's take a quick tour through the world of non-edible marijuana products.
How do topical cannabis products work?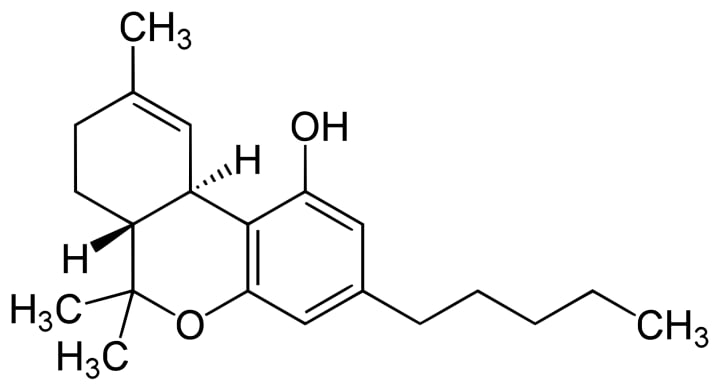 The body has various receptors for cannabinoids, called cb1 and cb2. Cb1 receptors bond with THC, and most of them are located in the brain and immune system. Surprisingly, most of the cb2 receptors for CBD are located directly in the skin. This means that topical applications of cannabinoids (both THC and CBD) are totally effective. Topical applications like creams or bath soaks are even more effective for certain conditions than taking cannabinoids orally, as they are delivered directly to the tissues that need them.
The Best Topical Cannabis Products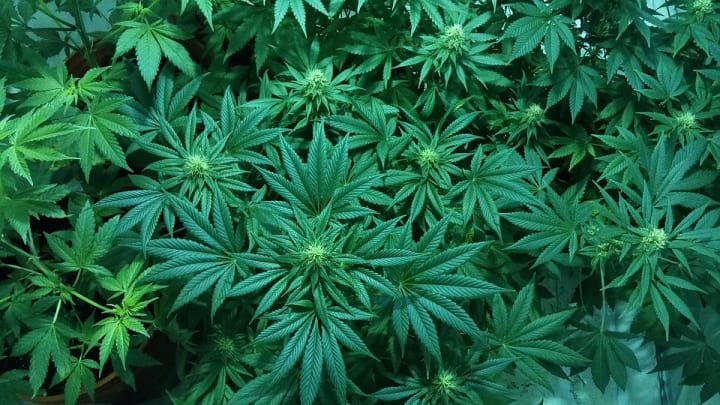 With legalization spreading over the US, many companies have started developing products containing hemp seed oil, CBD, and/or THC. The ingenuity of these cannabis entrepreneurs is boundless, and there's a ton of products out there that can deliver the beneficial effects of cannabinoids without having to risk your lungs or worry about side effects. A benefit is that topical products can often deliver more consistent dosages. Since cannabis is a natural ingredient, many of these products are also made from all natural, eco friendly, and allergen free ingredients.
Hand and Body Lotion
Everyday Creme by Apothecanna - This lotion is all natural and very rich, but it also has the added bonus of cannabis. It's filled with some awesome smelling essential oils like geranium and cedar, so you won't smell like a Phish concert if you use it in public. The cannabis oil in the lotion is antibacterial and antiinflammatory, according to the website, so the lotion would be very useful on aching feet, for example.
Balms & Salves
Whoopi & Maya's Medical Cannabis Rub by Whoopi & Maya - Balms generally have a thicker consistency that body lotions, though they are also very moisturizing to the skin. A cannabis salve or balm allows CBD and other cannabinoids to absorb through the skin, letting them go directly where they're needed for pain relief. The Rub by Whoopi & Maya is specifically formulated for menstrual cramps.
BONUS: Tattoo Care Salve - Ink 20/20 by Cannabis Basics - This is a very special balm made specifically for fresh tattoos! The cannabis in this deodorant stick style balm will protect your fresh ink with intense moisturizing ingredients while the cannabis reduces pain and swelling.
Inhalation Patches
Essential Oil Inhalation Patches by Bioesse - These are a unique product that combines the benefits of CBD hemp oil with other essential oils. Technically, you're still inhaling the CBD, but it's nowhere near the same experience as vaping or smoke. With the inhalation patch, you put the patch on your chest (the same place you'd put a vapor rub) and then inhale CBD as well as other essential oils. They make blends for various ailments including insomnia, menopause, and nausea.
Transdermal Patches
Transdermal Patch by Mary's Medicinals - These patches attach directly to the skin to allow absorption of the compounds in them, and they've been around since 1979. A major benefit of delivering drugs through the skin is that the dose can stay constant, and this is very important with cannabinoids. CBD and/or THC transdermal patches can be very effective for arthritis and cancer symptoms, specifically.
Lip Balm
CBD Lip Fix by Ambary Gardens - This product is an all natural lip balm with a ton of moisturizers in it, enriched with actual CBD oil, 15mg. It has shea butter and jojoba oil, both used for skin repair for centuries. CBD oil is great for the skin as well, as it's a super powerful antioxidant that can help refresh skin cells. Hemp oil has tons of vitamins that are good for the skin including C and E, both known for their usefulness for skin.
Bath Salts
Bath Soak by Dixie Elixers - Infused with 10mg THC per serving, this product is made for relaxing your body and relieving pain and muscle stiffness. The active compound in cannabis, THC is very good for pain relief and tension, just like when you smoke it. Delivery through the skin is super effective when you need the relief in a certain area, like joints or the site of nerve pain. A user with fibromyalgia noted that it brought their pain down considerably after a 30 minute soak.
Bar Soap
Hemp Bar Soap by Marley Natural - Hemp seed oil is very moisturizing and has lots of vitamins and minerals that are beneficial for the skin like Vitamins E and C. Hemp oils are retained when they're used in soap, and so the soaps made with hemp oil give the same benefits of creams and lotions that have the same cannabis oils in them.
Toothpaste
Regenerative Hemp Toothpaste by Cannaderm - Cannabis toothpaste is the latest and greatest in the cannabis personal care product industry. Admittedly, it straddles the line between topical and edible, as some CBD will be absorbed through the mouth. Cannabinoids are great for inflammation and pain, so they're perfect for painful teeth, and their antibacterial properties help with gum disease. Follow it up with a cannabis mouthwash serum for complete oral health care.
Shampoo & Conditioner
Chemotherapy "Head Trip" Shampoo & "Head Hope" Conditioner by Kush Creams - The benefits your skin sees from hemp seed oil can also help your hair stay shiny and soft, no matter what you're going through. Hair loss can be a problem when dealing with cancer, but you can get some cannabis love for your hair as well as in a topical cream.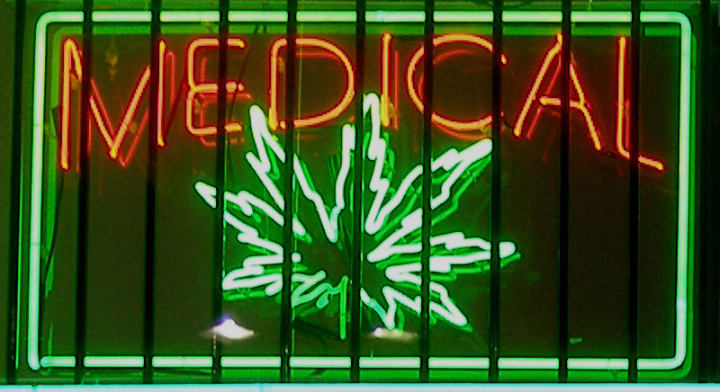 As always, please use cannabis products responsibly, purchase from reputable companies, and in accordance with local laws.