Best Pot Baked Potatoes Recipe
Experience the pot in baked pot-atoes in this exclusive Baked: Cooking with Mary Jean recipe.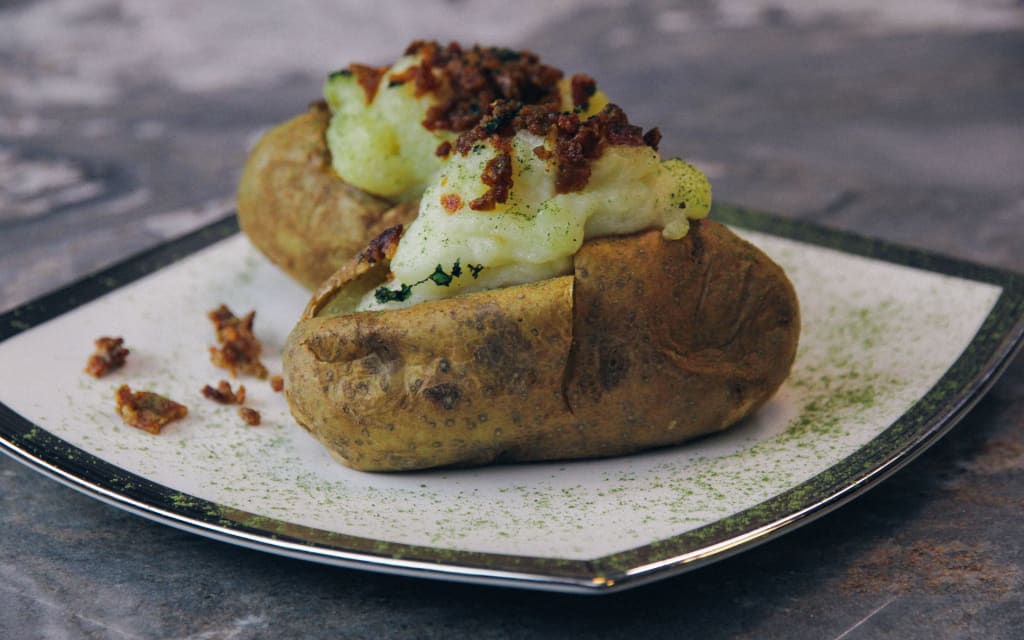 Potatoes are among one of the most popular categories of food: starch. According to the wise words of Samwise Gamgee, we can "boil 'em, mash 'em, and stick 'em in a stew." As a starch, potatoes may not be the healthiest option to include in your diet, but they sure are tasty and versatile. They've even found their way into popular culture with games like Hot Potato and toys like Mr. Potato head. But what if the Hot Potato became a... Pot Potato?
The Best Pot Baked Potatoes recipe is a fan favorite because it is absolutely delicious, filling, and incredibly baked. With a little help from oil conversion, the cannabis creates an exciting and intoxicating taste with the mushy-ushy goodness of the mashed potato inside of the potato skin. Follow along with the Best Pot Baked Potatoes recipe to create your own batch of baked heaven.
Decarboxylation is the most important element of any Baked: Cooking with Mary Jean recipe to learn, master, and perfect. Common mediums in which to infuse cannabis are meats, oils, butter, and alcohol. For the Best Pot Baked Potatoes recipe you'll need to convert your cannabis in oil––specifically olive oil. In terms of your cannabis, choose clean cannabis. Phant Extracts is our favorite clean, natural choice to include with your food. Some growers put pesticides and herbicides in their crop, and others don't even flush their crop properly. Know your source!
I normally don't like to convert cannabis in olive oil, because it doesn't sit as well at higher temperatures as coconut and peanut oils do. But we must have olive oil for our potatoes—so olive oil it is!
Without the process of decarboxylation, the inactive psychoactive components of the THCA will not be activated until it becomes THC. This crucial process occurs when the carbon atom is knocked off of the THCA, commonly achieved through high heat and time, leaving us with THC.
The White Castle brand is an intricate, inseparable relationship between the burger and the fry. It is only fitting that the Pot Baked Potatoes recipe is paired perfectly with the White Castle indica-dominant strain. The sweet strawberry flavors of this strain produce a social and uplifting high while also producing a stronger couch-locking stone. The White Castle strain is most sought after for its powerful effects on chronic aches and pains, while its upbeat mind effects may make it helpful to those with anxiety and stress disorders.
A popular way to decarboxylate your cannabis for ingestion is with the oven. Temperature is a key concept needed in any cannabis conversion. Think about it: when you smoke or vape, you're using a high intensity volume of heat in a very short amount of time. Smoking or vaping achieves the decarboxylation process instantaneously for the user. Cooking, however, takes a little more effort.
When cooking with oil, you do not need to decarboxylate your cannabis prior to cooking. The time and heat associated with the medium accomplish that for you. Before you begin this recipe, place a half-cup of olive oil in a pot on the stove and let it simmer. Then, add about three grams of ground cannabis into the pot, and stir every few minutes. Now that you know the basics, let's get cooking!
Let's Get Baked!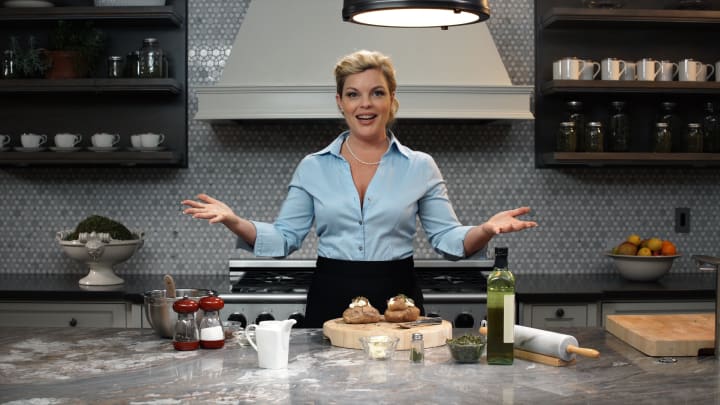 For this recipe you'll need:
Baked potatoes (for this recipe, I use two)
Cannabis-infused olive oil
Butter
Milk
Garnishes (bacon bits, chives, etc.)
Salt shaker with ground cannabis
Piping bag or ziploc bag
The first thing you need to do is "score" your already-baked potatoes. Cut an "X" with a knife through the top of both of them.
Scoop out a little less than half of the potato from the X and put the inside of the potato into a bowl. This leaves you with two "half-shell" potatoes.
You'll then add a little bit of butter and milk into the bowl in order to mash the potatoes. Start mixing that combination around before adding your cannabis-infused olive oil. In general, one teaspoon = one serving, so for this recipe add two teaspoons of cannabis-infused olive oil (remember, we made one cup, so you'll have extra). Once the cannabis olive oil has been added, continue mashing your mixture.
Important tip: You really want to make sure you mash thoroughly so that the cannabis olive oil is evenly distributed throughout the combination.
Then, take the mashed potato mixture and put it inside a ziplock bag (you can also use a piping bag if you have one). Cut a tiny hole in the bottom of the ziploc so that you can nicely pipe the potatoes onto the plate.
Finally, you're going to pipe the potatoes from the ziploc back into the original half-filled baked potato shell. You can then garnish the potato with anything you wish!
In this recipe, I put some bacon bits and fresh parsley on top of the potato, and I top it off with a little shake cannabis from the salt shaker (just for show!).
Just like that, you've successfully created the Best Pot Baked Potatoes, proven to make any day a great day. You saw it here exclusively on Baked: Cooking with Mary Jean.
Cooking and Cannabis: the greatest marriage since the discovery of food. From cocktails to hamburgers, desserts to eggs, Baked: A Marijuana Cookbook explores the vast and highly anticipated world of cooking with everyone's favorite green ingredient: weed. With easy to follow instructions, engaging photographs, and a fool-proof "you-can-read-this-even-if-you're-high" approach, Baked makes a great gift for first time chefs, stoners, food aficionados, and grandmothers. Presented by Potent, powered by pot, Baked makes any cooking occasion a smoking hot one.
cooking
About the author
Also known as Watermelon. A Vancouver personality, pin-up model, and cannabis expert. She is the star of Potent's series Baked: Cooking with Mary Jean.
Reader insights
Be the first to share your insights about this piece.
Add your insights