Cannabis Granola Recipe
Choose your favorite healthy ingredients to create the perfect cannabis granola recipe––with a gram in every bite.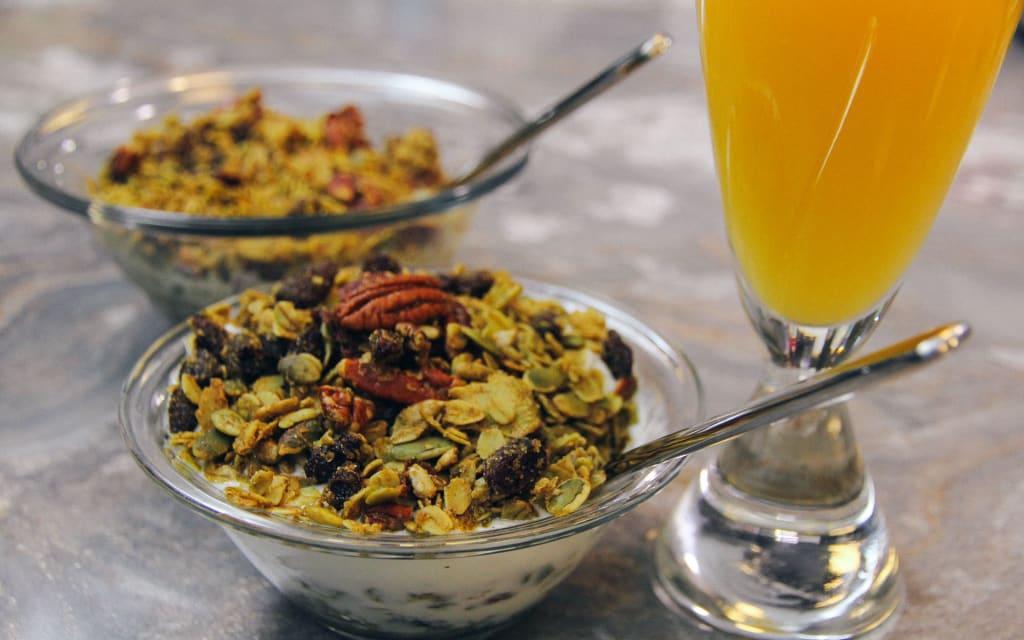 Homemade treats add a pinch of unexpected sweetness into your life. With an enormous amount of chocolate, candy, and sugary goodies available at every convenience store, some may find it difficult to create a unique, healthy, and absolutely delectable snack on which to munch. In a world of Kit Kats, Snickers, and Sour Patch Kids, one homemade treat stands out among its competitors: Cannabis Granola. Or, should I say, Gramola.
With one gram of weed in every bite, the Cannabis Granola bar is just like any treat you can think of––except it's on steroids. Sprinkle it in your morning yogurt, take it on the trail, or bring it to the theater, because this Cannabis Granola recipe is potent, powerful, and will—without a doubt—get you baked.
Baked: Cooking with Mary Jean emphasizes homemade cannabis cooking to create a healthy and happy life. Homemade cooking in its very nature is a healthier alternative to eating out every night, and this recipe is no exception. It's nutritious, balanced, and exceptionally satisfying. With the best ingredients for your body, the Granola recipe combines nature's favorite seeds with nature's favorite flower. Follow along as we create your new favorite all-green snack.
A common misconception associated with weed cooking is that you can simply ingest the weed without doing anything to it. Meanwhile, this is a complete waste of your weed. Without the process of decarboxylation, the inactive psychoactive components of the THCA will not be activated until it becomes THC. This crucial process occurs when the carbon atom is knocked off of the THCA, commonly achieved through high heat and time (leaving us with THC).
Decarboxylation is the most important component of any Baked: Cooking with Mary Jean recipe. Common mediums in which to infuse cannabis are butter, oils, and meats. For this recipe, you'll need to convert your cannabis in oil––specifically, coconut oil.
Some oils are better for infusing cannabis than others. For example, coconut oil and peanut oil are preferred to use in cannabis recipes because they respond well to higher temperatures when sautéing and cooking. Conversely, olive oil is not ideal for converting cannabis, as it does not sit well at higher temperatures. Always choose clean cannabis. Phant Extracts is our favorite clean, natural choice to include with your food. Some growers put pesticides and herbicides in their crop, and some don't even flush their crops properly. Know your source!
Lemon Heart sativa is not your typical high-energy strain. While most sativas can be similar to a strong cup of coffee, Lemon Sativa tends to provide its users with a relaxing, heavy body sensation, with euphoric, talkative, and giggly effects. It reduces stress, pain, and cramps. As the name suggests, this strain has an aroma similar to a lemon drop candy, which pairs perfectly with the array of healthy and natural ingredients featured in the granola recipe.
When cooking with oil, you do not need to decarboxylate your cannabis prior to cooking. The time and heat associated with the medium will accomplish this for you.
Remember: Practice makes perfect! Don't feel discouraged if you incompletely convert the cannabis on your first try. You'll soon discover the exact heat and duration needed for your own home appliances. If this process is not completed (or is executed poorly), the cannabinoids will not be active and you will not experience any of the psychoactive desirable effects.
An Ode to Oats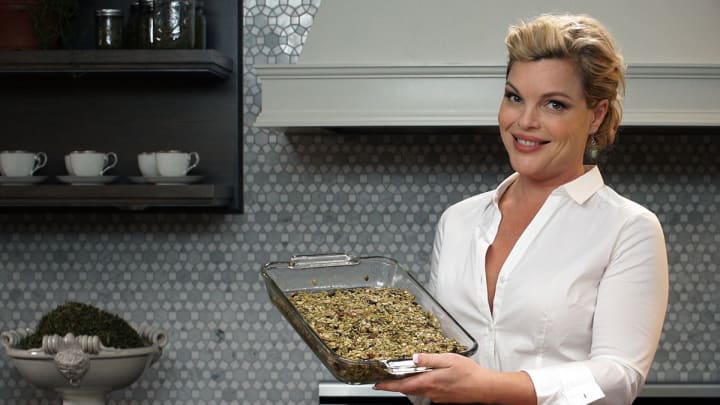 For this recipe, you'll need:
Oats
1 cup Brown Sugar
1 cup Maple Syrup
1 cup each of an assortment of your favorite nuts & seeds (Pecans, Pumpkin seeds, Raisins, Sunflower seeds, and Coconut ribbon)
1/2 cup Coconut Oil
Teaspoon Cinnamon
Pinch of Salt
10 grams of Marijuana
First thing's first: preheat your oven to 250 degrees. This bowl of Cannabis Granola will make ten servings. If there's a "gram" in every bowl of granola, we need to weigh out ten grams of marijuana (remember to grind it up!)
In order to convert your cannabis in the coconut oil, pour the half-cup of coconut oil into a pot on the stove. Add ten grams of your shake flower in, and sauté it nice, low, and slowly. Stir it a few times every minute to ensure the upcoming infusion.
While your cannabis and coconut oil are sautéing, go ahead and mix all of your dry ingredients into a bowl with the oats. You can mix it with a spoon or with your hands––whichever you like! Save the maple syrup for last; this will infuse all of the ingredients together.
Let the cannabis coconut oil cool down before adding it into the granola. It'll have a beautiful green hue to it when complete. Use a spatula to make sure every last drop of the infused oil finds its way into the bowl. Waste not want not!
Once all of your ingredients are mixed together (with our favorite ingredient being the cannabis coconut oil) pour and flatten everything into a glass pan. Then, place it into your preheated oven at 250 degrees.
Every 10 to 15 minutes, break up the granola with a fork and move it around, allowing your granola to evenly toast. After one hour, take it out of the oven and let it cool. Serve and enjoy!
Cooking and Cannabis: the greatest marriage since the discovery of food. From cocktails to hamburgers, and desserts to eggs, Baked: A Marijuana Cookbook explores the vast and highly anticipated world of cooking with everyone's favorite green ingredient: weed. With easy to follow instructions, engaging photographs, and a fool-proof "you-can-read-this-even-if-you're-high" approach, Baked makes a great gift for first time chefs, stoners, food aficionados, and grandmothers. Presented by Potent, powered by pot, Baked makes any cooking occasion a smoking hot one.
cooking
Also known as Watermelon. A Vancouver personality, pin-up model, and cannabis expert. She is the star of Potent's series Baked: Cooking with Mary Jean.