How To Decarboxylate for Edibles
Decarboxylate your weed for a powerful high when cooking or baking edibles.
In order to create any of the Baked: Cooking with Mary Jean recipes, one crucial step is necessary: Decarboxylation. Now, say that five times fast!
Decarboxylation is absolutely crucial in enjoying the psychoactive effects of the cannabinoids in our edibles. Decarboxylate it is a scientific term for "if you knock the carbon element off of the THCA molecule, you can get high!" In short, when THCA becomes THC, your cannabis becomes psychoactive. Thus, allowing you to experience all of its effects. In order to understand this process, let's do a quick science lesson:
Science of Decarboxylation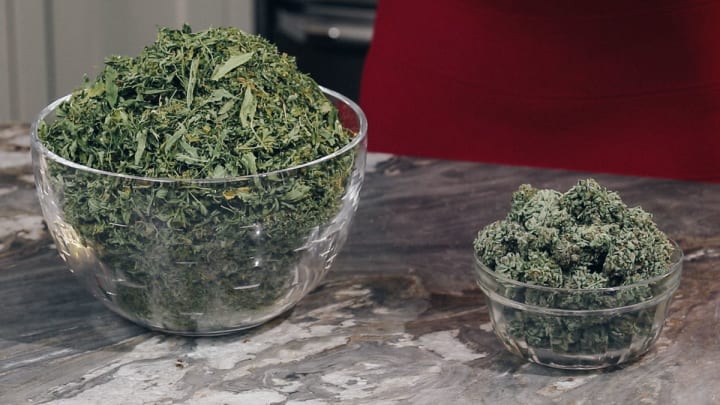 Cannabinoids are a class of chemical compounds which act on cannabinoid receptors (involved in appetite, pain-sensation, memory, and mood) that repress neurotransmitter release in the brain. There are three classifications of cannabinoids: "endo–", which is produced naturally, "phyto–", which is found in cannabis, and "synthetic", which is manufactured artificially.
All endocannabinoids (which are found within the trichomes of raw cannabis flowers) have an extra carboxyl ring (COOH) attached. The most common is THCA. But THCA is NOT psychoactive. In order to experience its effects, it must be converted to THC through (drum roll please…) decarboxylation!
This process happens extremely slowly when the cannabis is cured. However, with the handy-dandy invention of the oven, we can speed up that process. Decarbing occurs most often when cannabis is smoked, which means it is crucial to do it before you make any recipes involving oils, butter, and tinctures.
The two main contributing factors to actually decarboxylate something are time and heat. While vaporizing and smoking instantaneously decarboxylate the cannabinoids (because of their extremely high temperatures), at the same time it eradicates them. In order to decarboxylate for edibles, you need to maintain the integrity of the cannabinoid and not destroy it completely––making it a more complicated (yet easily taught) process. Edibles require present cannabinoids because our body absorbs them in digestion. By heating cannabinoids at a lower temperature, during a long duration, we achieve success!
How to Decarboxylate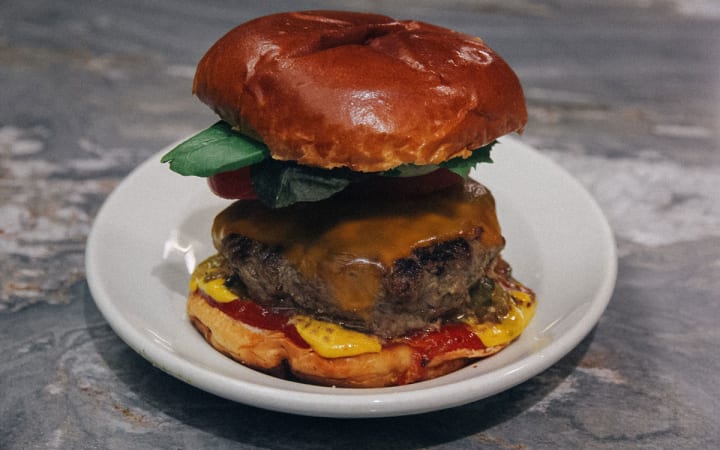 THCA in cannabis begins to decarboxylate at 220 degrees Fahrenheit after 30 to 45 minutes of exposure. This process varies depending on what materials you may have at hand, and full decarboxylation requires more time. Do not exceed 300 degrees Fahrenheit, as that compromises the integrity of the cannabinoids.
In order to decarboxylate, you'll need:
Oven set to 220 degrees Fahrenheit
Ground cannabis
One baking sheet
Parchment paper
Finely grind your cannabis until it can be spread finely and thinly over the parchment you have placed on your baking sheet. Place the sheet into the oven for about 30-45 minutes. You're going to want the cannabis to as ground as possible. I recommend an electric grinder like the one from QUANT.
If you choose to use sugar leaves or kief, no grinding is necessary. But, if you're using full buds, you must grind them before proceeding. This is done so that the cannabis releases all of the moisture it is holding in.
Tips and Tricks
We're all used to the beautiful pictures of cannabis buds: round, plump, and ready for smoking. But that's just it––cannabis buds are meant for smoking. They are not ideal to cook with. Instead, save the good stuff, and cook with shake or trim.
The shake, or the trim, is everything that is cut off around the bud (which is usually swept up into the garbage and forgotten about). Often, if you're clever, you can make hashish out of it. For cooking, and for the sake of this crash course in cannabis conversion, shake is preferred. If you can't find shake, however, use what marijuana you can find.
I can't emphasize this enough: not all cannabis is created equal. The best cannabis for cooking is clean cannabis. Phant Extracts is the clean, natural choice to include with your food. Some growers put pesticides and herbicides in their crop, and some don't even flush their crops properly. Please, know your source! Choose clean cannabis.
When the cannabis is a dark color (about medium to light brown) take it out, and allow the cannabis to cool. Then, store in an airtight container, and use in some of your Baked: Cooking with Mary Jean favorite recipes!
Cooking and Cannabis: the greatest marriage since the discovery of food. From cocktails to hamburgers, desserts to eggs, Baked: A Marijuana Cookbook explores the vast and highly anticipated world of cooking with everyone's favorite green ingredient: weed. With easy to follow instructions, engaging photographs, and a fool-proof "you-can-read-this-even-if-you're-high" approach, Baked makes a great gift for first time chefs, stoners, food aficionados, and grandmothers. Presented by Potent, powered by pot, Baked makes any cooking occasion a smoking hot one.
Baked: A Marijuana Cookbook is also available on: