The Great American Poet
Chicken A Little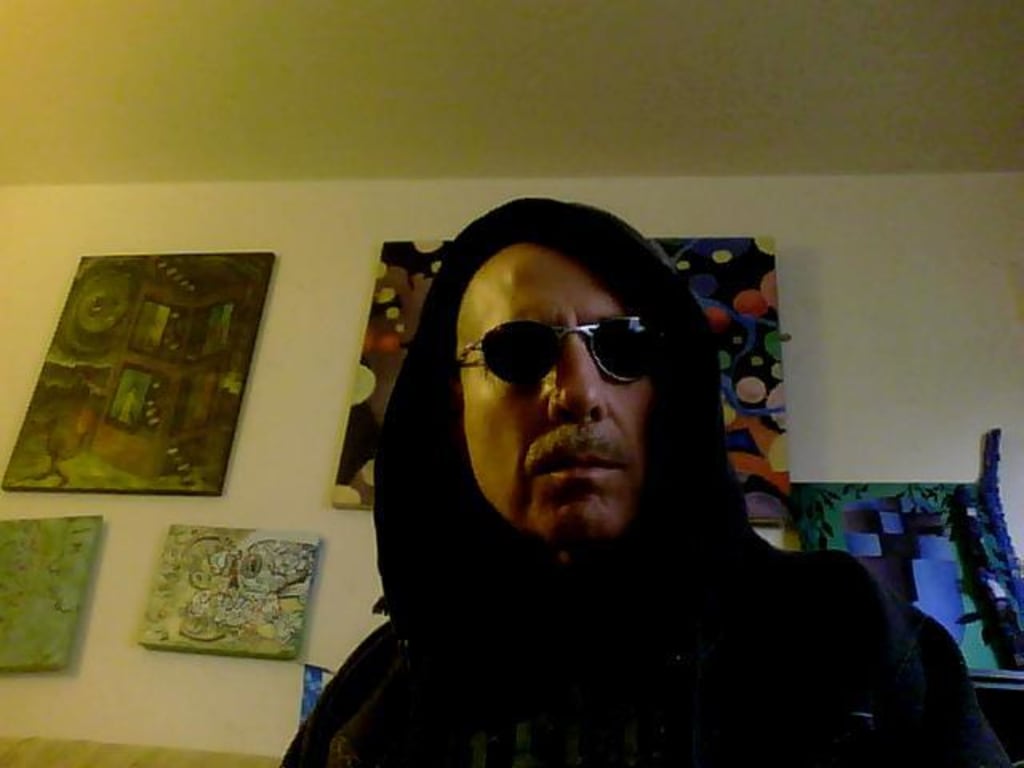 we commiserate
the last function
of the last poets
generation after generation
some kook convinces people
we are in the end times
the ice caps are melting
shit is never going to be the same
sooner than we'll want to believe will be the times
when you will see what you and yours
can live through
with
I want to take the future in my arms and hold tight
bring them right here
right now
and press STOP
The Seventh Day Adventist's
started with a largest revival in the history of the USA
tens of thousands believed the signs had been seen
good chunk of the population in the 1800's
gave away earthly goods
went out in the hills on a fall night
awaiting the end
October twenty second
no Great Pumpkin appeared
Aaconvenient revelation sure came though
saved a few scraps of the church
the cash flow
to the ministers
goes on to this day
I read Christ's original apostles
expected the End in their time?
guesses all and foolish to any God as sure as shit
generation after generation
thinking their problems
were the worst ever was
certain the end was 'nigh
came with plagues and charismatics
Searching the skies for angels
listening for Gabriel's horn
Messiahs rise and fall throughout history of course of course
nothing new
Joseph Smith was killed for land grabs
Now the Mormon's just call that the 'troubles'
Built an army so large the US government
threatened them with war
if they did not disperse
they wanted a Mormon country out there in the desert
live with harems
tell themselves they would become God's one day
create universes
while the women served their man
blacks and Native American's were kept out
until it was putrid to any thinking person
and a 'new revelations' came down
said CONVERT THESE BLACK PEOPLE
now the largest growing demographic
in a world where your sci-fi imagination
is the only boundary
to the universes the MEN
can build
The endless pattern makers
terrify me now
I looked in the eyes of a religious zealot just once
a man intelligence had in a cult
killing for the cause
hopped up on some mind mania
I had never seen before
to kill where he was aimed
classified and still out there
Yeats said, 'The best lack all convictions,
and the worst are filled with passionate intensity. '
Hawthorne wore the shame of having a grandfather
who sentenced innocent women charged as witches to die
in a time when his peers looked at such behavior as barbarous
Christianity as foolish
Religion dying all over the world
tradition over faith
passing on of ethics with a heaven and a hell
passé in intellectual circles
a UFO cult
killed themselves in brand new matching sneakers
after getting really good with computers and then cutting off their balls
they thought they were catching a ride on a space ship
hidden behind an asteroid
they all had five dollars
in their pocket
they lived in a huge mansion
slave labor undercut competing programmers
people hate the world
pretend themselves into another human geography altogether
unknown, cryptic, deadly
a survivor who was not there for the mass suicide
was sure he had missed
his ride on a UFO
NOW science says
7-9 degree rise in a hundred years
the end, the end they say is near
where is the horror?
report comes out in the Chicago Tribune
I expect the world to stop and go WHAT THE FUCK?
THE WORLD IS ENDING?
instead of listening to 97% of the scientists
social media is filled with the denial that comes of cowardice
yes
there was a tipping point
awhile back
most missed it
could have been forty some years ago?
a self perpetuating greenhouse doesn't need
anything else from us now
we hope it hasn't started
ignore science
until the refugee's finally reach our very doors
A sane species would prepare
have leaders that cared
the rich rule and they are more interested in escape plans
to private cities and mansions underground
the government will be gone in the end
every man woman and child for themselves
the zombie flicks on tv good training for what is to come
Lord, spare us the worst of ourselves in this time
spare us the worst of ourselves
Read long ago about a poet who kept a skull on his desk
to remind him he wrote for the future and I thought that way for awhile
now the future isn't going to be there
we write for the now
pretend the end isn't coming
the problem ignored and best forgotten
to keep the conversation lively/to avoid social shunning
a mystery a horror story an adventure
anything but what all the poets seek
the maligned, discarded, avoided stinking filthy fucking truth
I'll be a sentinel
commiserating
the last shepherds
as they gather the sheep
and close the barn door
social commentary
About the author
I have five published books, wrote for two small tv shows, hosted the comedy hit PEACE AND PIPEDREAMS, playing 14 comedy characters plus... on FEARLESS RADIO. I also consult for the intelligence community in various capacities.
Reader insights
Outstanding
Excellent work. Looking forward to reading more!
Top insights
Compelling and original writing

Creative use of language & vocab

Easy to read and follow

Well-structured & engaging content

Excellent storytelling

Original narrative & well developed characters
Expert insights and opinions

Arguments were carefully researched and presented

Eye opening

Niche topic & fresh perspectives

Heartfelt and relatable

The story invoked strong personal emotions

On-point and relevant

Writing reflected the title & theme
Add your insights