Soup for the Summer
For my eldest sister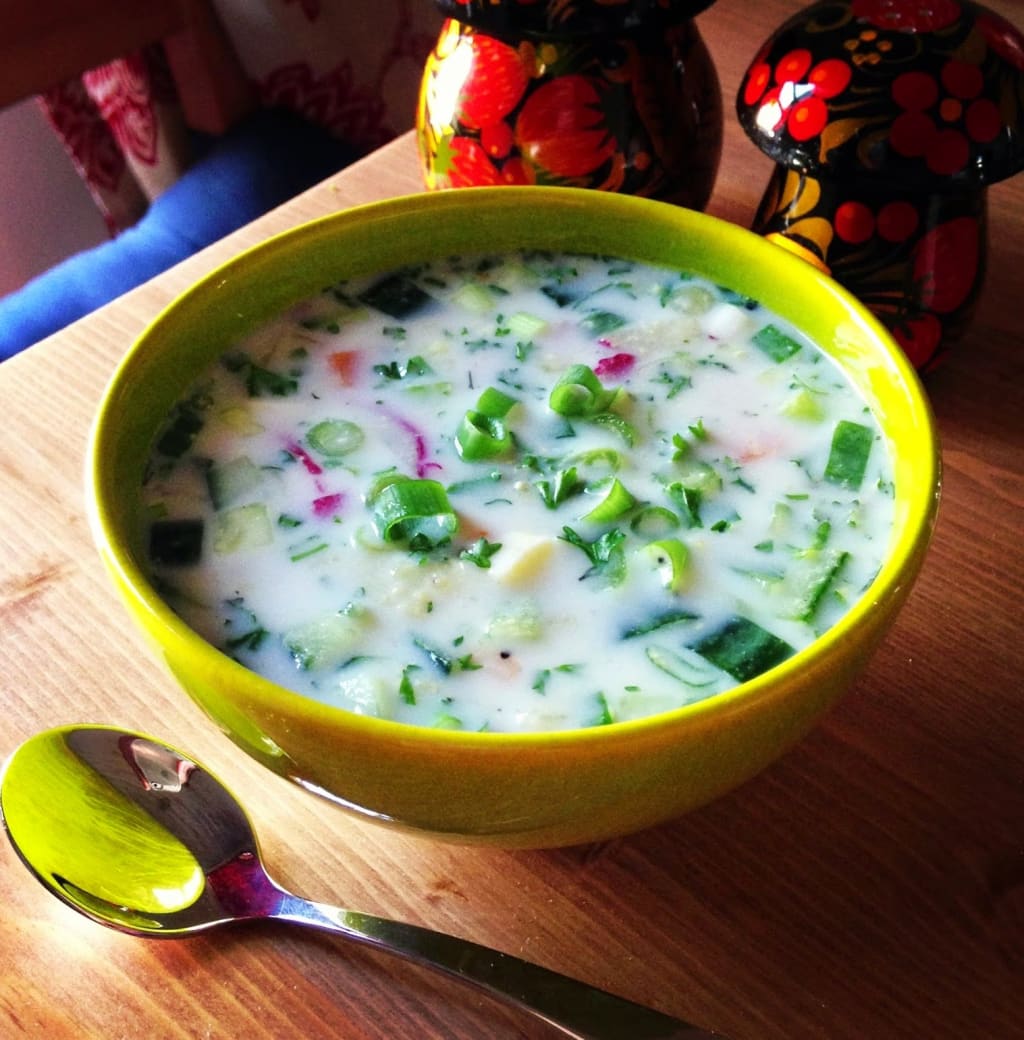 Okroshka, source: https://recipestab.blogspot.com/2015/02/okroshka-recipe-rusian-cold-soup.html
I can't believe I have to be here..
The last place you'd want to be
When it's blistering, I'm glistening
My arms harbor their own storm, I'm sweating more
Than a gay Catholic priest in a Drag Show.
At least that's entertaining,
I'm in the DMV, when I'd rather ATV
But hey, better now than regret it later.
"Next serving…B18"
A quiet grumble waves through the room.
Because we all knew,
Without an appointment, you're doomed.
We don't need to look at our tickets to know we're cuckold–
G32
I've still got a long waiting to-go.
As a trickle of sweat licks my arm, I
I know it's the summer snail, coming in strong.
A damp cut-out tee wipes it off, I make a mental note,
'Yup.. this one's for the wash.'
Now I'm in a bit of a stand-still.
In the Department of Buzz-Kill,
It's hot enough in the belly of bureaucracy,
But in the summer, it's
A long line of porta-potty's and you've got to pee.
At least I brought a book to read.
But after a while, even the page-turners start to weave.
Especially when your attention peaks
To what's down beneath–
NO I'm no making a dirty joke,
I'm talking about the rumbly beasty,
The one making noises and talking freely,
The undeniable child, no quarter nor treaty
I am hungry, FEED ME!!
'Oh my,'
I slide a sheepish smile to wandering eyes, strangers
Of too much shared quiet and time.
With little else, I rack my brain
What do I have to make?
I'm sitting here, aren't I?
Going out I can't afford,
Paying the registration, I'm broke.
I want something delicious,
Something cold…
I'll want a snack after I smoke…
I dig deep enough, maybe I'll strike gold.
"Next serving…F04."
Might as well mind-meld
And ponder like a Deal the Devil's dealt.
For there's always one thing,
Even makes my mama's mouth melt.
Perfect for summer,
Nostalgia with that sunburn,
Wrestling ideas in my head like a tongue worm.
"Next serving…A21"
Oh great, it gets worse.
Thoughts dwindle as rabid thirst
There's got to be a slavic dish I've learned…
Well.. there's the one. But I've been served–
Never thought to observe
And ask mom what she did, for I always ate it first!
DAMN.
Ok, here's the college prep–
If you don't have it, there's the internet.
Spelled out phonetically,
I searched and found some recipes.
It's quite easy, actually
It won't be hard to make, nor hard to eat,
My cheeks grinned like Scrooge's greed.
"Next serving…H17."
My armor was impervious , glee was tough to beat.
Closed my eyes, sat back and rewind–
Back on the road, to the places I've called home,
From the webpage on my phone,
Listing off ingredients I've boughten atoned–
Cucumber…
Yes, I've always got a bag of those!
Delicious crisps of water,
which doesn't go up your nose.
Chicken eggs!
How many? I don't know
As long as they're boiled and chopped, we're good to go.
Let's see… we always need our greens…
Yup! I've got stringy vert onion, green!
Dill, too,
That's a great idea, dude!
Alright…
We can throw in radish,
Add a bit of crunch, texture, too
It'll be a decadent veggie-brew!
I don't have ham, and that's fine
Because it'll still be deliciously alright.
Ok, I've got the heart of it down,
But without the base,
The right tinkering, you won't get the taste.
What's interesting, is what you're trying to recreate.
The original way it's made,
Recycle the bits and drips of cheese-waste,
Otherwise what you throw away.
It's those juices that nail the broth, it's
The royalty that crowns the top.
Unless you're home-cultivating moldy milk,
Sour cream and white vinegar take their place.
Now the real flex, patience.
Can you tinker with a little of this, tad of that,
Diligent enough to be on the right track.
Once you're there, throw in the rest.
Doing the bulk before the bedding
Is what sets you back.
Once you're done, supposed to let it saturate
At least 12 hours, or even a day,
But knowing me, I won't even wait!
I give it thirty, and they've called my name,
After J28 came,
Imagine the disgrace.
Supposed to go in order, aren't they?
Well, that's the way–nothing but red tape.
I stepped out of the office, no more than five,
My sister gave me a ring and a surprise–
"Are you still coming over tonight?"
Oh Dickens, completely slipped my mind!
"I'm so sorry, I can't. I just got out,
I've got to make food and water my plants."
"Okay. I understand."
But before I hung up, she threw her final chance–
"We've got okroshka..."
I answered quick,
For quality food , and quality fam.
N.Vs
VI.21.22