An Ode to Spatchcocked Chicken
Table Humor - With My Apologies to Bill Shakespeare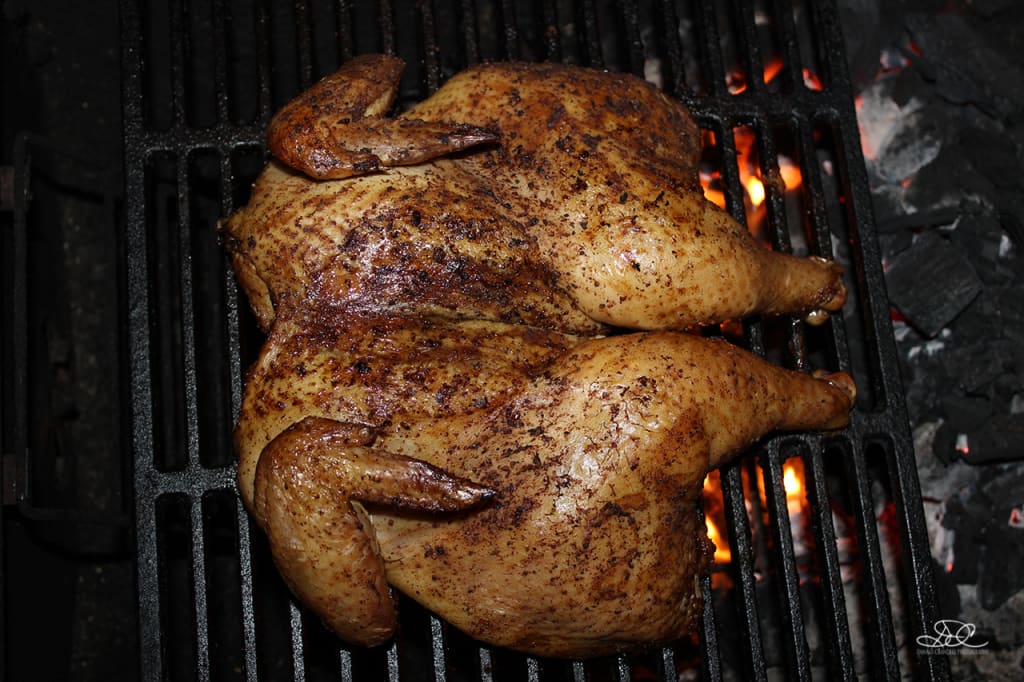 "Spatchcocked Chicken" by Dana O. Crandell
(This one is best read with your best Vincent Price voice impression)
O' spatchcocked chicken, so divine
Deprived of breastbone, tail and spine,
Spread in most immodest fashion!
Rubbed with spices, oil and passion!
---
Thrust on heated iron grating,
Searing in those juices waiting
To be bathed in sav'ry smoke
Of natural mesquite and oak.
---
There, thou sizzled, slowly roasting,
Flavors mixing, spices toasting
While thy thighs cooked by convection
'Til thy skin was crisp'd perfection.
---
Oh, the joy! The bliss! The rapture
As the barbecue tongs capture
Thy distended, splitting breast
And I set you aside to rest.
---
Dice cucumber and tomato.
Unwrap foil from red potato.
Now the knife! Cut true and steady!
(Tell the wife that dinner's ready.)
---
At long last, my fork impales thee
And my table knife assails thee
And my senses know the pleasure
Of thy flavor, beyond measure.
---
Ah, my lovely fowl, my chicken,
I am cursed - forever stricken
By a bird that eats its poop.
Tomorrow's dinner? Chicken soup!
About the Creator
Dad, Stedpad, Grandpa, Husband, lover of Nature and dogs.
Writer, Editor, Photographer and Tech/Internet nerd. Content writer by trade. Vocal Creator by choice.
Reader insights
Be the first to share your insights about this piece.
Add your insights