A December Morning
Sleigh Rides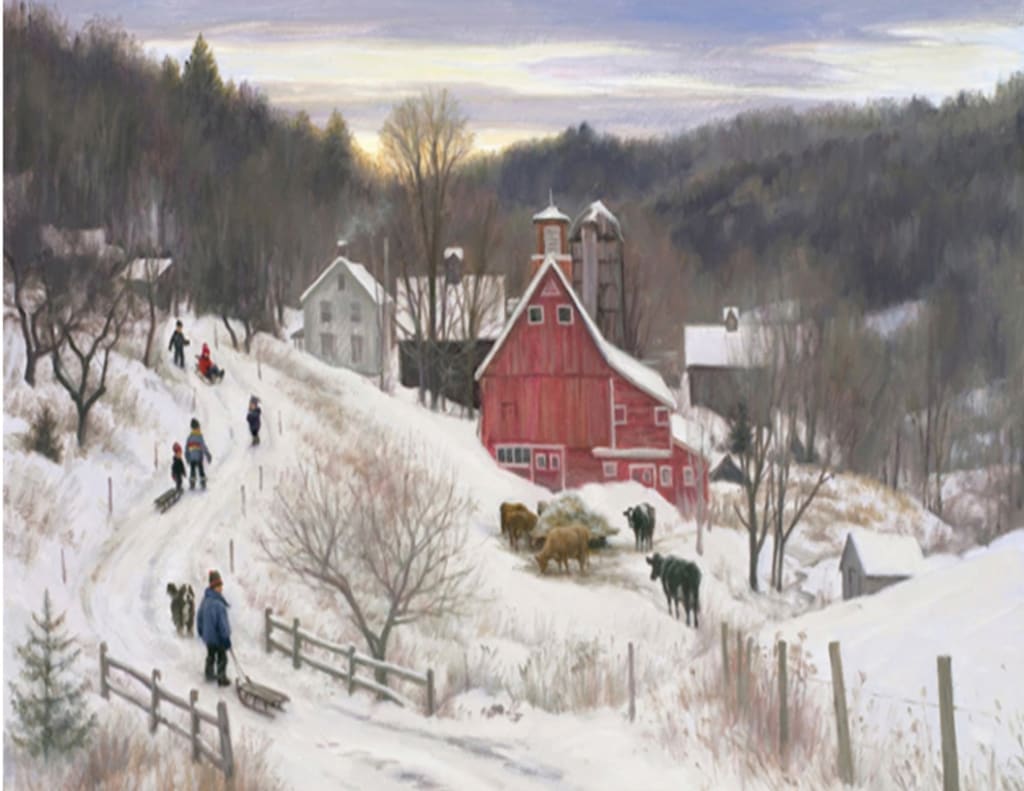 A December Morning
Once on white mountains as I remember,
Three children watched Jack Frost's magic fingers.
Etching upon the translucent surface of the glass,
Were shimming artworks heretofore unsurpassed.
Standing with my brothers, and loved ones dear,
It was a December morn that some often fear.
Sparkling snowflakes falling, all descending,
As we stood with prayers for more ascending.
We loved the snow, knee high it would get,
And we waited watching without regret.
When it was finished, its artwork complete,
I and my brothers would be given a treat.
Silent lay the white blessings in all directions,
And bundled layers deep we were assured protection.
On this early December morn we walked onto snow,
Knowing our sleds would take us where we needed to go.
With sleds in tow, we three walked upon the placid white,
And looked at snow covered roads that would be our delight.
Pulling our sleds with all of our might,
And before long, we were out of mom's sight.
With no one watching or calling us back,
To the top of the hill with me following their tracks.
Sleds pulled by my brothers making memories anew,
As we all gathered turning to see our snowy course in view.
We pushed our sleds to the limit those days,
When we three brothers gathered on the hill far away.
It was a December morn that called us and chided,
Within my mind's library of memories, this sight has resided.
So, I'll hold these memories close within me,
And pen them to paper for my grandchild to see.
For December mornings, a welcomed visitor to our hill,
When Jack Frost and Winter's snowflakes were a priceless thrill.
By: Dan R. Fowler
For: Astrid
About the Creator
Dan R. Fowler. at 69.9 years old and a grandfather raising my grandchild, I wanted to leave behind something of myself for her. 36 novels & audiobooks Amazon hopefully will comfort her by showing how much I love her. danrfowler.com
.
Reader insights
Be the first to share your insights about this piece.
Add your insights