What makes a good postcard?
A personal look at the type of photographs that work well as postcard designs for post-crossing
Steam Train on the West Highland Line
I've been post-crossing as werewegian for over ten years now. In case you don't know, postcrossing.com is a great website where you send a postcard to a randomly generated address around the world, and when it arrives and is registered, you in turn receive a postcard from a third random party. It's a fun hobby and one of the reasons I like it is that as well as tourist, Royal Mail or shop bought postcards, I can send postcards made from my own photographs. I make these at moo.com.
Many of these postcards are well-received and one of the ways I gauge this is if the receiver marks it as a favourite. Other users of the site can also "fave" your postcards, and post-crossing provides each user with a private wall of their popular postcards. So it's a combination of information from my own private wall and my own personal preferences that I will use to present this list of photo topics.
Doctor Who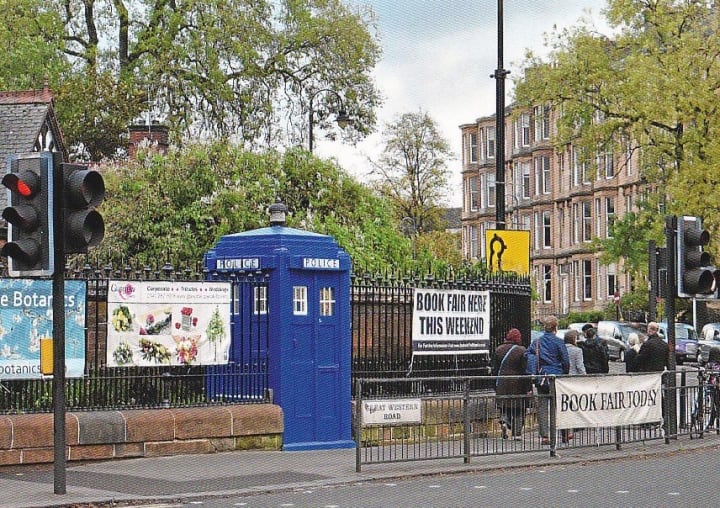 I'm a long-time fan of the BBC serial Doctor Who and in fact have been watching since the 1960s. I can even remember the first regeneration from William Hartnell to Patrick Troughton. In case you're not aware, the show involves an alien who travels the universe in space and time having adventures. The Doctor's spaceship, the Tardis, is disguised as a police box, a structure much like a small shed that British police in the 20th century used to communicate with their stations. I'm lucky in that I live in Glasgow, where many police boxes have been repurposed as snack bars or information kiosks so it's very easy for me to photograph these and without even attempting cosplay I have a geeky item that works as a postcard. Examples that people seem to like are Postcard GB-423728, Postcard GB-501304 and Postcard GB-971325. Items related to TV or Movies are always popular.
Architecture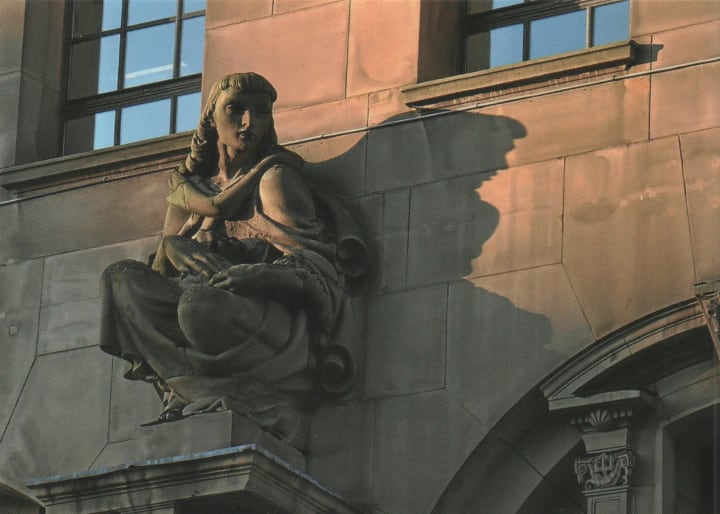 I live in the large Scottish city of Glasgow which has hundreds of years of history so I have both old and modern buildings to shoot. These are the closest to the tourist postcard that you can make although it is often more interesting to look at architectural details rather than the whole. I also love shooting castles, ruined abbeys such as Whitby in Yorkshire, and stone circles. Examples: Postcard GB-996624, Postcard GB-827632, Postcard GB-757134, and Postcard GB-536508.
Post related items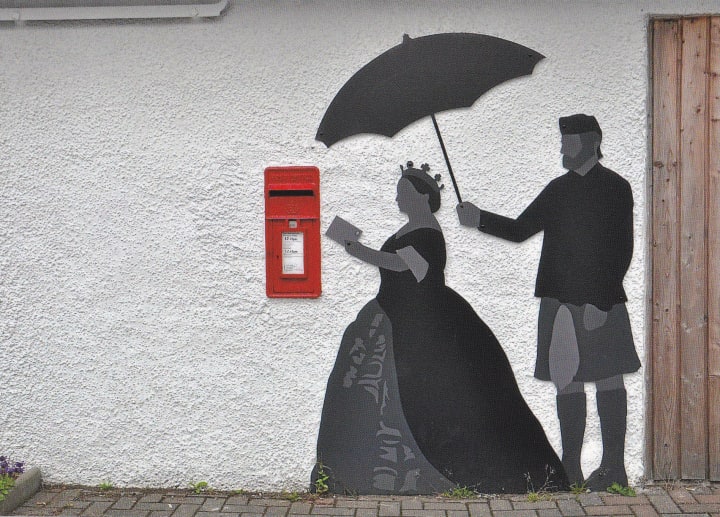 Everyone at post-crossing loves a postal theme - even if you don't start out a mail geek you soon become one, buying stamps, hanging around post offices, collecting stickers. Photos can be anything from post-boxes and mailvans to stamps, letters and even postcards themselves. It's a bit meta sending postcards of postcards you've received but fun nevertheless. Examples: Postcard GB-827150, Postcard GB-844695 and Postcard GB-677723
Cakes and Sweets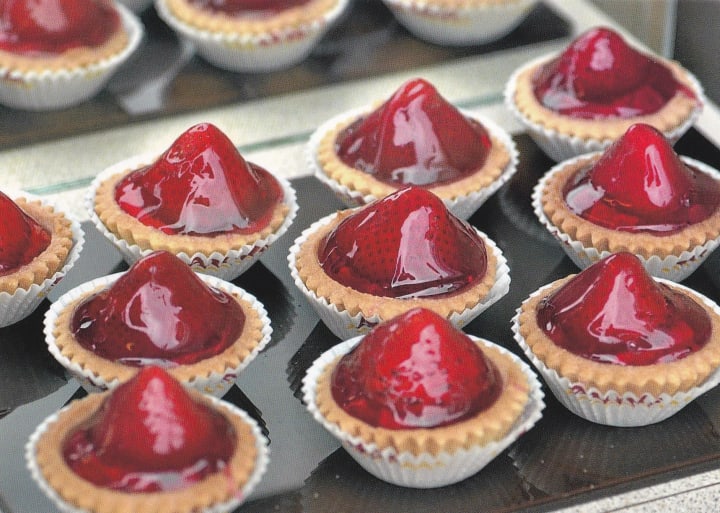 Food in general can make a good photo but there is something about cakes and sweets that appeals to everyone. Multi-coloured candy is eye-catching as is anything with a sheen if you capture it in good light. If it looks good enough to eat then it usually looks good on a postcard. Postcard GB-641091, Postcard GB-639424 and Postcard GB-454515
Quirky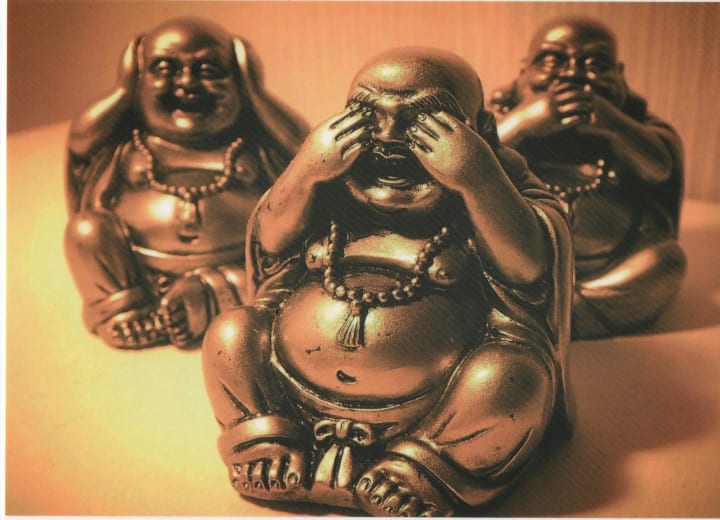 I take a lot of these types of shots. I'm a daily photographer and most years on Flickr I take part in a 365 or 366 day challenge - to take and post a single photo for every day of the year. Because of this and because the weather is often too poor to take a photo-walk, I shoot items from around the house - such as ornaments, records or books. If I'm really desperate I'll take a selfie and a few of these show my wacky sense of humour. Do these make great postcards? Not always, but it is worth keeping a few for the post-crossers who enjoy seeing something unique and different. Examples: Postcard GB-450164 (Cow selfie), Postcard GB-490454 (Vinyl), Postcard GB-886826 (Pile of books), Postcard GB-551487 (Three buddhas) and Postcard GB-337483 (Hand Sunset)
Landscapes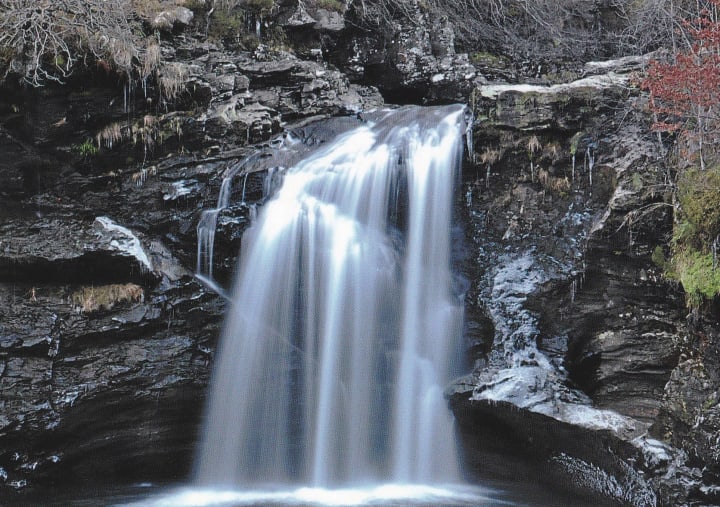 I don't get out of the city as much as I used to, but when I do I like to take photos of hills, lochs and the coast. Light is really important here and if you want the best photos then sunrise and sunset bring out pleasing colours. Dramatic weather looks good too - fog, rain amidst bursts of sunlight, interesting cloud patterns - but only the die-hard photographers get the really good shots. I'm not one to camp out and wait for the light to improve but I do always take a camera everywhere I go so if I see an opportunity developing I can take a shot at it. Examples: Postcard GB-382889, Postcard GB-1495480 and Postcard GB-1550157.
Street-Art vs Public Art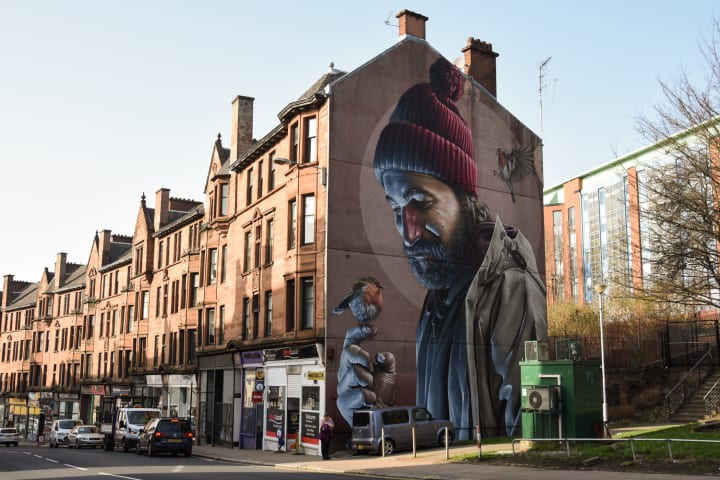 Street-art divides the community. Some see it an eye-sore or as vandalism, others enjoy the vibrancy and transient nature of a piece of art that may be scrubbed out or painted over next time you look. I enjoy the colours and shapes. In recent years murals have been used in my city to brighten the spaces where the older urban parts have been demolished and are bridging the gap between street-art and public works. These are great subjects for postcards. The more traditional form of public art - statues, people on horses, religious and cemetery art - are still interesting to take photos of, but you need good light and often some modern context to make a good composition. Examples: Postcard GB-1189927, Postcard GB-469745, Postcard GB-1260432 (Covid-19 Chain) and Postcard GB-1087590 (Monkey statue)
Flowers/Fungi/Nature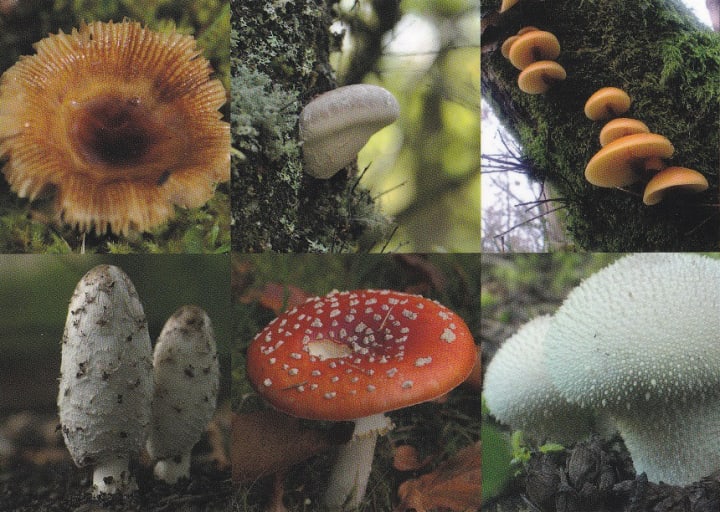 During the Covid-19 lockdown, I spent my daily exercise period visiting the local spare ground where plants and wild flowers sprang up unhindered by council workers (on furlough) killing the weeds. Wildlife such as birds, squirrels, bees, butterflies and small dragonflies were increasingly easy to spot. I've always taken shots of these subjects and have made a few postcards. However insects of any type can be frightening for people so I always check user profiles before sending anything like this. In fact I only send insects to people who say they love them. Flowers and fungi make interesting subjects and it can be fun searching out unusual mushrooms but wear a hat if there are deer or grazing animals around - ticks love to drop on you from trees when you are bent over trying to shoot a toadstool! Examples: Postcard GB-638352, Postcard GB-830541, Postcard GB-1143403, Postcard GB-1060072 and Postcard GB-708993
Transport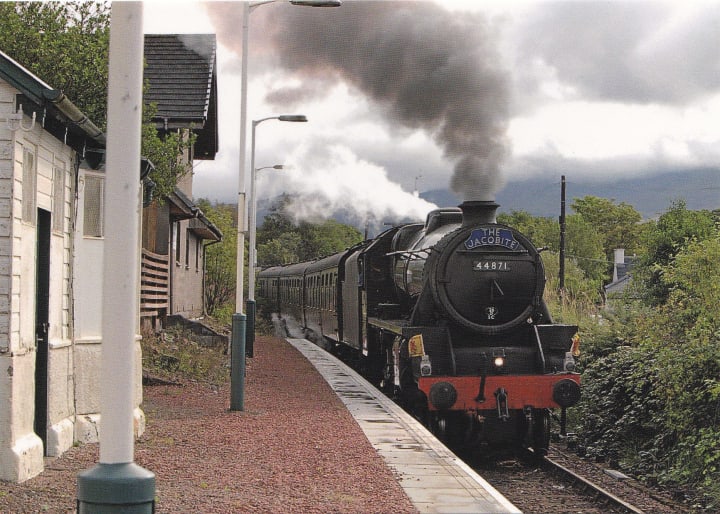 An early form of geekdom that is still with us today is the love of transport - planes, trains, motor cars, bicycles, balloons, buses, ships, almost anything with a wheel, engine or sail are popular with fans around the world. Steam trains in a landscape or at an old-fashioned station has an instant vintage appeal to it. Buses and cars on a busy street makes a good picture today and will be a historic record in the future. In Glasgow we have a museum that is dedicated to transport - the Riverside museum - always great for a visit. Examples: Postcard GB-503791, Postcard GB-682114, Postcard GB-661534 and Postcard GB-720615
Toys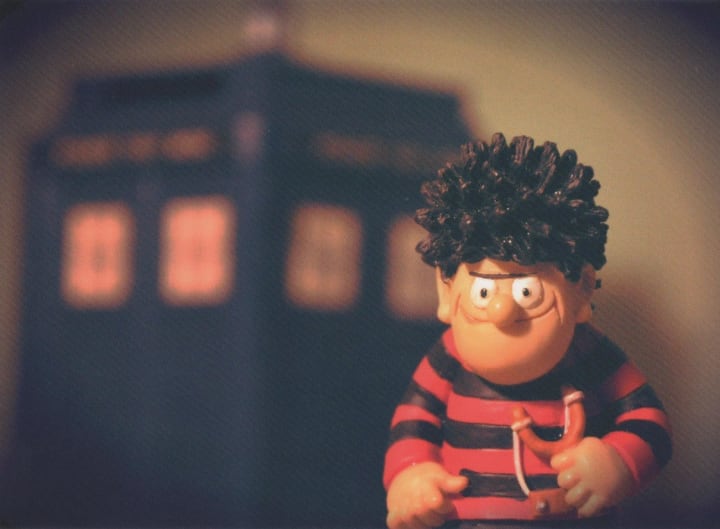 Any sort of toy or game is great for a photo, and in this category I'll also add stuffed animals and cute ornaments. People enjoy anything that tickles their nostalgia for childhood or for things that are twee, especially if the depth of focus is short with the background blurred out. My toys tend to be comic or sci-fi related but dolls and teddy bears work just as well. Examples: Postcard GB-430751 and Postcard GB-652914
Abstracts and patterns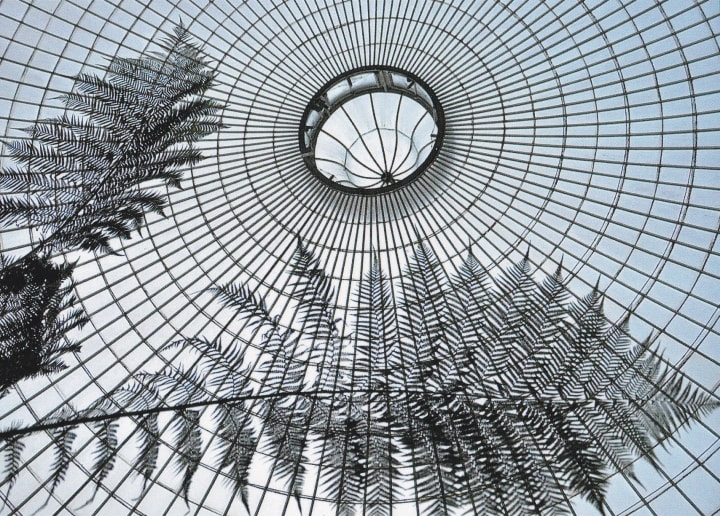 One of my favourite themes when taking photos is finding abstracts or patterns in the world around me. Taking an obscure angle on something will usually bring out the patterns as will shooting straight on. Postcard GB-650451, Postcard GB-432434 and Postcard GB-597334
Christmas/Winter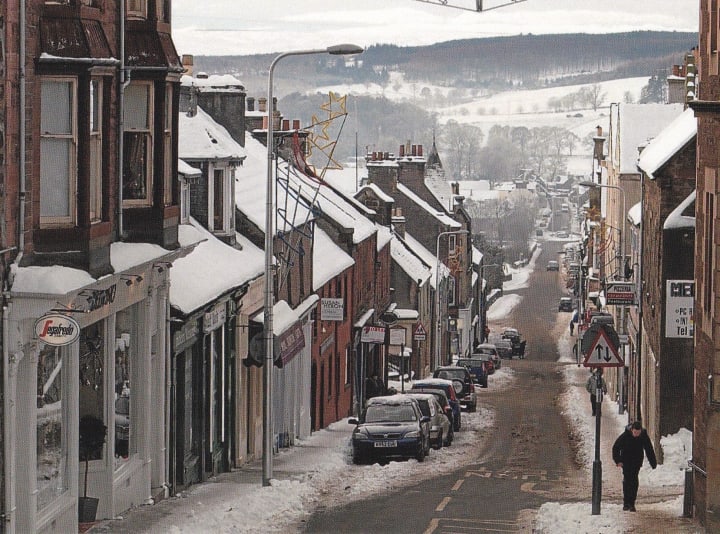 Anything with snow or with Christmas lights makes a good postcard to send at the tail end of the year. People seem to love the holiday magic even where Christianity is not a major religion. Before you send, check the profile, as some people do object to anything remotely religious. Santa is usually fine. Postcard GB-840568, Postcard GB-840202 and Postcard GB-600618
So there you have it. Twelve photography subjects that I've found have gone down well as postcards on postcrossing.com. Agree/Disagree? Let me know with a comment below.
About the Creator
Writer of strange little tales living in Glasgow, Scotland. A former IT professional who loves literary fiction, poetry, Eurovision, art-house film, post-crossing, and comics. Walks daily with his camera when he can. @werewegian1 on Twitter
Reader insights
Outstanding
Excellent work. Looking forward to reading more!
Top insights
Easy to read and follow

Well-structured & engaging content

Eye opening

Niche topic & fresh perspectives

Expert insights and opinions

Arguments were carefully researched and presented
Add your insights