A Journey of Intention Discovered Through Horses - Part 7
Excuse me!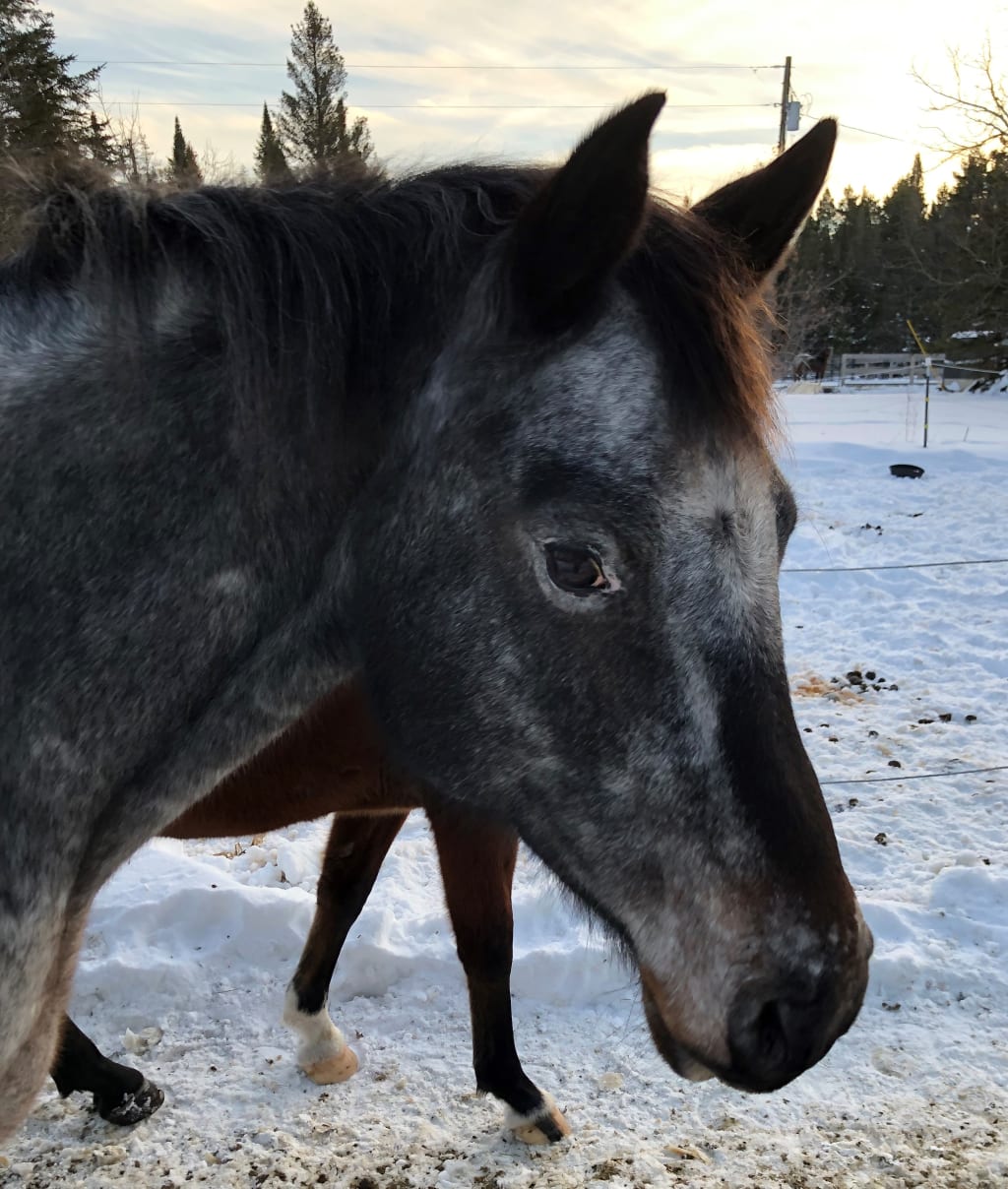 Blu
A Journey of Intention Discovered through Horse – Part 7
Excuse me!
Warning: this excerpt is riddled with excuses!
I guess I have a short memory about how exhausted the cold and snow makes me, as a result of this Spinocerebellar Ataxia. Being exhausted makes me even more unsteady and frustrated than usual. I don't like to work with my horses when I am in that state of mind – it makes them anxious and confused. I intentionally don't want them to feel like that around me. I'm looking for relaxed and comfortable. If I don't feel that, I can't expect them to. Horses are a reflection of their handler. Actually, in many ways, I like my reflection a lot more now, even through the challenges of learning to cope and adapt to this progressive disorder. Some days are just not pretty.
Building up trust happens through consistent behavior. It doesn't happen overnight, but can be destroyed in a heartbeat. Intention is important in your interactions. Always.
Luckily, for the most part, horses are tolerant and forgiving creatures. As humans, it is our responsibility to expound on that innate behavior, not manipulate it. This approach is also analogous to life. A life lived intentionally.
I didn't get much done with Blu – or any of the horses for that matter – this month! I always have big plans, get excited about how much I'm going to get done, then reality hits! And basically, nothing is accomplished, and all of my plans have flown out the window. I need to make plans based on reality, not theory – which is not to say I shouldn't push myself. What I do need to remember to consider is that life is not the same as it used to be. I need to adjust and do the things I need to do in order to continue doing the things I want to do, which means taking care of myself whether I feel like it or not.
I am not super-human, only human. That makes me sad. Maybe instead of emotionally beating myself up for my failures, I should use this time more wisely to make myself mentally and physically stronger.
(This lazy bitch will drink to that ...)
Now the Holidays are upon us and I'm busy playing catch-up with all that entails. Decorating, buying gifts, wrapping stuff, baking shit, and trying not to get COVID. I'm sure I'm not alone in using this busy time as an excuse to not take good care of myself, or to not get stuff done. Not to mention that I now have a book to write on an actual deadline, so there's that, too. That can easily be used as an excuse for distraction, also.
Of course, Blu is happy with this arrangement – she just gets to eat and hang-out! Ought to be fun times when we get back to work. Although she is very affectionate, she can be a bit opinionated. I'm the same.
I'm hoping January this year is as mild weather-wise as last. I got quite a bit of riding in! But alas, that mild weather is not normal, and hoping and wishing won't make it reality.
I have some nice pictures of the horses to share with you from the beautiful day that was Monday – actually, my hubby took them – but here they are – enjoy! (Actually, you can find them below – pictured are four of the ten.)
Maybe as the New Year rings in, I can summon up the strength to overcome the excuses and get things accomplished. Right now, I guess I'll just take a nap …
Until next time,
Happy Holidays!