Affirmations
We live in abundance.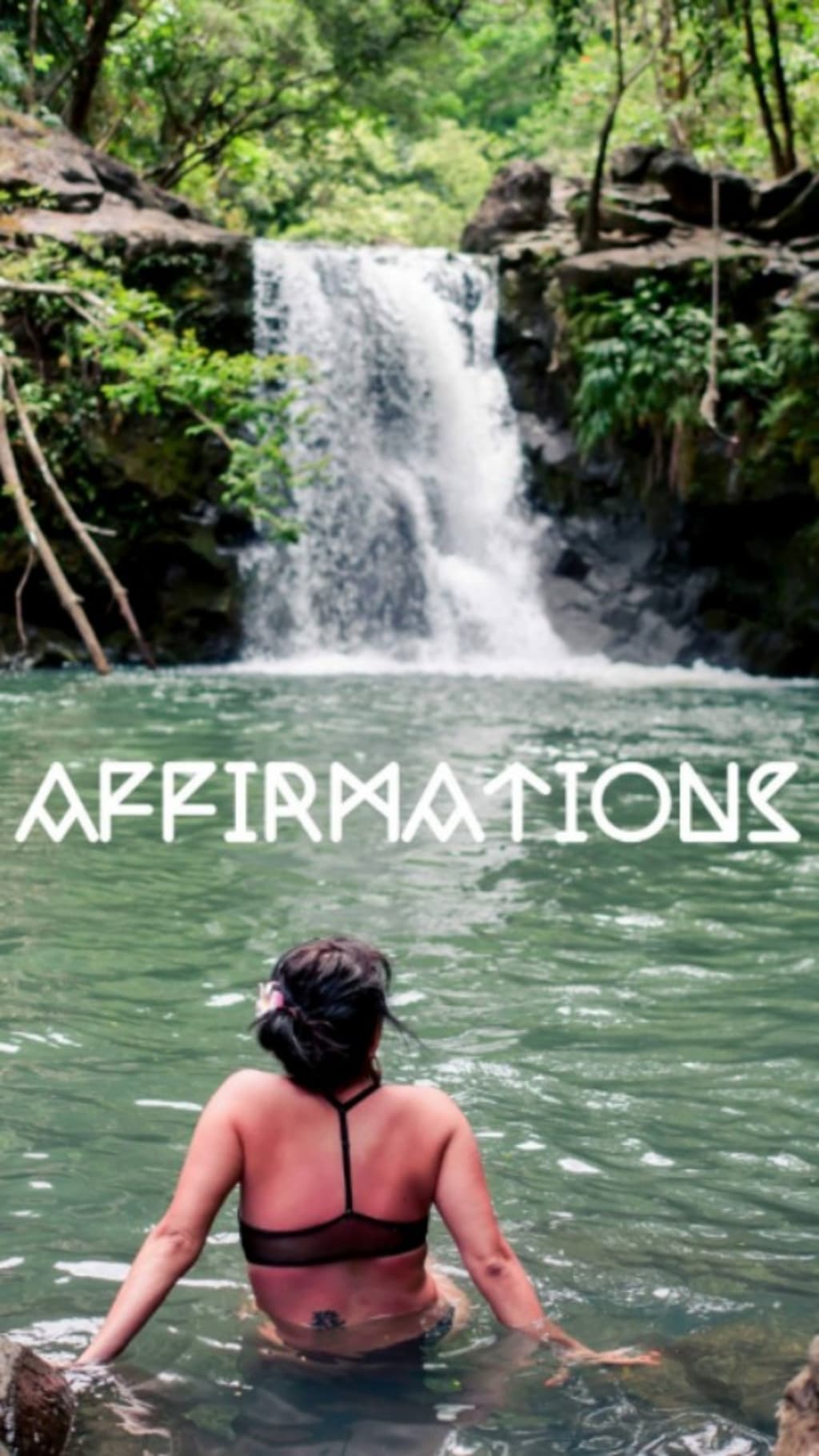 A wealth...
We underestimate ourselves. We live in a society that conditions us to believe in something greater than ourselves. Sometimes it has an effect to believe in something bigger than us. It can give us hope. Sometimes we can feel so clouded with everything around us it can send a ripple through our minds that can make us feel defeated. It can be hard to discern the truth.
I am a woman of faith. I believe in our Father, our Creator, and a Holy Spirit. But I also believe the Universe can be your guide. I will take off my shoes and walk barefoot on the grass just to ground my soul. I don't consider myself religious, I consider myself Spiritual. I know there is a lot of healing to be out in nature and disconnect. I definitely don't know everything, but I know what I feel. I know what resonates within me. There have been plenty of things that have helped push me through adversity and have served me greatly. I have developed a set of spiritual tools that have really helped me through so many of life's challenging moments.
Prayer has helped me through just about everything. I have prayed my entire life. I pray at just about every moment. I pray for everything and everyone that comes into my mind. I pray for well being, health, loved ones, finances, happiness, and success. I taught myself how to pray. I mostly pray to improve situations. Then I give thanks for situations coming full circle to be received.
When I say "thank you," I believe in the things I am giving thanks for. I believe to receive. I am giving thanks not only for the things I have but the things I don't have yet. When you are thankful for what you have, you will find yourself in a state of appreciation to receive more. Not only will you realize you have plenty to be thankful for, but you'll take better inventory for it.
Tapping (EFT) or Emotional Freedom Technique has been a great assist for me to be able to cause a "shift." You basically use your two main fingers to tap on your forehead, your arm, your leg, or wherever. You close your eyes and go into a deep meditation based on the syncopation of touch. My sessions have gone from 5 minutes to 45 minutes and I have had some significant breakthroughs but it does require consistency. It also requires a lot of concentration. You have to be willing to do the work but I have made some really great progress through this technique. My realizations were so significant, I was able to remove blocks and continue to move forward to the next phase.
Meditation requires clarity, peace of mind, and stillness. This has at times been quite difficult for me because I have a very active mind. Sometimes I meditate by using affirmations I want to chant. I know there are several ways to meditate and finding your zone is very important. If you're able to have a proper meditation posture by sitting upright with your legs crossed and eyes closed, it will definitely relax you. If you can clear your mind, you will be able to feel or hear in which direction you need to go.
The best and most important of all methods next to prayer would be to affirm it. Affirmations are so powerful, we don't realize we are affirming something every day. Affirmations are the very words that come out of our mouth. The things we say, the words we speak are our projection of reality. I speak so many different affirmations that I create them for my subconscious. I have an affirmation for health, love, travel, conditions, paying bills, relationships, favor, and career. (I will share them for you at the end.)
I strongly believe in this aspect of spiritual advancement. I believe it because our words, thoughts, and actions should be aligned. Our words have power or destruction over any situation. Be mindful of what you speak because you have the ability to manifest everything you say. You can speak something into existence—good or bad. Your words have the ability to speak life over your situation just about as much as your thoughts do. The difference is that your words spoken as affirmations have a way of impressing your subconscious into believing it. That's why you should always speak life into the things you want to see happening for you or the things that bring you most joy. Speak victory over yourself and your loved ones. Speak kindly and positively to yourself even when you have made a mistake. We learn as we go.
Affirmations are so powerful, we have to consider ourselves powerful. We are humans that are manifesting with our own words. The Law of Attraction or LOA has a great deal to do with affirmations. We are told that the things we talk about most and think about are what will happen in our world. One of my favorite speakers, Ralph Smart always says, "Whatever you think about grows," and he's right! We are gradually speaking our desires into existence even if it takes years to happen.
Vision Boards have always been a great method for me too. It's another way to impress your mind by looking at images of the things you want pasted on your personal poster board. I have made three so far and when I look back, I always see something new I manifested. Even if it's a very small detail! Whether you were looking at it regularly or put it away for a few months, you will notice that you have impressed your mind with pictures and you have attracted those very things. It's astonishing! It is also a very fun activity to do with a group of friends.
The truth is that we all live in abundance. There are plenty of people living in abundance around us and we are also entitled to it. There is no reason to feel inferior to abundance. You have greatness. You are royalty. You are divine spirit deserving and worthy of all things. This goes for always. We have to realize this in our soul as our truth and birthright. You can have whatever you want. It is predestined for you when you realize it is yours. Your power is to believe and speak it into existence.
I will share a few of my affirmations I use regularly that keep me motivated:
I pay my bills with ease and I always have extra money (for my savings.)
The Universe is conspiring in my favor.
I give thanks for good health, safety, and protection for myself and the ones I love.
I am a positive and valuable contributor to all of my relationships.
My ideal partner is with me.
I do what I love and I get paid very well for it.
I am discovered and in demand for my talents and that is creating more opportunities for me.
Inspiration flows to me and I am able to produce my best work.
I give thanks for my divinely designed trip (to the location), divinely financed, under grace in a perfect way.
These are just a few. You can create your own personal affirmations that are fitting to you. I've learned that when you are speaking things into existence. The more details you are able to share, the better and more accurate the manifestation of your desires will be.
About the Creator
A deep thinker who is always curious; sharing experiences and thoughts through stories and perspectives.
Reader insights
Be the first to share your insights about this piece.
Add your insights