100 Happy Days: Part 1
Challenge yourself to 100 happy days in a row
Hey there guys. I decided to challenge myself to be happy for 100 days in a row. I have struggled with depression most of my life. It was a real eye opener the first time I was diagnosed with bipolar disorder. So I wanted to challenge myself to perform this happiness project again after being suicidal for the last little while. I posted the images on my Instagram but I thought I would write about it as well. In a way, it is kind of like journaling my days out but I did think that other people would find this interesting.
I challenged my friends on Snapchat to do the challenge with me as I do find it really helpful when you're struggling with mental health. I think it would be interesting for my followers to follow the same journey with me.
Forcing yourself to find things to make yourself happy again is really challenging some days but it forces you to look for the blessings in your life and helps to rewire certain negative aspects to your brain. When you're looking for things to be happy about you tend to find more of them. I decided to break this series into four parts. This is part one out of four.
The link to 100 Happy Days website is below. You can gather more information about the challenge if you are interested in it through them. You can get a certificate of completion at the end of the challenge. I did this back in high school and I found it very valuable.
Join me in rewiring your brain to look for the good in your day instead of the negative.
Also I created a playlist to go along with my happy days. I made it just for myself mainly but I thought I would share it with my Vocal followers. The link to it is below. I speak through music and I know I'm not the only one. All four posts will contain the same playlist. I hope you enjoy the music as much as I do. I'm just warning you though, my taste in music is all over the place. Also my photos are not very aesthetic at all. Just little things that made me happy throughout my day.
Day #1
My daughter pulled a book of poems out of a suitcase of mine. I had forgotten about it so I decided to read a few pages of it and I found a poem that really resonated with me. The book of poems is called Apologies That Never Came by Pierre Alex Jeanty.
I was also listening to the song Praying by Ke$ha heavily today so I included that song in my Instagram post.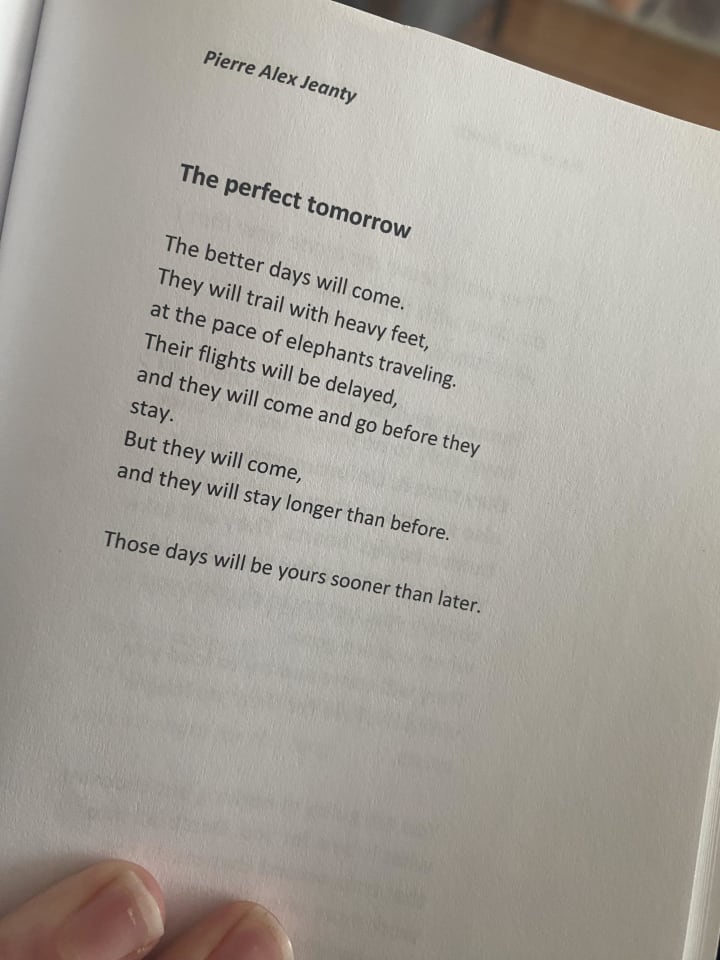 Day #2
I had my first day of work for the week and it was a really long one. A few changes to the schedule were made and I ended up working nights when I was supposed to work a day shift. Instead of an alcoholic drink after work I enjoyed this kombucha drink I found at a local grocery store. It was delicious and my happy moment for the day. I was listening to On My Life by Cheat Codes on repeat today to boost my energy levels up. I demand a beautiful life for me and my kiddos and that song inspires me.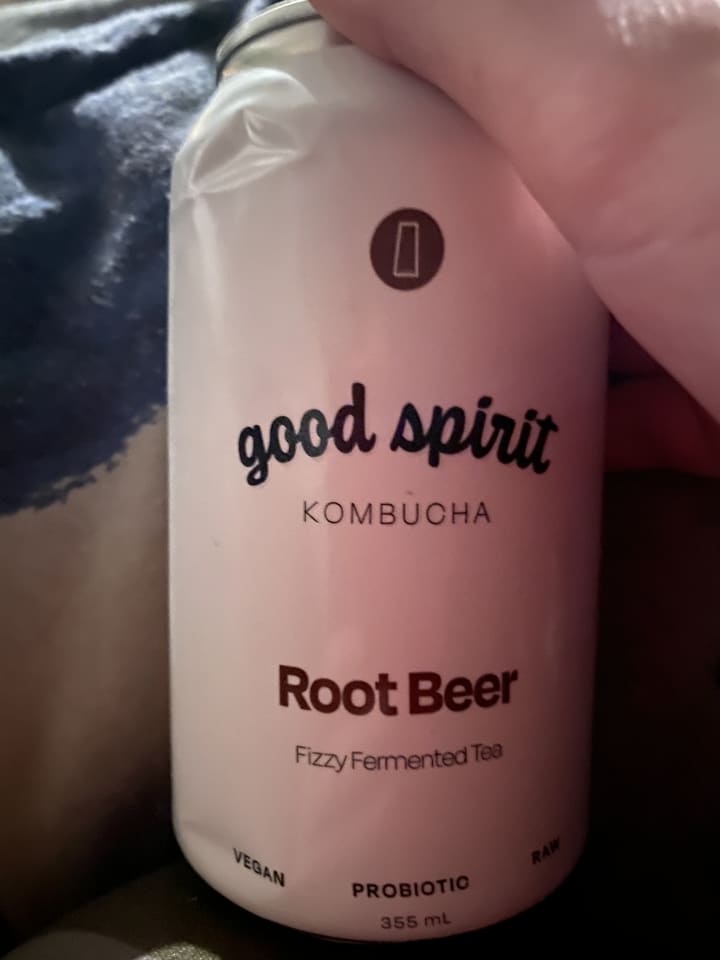 Day #3
Today I took my kiddos to a indoor play area. I love living vicariously through my children. We went out for lunch afterwards and it made my day complete. My song for the day was Best of Me by Neffex beacause it drives me to be a better parent. Give it a listen.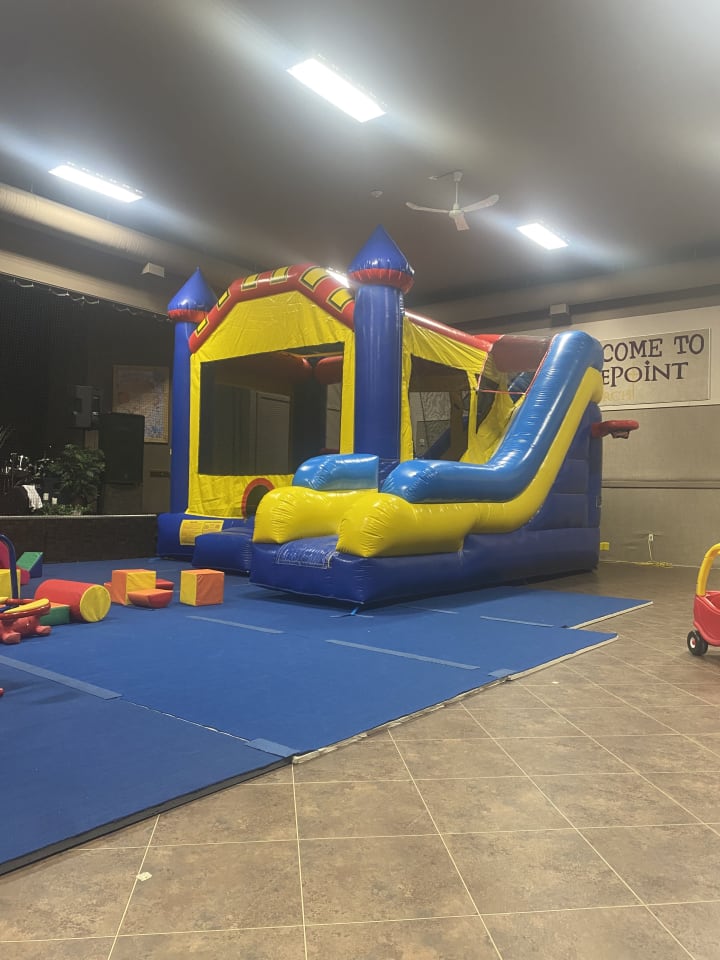 Day #4
I got to hang out with one of my favourite people that ever existed and catch up about life. It meant a lot to me. The song of the day was Hasta La Vista by Arizona Zervas.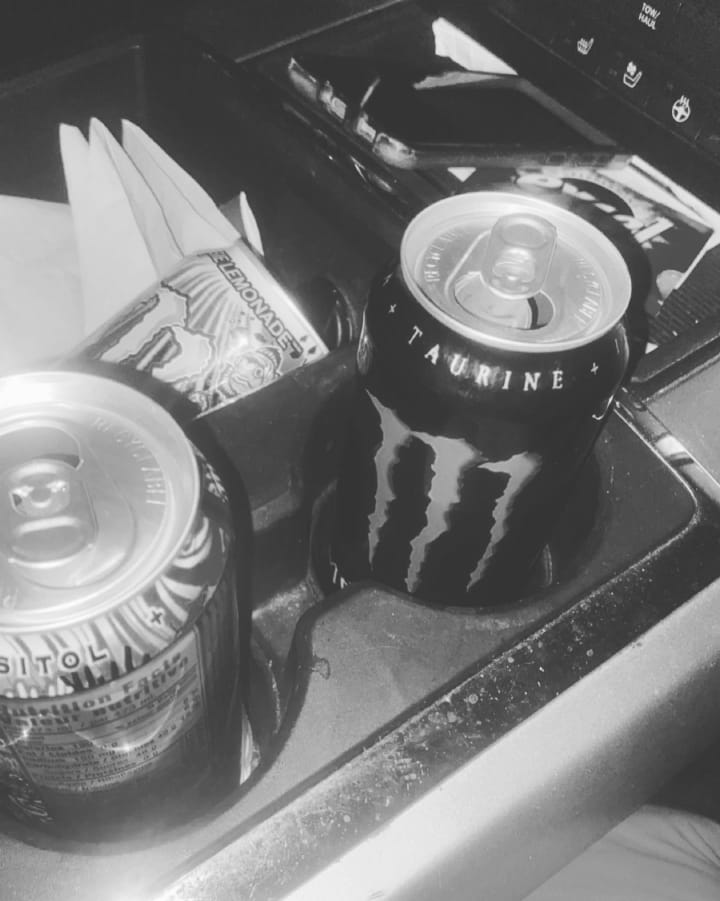 Day #5
I felt accomplished today and dyed my hair purple before work. I fell in love with the new colour. I also found new music which made my life complete. I Don't Trust Anyone Anymore by Cassie Dasilva is the name of the song. I showed it to a few people and they liked the sad but truthful the way the words hit.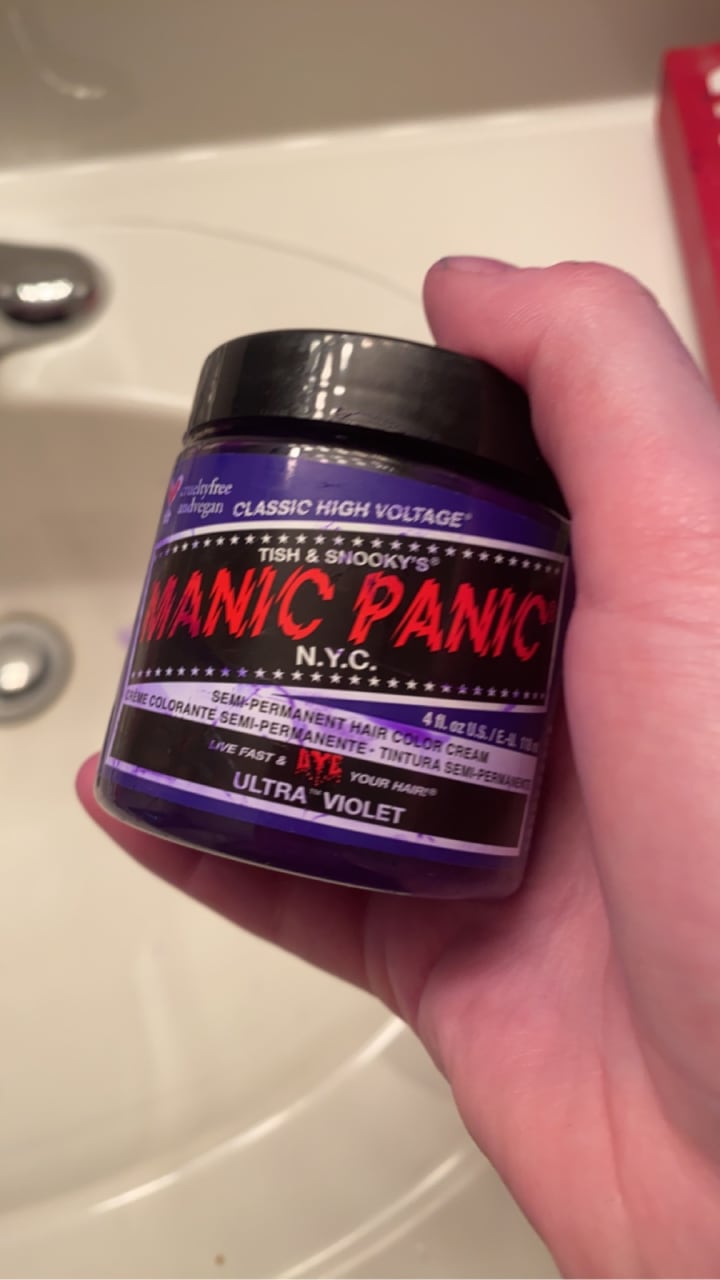 Day #6
I got to drive around and have a chocolate milk ice capp with a friend. We both sang songs together and it was my happy moment for the day. The song of the day was Heart Attack by Demi Lovato.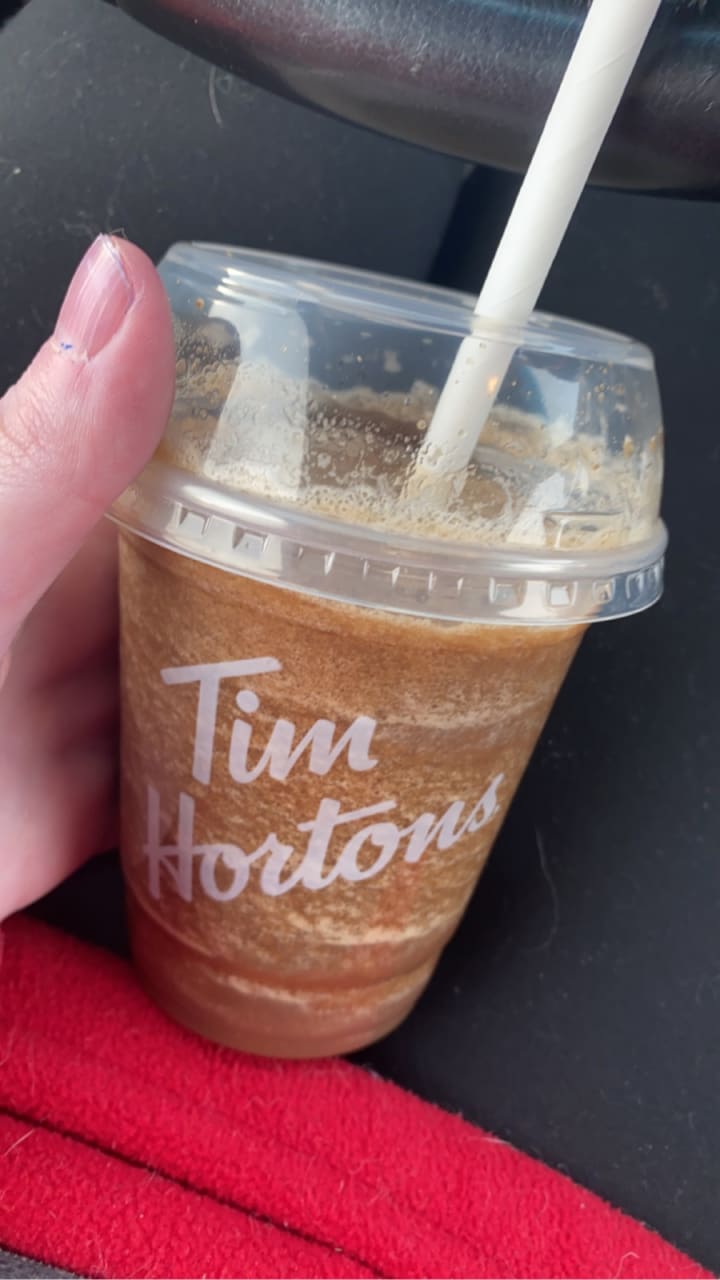 Day #7
I got a compliment from the pharmacist about my new hair colour while doing errands. That was my happy moment of the day. My song for the day was Genesis by $uicide Boy$.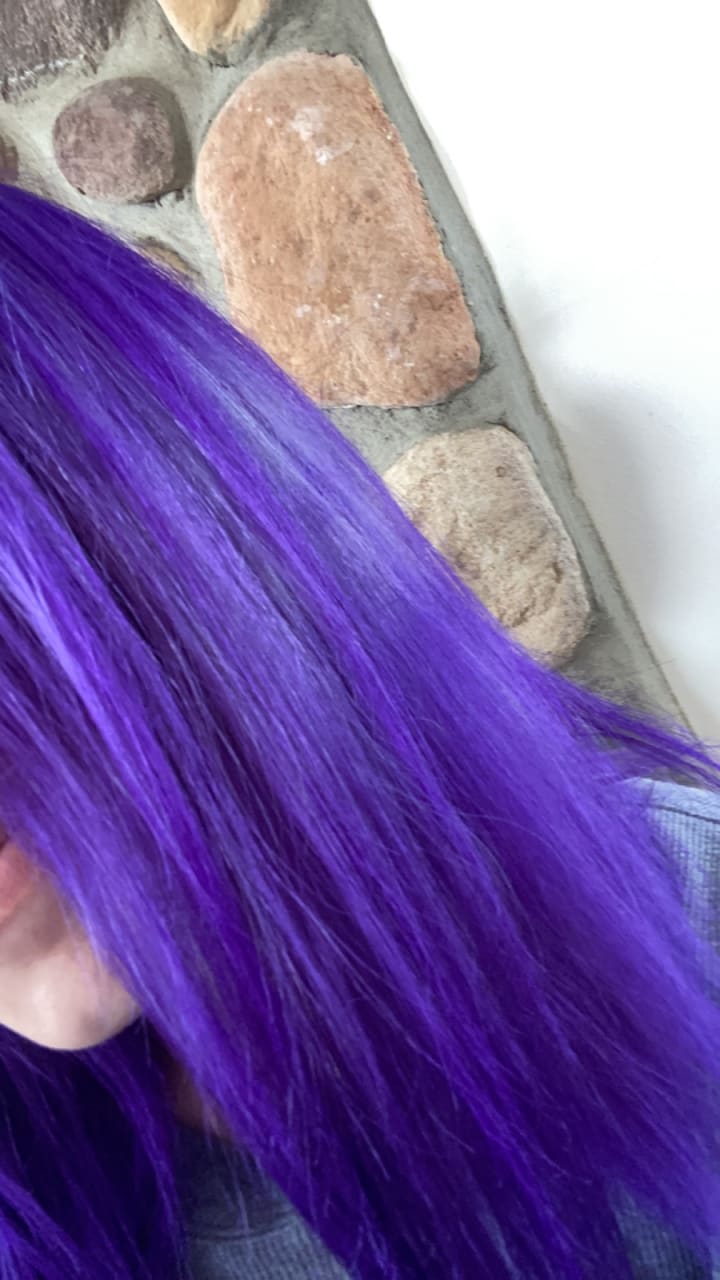 Day #8
I got a new lip and nose piercing from a local piercing shop. It made me feel so much better about myself. I think the lip piercing suits me. I wasn't wearing makeup but I still felt happy about it. My song of the day was Chainsmoker by Marko Penn.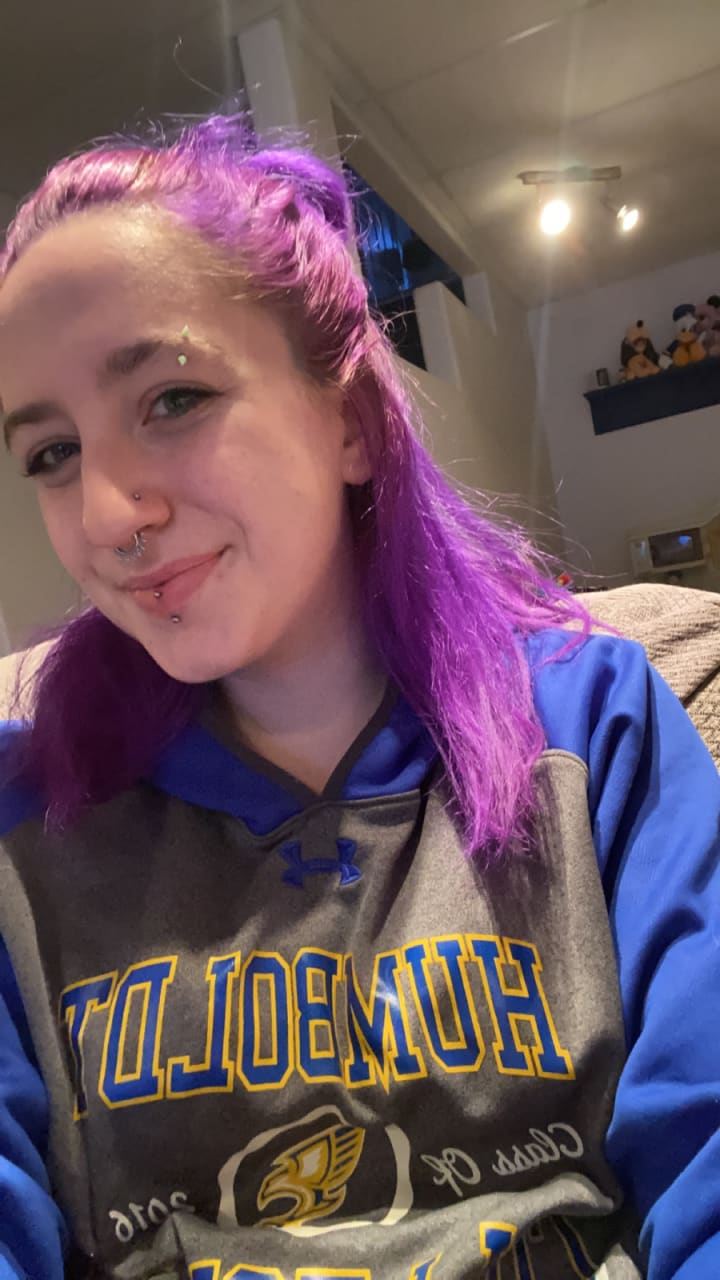 Day #9
I bought two sweaters from the Hey You Project. 15% of your purchase goes towards mental health organizations. Gift giving is one of my love languages. Strange Love by Halsey was my anthem of the day. There is a coupon code below under my name if any of my readers are interested in buying a sweater or a sweatshirt too!
Day #10
Today my happy moment was hanging out with a friend and going shopping with one of my kiddos! I decided to put a sticker on the dash of my car and it really cheered me up. My song of the day was Dancing in The Moonlight by Toploader.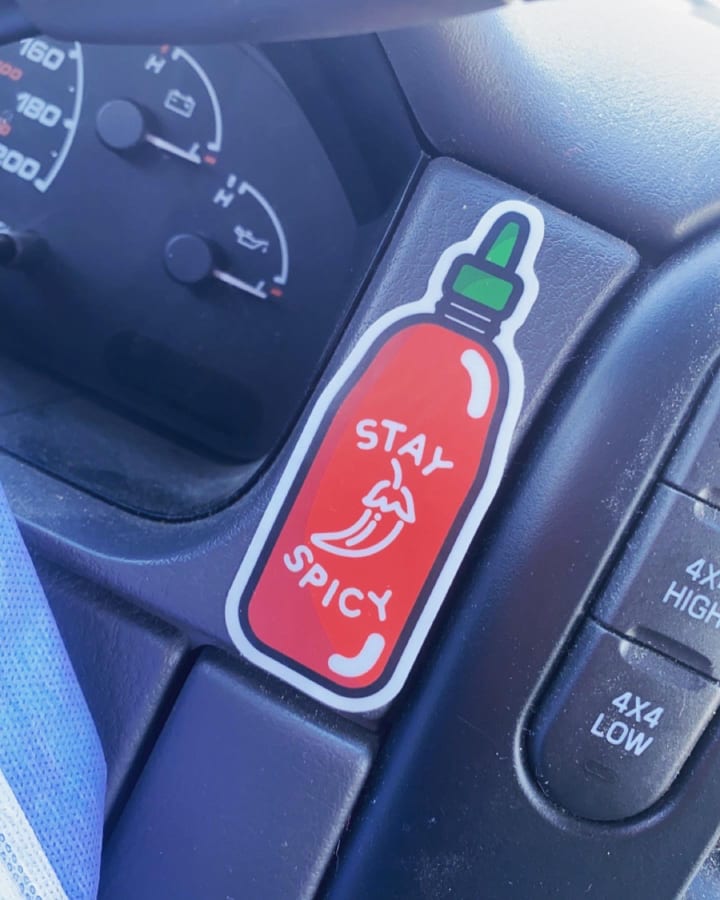 Day #11
Delicious steak dinner and a few drinks while being child-free stole my heart today. I got offered a job because of my serving experience and it truly made me so happy. The song of the day was Shadow by AMAG.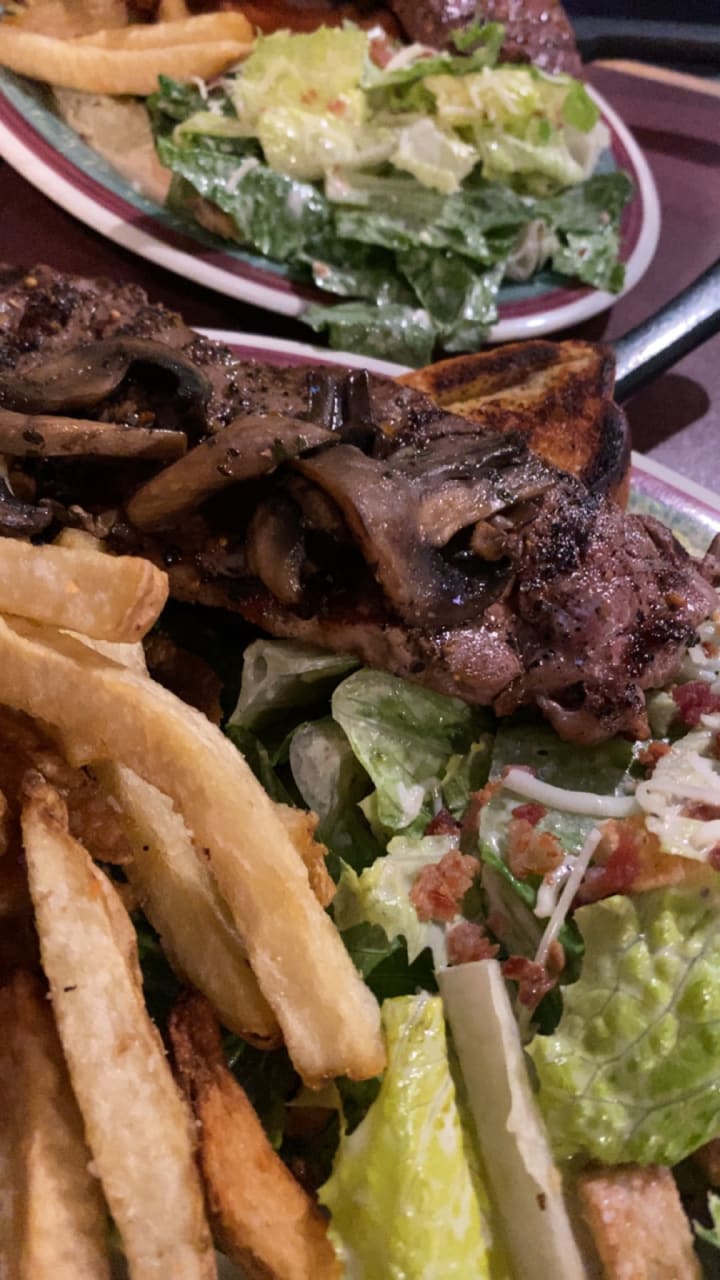 Day #12
Spent the day celebrating someone's birthday. I got to see the new Dungeons and Dragons movie in theatre. I had such a long day prior to this and I damn near fell asleep in the theatre (mom life). The song of the day was ight bet by Chrispy D.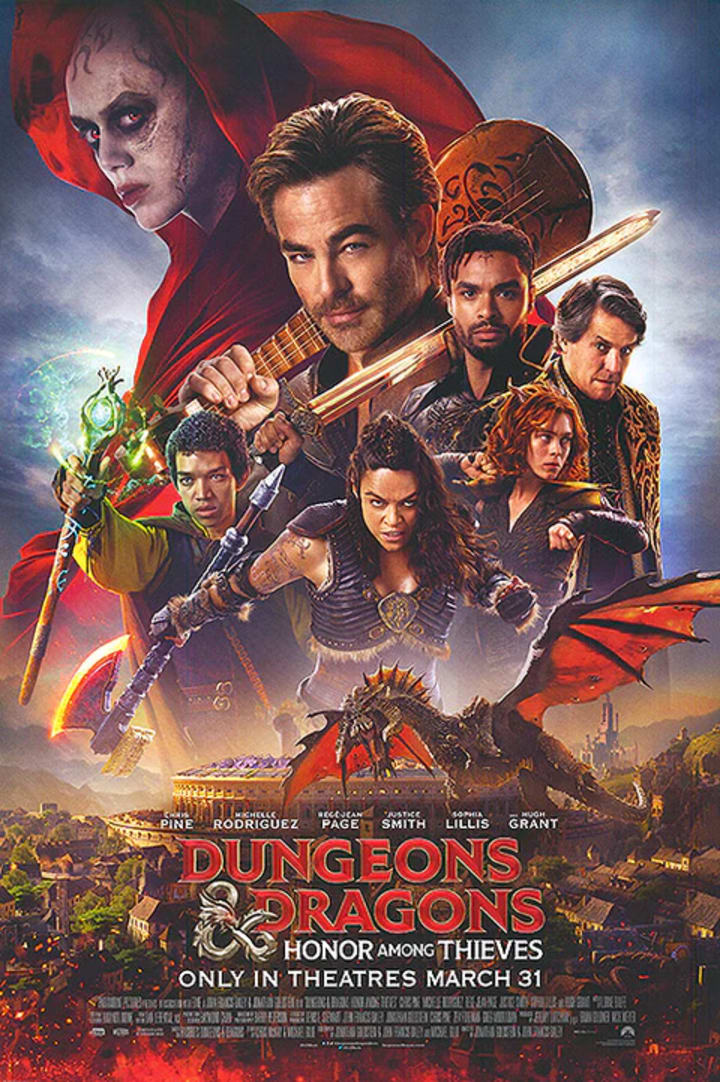 Day #13
I got to spend the day with some of my favourite people. Playing video games always cheers me up. We had a Mario Party tournament and played Just Dance together. It completely stole my heart. The song of the day was last day on earth by Tai Verdes.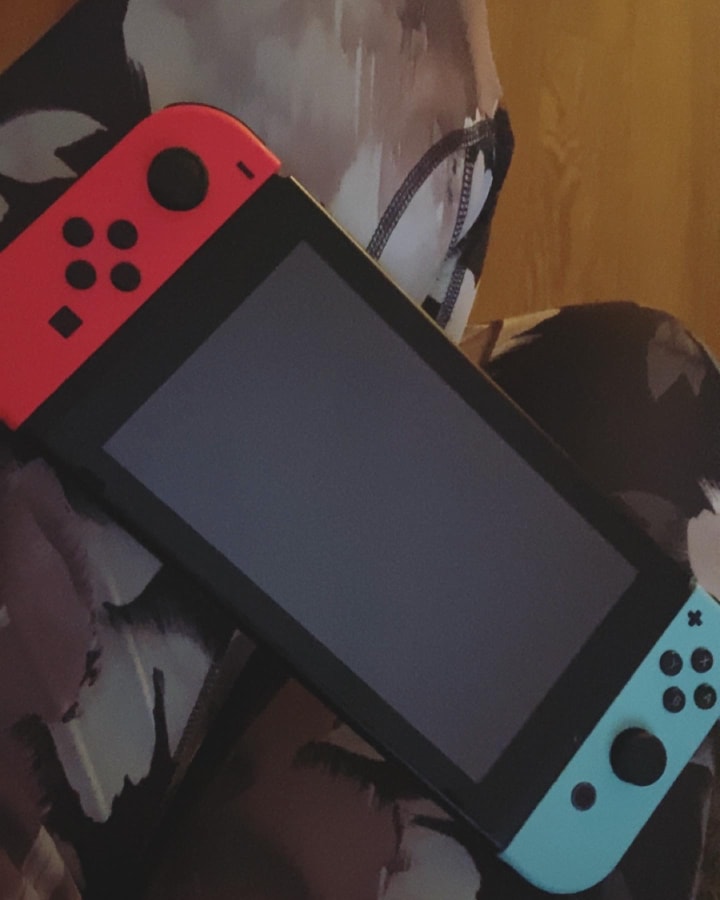 Day #14
Today I spent time working on my novel and updating my Vocal account while drinking tea. Lazy writing days make my heart happy. Mama Didn't Raise No by Aston was my anthem of the day. Super catchy song. I also created a TikTok to the audio of the song.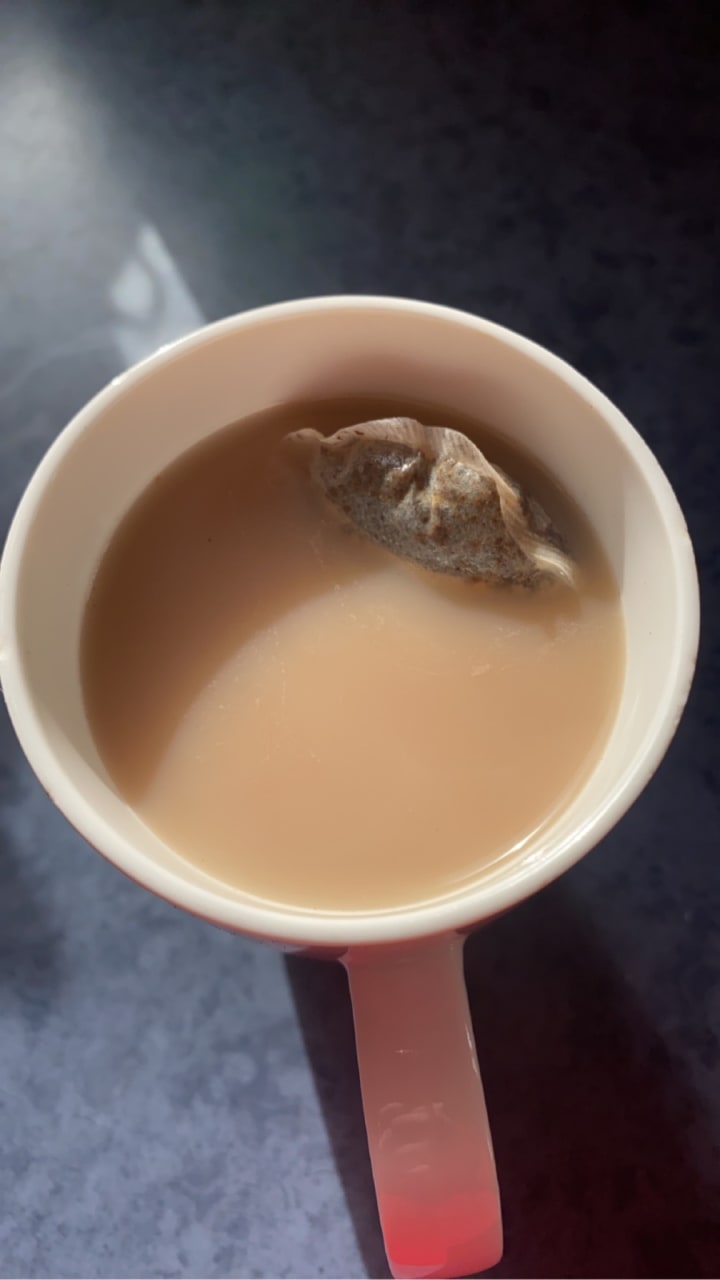 Day #15
I went on a road-trip with my grandpa to pick up furniture for his house. He bought me a coffee for the drive home after hauling the new furniture around. It made my day and melted my heart a little bit. I love French Vanilla and a warm beverage after a long day is sure a treat. Tulips and Roses by G-Eazy was the song of the day because of how beautiful it is.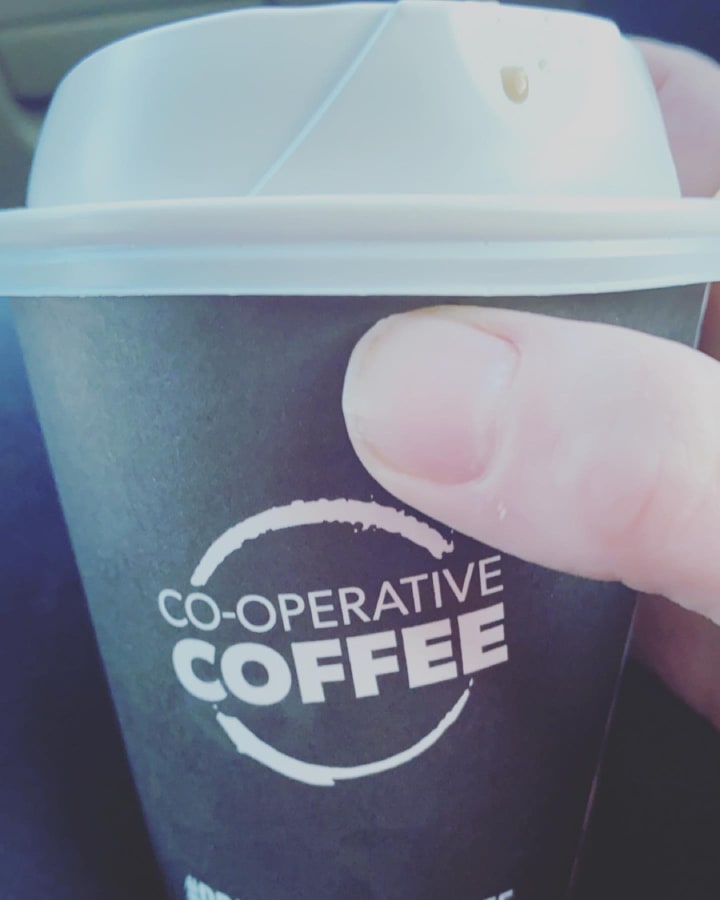 Day #16
I had a hard time deciding what my happy moment was for the day. A lot of good happened to me today which makes it hard for me to choose. I got to run errands with an old-coworker. Ran into my favourite person while stopping at the convivence store made my morning so much brighter. I've been on a writing kick lately and I hope that momentum stays with me for a while. The song of the day was Feel my love by Nic D. It's a beautiful song and it really makes me happy.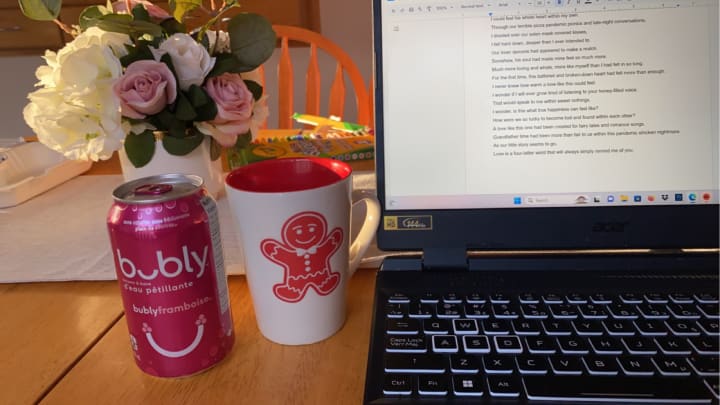 Day #17
Today I got to wear matching sweaters with my favourite human being. We also drove out to a gravel road and looked at the full pink moon (April 6th, 2023). The song of the day was Watching for Comets by Skillet which suited the mood for the day. Spending time with him always makes me happy. So two pictures for this day were posted!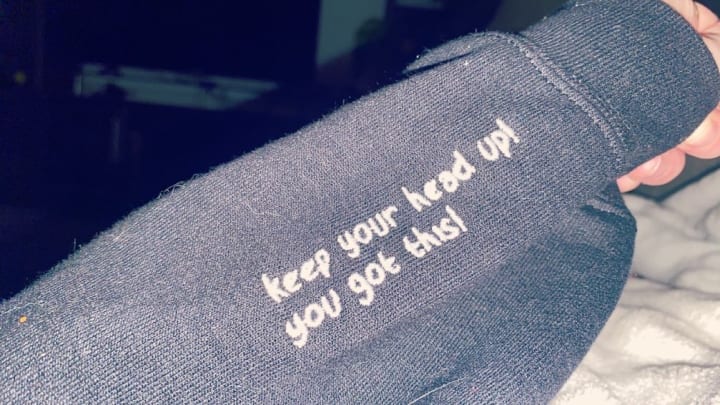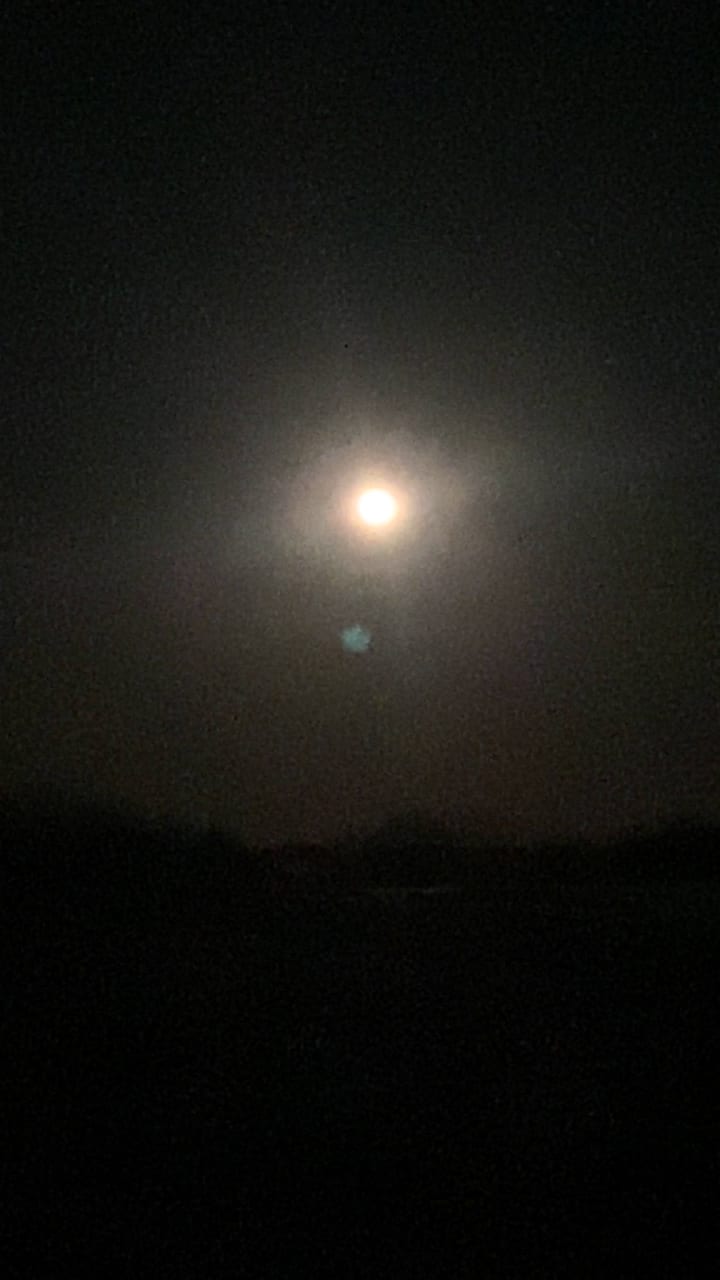 Day #18
I got to spend the day with my kiddos and my boyfriend. We finally got our matching sweater picture together. Make sure to use my code if you want to purchase your own sweater or sweatshirt! We fell in love with ours. The song of the day was So Happy by Bliss n Eso.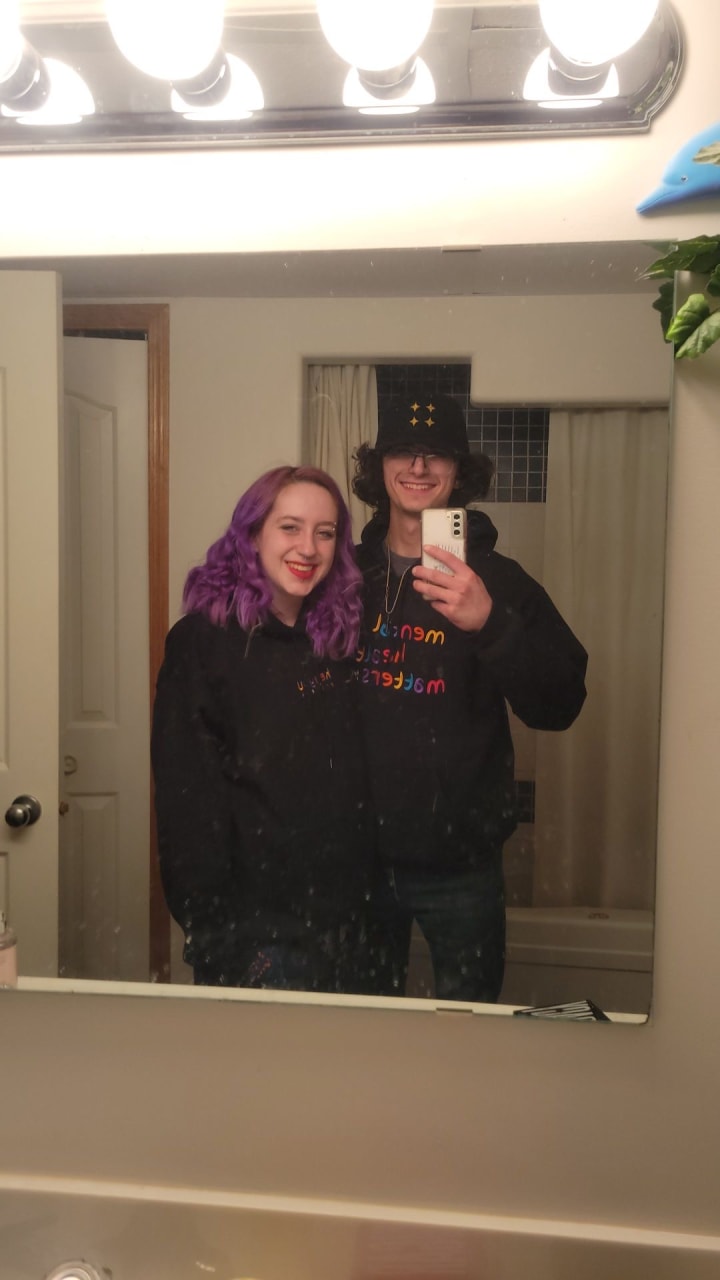 Day #19
My highlight of the day today was scratching out some new poetry in my journal. I love writing poetry even if not all of it is very good. The song of the day was Memory by Kane Brown and Blackbear.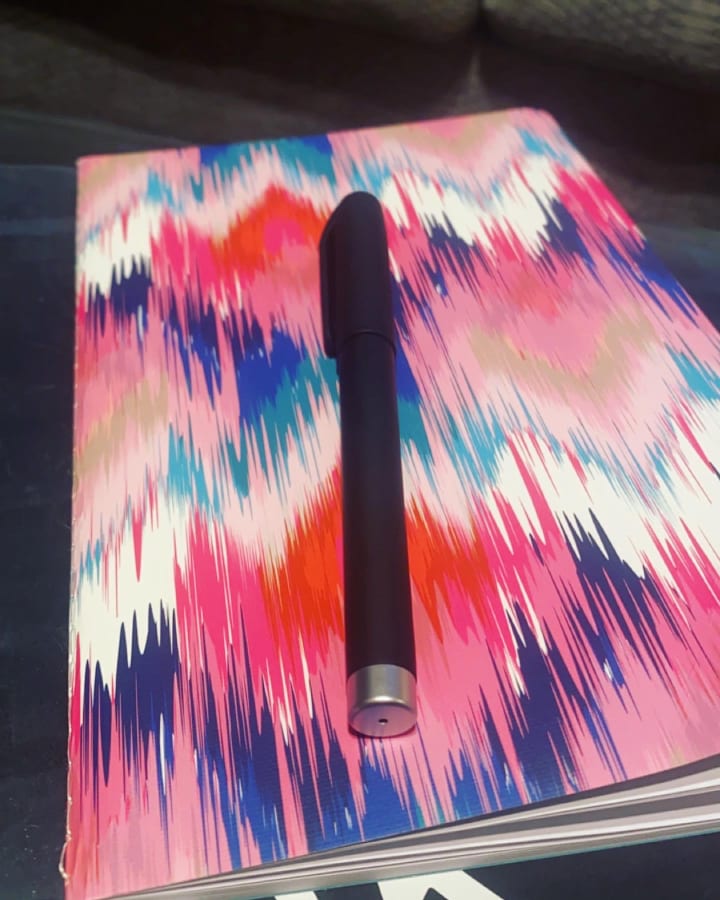 Day #20
Flowers from the person I love meant a lot to me today. We also went to the Super Mario Brothers movie in theaters with my son. It was a really great movie actually and my kiddos first time in the theater. The song of the day was Lips of An Angel by Hinder. It is one of my favouite songs and I just created a TikTok about it and it always makes me happy.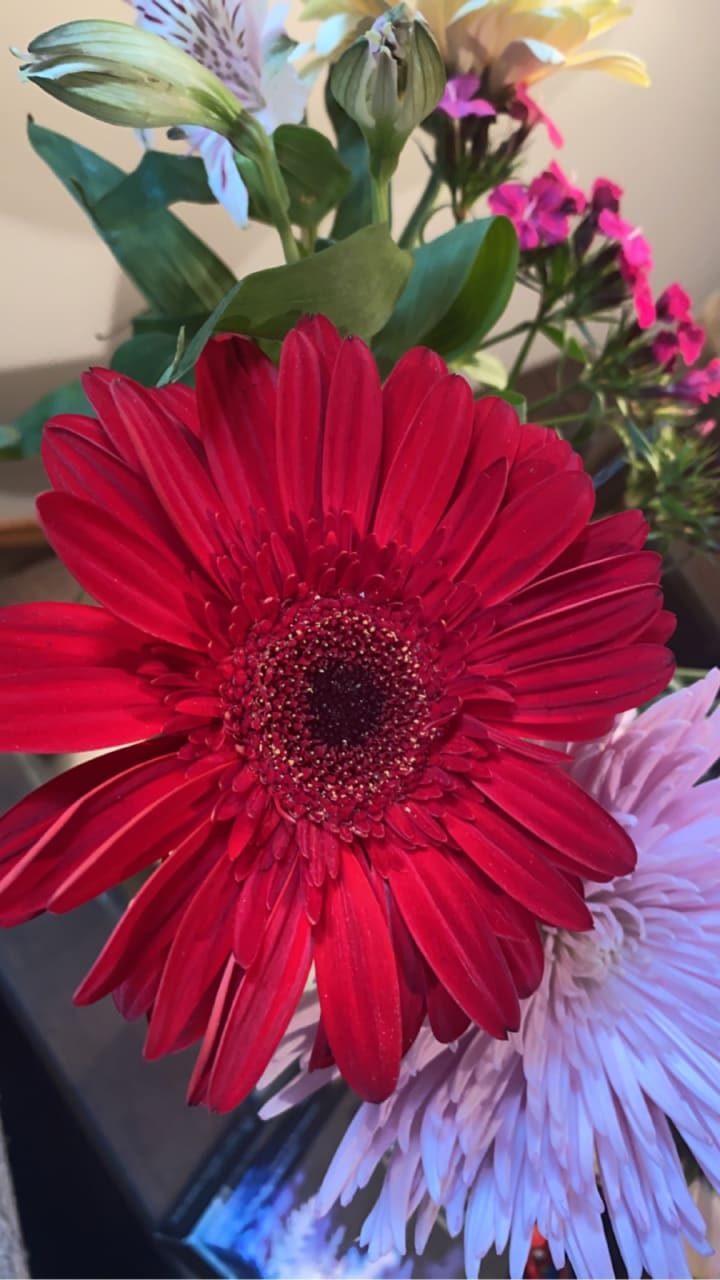 Day #21
Today was a hard one. I struggled finding what made me happy today. I decided it was simple and just being thankful for being alive was my happy moment. I have food, I have water, I have financial support. What more could I ask for other than that? The song of the day was Ride or Die by AMAG because I love the lyrics and the vibe it brings.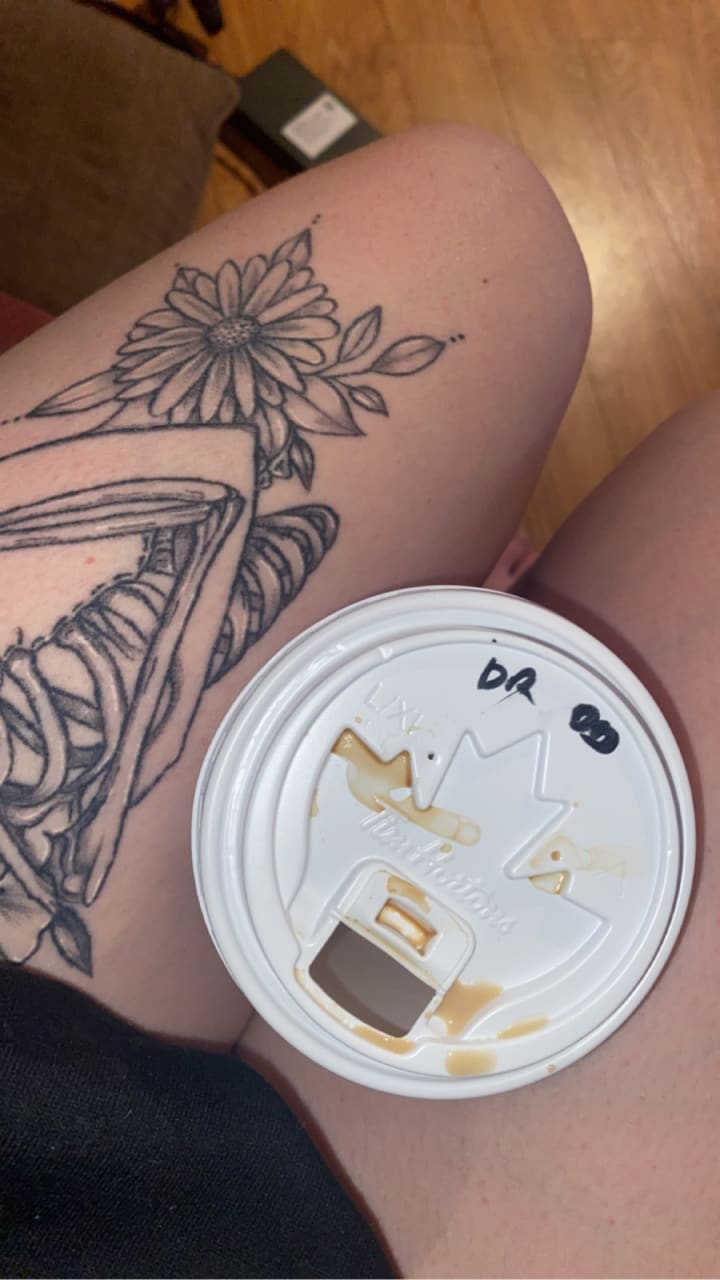 Day #22
Today I had a wonderful day with my children. We played a modified version of Jenga together, played in the muddy puddles outside and spent lots of today snuggling. A perfect day filled with love and happiness. The song of the day was QUITE THE DAY by Aim Vision.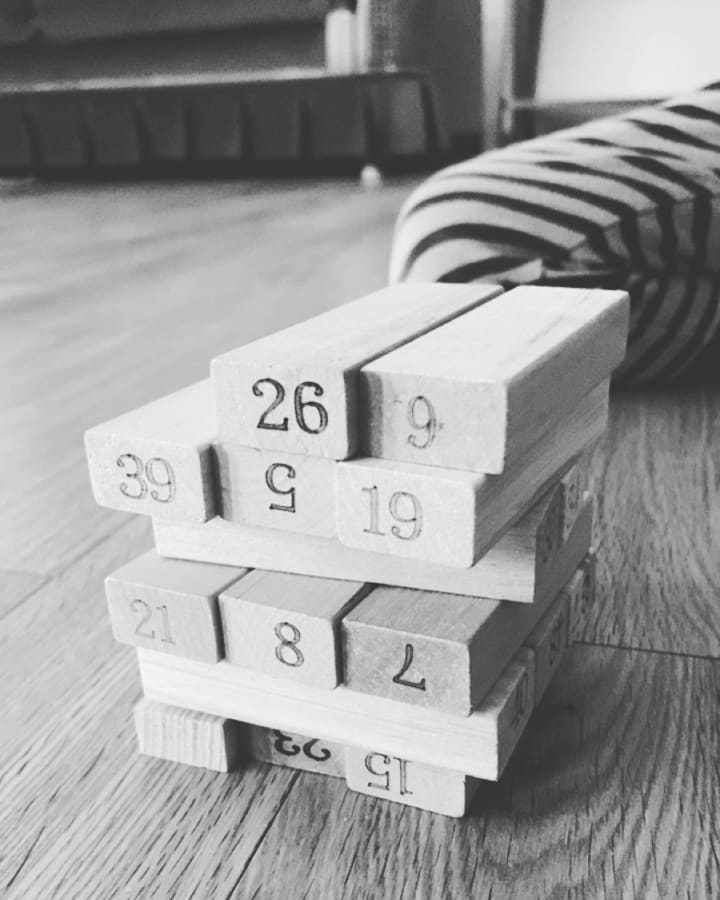 Day #23
Today was a weird day. I didn't have my daily dose of an energy drink so I was sluggish most of the day. However I found time to be happy while cleaning the house and listening to an audiobook. I highly recommend the book Lore by Alexandra Bracken. The audio book is very well done in my opinion.
I was born knowing how to do three things - how to breathe, how to dream, and how to love you.
My song of the day was Ruthless by NEFFEX.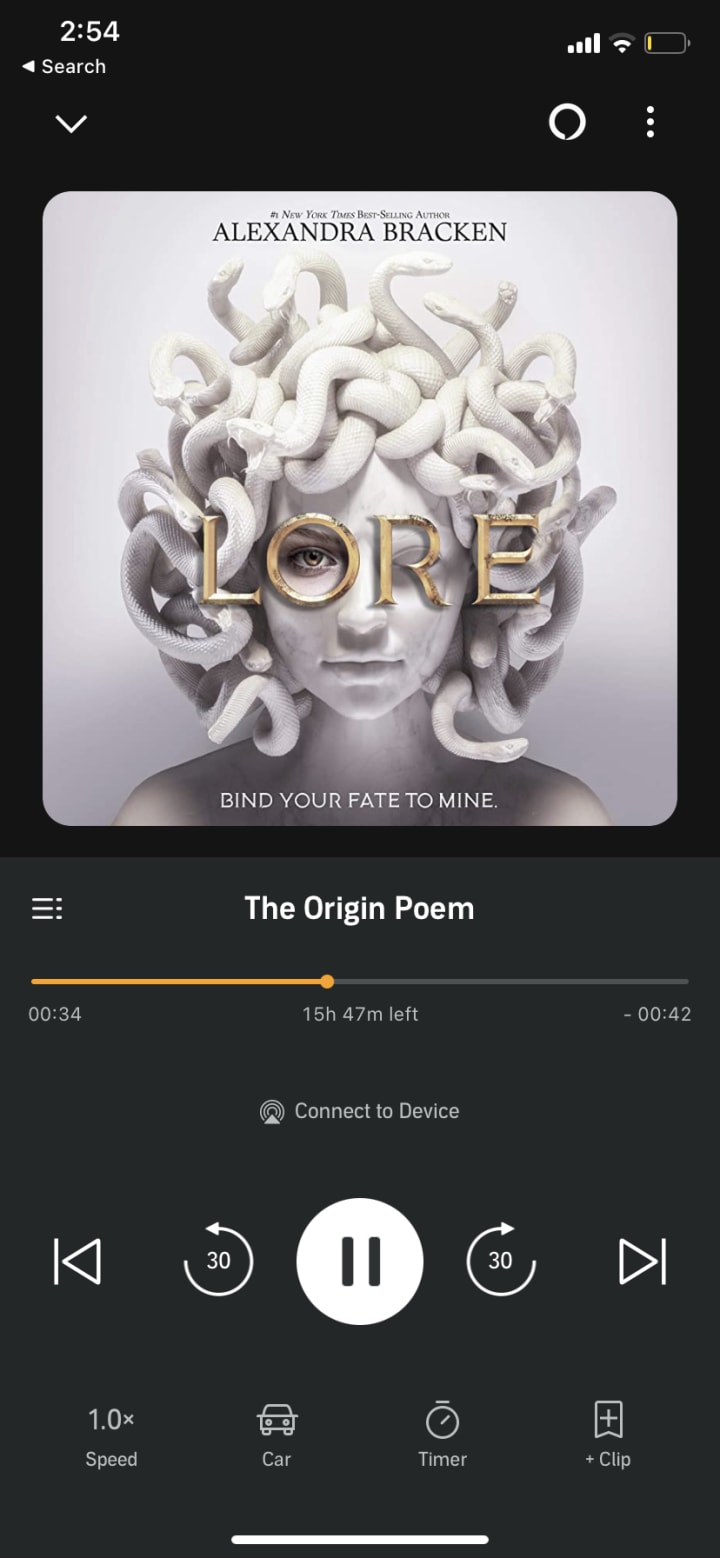 Day #24
Today was a good day. I had my caffeine fix for the day, found new music again today and took my kiddos swimming! The song of the day was WOULDN'T IT BE NICE by Arizona Zervas.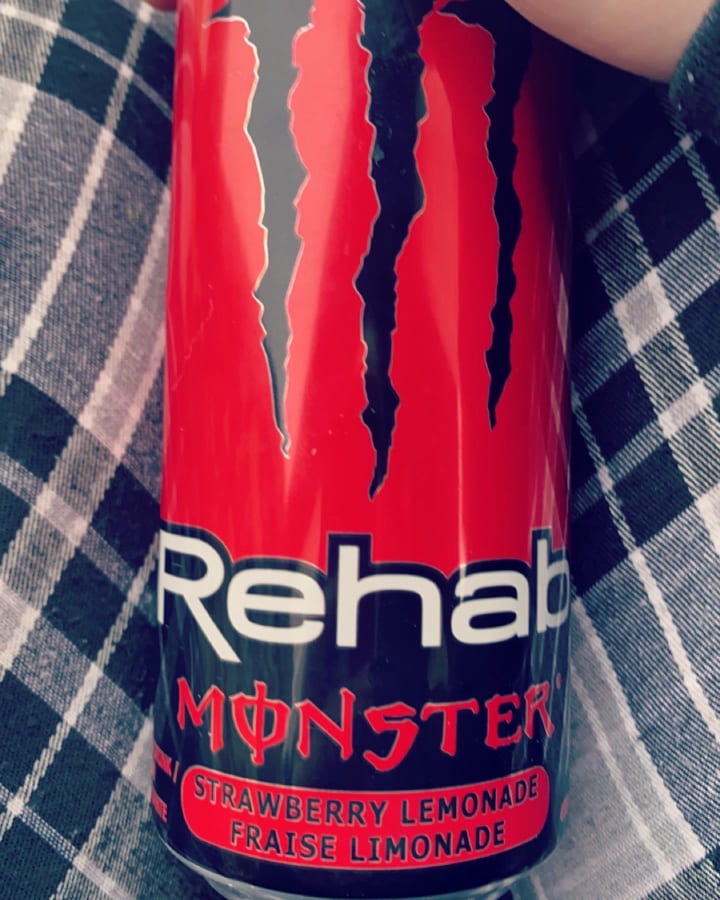 Day# 25
Today I got the opportunity to go to work. I was in my element again while serving tables. I didn't really have a great opportunity to take a picture of anything work related but I did manage to snag a selfie for the day! My hair is super faded and kind of annoying me but enjoy my face full of makeup for once. The song of the day is Die 4 Me by Halsey because I love the line, "They say what the devil can't do, he's gonna said a woman to."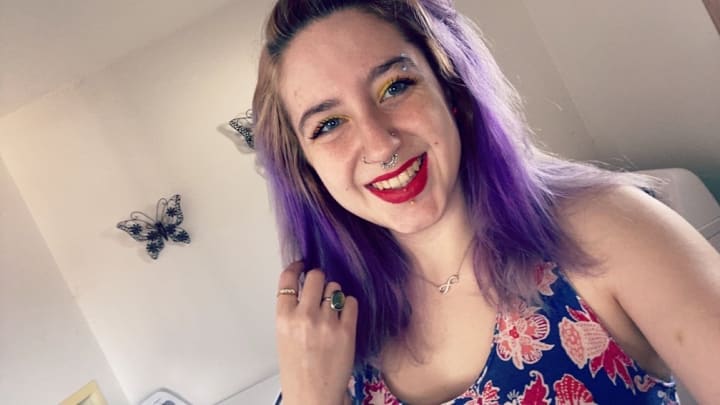 I hope you enjoyed part one of my 100 Days of Happy Challenge. Thanks for reading! Stay tuned for part two....
I will post the link to the second chapter in this series at the bottom of this post the moment that it is published.
Chloe Rose Violet
The original posts are on my Instagram account. @chloeroseviolet
If you are not a subscriber, please give this post a like and subscribe to show some love.
Use code: CHLOE20727 for your own HeyYou gear....
Check out more details of the 100 Days of Happy Challenge here!
About the Creator
Writing from the heart about love, life, music, mental health, and everything else in between. 💀🥰
•Follow me on Threads @rosefearless
•Like my new Facebook page ROSEFEARLESS
Purchase my affirmation cards here!
Reader insights
Outstanding
Excellent work. Looking forward to reading more!
Top insights
Heartfelt and relatable

The story invoked strong personal emotions

Easy to read and follow

Well-structured & engaging content

Masterful proofreading

Zero grammar & spelling mistakes
Add your insights