Ceremony
A Romantic Short Story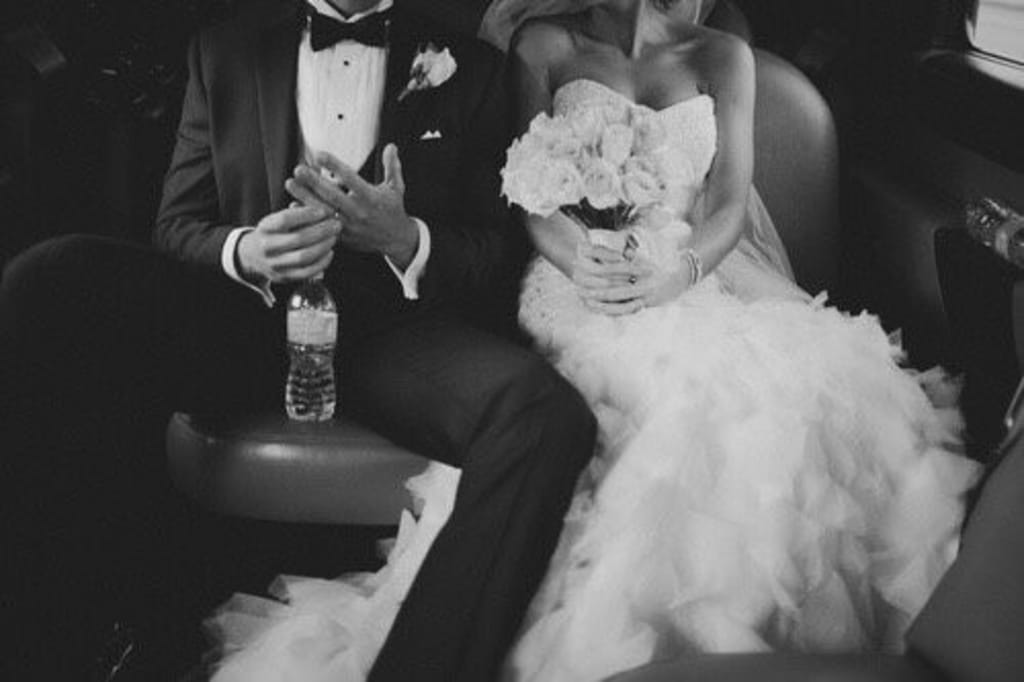 "We are gathered here on this beautiful fall day to witness the union of Winslow Sheppard and Maverick Fisher in holy matrimony. As Winslow and Maverick continue on their-"
"It's Winnie," Maverick blurted. The priest turned to him with a dumbfounded expression.
"What?" He asked, tone in utter disbelief.
"She goes by Winnie," Maverick explained. The priest watched the young man for a moment as if waiting for him to get all of his interruptions out.
"Alright, well…" The man sighed, then turned back to the confused crowd. Off to the right, Winnie's best friend and maid of honor was beaming at the groom. She'd always loved the way he spoke out on her behalf when she wouldn't.
"As Winnie and Maverick continue on their now entwined path, they will harness one another's love to keep the hardships at bay." As the priest droned on, Winnie rolled her eyes, puffing out an exasperated breath. All of this religious hullabaloo was never something she'd signed off on.
As she swayed from foot to foot anxiously, Maverick watched her. He couldn't focus on anything else beside his beautiful bride. He admired the way she'd curled her hair to perfection, and the way she didn't seem to have a single eyelash out of place for her magical day. He was determined to make it her magical day, because he knew that she'd dreamed of being married since she was a little girl.
"Always remember these words," the priest smiled as he spoke. "Love is patient and kind." His tone was cheerful and warm, and it made Winnie want to hurl.
"Can we skip this part?" She asked. The priest turned to her with the same dumbfounded expression that he'd given Maverick moments earlier.
"Excuse me?" He asked, his greying eyebrows knit together in confusion.
"It's just that I never agreed to all the cliches," she waved her bouquet in a circle. The priest waited for her to keep speaking, but she didn't.
"The bride and groom have chosen to read their own vows." His tone was much more irritated this time, but he complied with the young woman's wishes. "I invite the two of them to face one another and declare their intentions."
"Go ahead, baby," Maverick grinned. Winnie nodded excitedly, pulling a crumpled piece of paper from her roses. As she smoothed it out, the groomsmen all shared a silent chuckle, knowing that it was just classic Winnie to not have the words memorized.
"When I first met you, I didn't know where my life was heading." She began, her voice noticeably nervous. "I felt like I was walking in circles until you showed me the way." Winnie let out a breathy laugh, and her maid of honor shook her head at the memories. "Some people may have stories about how they fell in love gradually, or how as time went on, they knew that they wanted to spend their life with their person." She paused to look out at the audience, and everyone seemed to be hanging on her every word.
"In my case, however, I knew right away that I never wanted anyone else but you." Winne's confession made Maverick crack a grin. "I promise, for as long as I am yours, that I will always make you smile like this." She reached out for a moment, tapping her gentle fingertips against his lips. "I promise to always tell you what's on my mind, help you through your insecurities, and hold your hand on roller coasters." The entire crowd collectively shared a laugh.
"I promise to be, forever and always, your wife, your friend, and your Pooh Bear." Winnie dug around in her bouquet once more, this time pulling out a plain golden wedding band. With a grin, she took Maverick's left hand into her own, sliding the ring onto his finger.
"My turn," Maverick smiled, and it reached his eyes. "Growing up, I found it difficult to open myself up to others." The groomsmen all shot each other looks, as though they were all sorting through each event of 'the old days.' "I never thought that I could love someone so dearly, let alone have them love me back." As he spoke, his eyes brimmed with tears. "When I met you, my whole life changed; it took a turn in a direction that I never expected for it to go." Maverick wiped his eyes with his sleeve, making his father wrinkle his nose from the front row.
"Everyday I spend with you, I fall more and more in love with you." His words seemed to hit Winnie in a way that he'd never anticipated. Her eyes were sparkling with fresh tears, her hands anxiously clamped around her flowers. "I fall deeper in love with your laugh, your motivation, and your ability to beat me in any category of trivia." The crowd laughed again, and some people reached for a tissue.
"I vow to you that I will always make you laugh, always be your motivation, and always suck at trivia." At this, Winnie laughed. She loved the way that he always picked the answer that was the third one down. "I vow to you that I will never make you cry, break your spirit, or make you feel less than me. From now to forever, I will be your husband, your friend, and your open book." As Maverick wrapped up his vows, he fished around his breast pocket to find her new diamond ring. It was the most lovely thing she'd ever seen, and she was proud to have him slip it onto her finger.
"By the power invested in me, I pronounce you Mr. and Mrs. Fisher," the priest smiled brightly at the young couple, clapping his hands together in congradulations. "You may now kiss the bride."
Maverick swept Winnie into his arms the moment the words left the priest's mouth. He was careful to keep things classy as he pressed his lips against hers, his hands gripping her waist tightly. She reached up to caress his freshly shaven cheek, and her ring glimmered in the light. Even after the kiss had broken, the two stayed in one another's arms, admiring their new lawfully bound partner.