Why Your Last Crossfit Gym Didn't Help You Reach Your Goals
Reasons why you're not getting desired results from crossfit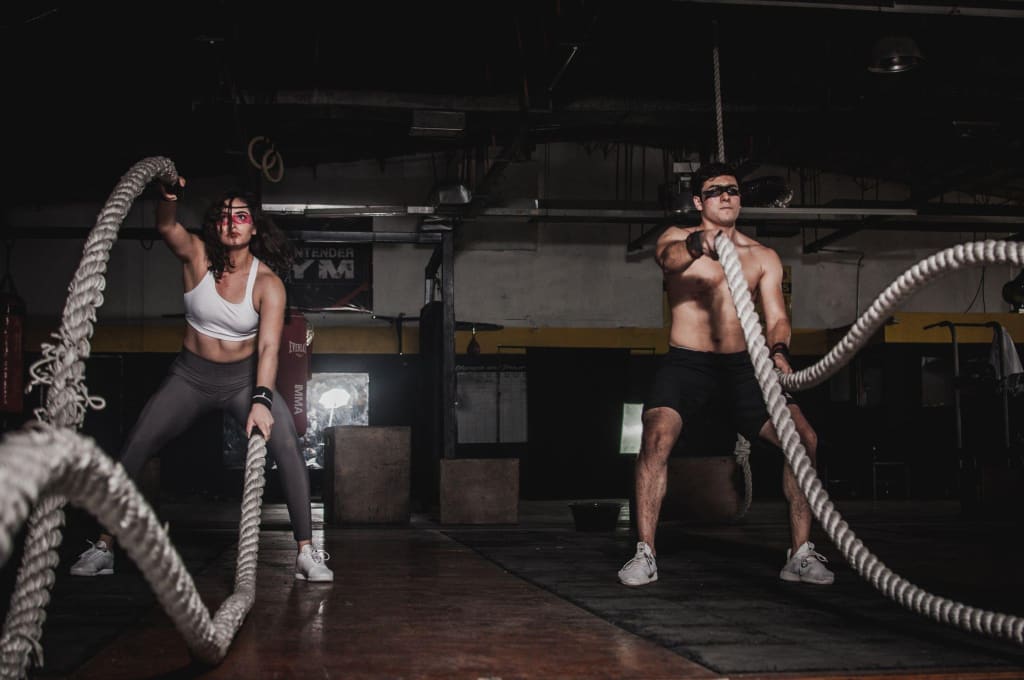 https://www.pexels.com/photo/man-and-woman-holding-battle-ropes-1552242/
When it comes to Crossfit, many people think that all gyms are created equal. However, this isn't true. In fact, the success of your Crossfit journey will depend largely on the gym you choose to join. So why did your last Crossfit gym fail to help you reach your goals? Let's take a look at some of the most important things to look for in a Crossfit gym.
The Importance of a Supportive Community in Crossfit
One of the most critical aspects of Crossfit is the community. When you join a Crossfit gym, you're not just joining a workout group, you're joining a family. An excellent Crossfit gym will have a supportive and friendly community that will help motivate and encourage you on your fitness journey.
Just like your work environment, you may find the support you need from your peers to succeed, or you may find yourself in a toxic environment that crushes your dreams. When it comes to Crossfit, having a supportive community is essential for success.
So if you're asking your Crossfit coaches for some help, they should be more than happy to oblige. If they're not, then that's a red flag that you're not in the right gym. Of course, the coaches are just a part of the community. Everyone in the gym, from the other members to the front desk staff, should make you feel welcome and supported.
Ideally, your Crossfit gym should consist of members from all walks of life and all different fitness levels that work together towards a common goal: to be the best version of themselves. Essentially, you're looking for a judgment-free Crossfit gym that feels like a second home where you can go to escape the stresses of daily life and focus on your health and fitness goals.
Your Crossfit Gym Should Have the Right Programs
Another reason your last Crossfit gym may have failed you is that they didn't have the right programs in place to help you reach your goals. Maybe they didn't offer beginner-friendly classes, or they didn't have a good nutrition program. Whatever the case may be, make sure to do your research and choose a Crossfit gym that has the right programs in place to help you succeed.
For example, if your goal is to lose weight, then look for a gym that offers beginner-friendly classes and a nutrition program that can help you make healthy choices. If your goal is to compete in Crossfit competitions, then look for a gym that has a competitive team that can help you train and prepare for competitions.
The bottom line is that there's no one-size-fits-all Crossfit gym. You need to find a gym that's tailored to your specific goals. A good gym should have programs for all fitness levels, whether you're a beginner or a seasoned Crossfitter.
What Makes Crossfit Gyms Different
While all Crossfit gyms may seem the same on the surface, they are actually quite different. When choosing a Crossfit gym, you need to find one that is the right fit for you. Otherwise, you'll likely end up quitting before you ever reach your goals.
Here are some things to look for in a Crossfit gym:
●A supportive and friendly community
●Experienced and certified coaches
●A clean and well-equipped facility
●Affordable membership rates
If you find a Crossfit gym with all these things, you're on the right track. Otherwise, you may want to keep looking until you find the perfect fit.
How to Find the Perfect Crossfit Gym for You
Now that you know what to look for in a Crossfit gym, it's time to start your search. Here are some tips to get you started:
●Ask around. Talk to your friends and family members who do Crossfit and see if they have any recommendations.
●Read online reviews. This is a great way to get an unbiased opinion of a Crossfit gym.
●Visit the gyms in person. Once you've narrowed down your options, take the time to visit each gym and see if it's the right fit for you. The best Crossfit gyms offer a free trial class so you can get a feel for the environment.
Choosing a Crossfit gym is a big decision. But if you take the time to find the right gym, you'll be one step closer to reaching your fitness goals. So don't give up on Crossfit just because your last gym didn't work out. Instead, use this as an opportunity to find a better gym that will help you succeed.
Crossfit is a fantastic workout, but it's only effective if you're doing it in the right environment. So make sure to choose wisely!
The Bottom Line
Crossfit is one of the best ways to get in shape and reach your fitness goals. However, it's essential to choose the right Crossfit gym if you want to be successful. Make sure to look for a gym with a supportive community, experienced coaches, and affordable membership rates. Joining the right gym will ensure you're on the right path to achieving your goals!
About the Creator
Tess DiNapoli is an artist, freelance writer, and content strategist. She has a passion for yoga and often writes about health and wellness, but also enjoys covering the fashion industry and world of fitness.
Reader insights
Be the first to share your insights about this piece.
Add your insights