Travel Provides a Chance to Appreciate and Reflect
Snapshots from five states - Ohio, Indiana, Pennsylvania, New York, and Vermont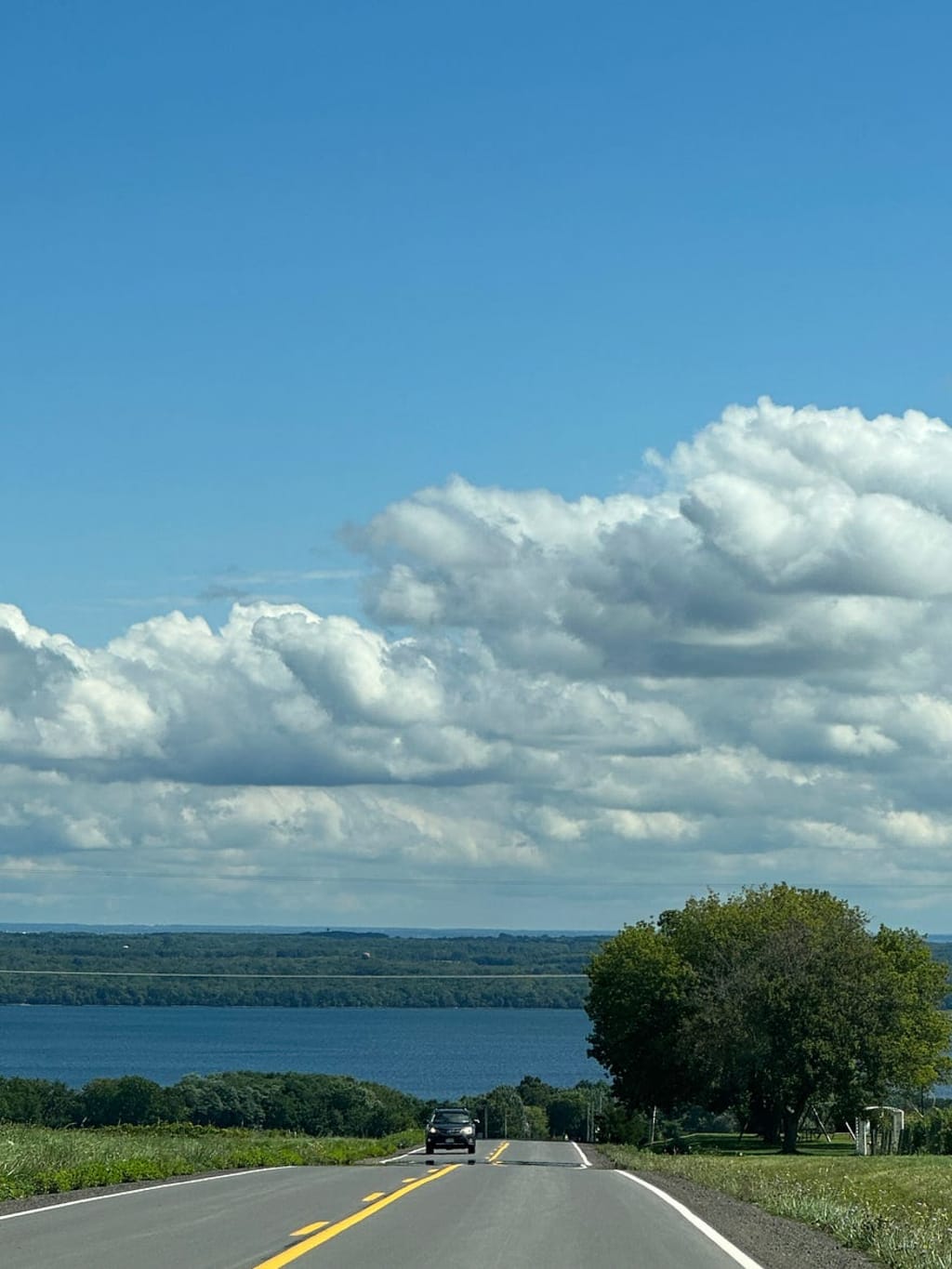 Image from author's collection.
Most of the time I hate driving. There usually is stress associated with most trips because I have to arrive someplace that requires my attention, by a set time established by somebody else, to accomplish a necessary and unpleasant task. But since we've retired, driving takes us to new places and exciting adventures. I am beginning to enjoy the drive.
I've been amazed that traveling can be relaxing and educational when all the demands of life are removed. Until we retired, deadlines dictated our moves, but now we live one day at a time, waiting to see what is around the next corner. Because our laissez faire attitude of today didn't seem possible a couple years ago, I understand why it seems out of reach for many people. However, as those bucket lists are being developed be sure to hold fast to the dream of climbing into an RV and driving away.
As Langston Hughes wrote in a poem, "Hold fast to dreams because if dreams die, life is a broken winged bird that cannot fly." 
We've been on the road over a month now and visited 15 states. Those closest to our home state of Idaho, we ventured through without much exploration because we had visited them many times before. When we hit the mid-west, our adventures truly began. At first, I felt some stress trying to determine what to see and experience. However, it didn't take long to realize there is so much to see that all we had to do was keep open minds, willing spirits, and inquisitive minds to find adventure around every turn.
When we rolled into the mid-west, we began to take deep breaths and relax, amazed at the differences around us and even more amazed at the similarities. Every state has grass and trees; in the Midwest the lawns are larger, and the majority of trees are deciduous instead of evergreens. Everywhere there are stores and restaurants. McDonalds still appears around every corner but Idaho's homegrown grocery store, Albertsons, disappeared. Roads allow travelers to find new destinations but some are definitely better than others. 
Sometimes, I spend too much time planning the destination to appreciate what is before me. It is not uncommon for me to be exploring the internet and Randy to say shut that off and look out your window. I've actually thanked him when I remember to observe my surrounding, though I still take time daily to write. Writing is a way to capture the memories. Words share reflections that images do not capture.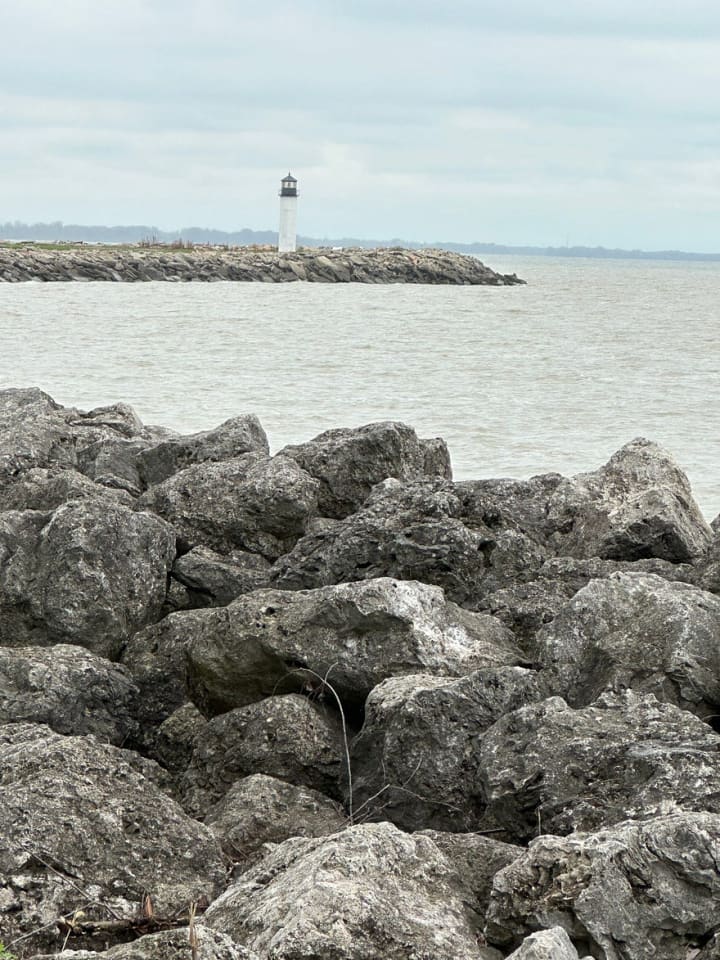 I never imagined Ohio and light houses but discovered the size of Lake Eerie makes them a necessity. Driving through Ohio, provided a quiet serene ride to connect with nature. Looking out the window, we observed people sailing, kayaking, canoeing, parasailing, and paddle boarding. A child on the beach built a sand castle and someone left a message in the sand by drawing a large heart. The combination of untouched nature and that influence by humans reminded me to appreciate what is outside my window. You can read about our time in Ohio by following the hyperlink in the section title.
Upstate New York - The Nature Around Every Turn Overwhelms the Senses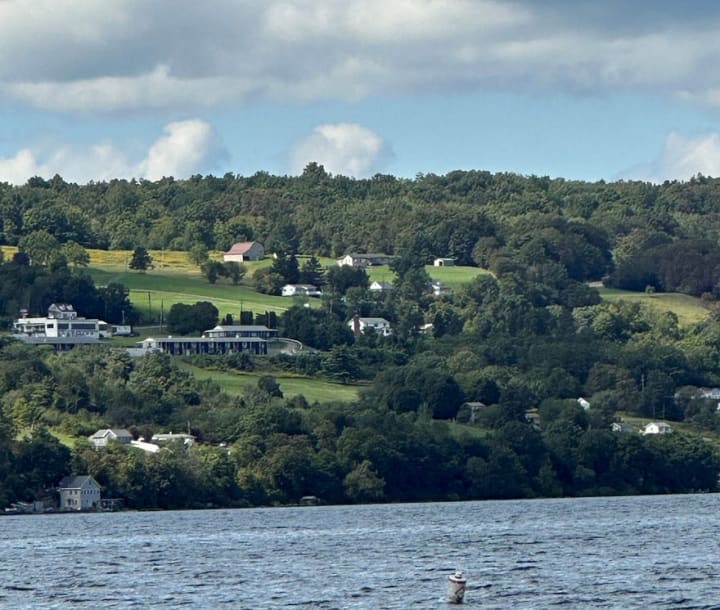 Antiques stores lined the roadside filled with artifacts that had been handed down from generation to generation. Much of the culture and attractions emerged from historical events. 
Massive plots of land decorated with flowers, ivy, and gardens showed a dedication to hard work and a pride of the land. Randy and I commented repeatedly about the beauty of the typical white houses, red barns, and acres of mowed lawns. We witnessed few fences unless they were required for livestock.
Mixed among the patchwork quilt of fields rested water: rivers, ponds, lakes, waterfalls - water in every form gathered in pools melding with nature, breeding neighborhoods and villages. I used the term villages instead of towns because that is the vocabulary of this area.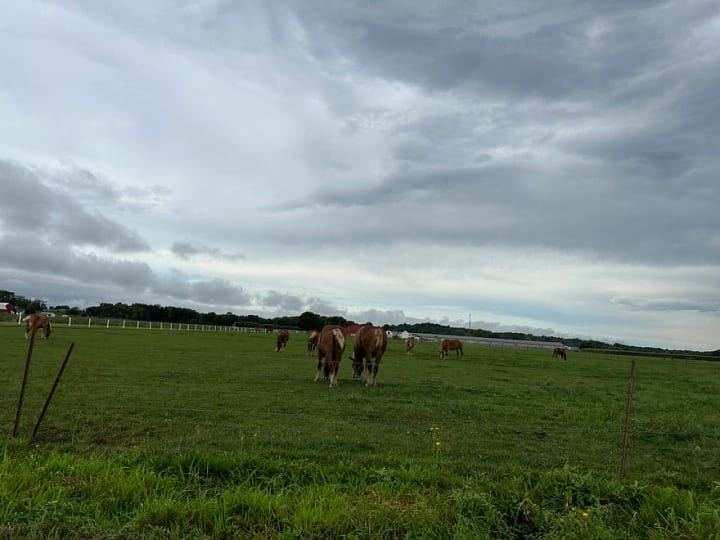 Thinking we would visit the world's largest flea market, explore the museums, and tour the agriculture, we found ourselves pleasantly inspired by a simple lifestyle and friendly people. I took the picture above as we drove on a road into town. The two buggies traveled in opposite directions yet followed the same spiritual path.
Most of the homes were painted white as were the barns and fence posts. Many had laundry drying on the line. Bicycles sat parked in front of each home because they are a primary mode of transportation other than the horse and wagons. The conditions of the farms showed the value of dedication and hard work. The lands were manicured with plush gardens, gorgeous flowers, and tailored driveways. Even the horses stood proud and happy.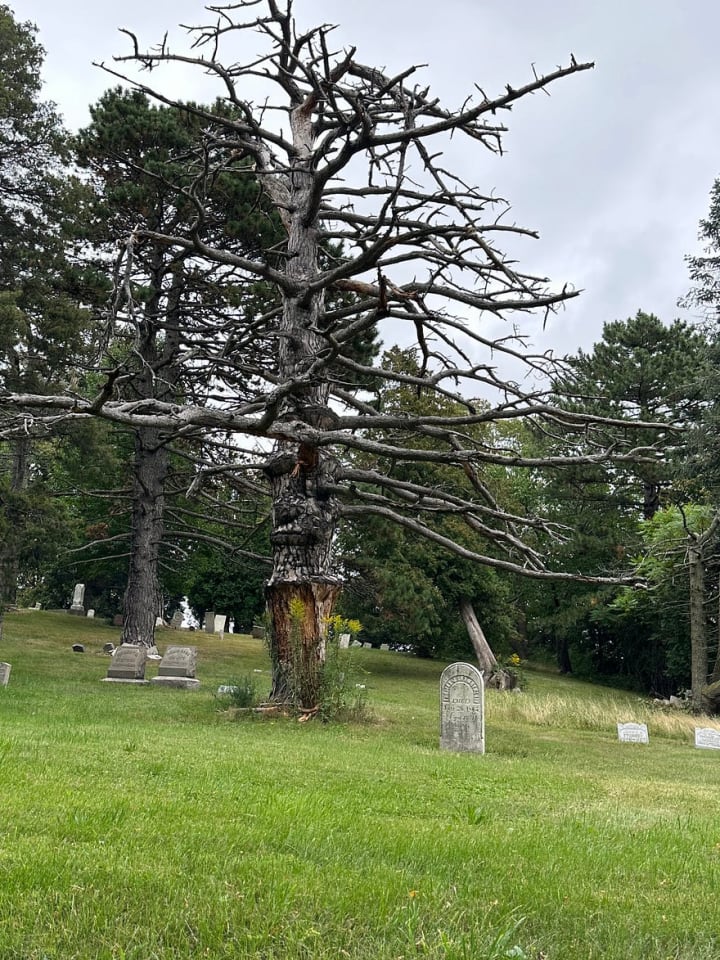 Before Randy and I ventured inside for a glass of wine, we took the dogs for a walk to work out the kinks from the day's drive. Still amazed at the amount of grass, watching the dogs sniff and explore made a smile. They liked our home for the night as much as we did.
Tucked away behind the land owned by the winery, we stumbled upon a cemetery. The maintained landscaping invited us to explore and we noticed quickly by the condition of the headstones that a lot of history was buried here. Some of the birth and death dates spanned back to the late 1700's.
When we came across Hugh Beatty's grave, we thought it interesting that he listed both his wives on the same headstone. Then we really got curious when we noticed the dates showed both wives were alive at the same time. It seems times have changed since then.
Vermont - Land of Apples, Maple Syrup, Granite, and Cider Donuts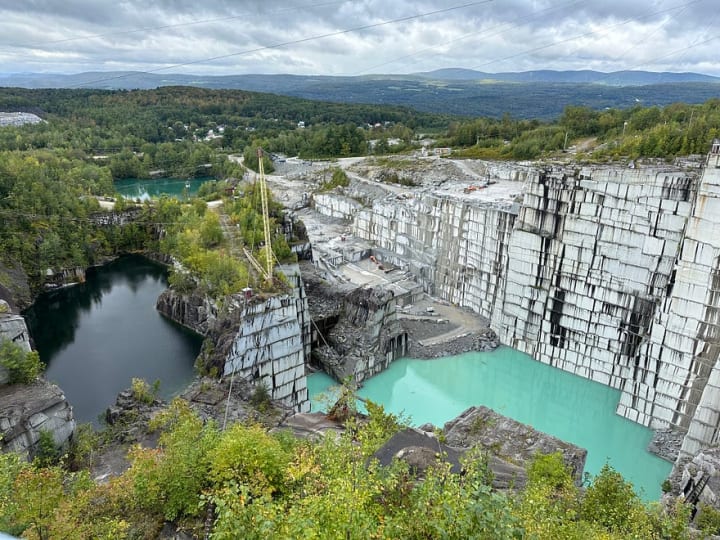 The cooler weather didn't cause disappointment or concern because the whole point of traveling to Vermont was to see the fall colors. We acknowledged the deep shades of red, vibrant oranges, brilliant yellows, and various hues of brown would not plaster the surrounding slopes for another couple weeks but a spattering of color was beginning to emerge. With stocking hats and light jackets in hand, we headed out the door to explore Vermont. Life couldn't be much better because we began our day with fresh, warm cider donuts and hot apple cider, a combination that can't be beat.
Our first stop of the day, second if you count the donuts, was the granite quarry where we witnessed the art of nature collide with the science of man. The tour of Rock of Ages granite mining company fascinated us. How did the inventive mind calculate the potential of rock? What was the person thinking when he first chipped away at the mountain? Who developed the system to retrieve giant slabs from the earth to create art, countertops and other products used daily around the world? The tour guide answered these questions and more.
Travel opens our eyes to various environments, new people, unique foods, and inventions. By seeing the sights and experiencing cultures, a deeper understanding of the impact of history can be gained. A traveler doesn't need to leave U.S. soil to glimpse the impact of the past on the present, and understand why our ancestors fought for freedom. Exploring this great nation builds an appreciation.
If you wish to read more of our trip across the US, follow us at RVing in Retirement. Or read this article about the Amana Colonies, one of my favorite living museum.
Iowa, Amana Colonies: Traveling in the Present and Learning About the Past
Reader insights
Be the first to share your insights about this piece.
Add your insights