Tough Decisions I Had to Make Living with a Disease
Making decisions is tough when you have a disease.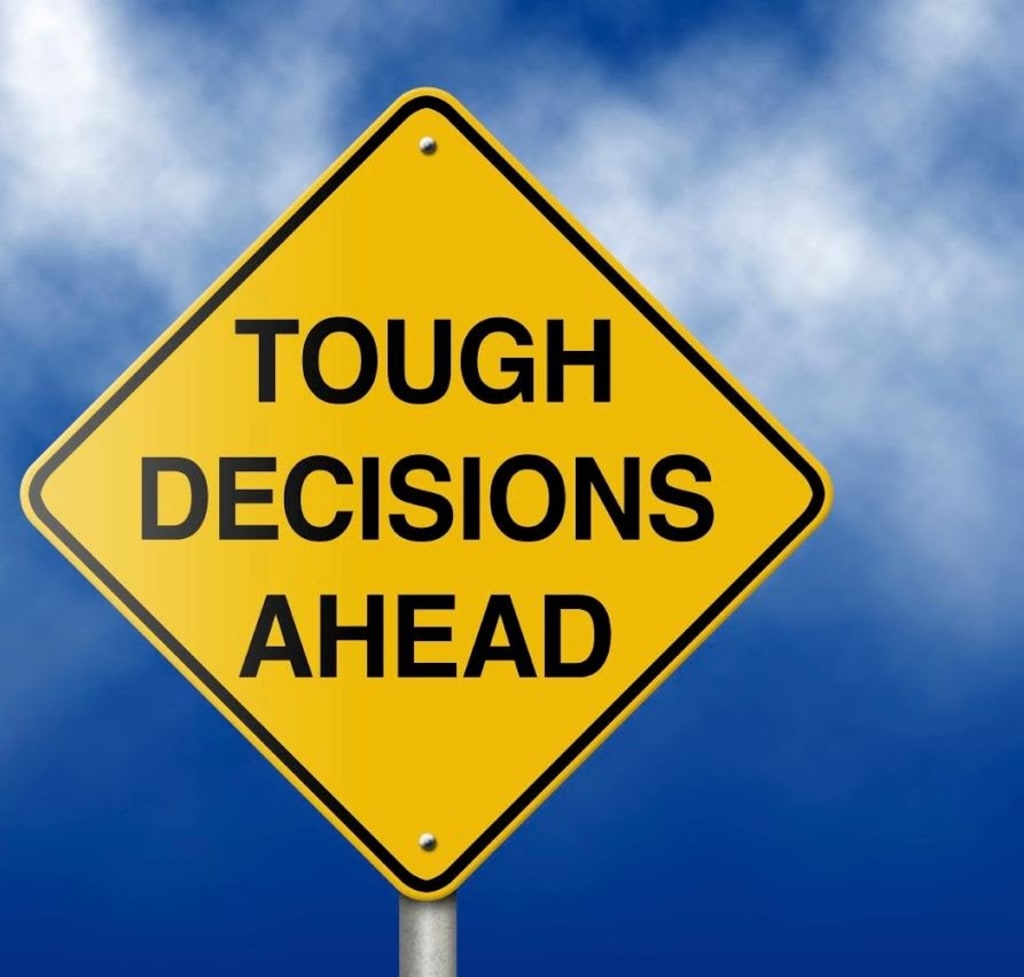 Hey lovely people,
As you know, life can be very challenging, and sometimes you must make the hardest decisions ever. Trust me, I know, it's not easy. But sometimes you must think long and hard about those decisions you make because sometimes those decisions you make not only affect you, but the people around you as well.
As some of my readers know, I have PKD (polycystic kidney disease); if you don't know what that is or what it means, it's an inherited disorder that makes me have a lot of cysts in my kidneys, making my kidney grow bigger than it should be and over a period of time it can lead to my kidneys to fail. Most of my articles or writing pieces on Vocal are about kidney disease or how I am living with it, but this one is kind of personal. I normally don't express my feelings online because everyone has an opinion on how I should live my life, but I think it's time to share those feelings, and I want my readers to know how a disease can really affect your life not only physically, but emotionally and even spiritually.
No, I am not looking for pity or anything of that sort. I am just expressing some of the hardest decisions I've had to make dealing with this disease. One of the hardest decisions I made was giving up the dream of becoming a mother naturally; you may be thinking why? The reason is I won't get to experience the feeling of being pregnant because there's a 50 percent chance I can pass this disease onto my future offspring and I know it's selfish, but I don't want my child going through the pain and stresses that come with this disease. I'm only saying that because currently there isn't a cure for PKD (Polycystic Kidney Disease). People always tell me, "you can always get genetic testing or adopt," but do they realize how expensive the cost of genetic testing is? I believe most health insurance companies don't cover genetic testing. Yes, I know I can always adopt and give a child a loving and safe home, but it still kills me that I won't get the opportunity to bring life into this world. I've always dreamed about having kids, teaching and showing them new things, watching them grow into whatever they want to be.
One of the other decisions I had to make was giving up contact sports such as boxing, wrestling, football, etc. you may be wondering why. The reason is that contact sports can traumatize the kidneys if the flank/side or lower back is hit with impact and that should either be avoided or protective pads should be worn. If those precautions aren't taken it can lead up to a cyst rupturing and that can be extremely painful and dangerous to someone with PKD (Polycystic Kidney Disease). I've always loved wrestling and playing different sport; seriously, who doesn't want to do a Swanton bomb off the top rope like Jeff Hardy or do a moonsault off the ropes like Lita (Those are my two favorite wrestlers, by the way)? But on to what I was saying, even though I won't be about to play those kinds of sports, my PKD specialist told me I can punch a punching bag as long it doesn't hit me back (LOL).
On a serious note, exercising and diet are important for maintaining your kidney function. Even though I can't do contact sports, I do try other things to keep me active such as dancing, working out in a gym, taking long walks, and even jumping rope.
Making these decisions have affected me a lot emotionally, but I'm getting through it day by day. I have an awesome support system to keep me motivated. My parents are the most loving and supportive parents that anyone could ask for and I love them so much. I have the most amazing people in my corner; they keep me balanced, and I couldn't be more thankful and grateful for that.
I want to let you all know that whatever life throws at you, you are able and strong enough to get through it. Just surround yourself with positive thoughts and people, and you can do anything, you got this!
Thank you for reading!
<3
health
About the author
Hey lovely people, my name is Delilah I'm from Philadelphia Pennsylvania and I suffer from polycystic kidney disease. Majority of my posts will be about health, food, movies, music, and about my life and struggles of living with a disease.
Reader insights
Be the first to share your insights about this piece.
Add your insights