Top Fitness Celebrities of the 80s
Each of the top fitness celebrities of the 80s shaped our current popular fitness culture in a unique way.
The 80s came with hundreds of influential stars, politicians, and activists, but let's not forget the huge influence brought by the top fitness celebrities of the 80s. These men and women brought fitness and health to the public like never before, through workout videos, books, and talk shows. Each celebrity had something unique and individual to bring to the fitness sphere, so it's no surprise that they have shaped our current popular fitness culture. Here's an introduction to the top fitness celebrities of the 80s and what they're famous for.
Richard Simmons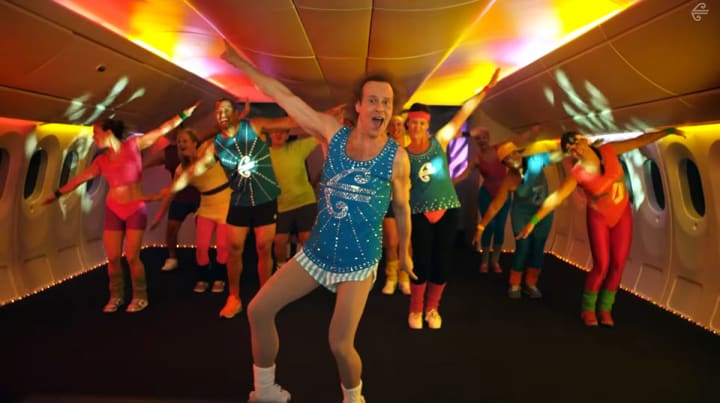 Best known as the star creator of the hit workout series Sweatin' To The Oldies, Richard Simmons has been a pivotal influence in the fitness world since the late 1970s. His friendly, body-positive outlook and outrageous outfits made him an instant yet long-lasting cherished celebrity, creating and starring in over 20 aerobic fitness workout videos over his career. His videos show participants of all shapes, sizes, and ages working out alongside him with a smile. He also wrote several books on healthy eating and lifestyle, and has been active in campaigns to end child obesity by emphasizing the importance of physical education classes in public schools.
Jake Steinfeld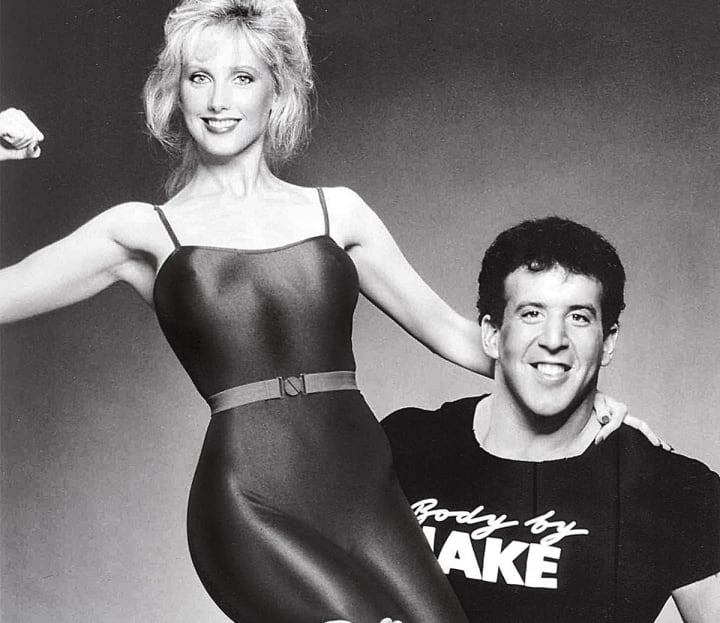 Next on the list is the creator of Body By Jake, a fitness program still in use today, and the personal trainer of the likes of Steven Spielberg and Harrison Ford. Jake Steinfeld and his companies have created everything from 24-hour fitness and lifestyle television channels to exercise products that make working out at home even easier. An entrepreneur and fitness specialist for over 35 years, Jake Steinfeld continues to inspire and motivate exercisers from all walks of life and all levels of fitness.
Jane Fonda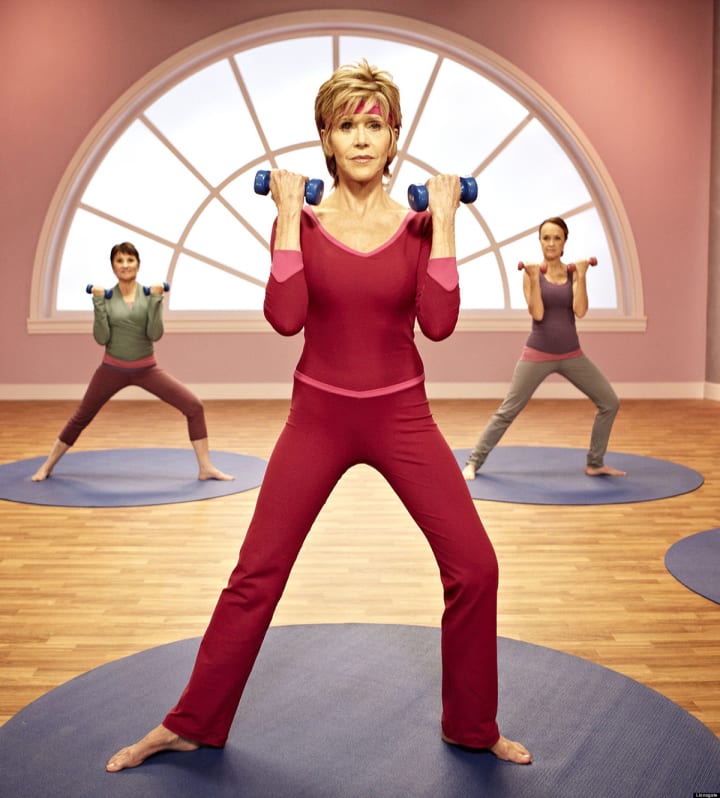 There's no doubt that Jane Fonda earned her place here in the top fitness celebrities of the 1980s. Starting out in the 60s as an actress, her first exercise video, Jane Fonda's Workout, was released in 1982, and from then on she was a fitness force to be reckoned with. The video, which was based on her book Jane Fonda's Workout Book, went on to sell over a million copies as a best seller for several years following its release. Twenty-three more workout videos followed, becoming one of the highest-selling fitness series of all time. Jane Fonda was also known as a prominent political activist against numerous incidents of international conflict.
Tony Little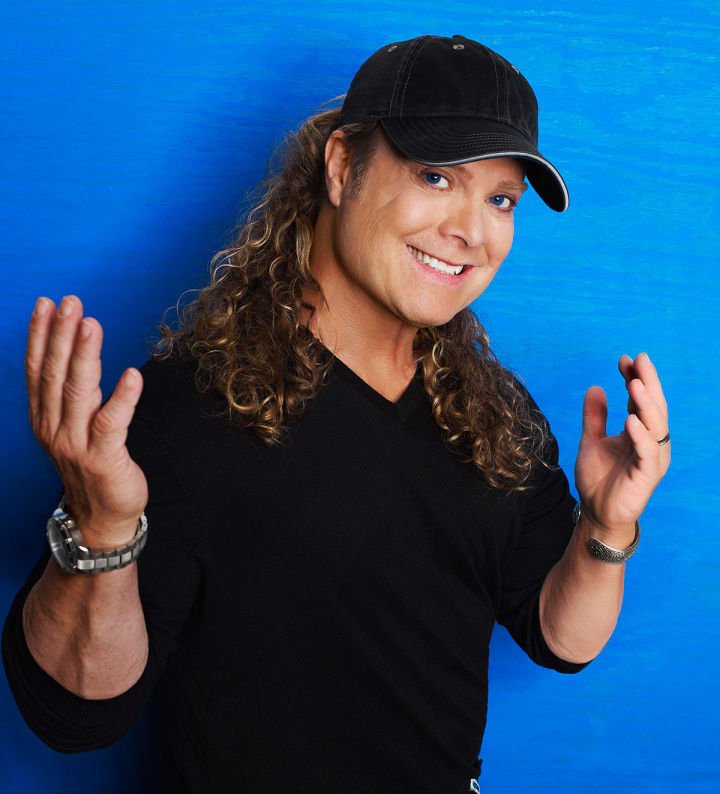 With an over-the-top personality and a knack for sales, Tony Little rose up the ranks of the fitness celebrities with his ponytail and catch phrases helping him stand out in a sea of infomercials. A creator of several fitness DVDs and products, and author of several books, Tony Little is a true businessman with the health of the people in mind. He was inducted into the National Fitness Hall of Fame in 2006 after over three decades of success in the fitness industry. He still calls himself "America's Personal Trainer" and maintains a dedicated following of people using his products to enjoy a healthy lifestyle.
Raquel Welch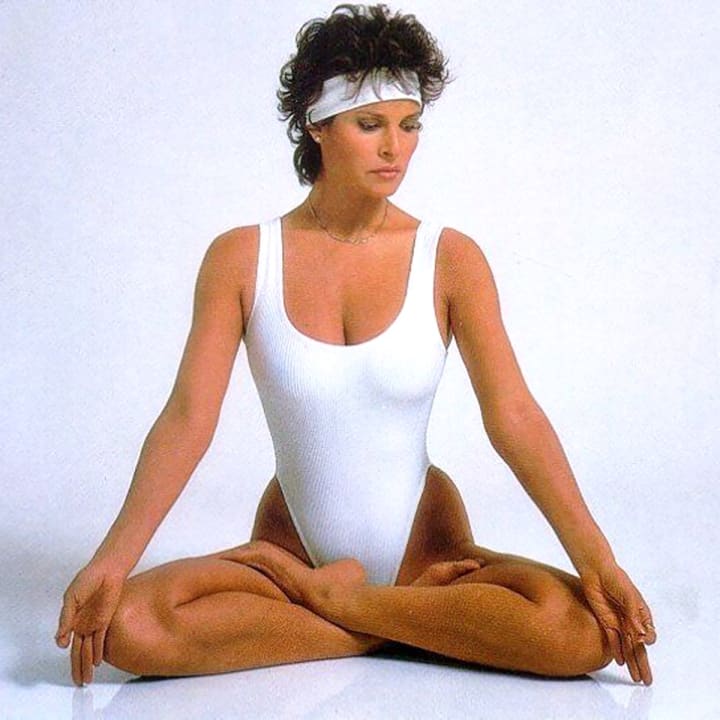 You probably know Raquel Welch best from her doeskin bikini-clad role in One Million Years B.C., a film that solidified her standing as a sex symbol. But did you know that she was a fitness star too? The Raquel Welch Total Beauty and Fitness Program, in both book and video form, was released in 1984 and quickly rose in popularity. They differed greatly from other fitness series, with a focus on Hatha yoga postures and her input on personal style and beauty. Interestingly, the movie star's yoga teacher was none other than Bikram Choudhury, creator of the Bikram yoga empire. Her workout videos are still in use today by her dedicated fans.
Olivia Newton-John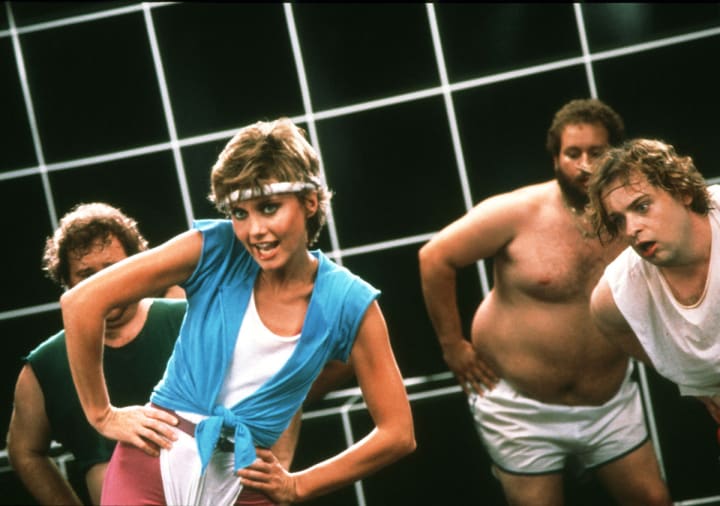 Though never officially a fitness icon, Olivia Newton-John's hit "Physical" quickly became an anthem among exercisers all over North America. The music video for the hit shows her clad in bright-colored spandex, leg warmers, and a headband, typical workout attire of the times. "Physical" is still used today in soundtracks for aerobics sessions and other group fitness classes, as it remains a mantra for fitness culture. You can still find her working up a sweat on stage singing her hits all over the world.
Tamilee Webb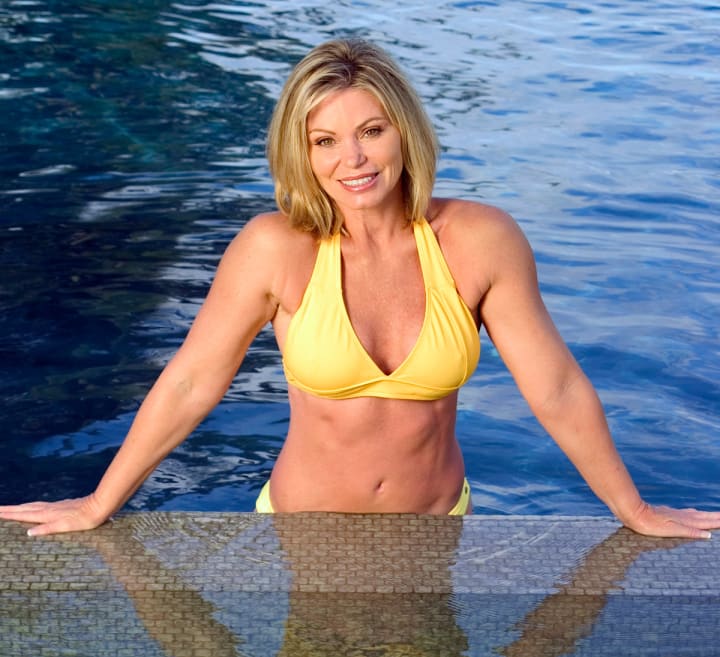 No list of the top fitness celebrities of the 1980s is complete without Tamilee Webb. Creator of the popular Buns of Steel and Abs of Steel programs in the 80s and early 90s, she's been in the fitness game for over three decades and continues this involvement today. She has degrees in Physical Education and Exercise Science, making her one of the most educated members on this list. Her Buns of Steel series has 22 videos alone, and she has produced others in weight loss, walking, dance, step, and toning topics. She was inducted into the Fitness Hall of Fame in 2008, gracing the ranks with the likes of Jack LaLanne, Jane Fonda, and Kathy Smith for her contribution to the nation's fitness industry.
Suzanne Somers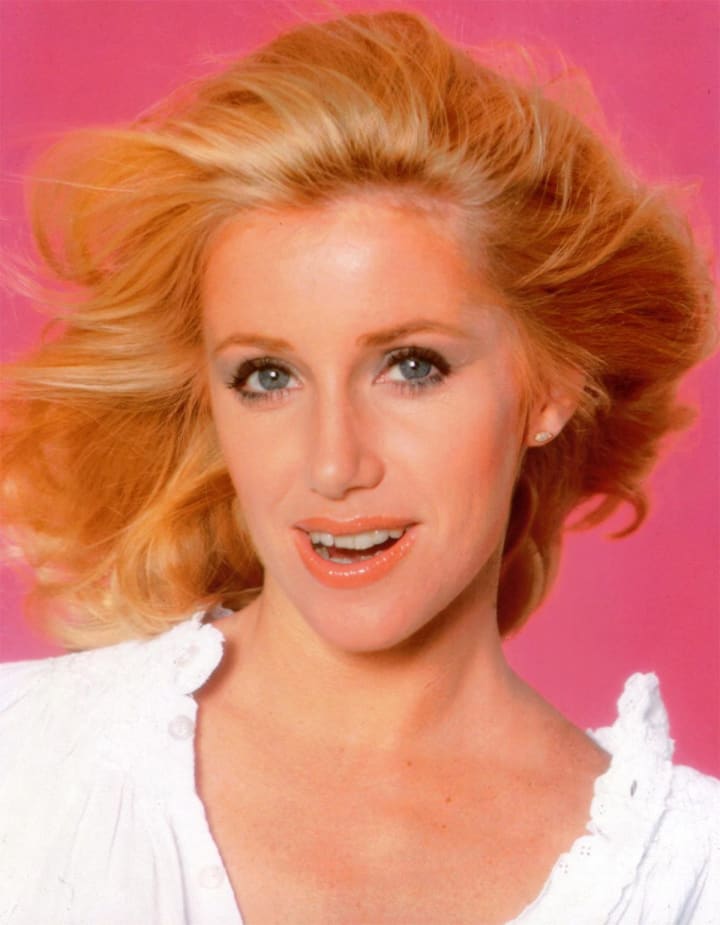 Suzanne Somers is yet another actress-turned-fitness star whose claim to fame was the original ThighMaster, a fitness product that she endorsed throughout the 80s and 90s, and still continues to endorse today. She put out a workout DVD using the product and still sells the ThighMaster on her website as a full-body exercise accessory. Suzanne Somers is most well known, however, for her many books focusing on health, beauty, anti-aging, and hormone replacement after cancer. She was also the host of The Suzanne Show, where she interviewed guests on topics related to fitness and health, and which aired successfully for 13 seasons. Her books have been bestsellers for decades.
Cynthia Kereluk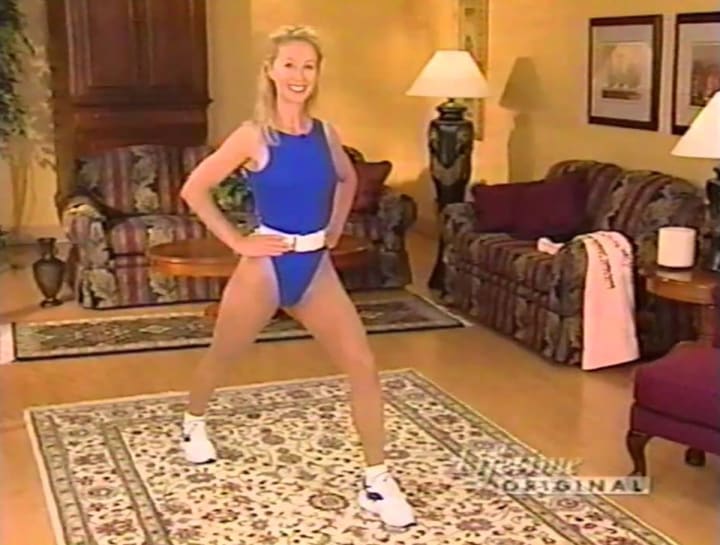 The creator of the television show Everyday Workout, Cynthia Kereluk is the only Canadian on our list of the top fitness celebrities of the 1980s. Everyday Workout started airing in 1985 and continued for 15 years, during which Cynthia was the only performer. She has contributed to many books and exercise videos, including the production of her own line of fitness videos which promoted using furniture and other household items as fitness accessories for those who didn't have access to typical workout equipment. Cynthia won the Miss Canada pageant in 1984 and went on to compete in Miss Universe that year. Her demeanor was always innocent and motivating, helping her to reach into the hearts of exercisers all over the world.
Denise Austin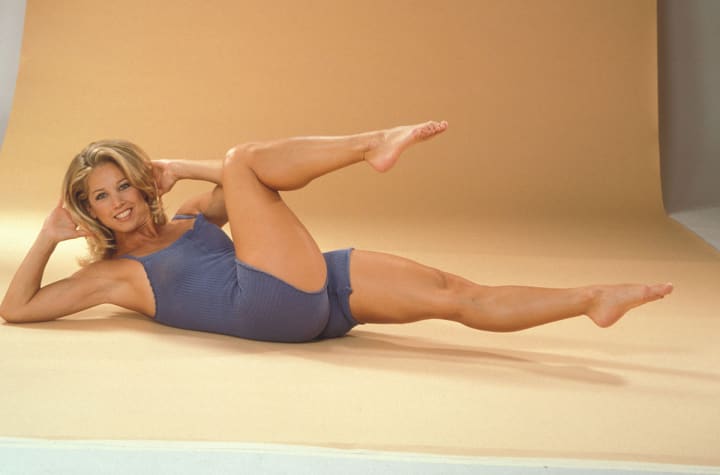 Still one of the top fitness celebrities of today, Denise Austin started her career in the 1980s after getting her degree in Physical Education. She started co-hosting The Jack LaLanne Show in 1981, which may have been the starting point that jump-started her career. She went on to host her own workout show and produced two fitness videos in 1982. Building on these successes, to this day she has created and released over 100 fitness workout videos and DVDs and has written several books. She has been a huge influence to exercisers throughout the 80s, 90s and into today.
Kathy Smith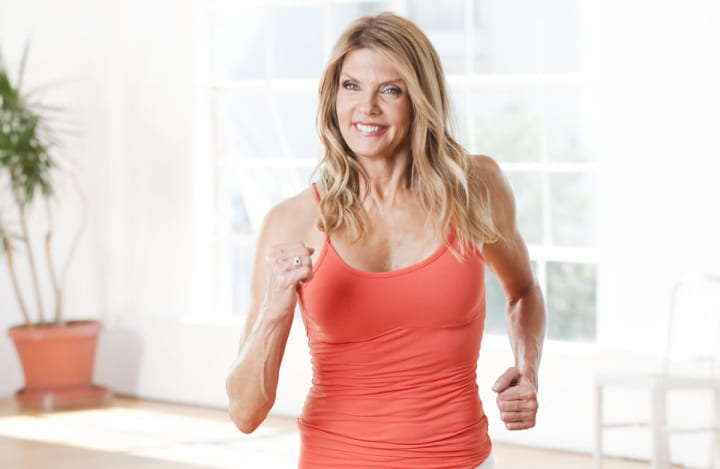 Another one on our list best known for her workout videos is Kathy Smith. Appearing on the show Alive and Well in 1983, she went on to write the best-selling book Kathy Smith's The Ultimate Workout and release several fitness videos, a diabetes-focused lifestyle plan collaboration with the American Diabetes Association, and also promoted a line of leg warmers and colorful gym attire. Her fitness videos are on a variety of topics from walking to step aerobics to yoga and pilates. She now caters to an older audience, focusing on fitness for an aging population.
Arnold Schwarzenegger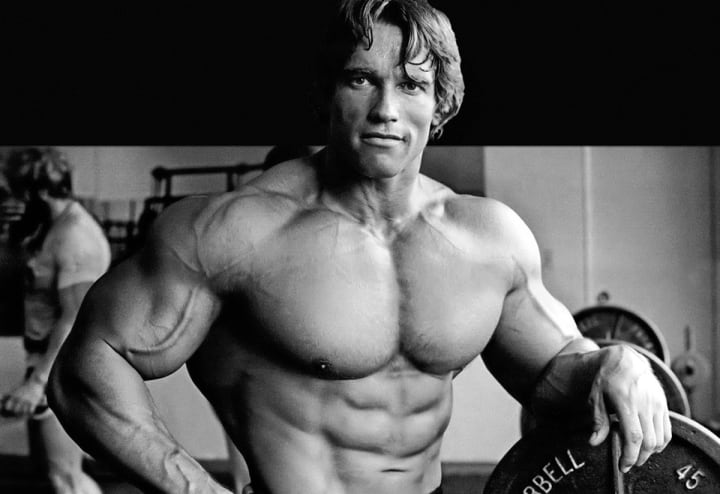 Last on the list is Arnold Schwarzenegger, one of the most influential icons of physical culture of all time. While it would take hours to describe all of his accomplishments as a bodybuilder starting in the 70s, Arnold's successes in the commercial fitness industry can be summed up with Shape Up With Arnold, his workout video alongside Ms. Olympia Rachel McLish that released in 1982. More an idol than a star, he also wrote Arnold's Encyclopedia of Modern Bodybuilding, a reference still used today, and won the Mr. Olympia contest a whopping seven times. He has inspired thousands of exercisers with his straightforward attitude and his classic physique, and remains active in physical culture today.
The top fitness celebrities of the 1980s had a tough job and had to do things old-school with VHS tapes and television shows, but they still managed to shape the fitness industry into what it is today. Interestingly, most of these stars are still continuing their work to this day, showing that their dedication to health and fitness is a lifelong commitment and not just a fad. They believe in their purpose and still spread the techniques to building a healthy lifestyle. Few people have had the same influence on fitness through the ages as these 12 top fitness celebrities of the 1980's.
Reader insights
Be the first to share your insights about this piece.
Add your insights