The color of snow
A dreamy unforgettable holiday weekend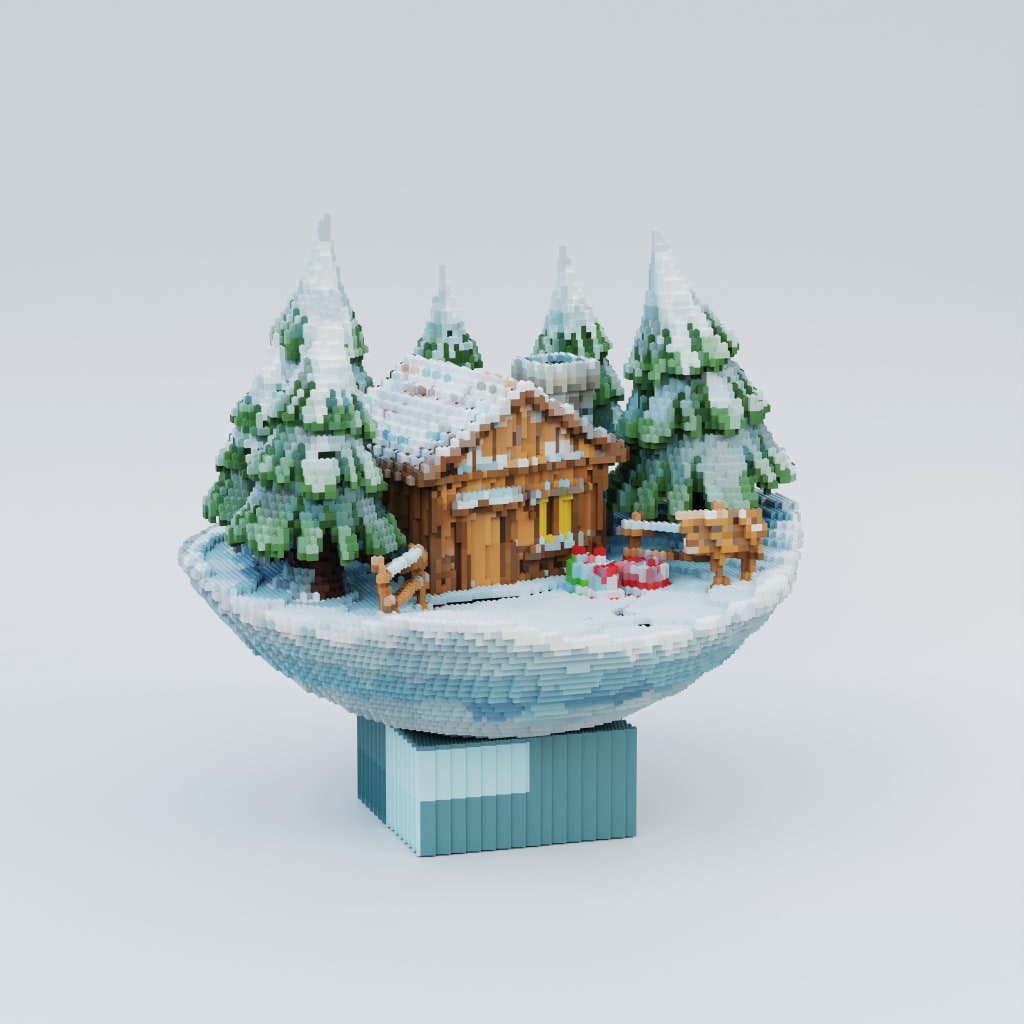 Peter Bo_Unsplash
"We drove up the snowy, winding road towards the cozy A-frame cabin".
"Are you sure you don't know who booked this trip Jemima. Lawd Jesus, watch the road, you can't drive and close your eyes, you old bat".
"I may be old, but I am younger than you, Adelia".
"Just by five minutes, everyone knows that you were too scared to come into the world, not that I blame you. It sure is a mess right now".
"Truth to tell, this world has always been messed up in one way or another". Adelia sighed, remembering all the crazy things that they had experienced or seen in the seventy-two years her sister and her had been on this earth.
"You know that's right". Jemima replied.
"Anyway. I think it's our nieces, even though they denied booking us into the cabin".
"Did you pack the blood pressure medicine, I forgot to get it from the bathroom, I'm sorry dear".
"Yes, Janice reminded me, sweet dear she is. Ginnifer would sooner see us drop dead than remind us, just waiting for her inheritance, that one. Well she has a long wait indeed". Our brother was a wild and reckless rascal. He had long abandoned the girls to our care. We had no idea where their mother was.
"I know. I'm so glad we changed the Will in time". Jemima smiled a satisfactory smirk.
"Watch the road, for Heavens sake, do you want me to drive".
"Oh do be quiet". Jemima retorted.
Her thoughts flashed back to their childhood. Identical Twins. They had been inseparable. Jemima was the artist, her sister the scientist. They had studied long and hard, had immersed themselves in their professions and their sisterhood. Neither of them had married or had children. They had each other and their work. They had travelled the world, sure there were flings, as they called them back then, the odd relationship, but neither had wanted a picket fence type of life, they were far too free spirited to be tied down.
The invitation had arrived in the form of a beautifully wrapped holiday gift from an 'anonymous' party. Two invitations were inside with a gift card for gas and provisions for a trip to Wonder Mountain lodgings and Inn. The place was half a days drive away. Plan for a road trip and have a wonderful time on a magical weekend of fun and frolic.
"I don't know how much frolicking we are expected to enjoy, but we sure shall try". Adelia had said laughing happily.
So here they were, with the help of the two nieces they had packed and prepared for their trip to the mountains. The girls had offered to drive them, but were sternly told that Jemima and Adelia were perfectly capable of taking care of themselves. They promised to watch the house and feed the cats.
Monday, December 28th, 2022. Jemima Jenkins' first entry since the incident.
Dear diary:
As we approached the cabin, we were in high spirits. An all-expense paid holiday. The snow covered A-frame cabin was well lit and looked quite inviting. It had been a cold day and Adelia just wanted to cuddle up on the sofa with a warm blanket and a glass of wine.I wanted to explore the lovely landscape and take a cold but enjoyable walk down the snow laden pathway.
"Be careful dear. Don't want to break any bones, it must be slippery out there".
"I will". I promised her.
Outside, one could only make out shapes, snow covered everything, the picture postcard landscape of trees was quite appealing. There were cabins stretching from one end of the horizon to the next, many people were out enjoying the bracing cold fresh air. They waved or offered a friendly hello.
I thoroughly enjoyed my walk and turned to return to the cabin. That is when I saw them approaching. Two men, tall, almost identical in stature, one was just an inch shorter, both were ruggedly handsome, hair as gray as mine and Adelias. They somehow looked familiar, a sense of deja vu hit me like a storm blown wind across the face.
They stopped at the cabin, knocked and waited. I arrived just as Adelia answered the door. She recognized them immediately with her photographic memory. Ralston and Frederick, the Aster twins. We had met them on vacation in Switzerland many years ago. They were scientists working on a secret project that would change the world.
"Where had we heard that before"? Jemima had whispered to her sister, both trying to keep a straight face.
They had had dinner, danced and talked way into the night. The men were participating in a scientific conference and were there for a week. They had spent the entire week in sightseeing and enjoyment of the night life. Everyone had said goodbye at the end of the week and promised to keep in touch. Work and life intervened and they had lost touch. The men somehow never forgot them, and had sent them the invitations after they tracked then down. They were not hard to find, being well known in their respective fields, especially Adelia and her work in the field of science.
The group went out to dinner, during which the men presented the ladies with the result of the work they had talked about amost ten years ago.
"Ladies". Frederick said after they were having a glass of after dinner wine, "we have great news to relate to you".
"Pray tell". Jemima said curiously.
"Remember the secret assignment we have been working on? Well, we finally finished it. How would you like to have hair that is no longer the color of snow"?
"What is it then, don't keep us in suspense". Adelia beseeched them.
"We have found the secret of youth".
Silence.
"Well, not the actual fountain, but the formula to turn back the clock. We have done trials on animals. It worked. We would like to try it out on humans. There is of course the ethical and moral dilemma". Ralston said, looking steadfastly at the expression on the faces of the women.
"Have you tried it out on yourself"? Jemima asked incredulously.
"That is what we want to talk to you about. How would you like to try it out with us"? Frederick asked.
Jemima and Adelia looked at each other. They were seventy-two years old, had no responsibilities that would preclude them from experimenting with reclaiming their youth.
"How far back would we go, how much younger would we be"? Adelia enquired, the scientist in her could not resist the challenge.
I would say about thirty years, if all goes as well for humans as it did the rats, goats and pigs. Forgive the comparison, it's all we have for now".
"What if it doesn't work on humans, what are the consequences"? Jemima asked, sounding excited.
"At best, I hope we all just puke it up and be done with it. We have been testing it for five years and noticed no long-term effects on the animals. In fact, their health has significantly improved".
Adelia took Jemima's hands and told her she was willing to try the experiment.
That is how we ended up being lab rats for the weekend getaway. We went back to the cabin of the brothers and had a sample of blood secured for before. They had all the relevant equipment, I guess they already had anticipated our response. Four vials were then procured from a small refrigerator, and we were told to drink the entire content.
"Wait, you want to tell me we are actually drinking the fountain of youth. That is so ironic, it's like you actually found the fabled fountain". Adelia was impressed.
We sat on the sofa and counted to three. "Bottoms up". Ralston said.
We drank. Nothing happened.
"Now we go to sleep". Frederick answered to our unasked query. "We will have our answer in the morning".
They walked us to our door, and we wished each other good luck and good night.
"I'm tuckered out, don't know what we got ourselves into, but tomorrow will tell". I hoped for the best. What would we even do with a younger us, I wondered. Maybe this time we will give the picket fence and little feet running around a try. Who knows.
We fell asleep almost immediately.
I woke up to Adelia squealing and jumping up and down. Adelia jumping, well that is new!
"OH MY GOD"! It worked. My sister was looking forty years younger. She was pointing me to the mirror in utter speechlessness.
There was a loud knocking at the door. Two young handsome dark haired fellows stood there smiling.
"Well, isn't it great to not have hair the color of snow anymore"? Frederick asked, laughing heartily.
"Truly, we have found the Elixer of life". Ralston said smiling.
Great were the possibilities from here onwards. We invited the men in for breakfast.
We can work out the kinks, morals, ethics and family incredulity later. For now though, life awaits.
N.A.
About the Creator
Uk based. The journey of a thousand miles begins with one step. They diverge into diverse places and meet wonderous beings, in words I have met many. I value each writer equally, as I traverse through this wondrous writing/reading family.
Reader insights
Nice work
Very well written. Keep up the good work!
Top insight
Excellent storytelling

Original narrative & well developed characters
Add your insights