The Benefits Of Almond Oil For Skin And Hair
Diving into the many benefits of cold-pressed almond oil for the skin and hair.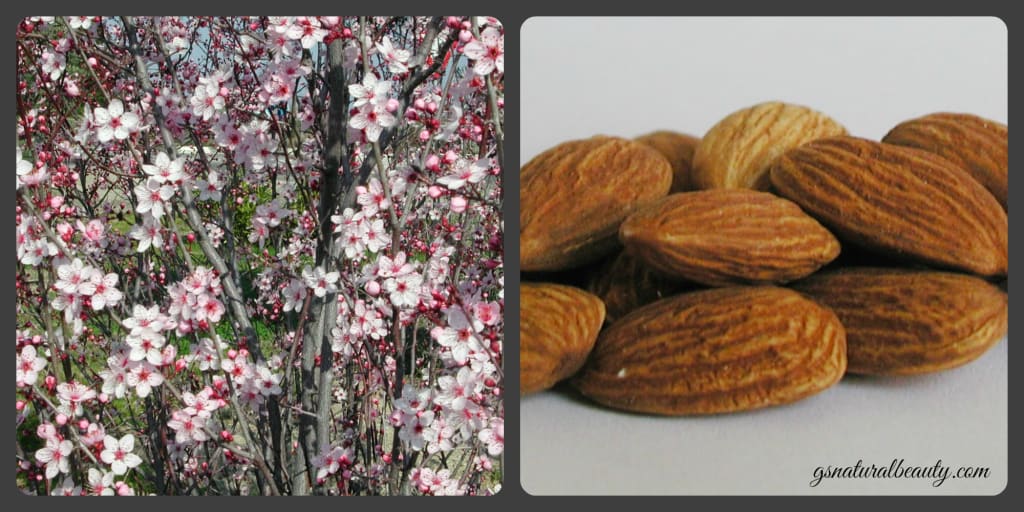 Lovely Almond blossoms and sweet almond.
Almond Oil is a lovely product that's a key ingredient in many skin and hair treatments, and there is no wondering why. After you have read this post you will certainly understand the reasons why almond oil is so popular in the health and beauty world.
Almond oil itself is typically a dark yellow color and has a lovely smell. The oil is packed with nutrients and antioxidants; however, note that the nutritional content is greater when cold-pressed from sweet almonds than when it's heated, although warm-pressed almond oil has a neutral scent and a longer shelf life.
Benefits of Almond Oil for the Skin
This oil is amazing, and its benefits for the skin are so many that buying a bottle is well worth it. Almond oil has high amounts of monosaturated fatty acids, vitamins E, D and B, as well as potassium, zinc and magnesium. The amounts of nutrients and antioxidants are higher than in most beauty products that you can buy.
Almond oil is a great moisturizer for dry and flaky skin; it softens and soothes irritation, and is often used to treat psoriasis and dermatitis. Massaging the skin with a small amount of almond oil in the evening prevents wrinkles and fine lines. It may even slow down the process of aging. Due to all of its nutrients, it helps to repair and strengthen the skin cells and helps dry skin regain its elasticity. If you have dark circles under your eyes, you may apply almond oil before bed; after a couple of weeks, you will begin to see results. It also prevents and heals stretch marks. So, during pregnancy make sure to keep moisturizing your skin with almond oil often.
Even those with very sensitive skin can benefit from almond oil, as it is very gentle and does not irritate the skin. Still, some people may be allergic to it, so be careful before using it on your baby in case there are unknown allergies. Also, since most people can use almond oil and it absorbs slowly into the skin, it makes a great massage oil.
Summarizing Skin Benefits
Nourishes and moisturizes

Soothes and removes pain of sunburn or aching muscles

Prevents the signs of aging

Great makeup remover

Prevents and heals stretch marks

Good for sensitive, dry or acne-prone skin

Protects really dry and damaged skin, and helps it regains elasticity and moisture balance

Removes swelling and dark circles under the eyes

Good cuticle and lip oil
Benefits of Almond Oil for the Hair


Almond oil is an excellent hair oil. It moisturizes and nourishes dry and damaged hair, and may be used as a conditioner. When used frequently enough, the hair becomes shiny and voluminous and it even grows faster and prevents hair loss. Due to the soothing and nourishing properties, you can also use almond oil to treat dandruff or seborrhea; simply massage the scalp with a few drops of almond oil to gain these benefits.
After you wash your hair, apply almondoil to either wet or dry hair and let the hair absorb the oil before styling. This protects the hair from damage and makes the hair easier to manage. Note that washing and styling are damaging to the hair, and that almond oil may prevent split ends and brittle hair.
Summarizing Hair Benefits
Nourishes and moisturizes the hair and scalp

Prevents hair loss

Gives body and shine

Accelerates hair growth

Protects hair from styling damage and makes it easier to style

Can be used as a substitute for conditioner
If you are looking to buy only a single oil, this one is definitely the way to go, because it's so versatile and gentle. Few oils have this many benefits, and almond oil is almost as good as coconut oil, except for the fact that it should not be ingested. Still, for topical use it is hard to beat, don't you think?
Thank you for reading, I hope you found this interesting. You are also welcome to read my other posts or visit my blog about natural and green beauty.