Significant Global Health Issues to Be Aware Of
Francesca Rome-Marie | FrancescaRomeMarie.com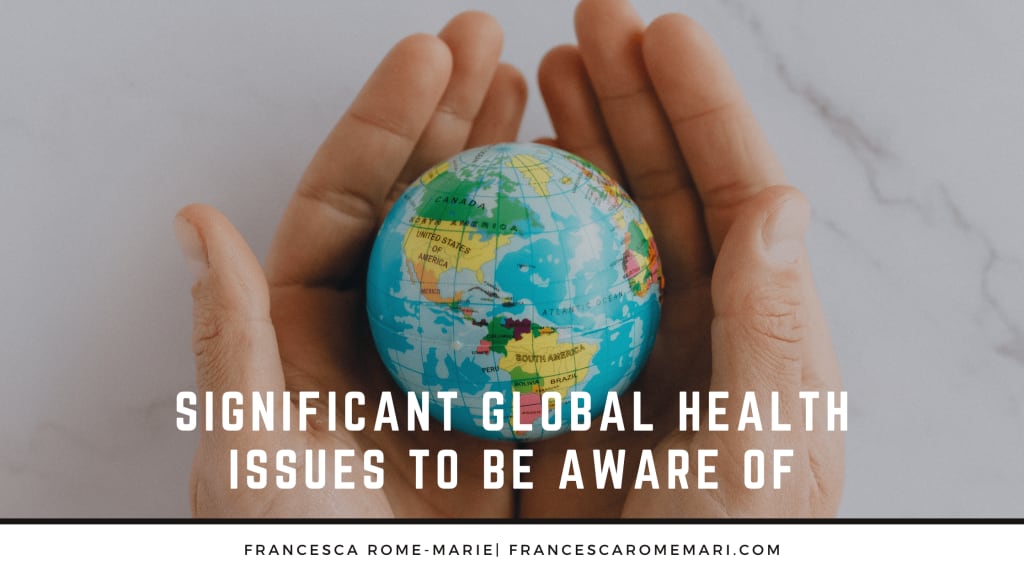 https://francescaromemarie.com/significant-global-health-issues-to-be-aware-of/
The effects of globalization on various aspects of health care have been widely acknowledged. Some of these include changes in agricultural practices and transportation.
Medical school instructors and practicing physicians must understand how to influence global health efforts effectively. This can be done by developing a comprehensive understanding of global health. Here is a list of the biggest challenges faced by global health.
Global Health Defined
Although different definitions of global health vary, it can be regarded as a comprehensive understanding of the various aspects of health care. This includes the study of medicine and improving health equity for everyone worldwide.
1. Emerging Pandemics
Every year, there are new pandemic threats. Although vaccination can help prevent a disease from spreading, it's also essential to address the issue's root causes, such as poor agricultural practices and health education. Researchers have also suggested various measures to help prevent a pandemic.
2. Environmental Threats
Storms, droughts, air pollution, and floods can easily spread disease quickly among large groups of people. Although providing resources such as sanitation equipment and bottled water is immediate, global health should also focus on preventing environmental threats.
3. Health and Financial Inequity
Despite the progress that has been made in the field of medicine, many communities around the world still lack access to adequate health care and education. This contributes to various health disparities, such as infant mortality rates. Some of these are caused by income inequality that affects people in different countries.
4. Political Factors
International politics also exacerbate the lack of access to health care. As conflicts break out in different countries, the average citizen becomes more vulnerable to diseases. This can lead to people fleeing from dangerous situations.
5. Disease
According to the WHO, about 85 percent of premature deaths caused by non-communicable diseases occur in middle and low-income countries. The organization noted that reducing these numbers globally would help reduce the factors contributing to these deaths.
6. Agriculture and Animals
Poor agricultural practices, such as pesticides and irrigation, can affect the health of animals. This can make the transmission of diseases a concern for the entire food supply chain. In addition to being a part of global health efforts, veterinary medicine should also be included in the fight against animal diseases.
ABOUT FRANCESCA ROME-MARIE
Based in Rome, Italy, Francesca Rome-Marie is a compassionate and dedicated healthcare professional who has spent her life building a career in the service of others. She works in different areas focused on health, humanitarian aid, and human development particularly focused on the nonprofit/not-for-profit sectors doing work in underserved and marginalized communities.
Throughout her career, Francesca Rome-Marie's work and experience have helped her to develop skills in multiple areas. Her experience includes family medicine, nursing, family nursing, primary care, community health, mental health, global health, medicine, research, reproductive health, preventative medicine, and family nursing. She is also skilled in areas that include human rights activism, crisis counselling, sexuality education, gender theory, gender studies, cross-cultural communication skills, humanitarian assistance and intervention, interpersonal communication, nonprofit organizations, and disaster response, recovery, and preparedness. Francesca Rome-Marie has developed a particular passion for work in areas regarding sexuality and gender as well as refugees, forced displacement, health, and rights.
As part of her work in mental health and gender studies, Francesca Rome-Marie understands just how deeply a role that respect for individual dignity and sovereignty plays when it comes to making decisions about one's own body and life. She has developed a commitment to viewing an individual's mental and physical health through the lens of not only gender, sexual, and reproductive rights but also gender-based violence.
About the Creator
A registered nurse with years of experience working in healthcare, Francesca Rome-Marie has quickly developed experience providing humanitarian aid in high-stress situations. Learn more at francescaromemarie.org!
Reader insights
Be the first to share your insights about this piece.
Add your insights