Question to Yogi S.A.S... Any Suggestions for Prostate Cancer?
...I am looking for alternative solutions.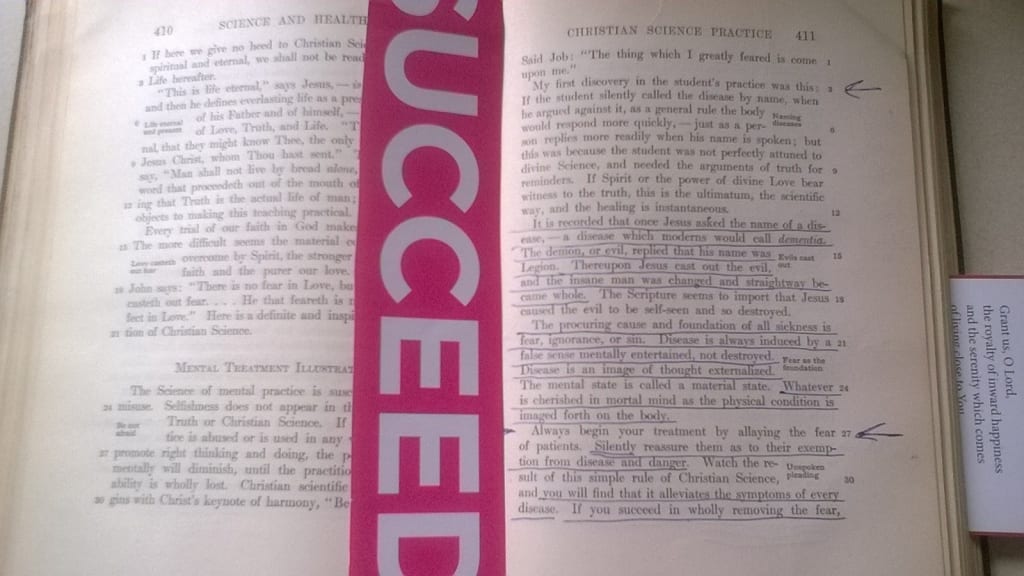 Yogi S.A.S, reply.
Ok, I had cancer of the womb, stay with me. If it's in the prostate it can fall out the same way mine did, easily, as it is a lot harder to remove a cancer in the lung or organs you see.
I didn't want to go to back hospital, so I asked God, ''What can I do?''
I was led to a book in my bookcase, which I had not read for many years. It was Christian Science by Mary Baker Eddy, I didn't understand it when I read it many years ago, but apparently I had planted a seed for myself for later.
So I opened the book to the right page (it is always so wonderful when that happens) and at page 410, Mental Treatment Illustrated, she states,
''The procuring cause and foundation of all sickness is fear, ignorance or sin (negative thoughts and beliefs). Disease is always induced by a false sense mentally entertained, not destroyed. Disease is an image of thought externalized. Whatever is cherished in mortal mind as the physical condition is imaged forth on the body...
...Mentally insist that harmony is the fact, and that sickness is a temporal dream. Realize the presence of health and the fact of a harmonious being, until the body corresponds with the normal conditions of health and harmony...''
In other words, understand your thoughts and fears of cancer, has brought it upon yourself—sin. And when you are sorry for your fear and ignorance, now you can start to turn this ship around!
Deny the cancer to have any space within you. Be thankful that you now understand that bad thoughts and fears from the past caused it, and that you can now remove it as you are now only good thoughts.
The cancer is a collection and build up of past bad thoughts, fears, and beliefs, and so it has no place with in your now good thoughts body.
I found this process can be extremely painful! Quick, but painful. So painful, I passed out in the pain, as one's belief and faith is ones own, and only you know how much you believe in this information and the process of overcoming the bad with good.
I obviously have a great understanding and faith, as the removal of the cancer happened very quickly, and in its quickness it produced the huge pain that I experienced. I wanted it out quickly, and I got what I asked for, but I passed out. If you make an arrangement with a hospital they will have the proper pain relief necessary.
I woke up in the morning and felt fantastic, and yet wondering why I suffered all that pain. I went and made a cup of tea and as I was sitting on the sofa, I felt a huge movement down below, and out it came.
I put it in a jam jar and took it to the doctors. ''There you go, it is gone.'' I said, and gave it to them and explained what I did.
He was astounded, and I was feeling fantastic, and I have been ever since. This happened in July 2018.
We are in total control of our body ship. We are the captain and we have the duty of protecting every cell, and to keep our thoughts pure and perfect to keep them that way.
So I hope this helps you to understand and maybe check your beliefs and thoughts about the truth of good health.
Peace be with you and thank you, Jesus.
Yogi Sally Ann Slight