My favourite FREE YouTube workouts
A list of my favourite YouTube home workouts!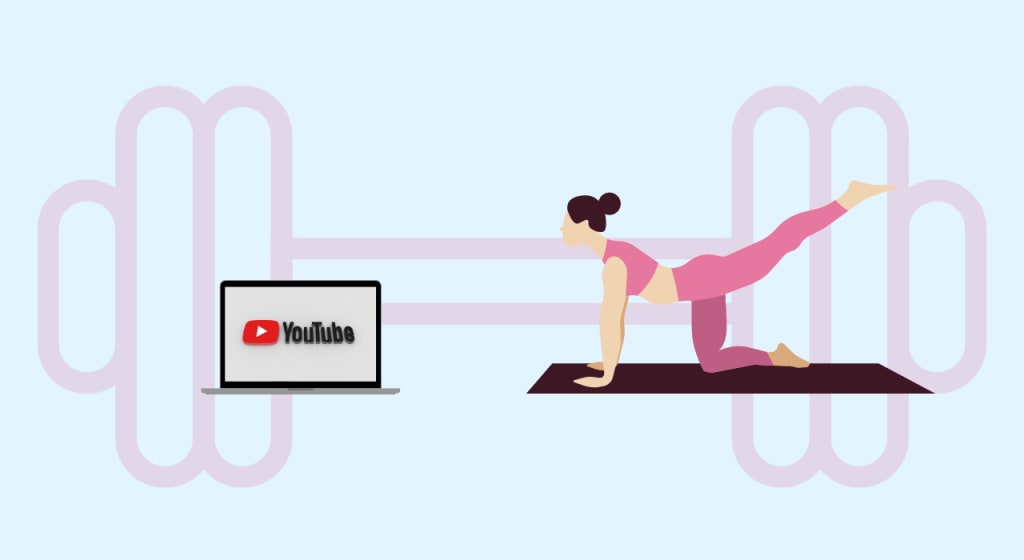 During the pandemic, working out has been a really important part of maintaining my mental health. Moving and challenging your body is a celebration of it. It's taken me a while to come to this conclusion, and I'm glad I did.
I rely on YouTube for all my workout recommendations. It's free, it's so accessible, and there are just so many options! In my long and often volatile journey towards a healthier lifestyle, I've appreciated having a range of options to choose from when I work out. I like variety and that's precisely what YouTube ensures. Besides, all these workouts are home workouts, which makes it super convenient if you're still in lockdown (like me.)
I enjoy my workouts and I look forward to them, which is a huge 180 from the times when I used to resent exercise and crib about it. I've even found workouts that I enjoy, that make me feel good about myself and make me stronger. Here's my list of favourites!
1) The 30-Minute Cardio Latin Dance Workout
Oh my gosh, this is so much fun! I honestly can't say I've had this much fun during a workout before. This 30-minute dance workout by POPSUGAR Fitness is gruelling, but it keeps things light mentally. I found myself laughing a few times while doing it, because there's something so freeing about just moving your body to music, no matter how silly you may look! I'm not a great dancer, but I still enjoyed every minute of this. It's my go-to workout for when I'm feeling a bit down because you just can't be too sad when the trainers are telling you to pretend you're showing off a flowy skirt while you're turning.
2) Chloe Ting's Intense Full Body Workout
Chloe Ting is the uncontested QUEEN of home fitness workouts. I love everything she does and I've followed so many of her videos. It's hard to pick just one! Her workouts are quite difficult and she'll make you sweat, but it's for a good cause. You're only going to get stronger the more you do them.
This is a rather intense workout that I've done this one a couple of times, and it's always left me feeling so accomplished. I feel like big workouts just make you feel so good after you're done. Of course, always be safe and know your own limits. That's why I always take longer breaks than the ones she sets, and I also do some exercises at higher intensities and some in lower intensities.
3) This truly challenging 10-minute jump rope workout
I. Love. Jump Rope. I used to do it so often as a kid and I'm glad I've got back into it now. If you have a backyard or a terrace, or even a large and spacious room, a jump rope is an excellent addition to any fitness routine. Done correctly, jump rope (or "skipping") is a low-impact activity. Still, that doesn't make this workout easy. Definitely one of the most challenging items on this list, Rachel Gulotta's 10-minute jump rope workout is a great way to start your day. She recommends doing it 3 times a week! I just do it whenever I feel the mood.
4) My ballet workout compilation
I love watching ballet, but I'm no ballerina. That's why I love doing ballet-inspired workouts, of which there are several on YouTube. Last month, I made a "compilation" of ballet workouts that target the whole body. This also includes a ballet stretch routine that's actually for dancers, but I do as much as I can. These workouts all look deceptively easy, but they're not. Trust me. Always be mindful of your body's limits and don't get hurt!
The first is a full-body ballet-inspired workout with Christine Bullock from FitOn.
The next is a ballet-inspired arm workout that will burn. I didn't expect it to, because, as I said, it all looks deceptively easy! Don't be fooled.
The next video I like is MadFit's 15-minute ballet-inspired core workout. I love her stretching videos, so I was really happy to do this one.
I like to finish this off with ballerina Kathryn Morgan's 20-minute stretch. Now, this is a video for dancers, so if you don't have the flexibility for it, go at your own pace and don't force yourself to do everything. A lot of the moves are too difficult for me so I just do a variation I'm comfortable with, or I take a little break. It's totally okay. Just be careful that you don't get hurt!
5) 8-minute ab workout with a medball!
I must confess, early in my fitness journey, I bought a medball I had no idea how to use. Good thing I came across this video. It's the shortest one on the list, but it packs a punch. Definitely one of my favourite ab workouts, and some of the exercises are actually pretty challenging (like the mountain climbers!)
That's my list of favourites! Have you tried any of these? Which ones are your favourites?
If you liked this article, please consider leaving a tip. Thank you for reading. Have a lovely day!
Twitter: @DaminiKane
fitness
This is just a pocket full of words.
I write about books, fitness, beauty, and travel.
Follow me:
Twitter: @DaminiKane