How to Help Your Parent Choose a Mobility Aid Device
Helping your parent choose a mobility device doesn't have to be difficult.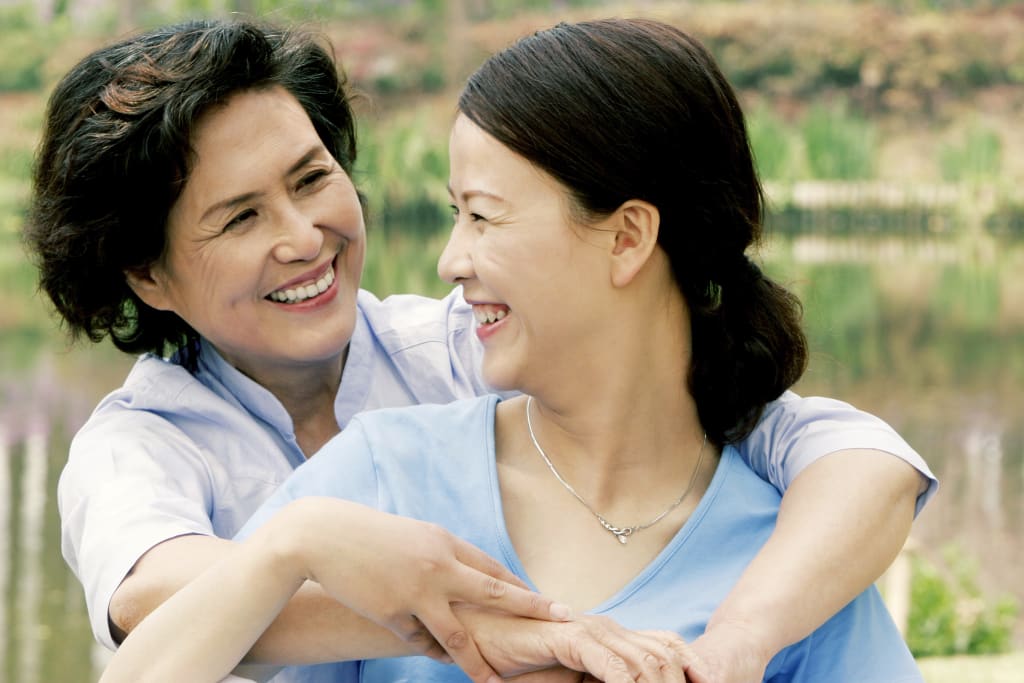 Senior Woman Hugging Her Daughter from Behind
Watching your parents get older can be difficult. If they are beginning to struggle with mobility issues, now may be the time to have a discussion with them. But how do you approach the subject?
When approaching parents about any issues related to aging, it is important to come from a place of compassion and understanding as they tried with you as you were growing up. They may be resistant, so try to reassure them that using a mobility aid device will not hinder them, but rather give them more freedom and help them maintain their independence as they are able to get around with greater ease than before.
Determine their needs.
It is important to discuss your parents' needs regarding their mobility concerns. Are they having difficulty maintaining balance? Is it getting difficult to walk at times? Has climbing up the stairs become a monumental challenge? Have them talk with their doctor, who may refer them to an occupational or physical therapist who can do a complete evaluation of their balance, gait, and strength and suggest equipment.
Consider their budget.
After you determine their needs, you can begin to look at options that fit their budget. It is also a good idea to see what their insurance will cover. There are many different types of mobility aids, and the prices can vary greatly, so take some time to help them research different products. Most devices come in a range of prices and options from basic models to higher-end ones, so even with a limited budget, they should be able to find a viable solution.
Choose a mobility aid device.
Mobility aid devices, such as canes, power scooters, walkers, wheelchairs, and stair lifts all provide different benefits. Choose the right device based on their needs and budget.
Stair lifts – Stair lifts can be a great solution for those with two-story homes or basements. When choosing a stair lift, consider what type is best for them and which seating options and safety features will best meet their needs.
Canes – A cane is often one of the first mobility aid devices seniors use. If they need a little help with balance, they could choose a traditional cane, or for greater stability, they could choose a quad cane, which has a wider base.
Walkers – A walker can help seniors when a cane does not provide enough assistance. Walkers with wheels provide stability with ease of movement that you do not get with a non-wheeled walker.
Wheelchairs or Scooters – For some seniors, wheelchairs or scooters may be the best option. Traditional wheelchairs require upper body strength and another person to push them, while scooters are designed to be operated without assistance. They cover rougher terrain and can be used both indoors and outdoors.
Approach your parents with compassion and respect as you discuss the subject of their mobility. If they understand that you are trying to help them maintain their independence and live active lives, they will be more apt to accept your help in making these decisions. Also, keep in mind that you can't force them to do something they don't want to do, so you should respect their decisions even if you don't agree with them.