How Rainbow Fluorite can Bring Order to a Chaotic Mind
Allowing ideas of a once muddle mind to fruition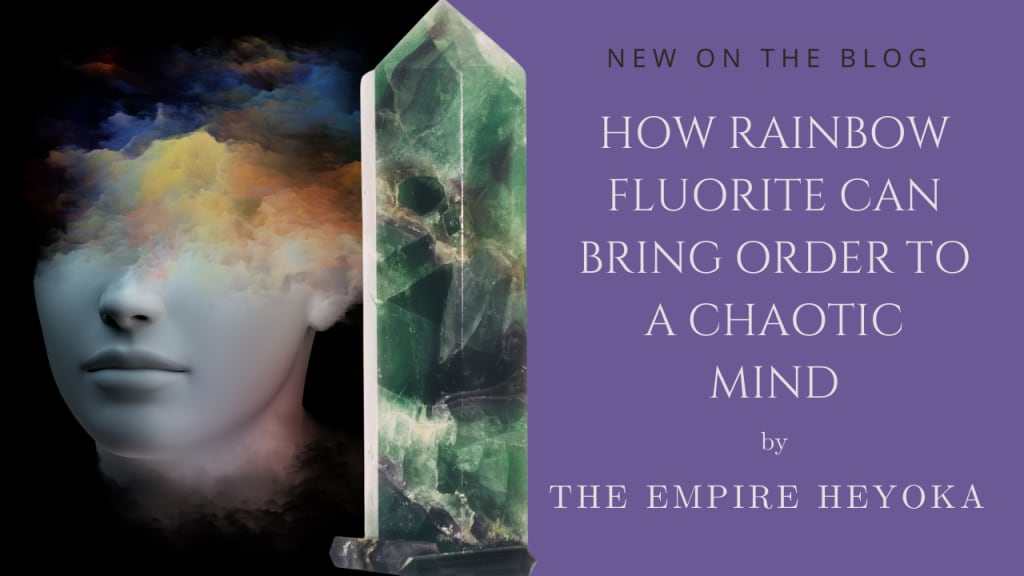 The beautiful healing of Rainbow Fluorite and its extensive range of colors have multiple talents! Bringing order to a chaotic mind and allowing ideas of a once muddle mind to fruition, Rainbow Fluorite, with its calming energy, is a crystal that packs a punch. In addition, it cleanses, stabilizes, and protects the aura and improves physical and mental coordination.
Using this crystal in meditation can reveal the truth of a relationship, releasing suppressed feelings, revealing the cause of dis-ease, releasing suppressed emotions, and helping facilitate life change.
The name is derived from the Latin word "fluo," meaning flow. Fluorite comes in a wide range of colors and is the most colorful mineral globally. Bands of Clear, Violet, Purple, Lavender, Blue, Green, and Yellow.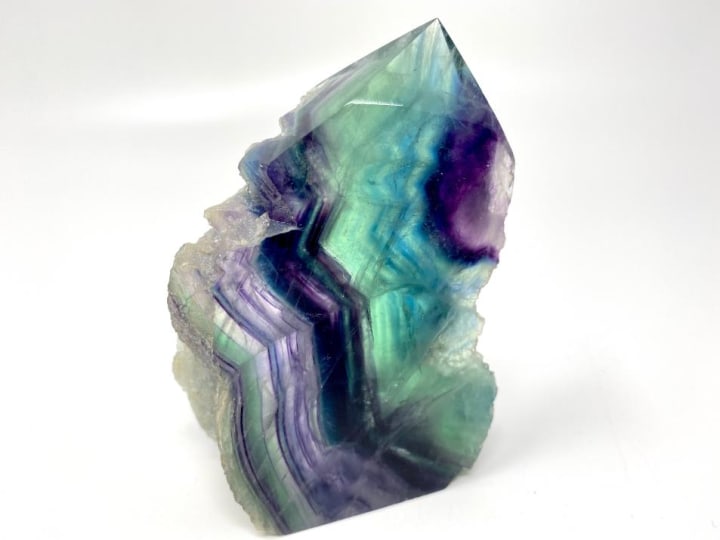 Common Healing Properties of Rainbow Fluorite:
Enhances protection
Block electromagnetic pollution
Reduce stress
Transforms negative energy into positive energy
Maintains balance in the physical body
Strengthens the intuition
Improves concentration
Promotes self-confidence
Improves coordination
Dispels mental illness
Shows the truth in any situation
Aids in objectivity and fair judgment
Balances the emotional body
Relieves symptoms of infection
Protects against viruses
Stimulates the intellect
Enhances clarity of mind and transparency
Promotes relief of stiff joints
Relieves arthritis pain
Cleanses the mind, body, and spirit
It helps heal injuries of the spine
Diminishes pain related to the nervous system
Heals blemishes and other skin problems
Encourages accurate psychic readings
Heals unhealthy bone marrow
The Rainbow fluorite's various colors make this beautiful gem multi-purposes.
It can be used for things such as:
Grounding
Harmonizing
Protection/ward off negative energy
Stabilizing Stone/for emotional trauma
Increase in intuitive abilities
Works with your upper chakras
Clarity
Connect to the human mind and universal consciousness
And many, many more...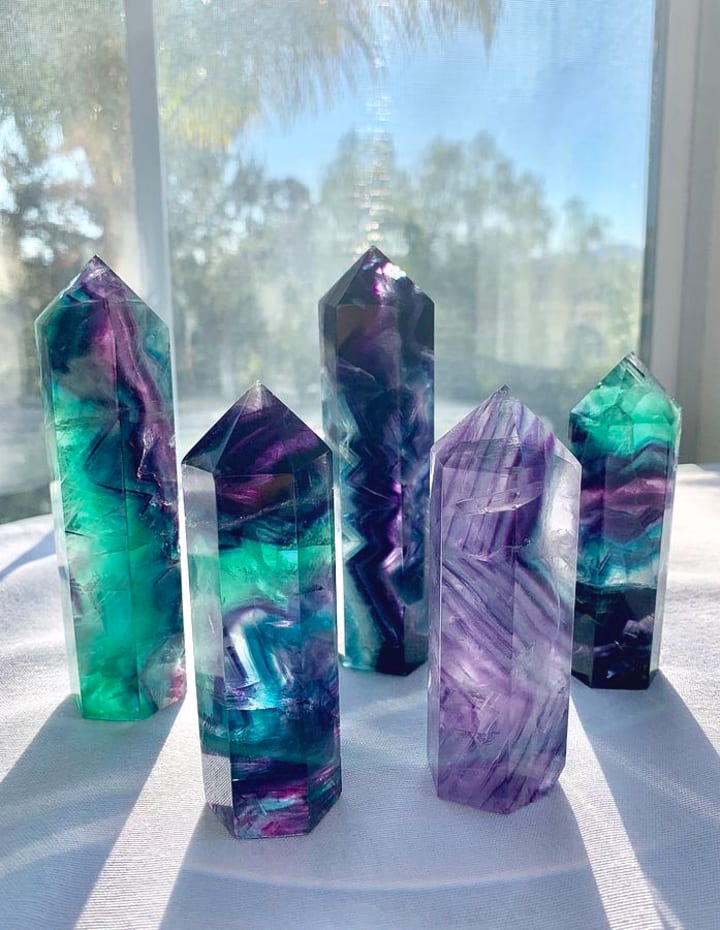 Rainbow fluorite is commonly used in the following energy healing such as:
Massage
Reflexology
Sphere/egg massage tool
Chakra therapy
Angel healing
The Zodiac signs associated with Rainbow fluoride:
Capricorn
Aquarius
Pisces
Musical notes associated with the Rainbow fluorite
Blue - D
Purple – A
Green - F
Gold/Yellow - E
Associated Chakras depending on color:
Green – Heart
Gold – Solar Plexus
Blue – Throat
Purple – Third Eye
Planets Association: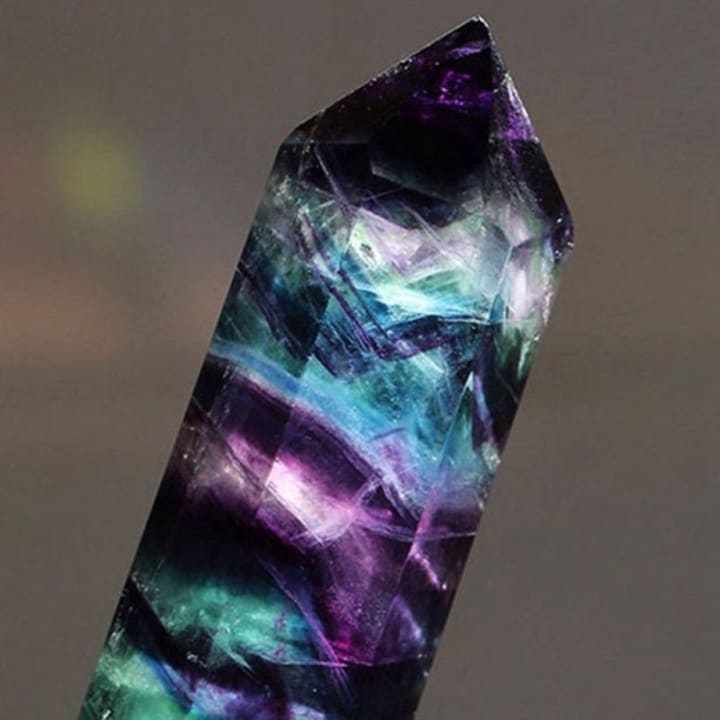 Where Can I Find Fluorite?
Flourite can be found worldwide. Countries like the United States, Russia, England, China, Morocco, Switzerland, South Africa, Mexico, and Canada hold some of the most significant amounts found. The United States can mine Flourite in Kentucky, Illinois, Missouri, Colorado, and Illinois is considered the state mineral.
If you are looking to mine your own Rainbow Flourite, check out New Earth Excursions, a concious travel agency that can help you plan your crystal-mining excursion!
Is Fluorite Expensive?
The cost of a fluorite crystal will depend greatly on its cut, clarity, color, and size.
Some stones can be priced highly, costing buyers upwards of $400 apiece, but most fluorite crystals are affordably priced and accessible from small-scale and large-scale merchants across the world.
What Crystals Go With Fluorite?
Crystals with similar or complimentary energies can further enhance one another's healing properties. Fluorite goes really well with agate, carnelian, malachite, tiger's eye, and red jasper.
By building up a collection of crystals whose energies harmonize with one another, you can experience even higher levels of energetic healing and inspiration.
How To Cleanse And Charge Fluorite Crystal?
Each crystal has a unique way of being cleansed and charged for optimal energetic results. Just like humans, crystals can get sapped of their energy and need a top-up before they can truly shine.
Because fluorite crystals are water-soluble (meaning they can dissolve in water), they should not be cleansed in water. Instead, you can refresh your fluorite stone by smudging it with sage smoke or allowing it to bathe in the light of the full moon overnight.
spirituality
About the author
Jennifer is the owner of RISE Innerversity, an educational platform helping others step into their leadership role, and New Earth Excursion, a conscious-based Travel Agency assisting others in navigating New Earth.