Fit & Fabulous
Fitness Fashions That You Need to Try
Working out on the daily, but want to add more fashion to your activewear game? Check out our favorite fitness fashions that you need to try ASAP.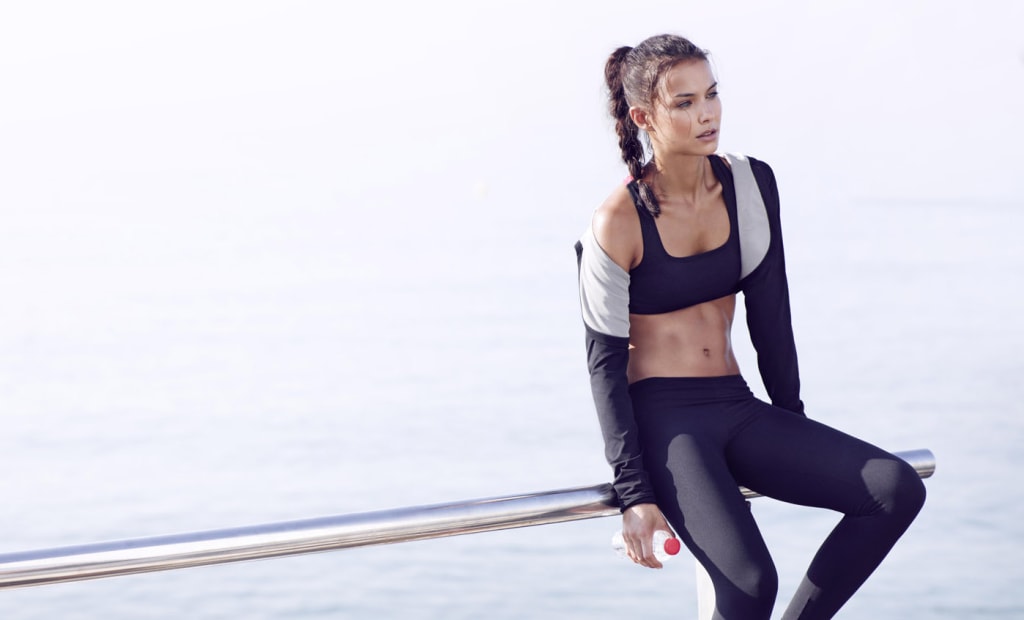 If you work out most days of the week, what do you wear to the gym? Regular sweatpants and a T-shirt? Maybe even black yoga pants to go with your tight-fitting middle school T-shirt with the year you graduated printed on the back? These days, a lot of people are working out in the most stylish activewear — women and even men. Despite how sweaty and rough they'll be, not only are their choices in workout wear really fashion forward, but they're designed specifically to work out in. You don't have to be following all the fitness fashion trends to like any pair of the following activewear. The majority of these clothes can handle your quickest moves without tearing, since a lot of them are created with stretchy material.
Personally, when I started hitting the gym or began jogging outside, I wanted to equip myself with the most stylish and colorful activewear. Because, not only will you feel and look great when working out, but I guarantee people will compliment you on your hot yoga pants or fitted sweatshirt — totally boosting your ego. However, it's not just about the fashion here, these pieces of activewear are super durable. Don't let these cool, trendy fitness clothing fool you, they can take a lot out of your workouts. To really get you started on hitting the gym in style, consider any of these fitness fashions that you need to try!
You must have seen these literally everywhere. People you've seen working out at the gym or even enjoying their coffee at Starbucks. They're so popular in the market right now for fitness fashions that you need to try — mesh leggings.
What's great about mesh leggings as a whole is that the mesh panels improves air circulation and breathability. So, when you're sweating from killing it at the gym, heat from your skin can easily escape through the material. These pants can also draw sweat away and won't tear from the squats and lunges you're doing. And, they're super sexy overall! They come in an array of styles, but this particular color is my favorite.
Sports jumpsuits are seriously so underrated. But only the more athletic individuals wear these during grind time. We all know jumpsuits are certainly in style these days, both casual and fancy, but they're slowly making their way into the activewear, too. Finally, right?
This one from H&M is nowhere near basic — look at the patterns and those stunning cool-toned colors! Certain colorful sport jumpsuits can be overwhelming, but this one is ideal for running outside or doing any other hardcore exercising. You definitely don't have to worry about ripping the material, it's designed in a way that makes you give it your all when worn.
Zella creates a lot of cute and colorful sportswear, such as their baby pink oversized crop hoodie. These types of hoodies are among the top fitness fashions that you need to try. Since crop tops are the hottest trend at the moment, what about crop hoodies?
This baby pink crop hoodie is great for running on the treadmill or just slaying it at Starbucks in a decked out sports outfit. We all need a bit of color in our gym outfits, right? Black can be boring for too long, thats why this light pink crop hoodie is what you need in your gym closet!
Speaking of mesh leggings, what about these cut out leggings!? You really don't have to tell me more about these, I'm already putting them in my basket. Seriously, look how stunning these leggings are. Just like mesh, cut outs are hot right now for gym clothing. And the color, though?
These leggings are perfect to break a sweat in since they're super stretchy and durable for your toughest moves. The criss cross entwine cut outs certainly make these leggings very appealing. You'd be catching eyes left to right the second you walk into the gym. Not to mention, people will be interrupting your workouts just to ask you wear you bought these beauts.
You've seen a lot of girls wearing sports bras around the gym and most of them are basic and black...Switch up your sports bra game by adding more patterns and colors! Don't be among the girls wearing black, gray, or white sports bras, consider this tropical one and be among the fabulous fitness girls!
From the hottest fitness fashions that you need to try, this sports bra is seriously giving us summer-beach vibes and we're living for it. Aside from the print, the caged straps really puts the bra together. The straps also support your chest if you lean toward bigger cups.
You don't really see regular sweatpants anymore, right? People are mainly wearing either yoga pants, leggings, or these harem sweatpants. The dropped crotch on these pants is what really attracts people to get their hands on them — making them among the trendiest fitness fashions that you need to try.
They're super comfortable, soft, and really durable when working out. But if you're going to the gym for leg day, I'd skip out on this pair, since you can't do much leg work. For other trips to the gym that aren't leg days, harem pants are sleek and stylish to kill it when lifting weights.
Those who wear neon activewear to the gym, or in general, are seriously the most fashionable ones out of the rest — I'm serious. Check out this neon yellow TKO jacket?! It's ideal to run in since it's so lightweight and breathable.
But neon should really be making more appearances in gyms and workout wear as a whole. Not only do they catch eyes, but wearing bright colors can really improve your mood! In a more positive way, of course. And wearing anything neon can boost your energy and get you to rip right through your gym workouts. Even if it's one neon piece, it can truly make a difference in your gym fashion game.
Out of the list of fitness fashions that you need to try, no one can ever have enough oversized T-shirts. Because, when you're sweating like a beast at the gym or jogging outside, the shirt can air out your heated body easily. And they look great when wearing a pair of leggings with them.
Oversized tees come in a wide range of choices, but our current favorite is the one by Ivy Park, simply because it's incredibly light and very comfortable to wear nearly anywhere you go.
When it comes to the hottest fitness fashions that you need to try, shorts really do need some love in the fashion activewear market. Too many people wear boring shorts that are either one color, or have "Juicy" printed on the booty (do people still wear those?) That's why you should make a change when it comes to shorts — wear printed shorts instead!
They're much more fun than a basic single colored pair. You can even go as colorful as you want — shorts don't have limits. This particular pair is really grabbing our attention. Yes, they aren't as colorful, but the pattern on this is gorgeous. It's a black and white geometric print that looks amazing with almost anything. They're very light weight and make kickboxing a breeze!
Yes, like I said before, mesh is huge in the fashion world right now for activewear. Leggings, sweatshirts, athletic shoes, T-shirts — you can literally buy anything that involves mesh and you'd be slaying the fitness trends at your gym. But, this particular mesh shirt is on nearly everyone's wish list.
Despite how sexy and trendy it looks, it can be your best piece of activewear when destroying the gym machines and getting heated up. As I've been saying about mesh material, it's very breathable, so it doesn't lock in any heat. Wearing this shirt over any sports bra will add ten points to your style game! Making this one of the trendiest fitness fashions that you need to try soon.
product review