8 Effective Tips to Spruce up Your Bedroom
Whether you're planning to redecorate your bedroom or just want a little refresher on how to make the space feel more liveable, these eight tips will get you started.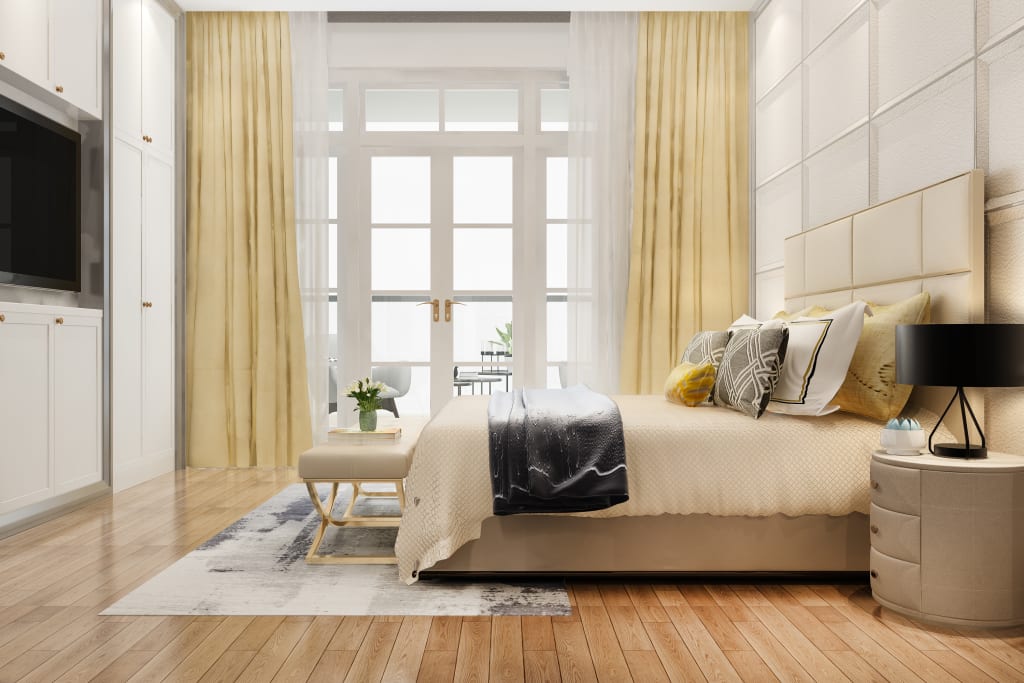 Given that the past two years have been entirely work from home, many have made their bedrooms their work space and vice versa too. A dis-organized bedroom can make it difficult to relax and hamper your productivity even. What if your bedroom is a focal point for family time — maybe you read in bed, snuggle with the kiddos, or spend quality time with your pets while ensconced in the bedroom. A dingy or depressing bedroom won't contribute to relaxing gatherings. So here are some effective tips for renovating your bedroom.
Set the Budget
Before embarking on any home renovation project, ensure you set a budget and stick to it. Home improvement projects can go overboard if you do not budget well. Also, depending on your budget, you can allocate funds to different areas like flooring materials, furniture, art pieces, paints, tiles, wallpapers and so on.
Choose a Look
After setting the budget, sit down to understand and visualize how you want your bedroom to look like. Whether you want just an upgrade of what you have currently or if you need to experiment with the space. Check out interior decor magazines and look-books to understand what is trending and what is out of the trend charts.
Consider Replacing Flooring
When you upgrade or replace your flooring, it instantly lifts up the whole vibe and ambience of the space. If you are a sucker for old school wooden flooring but are not yet ready to invest so much time, money and energy into their long-term upkeep, switch to wooden tiles. Same look and vibe, better pricing, better maintenance, and much better longevity.
Choose Furniture
The next best way to spruce up your bedroom is to change the furniture. If they are scratched and faded with constant usage, consider giving them another round of polish or if the budget allows then replacing it with new furniture.
Design Your Wall
Your bedroom wall need not be plain and follow the traditional route of colors and paints. You can get creative and make the space your own by either making it a feature wall where you hang up your childhood photographs or design an accent wall with different types of wall tiles to make it stand out from the crowd.
Add More Space
The best way to change the way your bedroom looks is by readjusting the positioning of the room. Change the position of your bed, move around your lounge chairs or chaises or work tables. Discard whatever is not needed and can be done without declutter open spaces and your wardrobe. De-cluttering makes the space look bigger and more organized which is half the job done.
Add Good Lighting
Experiment with the lighting and fixtures of your bedroom so that you can play around with the ambience of the space. There are energy-efficient bulbs of different colors that you can opt for without tugging too much on your pockets. A little chandelier that is easy to clean and maintain will help elevate the way your bedroom looks.
Consider Window Coverings
Blinds and window furnishings are censurable inexpensive and can be shopped even online now. Measure up your windows and change your window furnishings every once in a while to give your bedroom a different pop of color. If you love things to be neat and trim, you can opt for bi-fold blinds. Plus, they are super chic as well! If you need curtains that block the early morning light but don't appear heavy, consider thick cotton or velvet in light colors.
Sprucing up a room need not be cumbersome and budget-heavy, if you know how to drive things ahead even with minimal changes, you can get your room upgraded and renovated in no time at all. These minor and relatively inexpensive changes will not only help you in the long run but are also doable every so often, should you change your mind. So, which way are you going to plan your bedroom makeover now?
Author Bio
Isha Tandon has worked within the architecture and interior design industry as a flooring consultant expert - specializing in tiles, stones, and terrazzo. She has worked with Orientbell Limited, a leading tile manufacturer in India, as a product development manager in the design team and has recently joined the marketing team as their digital content expert. Her experience comes in handy in understanding the audience as she creates value-driven functional & informational content for the readers. She creates lifestyle pieces that focus on interior design products, trends, and processes. She loves to travel to historic places with rich architecture.
how to
About the author
This is Isha Tandon, worked within the architecture and interior design industry as a flooring consultant expert - specializing in tiles, stones, and terrazzo. I've worked with Orientbell Limited, a leading tile manufacturer in India.
Reader insights
Be the first to share your insights about this piece.
Add your insights