Austin Rotter on The Difference Between a Manager and a Leader
Austin Rotter, a successful and experienced entrepreneur in Hoboken, NJ, share his insights on the differences between a manager and a leader.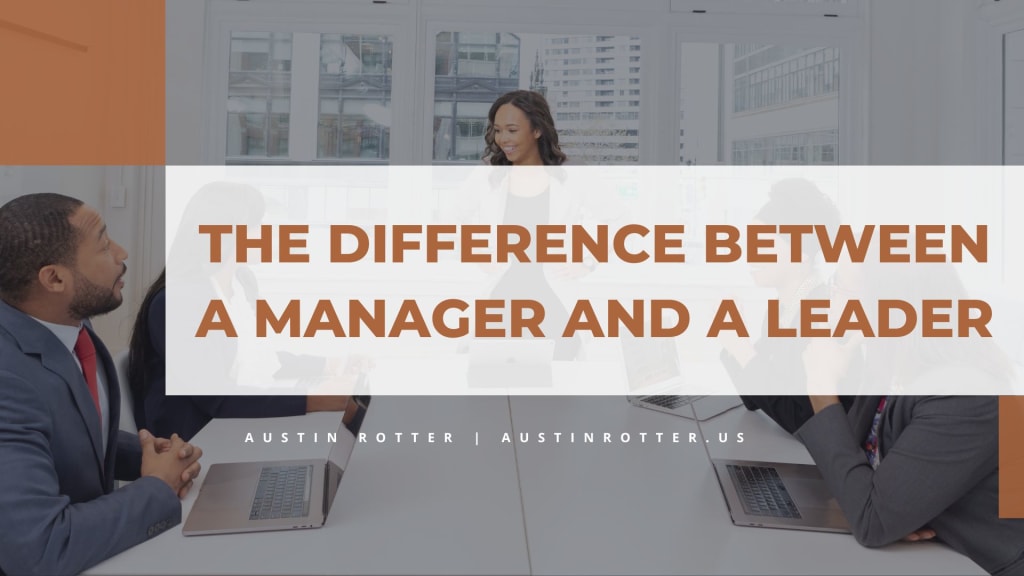 https://austinrotter.us/the-difference-between-a-manager-and-a-leader/
Management is a type of role that involves controlling a group of people to achieve a specific objective. Leadership is a type of ability that enables individuals to influence and motivate others. The goal of management is to control a group or organization to achieve a specific objective. Managing involves ensuring that daily operations are carried out according to the plan. On the other hand, a leader is responsible for inspiring and motivating their team members.
It's possible to be both a leader and a manager simultaneously. However, remember that great leaders don't necessarily mean they'll be great managers. This article will discuss the various factors that distinguish management and leadership.
Perspective
Leaders are regarded as visionary leaders who set the path for their organizations' growth. They can identify their goals and develop strategies to achieve them. Unlike leaders, managers are responsible for implementing processes and procedures to achieve organizational goals. They also plan and organize tasks to reach these goals. Their vision is tied to implementing the strategies and plans developed by the leaders.
Goals
Managers can achieve their goals through a combination of tactical processes and coordinated activities. They break down long-term objectives into small goals to ensure they reach their desired outcome. Unlike other leaders, they are more concerned with how they can influence and align their subordinates rather than how they can assign them work. This is because they help individuals envision their future potential.
Queries
A manager focuses more on the details, while a leader is more likely to ask questions. As a leader, one has to question authority when making decisions that are not in the team's best interests. If a company experiences a stumbling block, a leader would be the one to ask questions to determine what happened. Unlike a leader, managers are not expected to analyze and assess failures. Instead, they must ask how and when to carry out their tasks. This helps them ensure that the plans are carried out correctly.
Status
The terms manager and leader have different definitions. The former usually refers to a specific position within an organization, while the latter refers to an individual's actions. A leader is someone who inspires others to perform their best. On the other hand, a manager is a fixed-term title with various responsibilities.
About Austin Rotter
Operating out of New York, New York, Austin Rotter is a skilled and knowledgeable PR professional whose experience in the industry spans more than ten years. He has spent his career carving out a space and establishing himself as a standout in the industry through his focus, insight, and perseverance.
Throughout his career, Austin has established a skill set involving areas like business branding for established and emerging companies, media strategy, and media relations. He has worked with institutions ranging from hyper-growth tech companies to auspicious startups to prominent Fortune 1000 brands.
As a professional working in a highly nuanced and competitive industry, Austin Rotter knows just how important mentorship and leadership can be when it comes to advancing one's career and learning more about the public relations industry. Mentors are industry peers or professional acquaintances who can offer you some insights and advice about growing as a professional. Having a mentor to guide you, challenge you, motivate you, and inspire you can help you not only define your goals but plot a path to reaching them. Mentors can offer honest advice and feedback to help you be more productive, focused, and successful in your career.
One aspect of mentorship that can be incredibly beneficial is seeing a respected industry professional take the time and effort to prioritize a healthy work-life balance. When building a career, it can be all too easy to fall into a pattern of burning the candle at both ends; as an entrepreneur, Austin Rotter knows just how important it is to find that balance in order to avoid burnout and maintain one's mental health.
About the Creator
Austin Rotter is a Public Relations executive living in Hoboken, New Jersey, who operates professionally out of New York. Austin's particular skills lie in media strategy, media relations, and branding businesses.
Reader insights
Be the first to share your insights about this piece.
Add your insights