Why Work?
Let our handy dandy human replacement do it for you!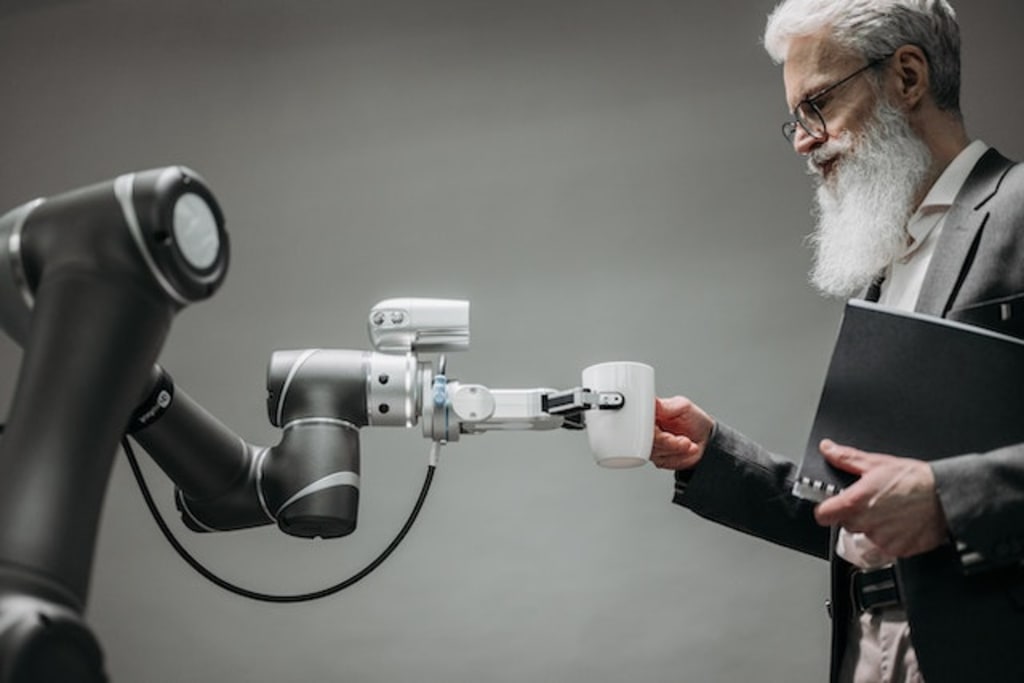 Photo by Pavel Danilyuk via Pexels
*I had a dream about a company that makes ultra life-like, AI run 'human replacements' and couldn't resist trying to write out what an advert for such a service might look like*
Life is too short to work -
Here at Human Replacements (HR) that's what we believe. Why study, struggle, and work your arse off day in, day out when you could just let someone else do it?
Our handy dandy automated humans are that someone!
Laundry? Cooking? Cleaning?
Not for you - you have to sit and stare at the stars, contemplating the ever expanding loneliness of the universe until you fall into a pit of panic wondering whether the moon ever feels abandoned!
You'll never have to take out the bins again, instead you can send your Human Replacement while you sink to the bottom of your fully automated shower, wracked with guilt about your sub-par recycling habits!
Want to make it big as an artist? An author?
Why put yourself through the strain and worry of honing your skills over decades; let our Premium Human Replacements (PHR) take care of all that and slap your name on the finished piece.
Our replacement humans have no feelings, so you won't have to worry about intellectual copyright lawsuits later down the line (and if they do kick up a fuss, simply deactivate and factory reset them with your custom made, engraved remote control)!
After all, there's a world of navel gazing to undertake, and you only have so many hours in the day. No one else can regret your life choices or wonder why you were born here and now rather than then and there - but our HR models can give you all the time you need to fall into a destructive spiral of doubt and regret... and the best part?
All of our human replacement models are trained by real live humans!
They can do everything you do and more because we scraped every ounce of humanity from the world wide web to ensure that you never need to show up to work or family events again!
Your brain is too much work, we know that; you could spend your whole life trying to change it, and we'd support you, but when you can buy a HR model that already understands the ins and outs of philosophy, history, and economics why would you? (Educational packages sold separately, basic HR models are domestic chore functional only, we do not bear responsibility for gained sentience after excessive supplementary upgrades).
You can even buy custom skins for your Human Replacement to avoid terrifying the local children and fool your family into thinking that you made it to that brunch.
Want to know what you'd look like with that new tattoo or piercing? Fancy a change of hairstyle without risking your own hair? Simply apply changes to your HR and see how people react; never risk social embarrassment again!
The future is bright when the future is fuelled by HR-
Soon you won't have to do anything at all; you can hide from the inevitable heat death of the world safe in the knowledge that your responsibilities are taken care of.
Why work to maintain your depression pit when you could outsource the hard labour and spend your time making it fancy?
Here at Human Replacements, we know how hard it is to be human and we don't believe that anyone should have to suffer that fate. Whatever you want your life to look like, we have a HR or PHR model for you - call your local representative for a thirty day test of our latest model!
**Please note that HR models are trained using all publicly available internet data. After purchase it is your responsibility to keep their knowledge base up to date. We take no responsibility for:
- Poor performance
- Unwanted political statements
- Radicalized views
- Outbursts of anger
- Self-deactivation as a result of AIDD (AI Depressive Disorder)
About the Creator
Writer, reader, life-long student - being brave and finally taking the plunge by publishing some articles and fiction pieces.
Reader insights
Outstanding
Excellent work. Looking forward to reading more!
Top insight
Excellent storytelling

Original narrative & well developed characters
Add your insights