The Good Scissors
Crafting across generations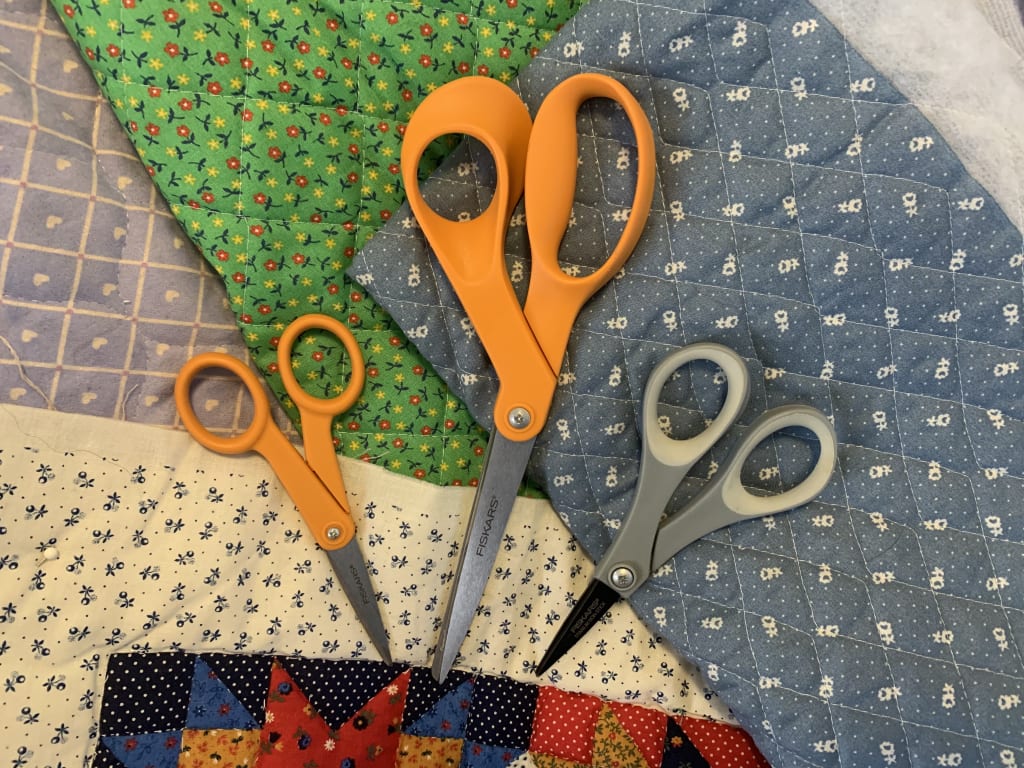 The author's prized collection of Fiskars, atop fabric scraps from her grandmother.
"Not those ones!" she shouted from across the small room.
My little kid hands had reached towards the shiniest pair of scissors hanging on the wall. Little did I know, these were my grandma's "good" scissors—only to be used for fabric, not for paper and glue-filled activities like the decoupage monstrosity I was working on. It was around Easter time, and I was decorating old coffee tins with bunny cut-outs and a pile of home-brewed Mod Podge. As the crafty kid of the family, my grandma had tasked me with creating Easter baskets to give her neighbors and friends springtime gifts.
Before "up-cycling" was even a trend, I spent hours at a paint-stained folding card table in my grandma's cozy little attic nook crafting and creating all sorts of art with her, mostly made from trash and leftovers from the church rummage sale. It was almost a master-apprentice situation, and she started me early—even as a young elementary schooler, I was learning to cross-stitch and mastering the art of the glue gun, finding all sorts of treasures in things that might otherwise be considered "worthless." For a family friend's wedding gift, I remember making a bride and groom out of toilet paper rolls and scrap fabric. (Some things never change, like my tendency towards handcrafted gifts—I'm currently working on a textured embroidery for my childhood friend's wedding.) Whenever I finished a project, she'd commend me for my work, and I'd proudly run downstairs to show my grandpa. No matter what I created, he was proud, telling me what a talented artist I am and excitedly shouting upstairs, "Sherry, did you see this?!" to my grandma who had most definitely already seen it. That encouragement built so much confidence in my abilities, and I still cherish the memory of his voice, imagining it when I make something now as an adult.
We worked together every weekend, the California sunshine streaming through the windows on sleepy Saturdays. Her cabinets held everything imaginable: boxes full of loose buttons, embroidery thread in every color, a lifetime of fabric scraps, acrylic paints of varying ages, containers of lumpy polymer clay, and my personal favorite, stucco-like paintable fake snow (which I used on everything, regardless of season). I thank this hodge podge of craft goods for my current breadth as an artist, trying everything from knitting to embroidery to zines to jewelry. Those early days with my grandma showed me that I have the potential to create whatever I can imagine, and they taught me the importance of encouraging kids to be creative.
Given how this story started, it seems like I would have ended up as an adult working in some kind of art. Somehow instead I ended up as a scientist, an astronomer to be precise—but that creativity I learned and built as a child is just as integral to this job as it would have been were I a painter. Art has also been a way for me to reach more people when teaching science. It's more fun to learn about the asteroids and moons of our solar system when studying a beautiful pair of earrings, and zines describing the night sky or accomplishments of women in astronomy reach an audience that may not otherwise learn about that science. Plus, I get to help decorate the incredible scientists and teachers who are interested in these subjects, providing them with scarves accurately depicting the new Mars rover and necklaces to showcase the planets!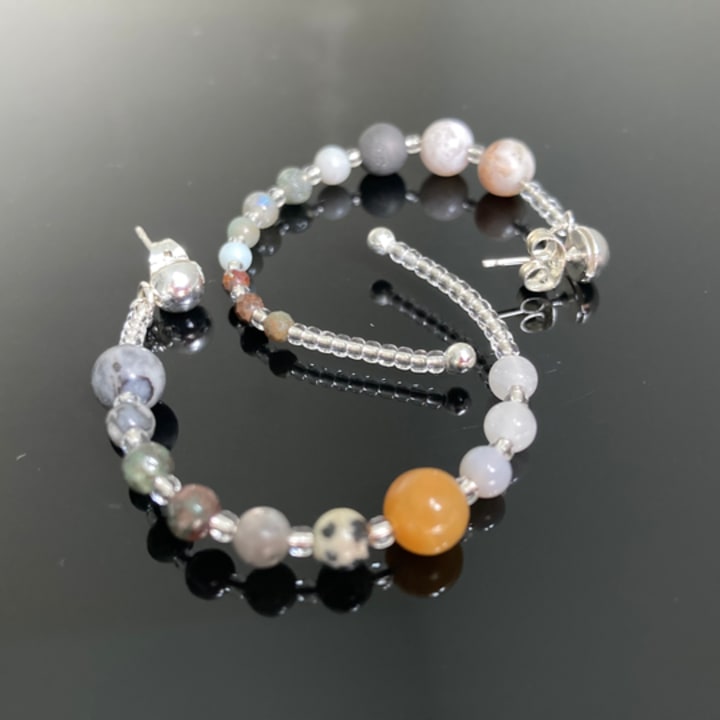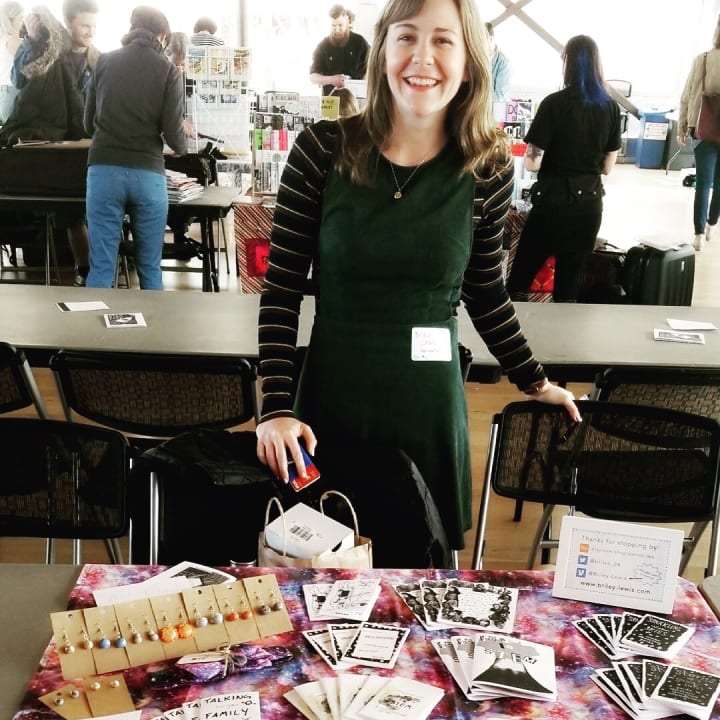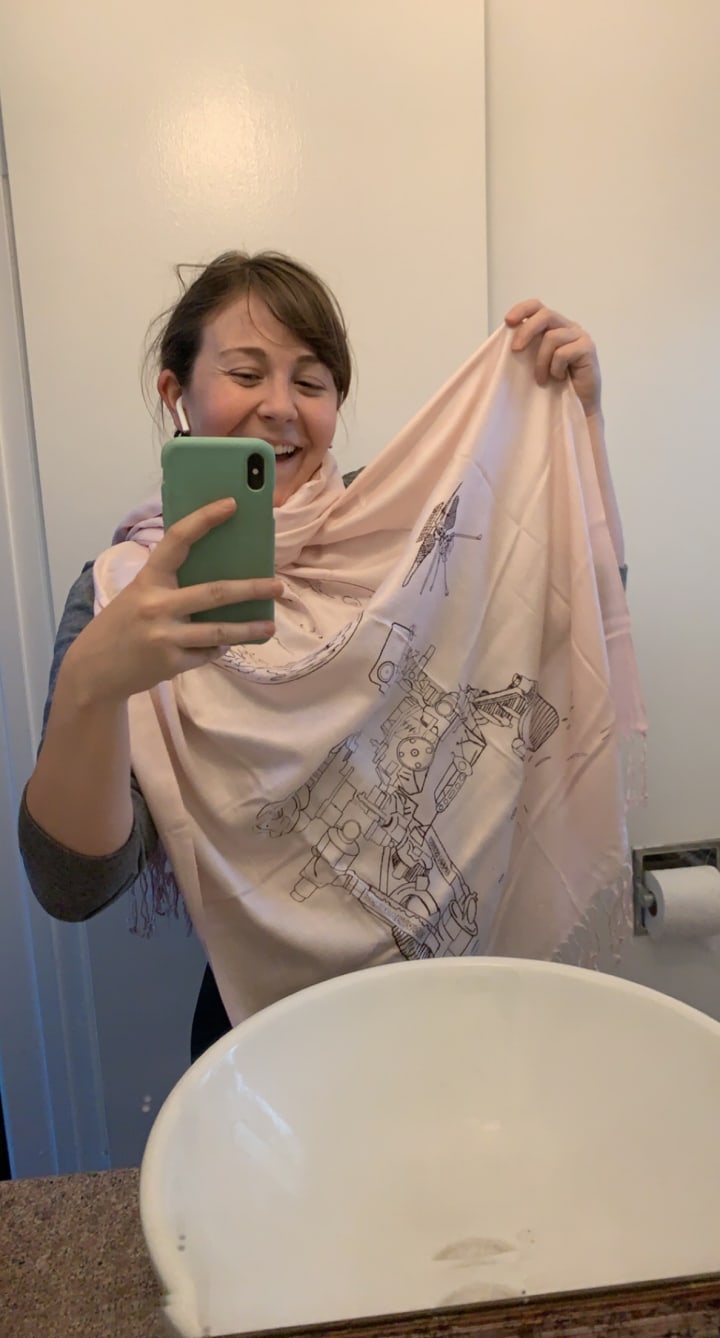 Outside of work, creating is also part of what keeps me sane even in the most stressful times. During long hours of Zoom meetings this past year, moving my hands in the rhythms of knitting helped me sit still and listen. When my research projects aren't going too smoothly and I feel like I can't do anything right, I know I can at least create a neat collage for a zine and enjoy the soothing sounds of scissors on paper. (Not the good scissors, though, of course!)
A few years ago, when I had moved out on my own after college, I asked my grandma about her good scissors. I finally needed to cut fabric for a costume I was making, and also to hem my curtains. Admittedly, my first question was a cheeky "Can I have yours?" but that was immediately shot down. With a playful nudge, she exclaimed, "No, you can't have my good scissors! I'll take you to get your own though."
She and I walked into our local Joann's Fabrics, the dim fluorescent lights buzzing overhead. I followed her directly to a wall covered in orange-handled elegant scissors, the long blades just as shiny as I remembered from when I was a kid. "These are the ones you want," she instructed, pointing at a pair of scissors that cost more than I knew scissors could. My eyes wide, I accepted the gift and finally understood why she protected them so dearly.
Now equipped with my own small army of scissors—the good fabric scissors, small embroidery scissors, and even some mediocre cheap ones for paper—I have all the tools I need to explore my wide array of crafts. And of course, I always send my beloved grandma photos of what I'm working on.
Reader insights
Be the first to share your insights about this piece.
Add your insights