Summertime Flavor
Ice Cream Superhero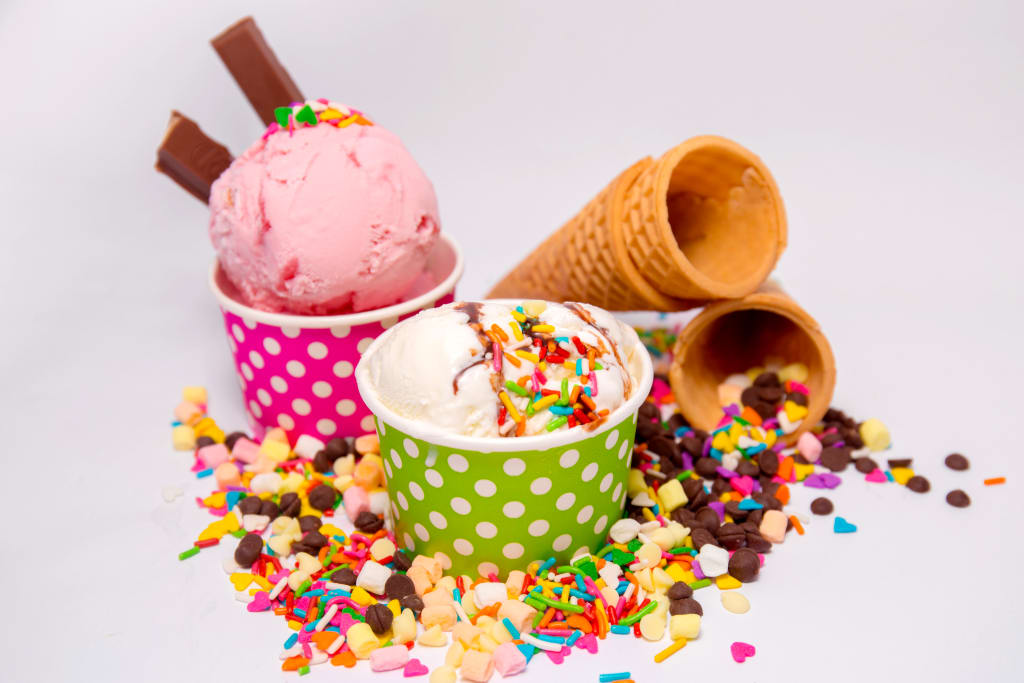 Scorching summer days. The sun's unquenchable heat raining relentless sunshine upon the earth, sizzling your skin and leaving a glistening trail of sweat upon your skin. Air conditioning is a Godsend, providing a desperate reprieve from the sweltering intensity that is known as outdoors.
I'm not a fan of extreme heat; my preference is the crisp, cool air of fall and all the beautiful colors it brings. Even so, I do enjoy summertime. There is no denying that summertime is one of the best times of year. School is out, and there is so much to do! There's something about summer that embodies an air of freedom, and it's desperately needed. However, as the temperatures rise, the harsh reality of summer is unforgiving.
The blistering heat of summer is no joke. The sun seems to be out for days on end, and the air is thick with humidity. It can be hard to escape the heat, even inside, so air conditioning is truly a blessing. I remember one summer when the power went out for a couple of days, and that was truly miserable. No escape from the heat that even sweet treats couldn't salvage.
If there's a taste of summer, a sweet treat can't be beat. Oh, sure, there's candy, cookies, cakes, and s'mores, which are all great in their own right. They're tasty treats, for sure, but they can't beat the heat. With the blazing sun frying everything below, a cold snack reigns supreme. A frozen treat is the perfect way to refresh and rejuvenate after exposure to the summer heat.
Returning singed from the ruthless sun, an icy treat stands number one. Cooling off under a fan, savoring your cold, sweet snack is one of the best feelings of summer. While popsicles, slushies, snow cones, and froyo compete for the best, ice cream stands above all the rest.
Endless flavors and topping combinations, ice cream is the taste of summer. Evening indulgence, afternoon refresher, morning wake-me up—ice cream stands tall. Cones, sandwiches, sundaes, concretes, and shakes, ice cream has you covered for all your summertime needs. Chill out, beat the heat, and savor the sweet, icy treat.
Ice cream, the taste of summer. Ice cream is the perfect way to cool down and will satisfy everyone. You can keep it simple with chocolate or vanilla or get creative with mint chocolate chip or strawberry cheesecake. There's even dairy-free options nowadays. No matter what your favorite flavor is, there's nothing quite like a cold scoop of ice cream on a hot summer day.
Ever since I was a child, ice cream has been my go-to for summer treats. Every day when my grandma offered us a snack, I'd choose mint chocolate chip without fail, savoring the crisp, cool mint. As I grew older, my choice never faltered, never swayed. Mint paved the way, never disappointing. Hanging out with friends, family get-togethers, babysitting, relaxing at home with my cat--it didn't matter, I knew the taste that would never fail me.
My reputation is well-known; recently my mom was surprised when my cousin could name my ice cream of choice with no hesitation. I'm consistent to my dedication to mint, and it serves me well. Mint ice cream is my taste of summer, and it will never be beaten.
Summer's heat has returned once more, which means this sweet treat's icy chill will save the day. Mint will never fail me, and it saves me from the searing summer sun. It just can't be beat. Summer's here, so let's hear the cheer. Ice cream, yes please!
The best way to enjoy summer? Exploring, traveling, and having fun with a delicious ice cream in hand! No matter where you go or what you do, enjoy a cold, sweet scoop of summertime sweetness! I know I always will. Ice cream: the summertime superhero!
humanity
About the author
I've always enjoyed creating, whether it be art or stories. I've enjoyed creating art from a young age and have worked in a variety of schools. I adore anime & cats. Over the summer we adopted baby Tsuki/Tsukihime, my moon princess kitten.
Reader insights
Be the first to share your insights about this piece.
Add your insights