Spa Date Night At Home [Printable Included]
Enjoy a relaxing evening at home with your significant other or treat yourself and go solo on this at-home spa date featuring a relaxing bubble bath, massage, and taking it easy!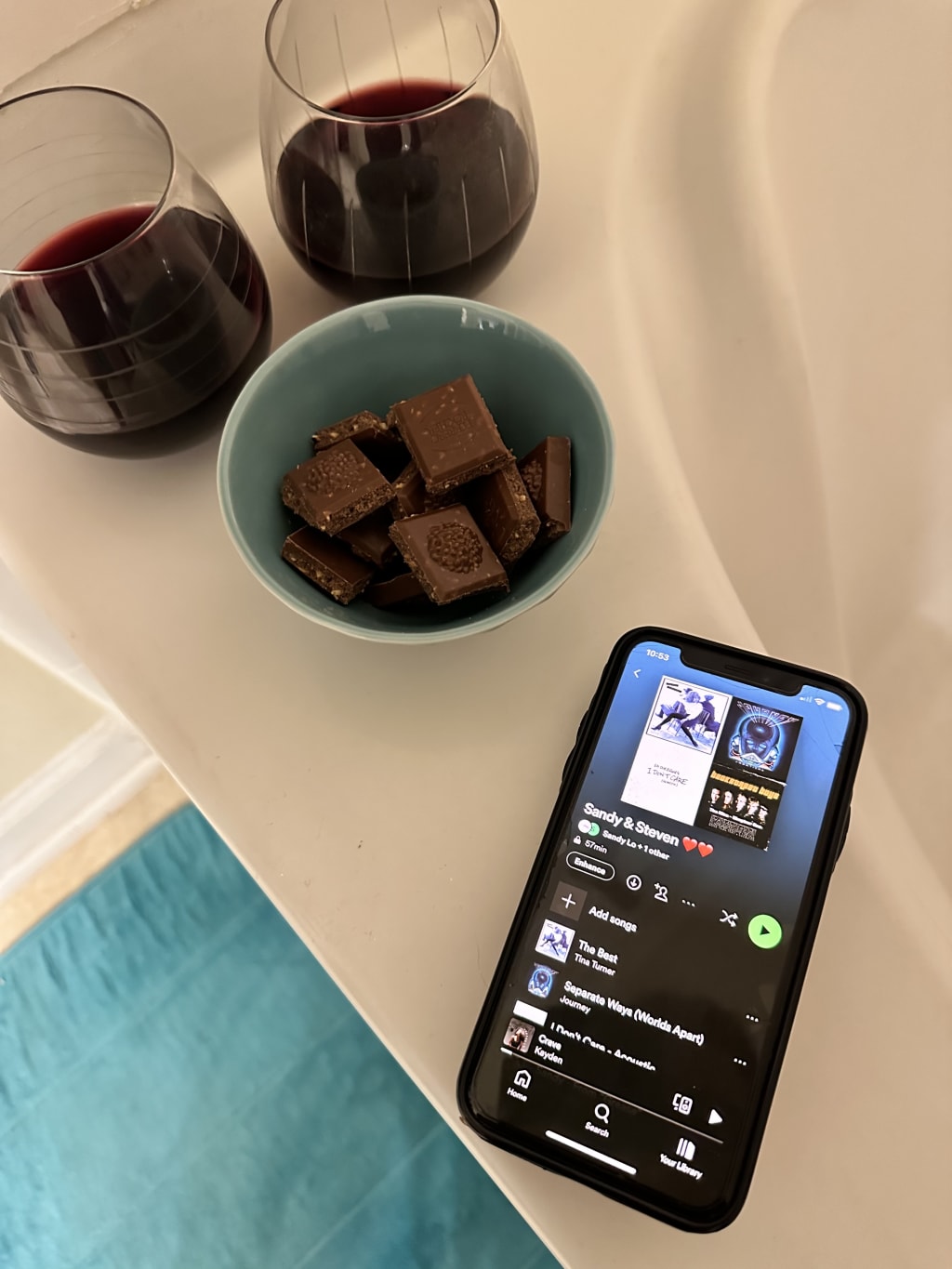 By Sandy Lo
It's no secret that I'm a hopeless romantic. Hello, I'm a romance author for crying out loud! I thought that meant I was doomed to be disappointed in love my entire life because nothing or no one would live up to the perfect romantic scenarios I created in my head and wrote in my books.
Well, I lucked out and am incredibly thankful I found Steven – the other half of All's Fair In Love & Writing and my other half in life. Whenever I make a date night suggestion, he is all in and says the most romantically sweet things to me on the regular as well as gestures like kissing my hand, bringing me home flowers, and telling me he loves me often–no matter who is around. We probably make other people sick, but oh well!
So, it shouldn't come as a surprise to those reading this that it was actually Steven's idea to take a bubble bath together. He had mentioned it a couple of times and since I started working at Lush Cosmetics for extra money this holiday season, I thought I would put my employee discount to good use and pick up some items to make our bath time extra special.
While on the pricier side, Lush is the original inventor of the bath bomb and allows you to be able to match scents and color schemes perfectly for your spa date night. The ingredients in Lush's products are mostly vegan and easy on the skin so if you have sensitivities, I suggest spending the extra money on their bath bombs. While bath bombs like Lush's Black Rose and Sex Bomb are perfect for couples, I decided to go with a bomb and bubble bar duo representing both Steven and me on a personal level.
First, I chose the Snow Dragon bath bomb, which has a wonderful lemongrass scent and is absolutely adorable. Steven's favorite color is blue and he loves dragons, so it fits him perfectly. Plus, it had popping candy accents of purple–one of my favorite colors. The scent and color scheme matched the Mermaid Tail bubble bar exactly, and since I am obsessed with mermaids, it was a no-brainer to get these two mythical creature-shaped bath items.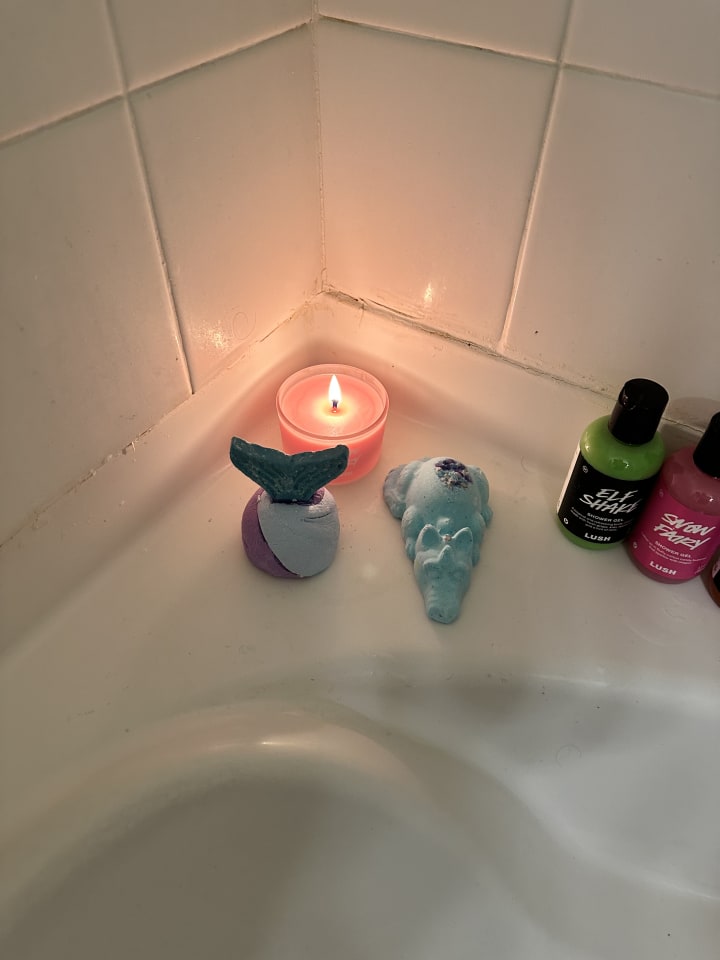 Next, I grabbed the Snow Fairy candle - while it was pink and mildly candy-scented, I loved the smell over the others that Lush offers and the size is just right to put on the side of the tub during our bath.
To add to our date, we grabbed a chocolate bar and wine from Target. I never tried Rocher's hazelnut chocolate bar before but decided to go with it because neither of us is a huge straight-up chocolate lover, so I figured the hazelnut would break it up. Man, did I make the right choice! It was so good. I broke it up into squares and put it in a tiny bowl on the side of the tub.
I set our Alexa to play our "Steven&Sandy" Spotify playlist. If you don't have a playlist of love songs with your significant other, what are you waiting for? Get on it! Just kidding. You don't have to. We actually made a playlist of love songs that will relax you and get you into the lovey-dovey mood just for you! Check it out here. I finished the setup with two glasses of red wine. I went with a red blend because I can't handle super dark, bitter reds.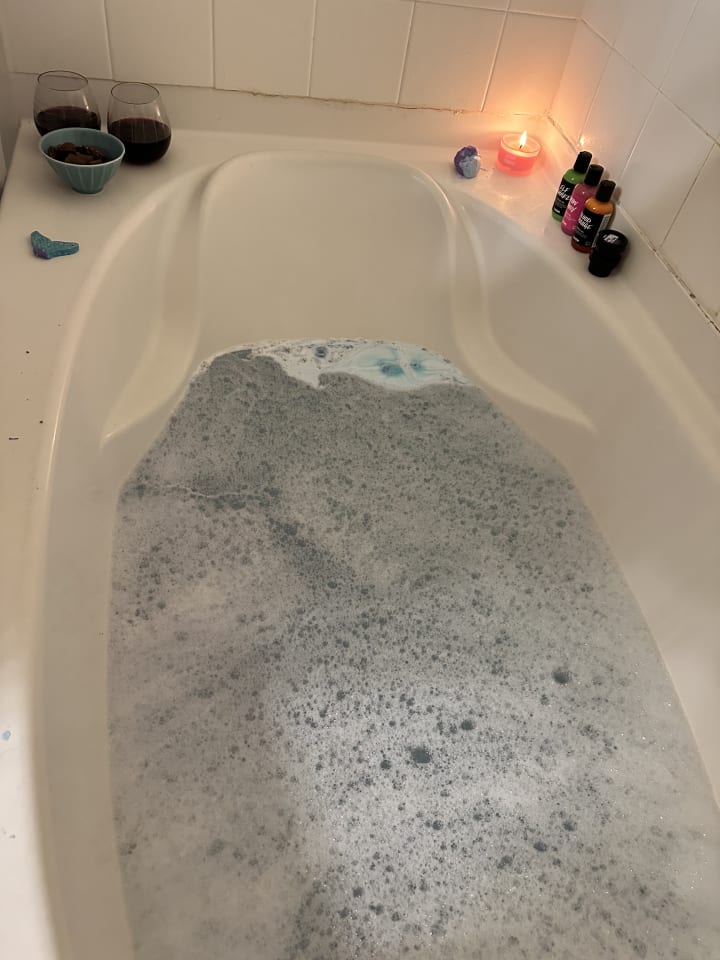 Finally, it was time to fill the tub. Ladies, if you're like me and enjoy your skin being melted off your body during showers and baths, consider toning it down several notches for your man. I don't know what it is, but from all of the memes I've seen on the internet, it seems to be a consensus that females love to be scalded while men enjoy the water luke-warm. Compromise on the temperature, especially for soaking in the tub to protect certain areas!
We waited until the tub was half-full before dropping the Snow Dragon bath bomb in and watching it fizz. We then began breaking off pieces of the Mermaid Tail bubble bar and running them under the water to create fluffy, foaming bubbles. The water turned into a beautiful mix of purple and blue and it smelled amazing!
We don't have a super huge tub, but it's a decent size. Steven got in first, whining about the water temperature as he hesitantly sat down and leaned back. I laid back in his arms as he fed me chocolate and we sipped wine, listening to the music that's been part of our relationship so far.
We were mostly quiet other than belting out Aerosmith's "I Don't Wanna Miss A Thing" at the top of our lungs, which happens to be our song. We closed our eyes and enjoyed the intimacy of being in each other's arms and the relaxation of it all. We eventually switched our seating arrangement so we could face other and play with the bubbles together and kiss. I think something we might do next time is read to each other whether it be poetry or a book we decide we both want to read.
Steven has actually started reading my novel, "Dream Catchers" and even read it aloud to me before bed. It was nice to be read to and also made me blush, hearing my own words read back to me.
Another thing I would love to add to our spa date night routine would be face masks. I received a few sample ones from Lush and have been using them myself, but it would be fun to get Steven in on it. We're also big on massages and love to give them to one another after a bath or before bed.
Lush has massage bars that feature different textures to work into sore muscles, but massage oils are also fun and you can find edible kinds if you want to segway into a different kind of massage. (wink, wink)
Of course, there are so many different things you could add to your spa date at home! Pedi/mani's, meditation, yoga, journal about a topic and let the other person read it, or anything else you can think of! I would love to hear your thoughts in the comments. Also, this spa day could be done solo - enjoy some alone time and show yourself some love!
I know I spoke heavily of Lush in this article and I also know you don't have the generous discount that I have on their products so I have created shopping lists with some awesome products from Amazon and Target for you to shop in order to make your Spa Date Night organization easier. Scan the QR Code in the printable image below to get the shopping lists and Spotify playlist!
Spa Date Night Printable! 💙💜
Set a date, print this out, and stick it on the refrigerator so your significant other knows the itinerary. What I like to do is keep a binder of date night ideas and will be adding memories from them in scrapbook fashion. You could also keep date night ideas in shoeboxes with the supplies you need. So they're ready to grab at a last-minute's notice.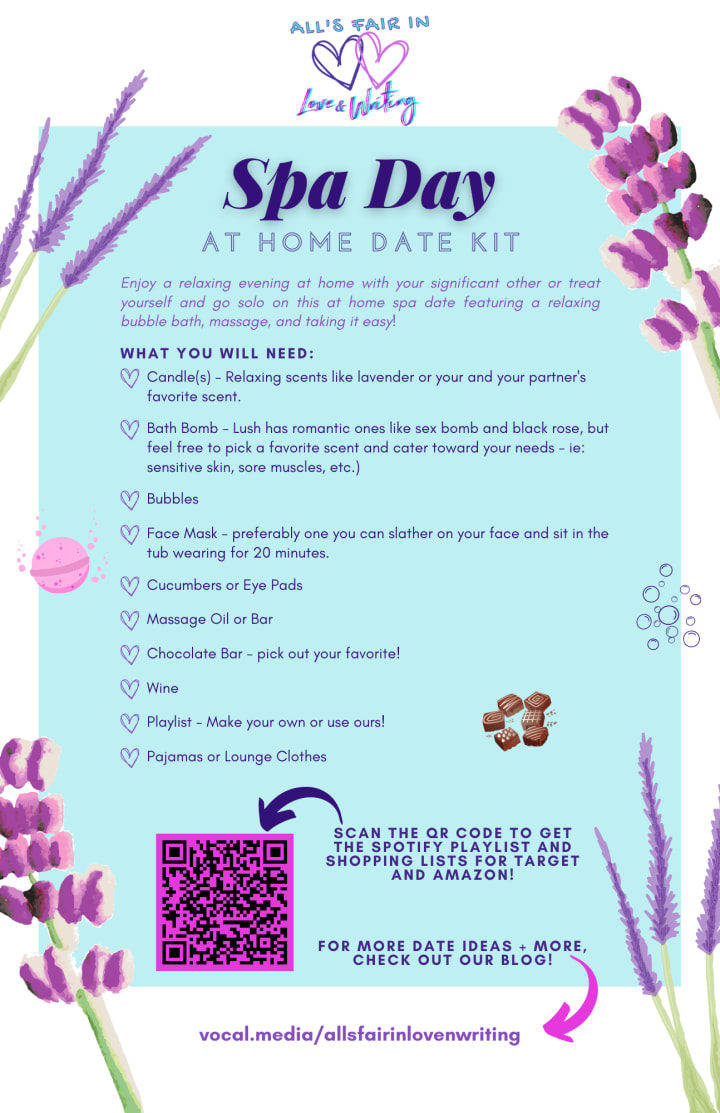 Check out our other date night ideas!
Read why we started our date nights here.
About the Creator
Two writers in love! Sandy Lo is a romance author, blogger, and journalist best known for the Dream Catchers series and StarShine Magazine. Steven is a gamer and aspiring fantasy author.
Follow us on Instagram: @AllsFairinLoveNWriting
Reader insights
Be the first to share your insights about this piece.
Add your insights