Scraps
A quilt 20 years in the making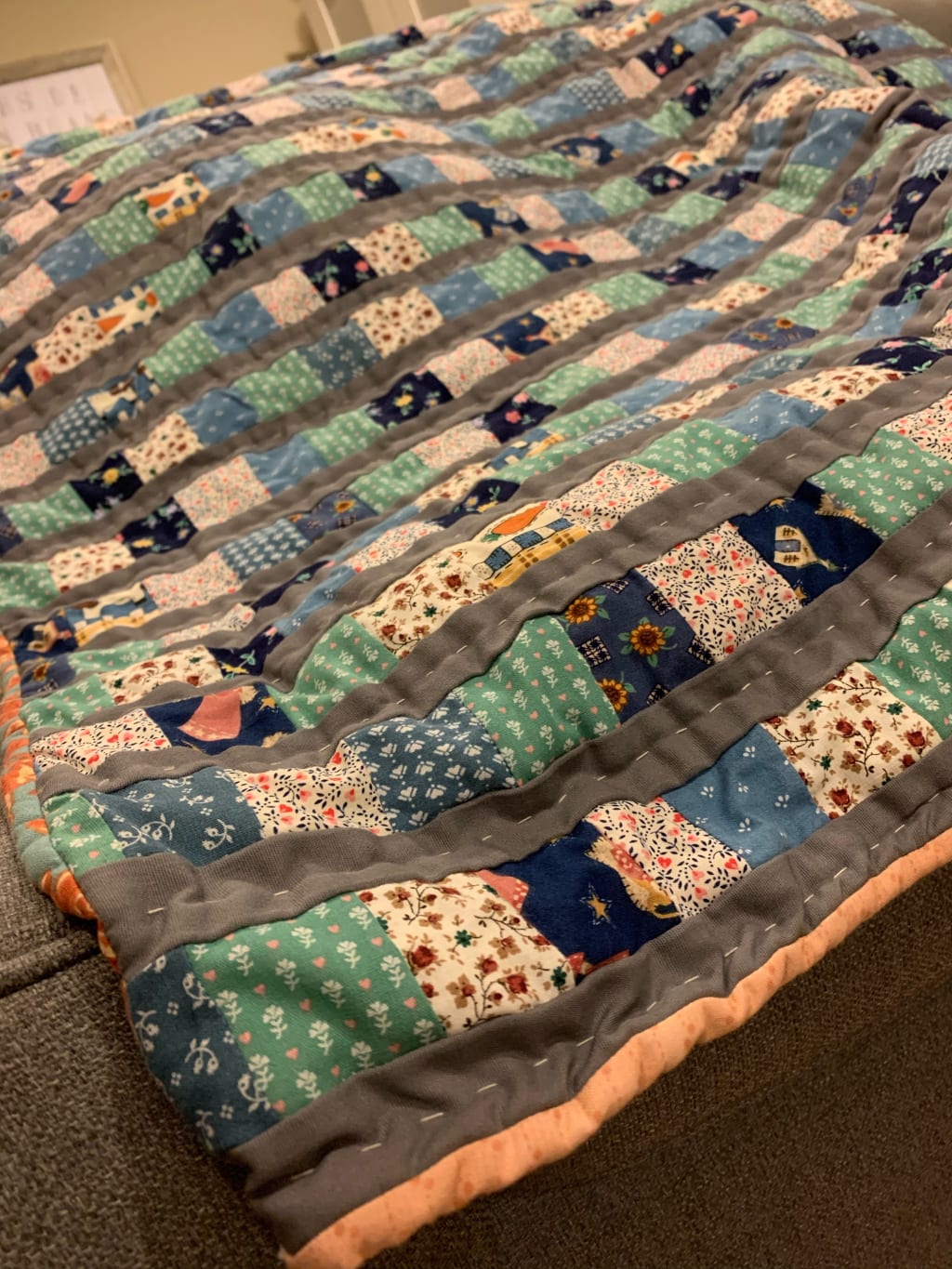 A close-up of Ollie's scrap quilt, 20 years in the making.
I am little, and the piles of fabric tower around me, a maze of color and joy. I dig my hands into the buckets of buttons, feeling the cool plastic and glass up to my elbows. I press my face against the softest fabrics, the ones my mom says are for baby quilts. It smells of wood and cotton. At my height, the quilts on the walls are masterpieces, a museum I can carefully touch. I feel their fabric ever so lightly as my mom and her friends look at fat quarters and patterns. The snip snip snip of scissors and hush of women talking wash over me. We are in an Amish quilt shop.
I find my way to the shelf of remnants, bits so small that most people would throw them away. It's exactly at my height, like it was meant to draw the little ones to it. The scraps of starched cotton are wrapped with thin black ribbons, and fit perfectly in my tiny hands. They have flowers, cows, carrots, stars, angels. I sort through them, picking out my favorites. When it's time to check out, I gather them up and take them to my mom, who gladly adds them to her stack. My scrap collection starts before I can even sew.
I am now old enough to sit on my mom's lap and learn to guide the fabric while she works the pedal, keeping it slow. Her mother, my grandmother, always warned us with a story of sewing through her fingernail. My mom's hands are over mine, protecting me from a pain I have yet to learn for myself. She is making a massive quilt that will hang behind the couch out of Civil War reproduction fabric, a quilt I will know my whole life. I don't know what seam allowance means, or what an Ohio Star is, but they are always there, wrapping me up in geometry and love.
I take her scraps and lay them out, making blankets and pillows for my stuffed animals. I rub them between my fingers and examine each scrap, like a pirate studying his gold coin for the promise of more treasure. Eventually, my mom wisely gives me the thread scissors, not the big ones, or heaven forbid the rotary cutter, and lets me cut out a star, a rabbit, a triangle. I learn to hand sew, the stitches thick and uneven. They are built out of nothing, and mean everything to me. I grow up surrounded by quilts built from nothing but 1 inch squares, wrapped up in them on the couch or under them in my bed, clutching my own creations as I fall asleep.
I am almost a teenager, and I make my first full sized quilt. The fabrics are filled with flowers, smiling suns, and checkered rainbows. It's a half log cabin quilt, and I can see every place where it is built unevenly, where I didn't sew in a straight line. It smells like lavender for some reason, and I love it. I keep every bit of material that is trimmed away. My mom already saves most of her scraps, and now all of them go into a tub for me.
I graduate high school, and move on to college. I'm the one in the dorm who has enough sense to bring a sewing kit, and I find myself fixing pants, shirts, and hoodies. It's sewing, but it's not the kind I'm used to. Some of the mending looks like Frankenstein scars, with thick black stitches pulling the fabric together. We hold our lives together with hope and bits of string, growing and turning into something new.
I am now an adult, and I move to another state. My mom pulls tubs from hidden places as I load my car, sending boxes of fabric with me. She knows how I love my scraps, and that I can't move without them. When I get to my new home, I go through them and find all those bits and pieces. All those years of sewing and collecting are in front of me, the cows and carrots wrapped in little black ribbons, still stiff with starch after 20 years. Scraps from my mom's Civil War quilt, from the one she made when my oldest brother went to college, from the uneven half log cabin quilt I made with every color I could find.
My boyfriend at the time laughs, and asks why someone would buy fabric instead of a quilt already put together. All that cutting and measuring, the time, pricking yourself with a needle, all that work! He can not fathom the effort. Why, if not a ferocious kind of hope that bits of nothing can be made into something more, something beautiful, something new? I carefully iron out the scraps, knowing they've lasted longer with me than he ever will. Is it not like seeing a baby bird, featherless and blind, and knowing that it'll one day grow into something that can fly?
My brother and his wife are expecting their second child. I take all of my love for them and their first, Max, and pour it into the scraps. The baby will have the coveted fabric with cows, carrots, flowers, stars and angels that I've held dear for so long. The quilt is finished with bits of other quilts, carefully measured and cut into rows, hand quilted, and bound. All of the hours for the quilt for all the hours I may not see him, as I live 300 miles away. I wrap it up in a ribbon and travel home to see them, to meet little Ollie.
He's not old enough to know he's wrapped up in something made with so much love, something 20 years in the making. He just knows he's safe and warm. And he too will grow into something bigger, growing from something so small, just like I grew from the little girl collecting scraps from a quilt shop. We are all made from nothing into something, into whatever shape and pattern we want to be known by. It may take some time, but we are all complete, messy stitches and all, built from the scraps of our lives.