Orange
a short story by Cheryl Ramette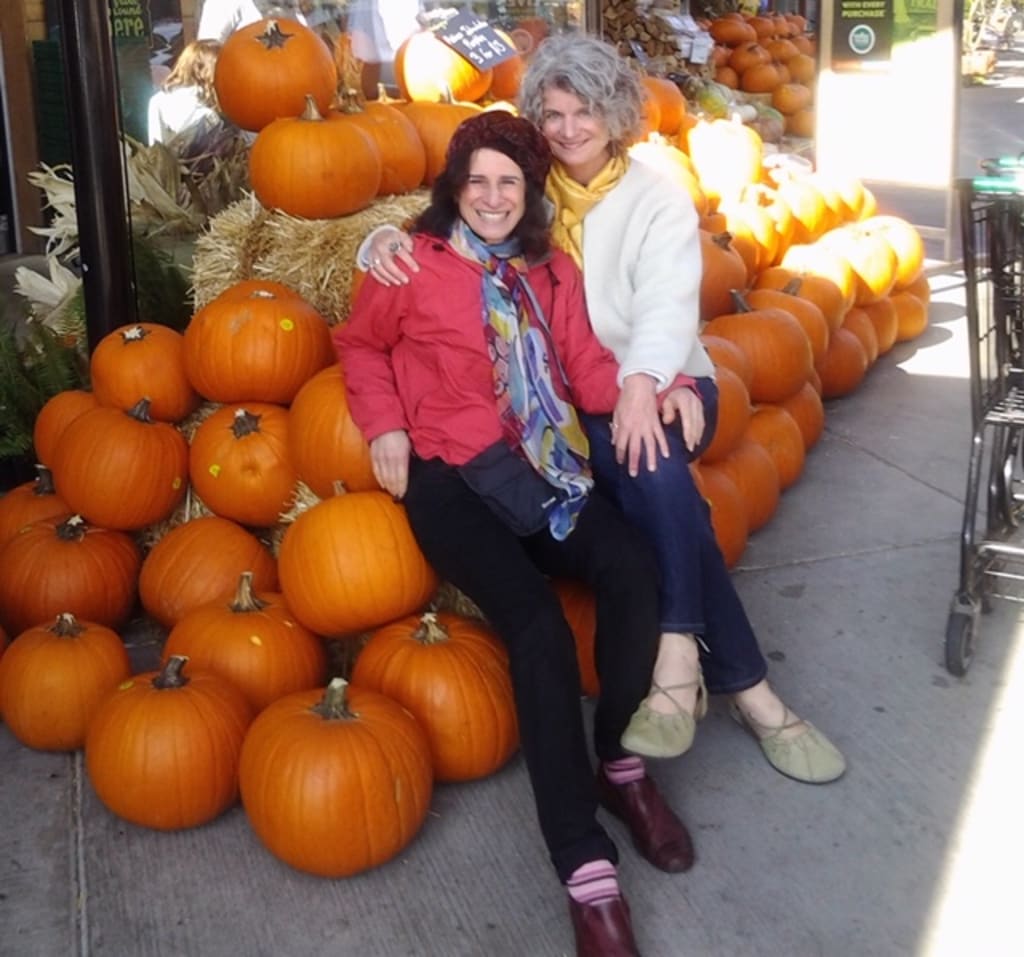 Friends, © Cheryl Ramette
Me, my best friend, and a pile of pumpkins is a recipe for a portrait. My friend is wearing a rose-colored jacket, her "lady scarf," and the soft velvet richly-colored reversible hat that called her name one rainy afternoon from a hat maker's booth at an outdoor market. I'm wearing my fluffy fancy fleece and a golden silk scarf which my best friend has just bestowed on me as a get-through-your-divorce item of clothing to wear as a ray of light on my shoulders during the final days of my marriage. We are both wearing toe shoes, not sandals, as the weather changes from the long lit days of late summer to the shortened days of early autumn's glow.
We pause to rest on our way home to my little urban cottage where our time today began with a series of bang-bang phone calls as things began moving faster in divorce-land. But my friend and I are slo-mo now because it's my day off and her modality.
We eat dessert first - before lunch - a cake of lemon, rosemary, buttermilk and apricot. We snack as we walk beneath the changing canopy of trees, passing the summer bloomers now turned inward toward their winter pause.
Lunch is a dish I made last night, browned chicken thighs steamed on a bed of onion, ginger, garlic, sliced yams, and delicata squash, the flavors and colors of fall. I warm lunch on the stove while we dab on magical healing oils and admire the pumpkin photo. The chicken dish is nestled in shallow Sberna Deruta rooster pattern pasta bowls beautifully holding the intensely flavored spicy juices the dish serves up. Silence as we savor the wonders of simple food prepared with love and imagination and what was on hand.
After my friend washes the dishes we head over to her "other-life" house where she was married to her husband for decades and learned to dance the tango, which took her to Argentina and into a life that makes no sense but makes her very happy. She's visiting here for a few weeks for several reasons of her own, including clearing out her personal remains from their marital home, and one of mine — to befriend me in person through my final steps to freedom.
In the basement of that home are Chinese lanterns from her 50th birthday party. They're orange, red, and yellow. She wants to give them to me, along with a string of small round lights the size of half a teacup with an iridescent glaze. I want these things so I brave the ascent and descent into the scary-scrape-the-sides-off-your-car driveway of her former home to secure the lights. I'm well aware that light is something I need now more than ever, and light from her, and that party we created together where I hand made the invitation with flights of butterflies, will magic-fy my home. Some memories are like that.
But we can't find the lanterns. She wonders if she accidentally took them to Goodwill. Her former husband is helping, and I can't help noticing how these two people fit together in my mind. It doesn't seem strange to be here with them in the dingy basement of their gloriously over-remodeled home, talking and laughing and looking for lanterns. It is the kind of thing we did together over so many years, and I guess still do. Upstairs is a kitchen tiled in shamelessly excessive colored glass tiles but we're down here in the concrete world bel
We wander around piles of boxes, circling like bees honing in on nectar as though we could conjure up those lanterns and lights through sheer intention. Her hand reaches into a bottom shelf to extract an empty shoe box which I have been eyeing and which she was not yet willing to throw out, and there behind it is the other box. The one we had been conjuring, the one where she thought she put all the lights together in one place because that is something my friend would do. And then forget. The lanterns are in the box, too, just as she knew they would be. So now these treasures are in the trunk of my car awaiting their installation in my home the minute my home is once again mine. They'll have a double life celebrating transitions.
While driving her to the 'where-she-stays-when-visiting' house, known in dance world as 'the tango house', I noticed the trees are turning. What does this mean, turning?
This morning as we walked through the changing neighborhoods, moving one footstep at a time along our urban trail, we witnessed how nature's palette washes red to orange to yellow to green, top to bottom, an order opposite our human chakras, as leaves ready themselves to fall to earth to mulch the soil to feed the trees from which they fall. These same leaves that budded only six months ago are now almost at the end of their lives. How many different leaves have fallen over the years from these same trees? Each year the leaves emerge yet every leaf is new, never before seen or felt or painted with a brush or lens, and each will drop back down to fuel its future siblings in the next round turning soil to bud to leaf until the end of time. At least until the end of each trees time.
Our feet took us to the circular trail around the park, part bark chips, part asphalt, part grass. Now we are in a land of conifers where the colors of autumn are held at bay.
Our conversation is never-ending as is this circle of life in which we travel. As we walk the trail three times around we are learning more about ourselves and each other, each step a movement toward healing things that have kept us trapped and enjoying the gifts upon which we live so well. Because we are women and because we are us, the conversation is sprinkled with hilarity, wordplay, and a lightness of being that would appear inconsistent with deep transformational growth but, of course, is the compost of which such growth is made. We cry and laugh, then are quiet, then talk over each other because we are so excited, wait impatiently, settle, begin again, all in the time it takes to walk ten steps.
There is a small funny-bent tree who seems not to know which direction she is headed. Left? Right? Left? She appears to be sitting in chair pose, practicing yoga in the park. Her growth has been stymied through indecision and lack of direction. I know this tree. She is me in tree form. She is my friend. She is all of us. And so we walk for her, left, right, left.
What is it about the color orange that symbolizes this time of profound transformation in my life? Is it the turning leaves that mark the transition from green to brown signaling clear endings and trust in new beginnings? Is it the ushering in of dark quiet winter days where a soft gray cast will replace the bright summer skies?
There is something unique about the color orange. It is the only color that names an item. A color composed of red plus yellow, and one that does not look good on many people. A color that belongs on fruit and vegetables, some flowers (like daylilies), my kitchen walls (where it is called "mango"), but not on people's bodies except perhaps for hair where it harkens expressions which also connote food, witness "carrot top", "ginger". Maybe it feels too wild or too unknown for most of us. Red with anger, green with envy, blue with sorrow, purple with rage, yellow with fear, shrinking violet. What emotion is orange?
So here we are. Me, my friend, and the pumpkins. Always being transformed into something new as we live in the seasons of our lives. The color orange will guide my friend back to her lover in Buenos Aires, back to her life as woman of the house and tango dancer extraordinaire, a life so different from the one where we lit the red, orange and yellow lanterns on her birthday in her back yard with her husband over a decade ago. The color orange will guide me through the final days of transitioning from an unhappy married woman to a contented crone who is discovering anew her personal power as a creative being living in the all of it.
And the pumpkins? Some will decorate the porches of the homes where Halloween is celebrated; some will become soup with flavors enhanced by leeks and nuts and sage deepening over time; some will be turned into other types of imaginative dishes which grace tables here in the land of farm to fork; some will return to the earth to seed the next generation.
After my friend leaves, a single pumpkin sits on my kitchen counter, ready to become a pie which I will consume contemplating how becoming one with the pie links me to the cycle of the seasons, to the cycle of life, to life itself. Eating the pie, I will feel the glow within from time spent with my friend on a perfect autumn afternoon when the languid change of seasons trailed its fingers in goodbye to summer and winter circled in to nest.
friendship
About the author
I'm a creative spirit who is looking to share my work (art and writing) with a larger audience. I have short stories and poems in my files, a book in the works, and endless ideas in my imagination wanting to expand beyond my own head.
Reader insights
Be the first to share your insights about this piece.
Add your insights