One Belly Full One Prayer Answered
It started with an unexpected phone call
One Belly Full One Prayer Answered
My story is very simple, and has been fueled with an idea that I have had for a few years, along with the echo of Dr. Martin Luther King's words:
Out of the mountain of despair, a stone of hope...
Just the other day, as though coming out of a encased cocoon, I realized the importance of reaching out to help and to be kind to as many people as I could touch. For all of my growing up years I have been inspired by Dr. King and his brand of activism in the way that he reached out to get the job done.
I have turned off my television for a while to get focused on the many ways to palpate kindness. It would be so easy to rally around a healing positive plan and watch the smiles of experience on people's faces.
It all started with an unexpected telephone call, one late night a few nights before Valentine's Day. I wanted to deliver a meal to an older couple as a surprise, and often saw them holding hands and walking in the neighborhood like newlyweds.
I have always considered myself a citizen of the world. It so important for me to have a goal for reaching out to help. On a daily basis I used to ask for guidance about a good direction. What gentle kindness could I offer to a friend, family member, or perhaps a perfect stranger? It's what we did at our home for community when I was a kid. It was considered an onion sandwich approach to community cooperation because we came up with some unusual ideas. If the onion didn't work, then we would slip it out, and put in a tomato.
I remember one year, when our community painted a wall green to represent new growth, and the children in the neighborhood had fun painting their own pictures showing how to be kind. Our family was one that shared in artist collaborations. Art was like breath, it had to be shared. We didn't know of race or religious hate, and inclusion was part of our language because everyone was considered part of the tribe or their own tribe. My grandmother was a naturalist, and brought everyone under one roof. We called ourselves the family of humanity.
I have not currently until a few days ago, been thinking about the world at large, because I have endured like everyone else, some of the worst of times for the last three years. Some health issues have been challenging including loss, and it has caused tremendous misery.
In my core, I love to see people happy, healthy, dancing, communicating, in love, peaceful, etc…. I also love to eat, and when my body is sated with nourishment I can laugh with a good hearty laugh, read a good book, or work with children and parents in my community as a master gardener and mentor. But what about the children in other countries of the world and their parents that are starving, with distended bellies because they don't have enough nourishment and medical attention? They are struggling for survival, and because they are thousands of miles away I forgot. I put the stories out of mind, as they were lifetimes away.
Until….
Three days before Valentine's Day I called Insta cart and was routed to a wonderful woman with a rich deep poetic voice in Kenya. I asked about what kinds of meals I could surprise my friends with, and told her that during the pandemic they could not get out to the grocery stores often. I wanted to do something nice for them, and let them know I loved their friendship. The meal was to include a cooked turkey, a heart shaped cranberry mold and a pink sweet cake for fun, to get the love juices flowing. I would call them after the delivery to let them know I had been thinking about them.
Keera, as I will call her, shared that she actually lived in Kenya and was a member of the Agikuku Tribe, and lived in a small community that resembled a village or large town.
Suddenly something came over me. I can't begin to tell you what it was, but there was an outpouring of concern and questions on my side about her community. She explained that many of the elders came down with Covid and that like everywhere else in the world the hospital situation was compromised. She also explained that so many of the children were malnourished and lived in very strife filled impoverished conditions. My concern as always was about the agriculture and growing environment of the community. Keera explained that the desert land and unpredictable weather created an unstable economy. I learned that over three-fourths of Kenya's population depends on agriculture to survive. A lack of fertile land and erratic weather during different time periods created an unreliable source of sustainability. Current research shows that although Kenya is one of Africa's most developed countries — it is also one of the most populated with 43% of the population living there. Many of the children, live in dire poverty, and there is a current, devastating food crisis which is forcing families to migrate in search of food and water. The situation has been reported to be growing worse.
How to Help Children in Africa
I wanted to know what I could do to help the children and young families of Kenya. Because my interest is in community gardening I started to research ways of supporting farming families that could bring good nutritious fruits and vegetables to the children, and focus on immune building diets. I found an organization that may be a good first start. A call was made to Farm Africa at corporate headquarters in both Miami and Los Angeles. As a roll up your sleeves kind of gal, I hope to make continued contact with Human Resources. These individuals will provide information about various programs including volunteer food programs already in place.
Please email [email protected] or write to:
Farm Africa USA Inc
c/o Chapel & York Limited
155 E. 44th Street
6th Floor, Suite 34
New York, NY 10017
United States
Another program that I discovered is a project called Solidarites International. This organization offers humanitarian, water safety and health and survival programs to many countries of the world. One program involves offering canvas sacks to families in Nairobi Kenya and involves the families in planting programs. After 15 gallon sacks are filled with soil, vegetable seedlings are offered for planting on the surface of of the sacks. Aeration and drainage are accomplished by making small holes on the sides and bottom of the sacks. The sacks are prepared by members of the households, who have to find or buy a plastic bag at the markets. When the bags are prepped Solidarités community organizers give them the seedlings to plant.
On average, one single sack can be planted with 30–40 seedlings of kale or spinach and 20 tomato plants. The most appropriate crops for the bags are leafy vegetables like kale or spinach. Onions and tomatoes are also included. The families using these sacks are able to make a meal with the produce at least three times a week.
When a family has up to three sacks, they can generate a small income from the sale of the vegetables.
contact for further info:
Eunice Mwende, Solidarités (Kenya Office) Email: [email protected]
The Water Project, which is a 501c3 organization builds clean wells in selected areas of Africa.
https://thewaterproject.org/
They restore neglected wells, rain catchment tanks, protect springs and install sand dams where appropriate. Each community served has a different set of challenges including the climate, geology, and available resources.
The foundation's online outreach, carefully outlines and details the goals and educational processes for at least 20 current programs. As an example I have highlighted a program with very little funding requirements left before a well can be drilled.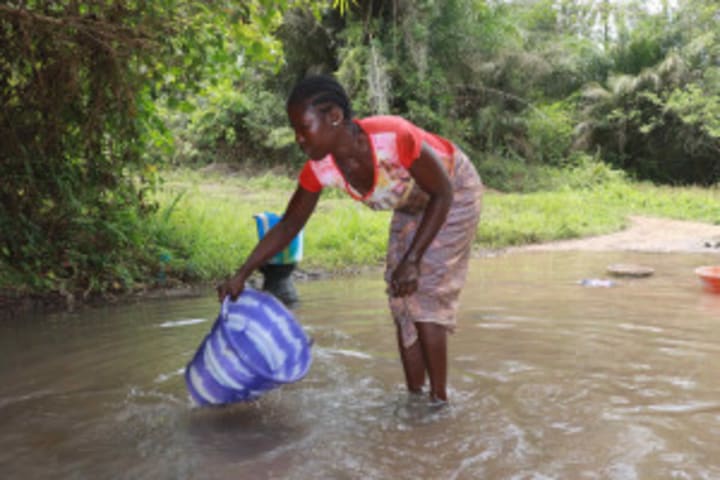 Choose Who to Help
Sumbuya Community
91% Raised
$1,525 still needed
Goal- Provide a borehole well and hand pump to help at least 230 people gain access to safe and reliable water
Planned for March, 2022
Deeper research allowed me to discover
Food For The Hungry
At this point in time I have made contact with some incredible media, finance personnel and volunteers for several organizations. Food For The Hungry has been an important connection for me because of commitment of everyone involved. Dr Larry Ward started the organization in 1971. He was a doctor that worked in development and when he saw children dying from poor medical attention and lack of good nutrition. He planted his feet on the parched earth and tirelessly built this non profit in 21 countries throughout the world. The communities are served through life-changing resources such as clean water, medical aid, food, equal educational opportunities to girls and boys, vocational training and empowerment in the midst of unimaginable. The underserved people around the world became part of his family and never left Africa once he began his life work. In a book entitled One At A Time published about Dr. Ward's history and work his persona is described.
He has a metabolism that has turned from thickset into paunchy. He can sing off-key, detests mice, suffers from loneliness when absent from his wife and children, can be angered by the tyranny of little minds or by an associate who dismisses a problem as insoluble, and fears taking credit for godsends.
He felt that making his life work a part of a mission for healing service to humanity could not be denied. He was both broken down and built up by his experiences. In his early time of reflection, he knew that the construct of kindness was not about words and language but by simply doing. In the 50 years since the organization began there are hundreds of programs that have been feeders reaching so many communities and children and families around the world.
In the online catalogue true stories are shared about families and children that are served. I felt the authenticity of the program and understood the educational process, counseling, hands on and provision of tools, shelter and medical help.
A young pregnant mother from South Sudan was a refugee. Although excited by her pregnancy she was living in extreme poverty in the Palabek Refugee Settlement in Uganda, and food insecurity was the monster. Many women, children, and families struggle to eat at all, including well-balanced diet. She found herself in a compromising situation because she didn't have the guidance or nutrition to maintain a healthy weight during pregnancy and became anemic. When FH stepped in they provided something called a cascade group where she was offered training for new mothers, women, and children in her community. A partnership with the United Nations World Food Programme (WFP), serves new mothers and children.
Included in the program is:
Supplementing key micro-nutrients, like iron, folic acid, and other prenatal vitamins for the pregnant mom
Routine Health care visits that focuses on nutrition during and after pregnancy
Donated vitamin rich foods to support a healthy pregnancy and offers food to her children
One of the key aspects of the education is to pass the valuable information to other women in refugee communities.
This valuable instruction as a combined support effort of prenatal care team, gave the mother all the tools she needed to bounce back to health for her and her baby. After just three weeks.
A Gift of Five Goats
A gift of the five goats sounds like it could be a title for a children's folk story. It's actually a true story and not uncommon to the work of Feed The Hungry in the way that they provide the most viable hands on tangible tools for thrival. The online website shares a story about Guduro, a single mom in Uganda whose husband left the family.
The story breaks through gender stereotypes in a community whose expectations are that sheepherding, or goat-herding, is a job for men. Guduro and her daughters have proven that they can do the task just as well.
In the beginning of the story, five goats were given to the family. The goats were raised as babies and bred for milk and meat. Guduro continued to breed the goats to herd status. They are now flourishing and are sold to the community for a family income. The whole family is learning that – as they work together to care for their livestock – they are rising out of poverty. Their joy increases with each new goat
HEADQUARTERS
Food for the Hungry
1224 E. Washington Street
Phoenix, AZ 85034-1102
T: 800.248.6437
T: 480.998.3100
F: 480.889.5401
Hours:
Monday – Friday
8am – 4pm Arizona Time
DONOR ENGAGEMENT
T: 1.866.307.3259
Hours:
Monday – Friday
7:30am – 4:30pm Arizona Time
Keera called me back after we talked on the phone, and she said that she would add to the list, and guide me through some of the ideas. After the last week of research, I decided to become involved with the two organizations that I have mentioned. It won't be enough for me to make a contribution. I know my style, and will be contacting seed companies, companies that manufacture equipment for harvesting, natural fertilizer and irrigation companies. What can I do as one individual? Probably enough to be part of a team to motivate at a corporate and citizen level. I get to be a kick ass again, and Kerra's phone conversation has woken me up from my slumber and was an answer to my prayers.
At the end of our conversation, she said in a very impassioned voice.
Please don't just dream about it, find your way, and follow through.
I heard you my dear friend, and I will, and I will.
About the Creator
I travel with a nap sack on my back to gather stories and sit in the circle of humanity.
Reader insights
Be the first to share your insights about this piece.
Add your insights