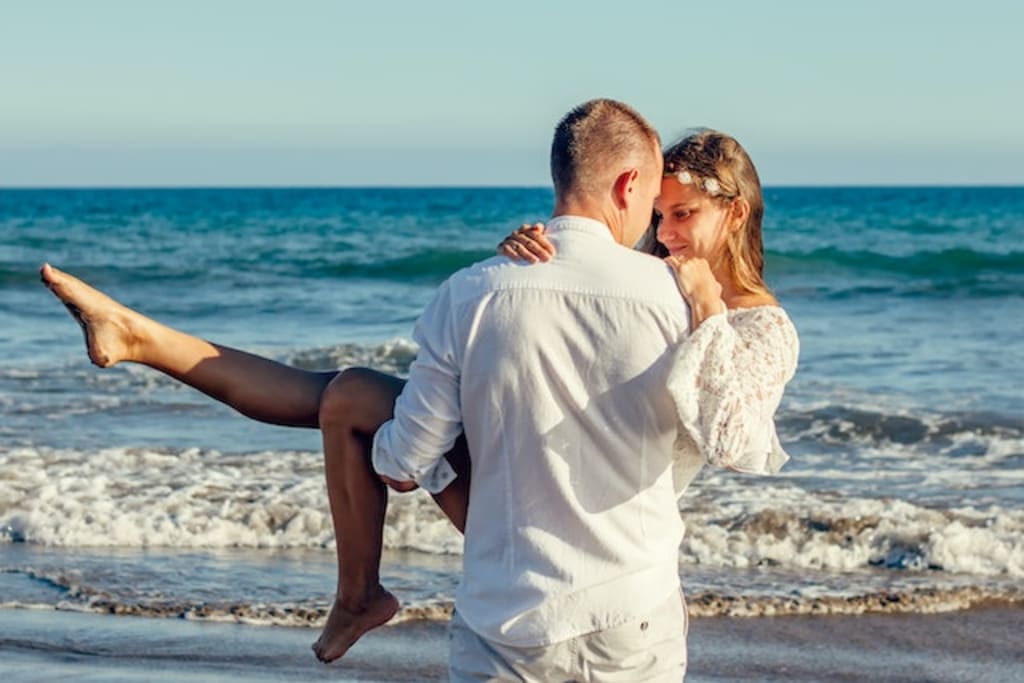 The Meeting
It was a typical Monday morning when Jenny first laid eyes on Jack. She had just moved to the city and started her new job as a graphic designer at a marketing firm. As she walked into the office, she saw a tall, handsome man with chiseled features and piercing blue eyes standing at the front desk.
Their eyes met and Jenny felt an electric charge pass through her. She couldn't tear her gaze away from him and felt her heart skip a beat. She quickly looked away, feeling embarrassed, and made her way to her desk.
As the day went on, Jenny couldn't stop thinking about the mysterious man. She kept glancing over at him, hoping to catch his eye again, but he seemed focused on his work.
The Date
A week later, Jenny was at the coffee shop down the street from her office when she saw Jack walk in. She couldn't believe her luck and quickly gathered up the courage to go talk to him.
"Hi," she said, approaching him. "I'm Jenny. I work at the marketing firm down the street."
"Hi, Jenny," he replied, his deep voice sending shivers down her spine. "I'm Jack. It's nice to meet you."
They chatted for a few minutes and Jenny found out that Jack was a writer. He had just moved to the city as well and was working on his first novel.
"I just started a new job too," Jenny said. "I'm a graphic designer."
"That's really cool," Jack said, his eyes lighting up. "I've always been fascinated by design. Maybe you could help me with my book cover sometime?"
Jenny's face lit up. "I'd love to!"
They exchanged numbers and made plans to meet up later that week.
The First Kiss
The date was everything Jenny had hoped it would be. They talked and laughed for hours, feeling like they had known each other for years. As the night drew to a close, Jack walked Jenny home and they stood outside her apartment building, looking into each other's eyes.
"I had a great time tonight," Jack said, his voice low and husky.
"Me too," Jenny replied, her heart racing.
Without another word, Jack leaned down and pressed his lips to hers. The kiss was soft and gentle at first, but quickly turned passionate. They stood there, lost in each other's embrace, until they were interrupted by the sound of a car horn.
"I should go," Jack said, reluctantly pulling away. "But I'll see you soon, okay?"
Jenny nodded, still feeling dazed by the kiss. She watched as Jack walked away, already looking forward to their next date.
The Love Story
Jenny and Jack saw each other every chance they got. They went on long walks through the city, had picnics in the park, and spent lazy Sunday mornings in bed. They were inseparable and it was clear to everyone that they were head over heels in love.
As the months passed, Jack's novel was published and became a bestseller. Jenny was so proud of him and loved seeing him chase his dreams. They talked about getting married and starting a family, and knew that they had found their happily ever after.
Looking back, Jenny couldn't believe how a chance encounter at the office had led to the love of her life. She was grateful every day for the moment their
The Wedding
Jenny and Jack's wedding was a small, intimate affair on a beautiful beach at sunset. They exchanged vows in front of a small group of close friends and family, promising to love and support each other for the rest of their lives.
As they danced their first dance as husband and wife, Jenny looked into Jack's eyes and felt a deep sense of joy and contentment. She had never been happier and knew that she had found her soulmate.
After the wedding, they honeymooned in a cozy cabin in the woods, spending long days exploring the beautiful surroundings and nights snuggled up by the fireplace. It was the perfect way to start their new life together.
The Future
Jenny and Jack returned from their honeymoon and settled into their new home, a charming old house with a white picket fence. They spent their days working on their respective careers and their nights cooking dinner and cuddled up on the couch.
They were blissfully happy and couldn't wait to see what the future held. They knew that they had found something special and were grateful for every moment they spent together.
As they looked into each other's eyes, they knew that their love story was just beginning and that they had a lifetime of happiness ahead of them.
About the Creator
Hello, i am carolyn. i am freelancer. I have a passion for writing stories. I write short stories, poems, mostly fiction.
Reader insights
Be the first to share your insights about this piece.
Add your insights