i love you.
a show and telling of my tattoo...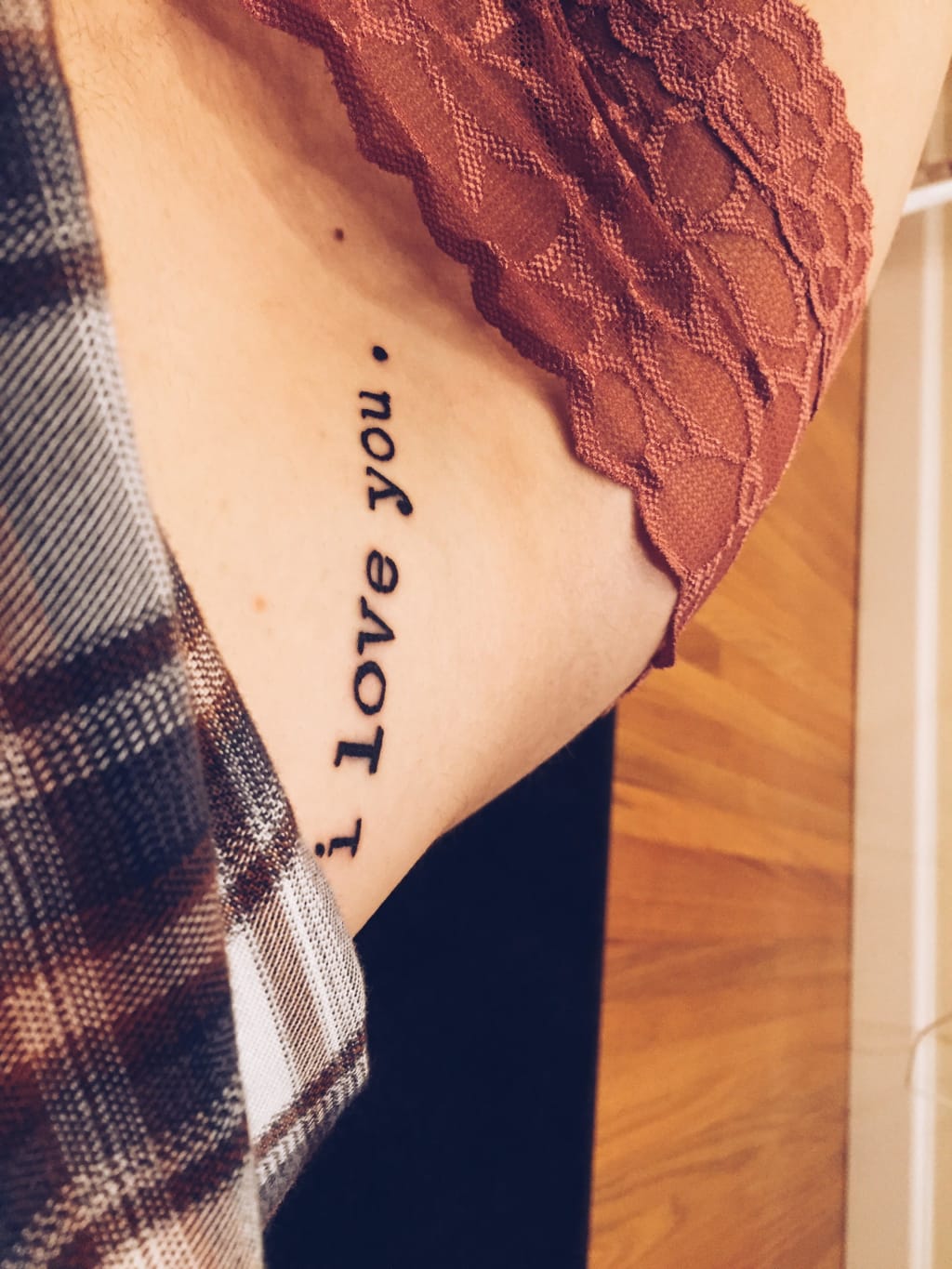 "i love you." three little words that once brought me such heaviness. who knew that such a simple phrase could carry such weight? if you knew me, you would see that i am quite the lover, but giving love to myself was such a foreign concept. i would constantly question where perfection was absent and dwell on where imperfection was present. my heart internalized every external force that came my way, my body taking every beating, as blame was projected onto its faulty view.
i remember running wildly, giggling freely with my partner in crime, braids swinging in the summer air, cheeks warm with the sweet heat of summer, playing the grass, swimming in the pool with a two piece, belly buttons out for the world to see, and smiles singing no apologies. i remember eating without thinking. eating without thinking. when hunger was never a victim to the vicious thoughts inside my head. one day that freedom began to dissipate...and as i sit here writing this, i realized that one day turned into weeks...months...years...twelve years of a battle i am finally beginning to conquer.
for the longest time, i had wanted a tattoo, but i never knew exactly what i wanted to get. but then, i knew. after relapsing from anorexia in my sophomore year of college, the inspiration for some ink was stronger than ever. at my weakest, my mind was strongest, which of course was both a good and bad thing. my soul latched on to the written word simply because alongside my body, my voice was starved of all sound. my poetry flourished during this time, and i found that the act of writing was transitioning into a form of healing and self-expression. it was the only way i could make sense of the torment i was feeling inside.
have you noticed that i have been writing in all lowercase letters? well, every poem i wrote was in lowercase letters, punctuation was rare, and i used this font that resembled that of an old typewriter (a reflection of my old soul). as many people who have or have gone through an eating disorder generally feel, i felt incredibly small. i wanted to hide, let alone disappear. being seen in any capacity was unnerving, fearing that when people looked at me, all they would see is the horror i saw every night in the mirror. that being said, i didn't want to do anything that would capitalize on my image, including my writing.
so, my tattoo resembles just that. in all lowercase letters, located just above my hip bone, spells out the phrase, "i love you." the visibility of my hipbones was a marker of my progress. if i could see bone through my thinning skin, i was on the path to perfection. when i returned home that summer for recovery, i had to accept that my body was about to take on a different shape and so having those words in that specific location, served as a reminder that i despite the new shape i was growing into, i was just as, if not more, radiant. more importantly, it empowered me to let that part of my body heal, the part of my body that i would physically hit so hard with hatred.
these three little words are not only an imprint on my skin, but a permanent imprint on my heart. i have accepted that my fight with anorexia will forever be a part of me, but with this written vow, i have promised myself to not let it define me. but what will define me is the love i have learned to now give myself first. my sun rises and my moon falls with these three little words. my three little words. and my three little words no longer carry the weight of my three little battles' burdens. they carry my newly discovered worth, my light, and a fourth and final chance to live again.
love
About the author
Hello, Soph here! My only hopes are to inspire my audiences, make hearts lighter, and to spread a little more magic through the written word.
Reader insights
Be the first to share your insights about this piece.
Add your insights