How an Idea of Buying a $500 Couch Snowballed into a $4000 Remodeling Adventure
A Widow's Heartwarming Memory
My grief counselor told me that someday, with the passage of time, I would look back and smile at many of the memories Sid and I made together during our 45-year loving marriage.
6 1/2 years after his death, I was still waiting for smiles to replace the heartbreaking pain I felt when I brought up those memories. Then I came across a story I had written about our den remodel. Recalling the humor of that event finally gave me the smile I had been waiting for. I have updated the story and edited it for you to read and enjoy:
It seemed like such a simple idea. Buy a new couch for the den. The old one was a hand-me-down that we had been using for 7 years; the springs were shot; it was so uncomfortable that no one could sit on it. Although within the previous 3 years, we had renovated and remodeled the kitchen, living room, and dining room, the den had not been touched in over 25 years.
How much could a new couch cost? We figured on spending about $500. Sid and I scoured the newspaper and came upon a sale at Jennifer Leather. Finance with us; buy now; no payments until next year. How could we resist?
Off we went to Jennifer Leather. It didn't take long for us to find a couch we both loved. It was a neutral tan color that would allow for easy accessorizing. It wasn't just a couch - it was a set - a couch with a matching chair and ottoman, for only $999. Our days of a den furnished with odds, ends, and family castoffs were about to end.
As we were approaching the service desk to finalize the purchase, Sid bumped into a contemporary reclining lounge chair and ottoman. He loved the modern style of it, so without looking at the price, he tried it out. His eyes lit up as he settled into its soft leather, and declared it the most comfortable chair he had ever sat in. Only then did we look at the tag. $600 was a LOT of money for a chair. Maybe not in 2021, but this was 2003. Trust me, it was a lot of money. This was a man who had always worked hard, 50-70 hours a week in the demanding retail business, so he deserved the relaxing chair of his dreams, didn't he? The salesman informed us that the chair would ship from Italy in 6-8 weeks.
$1800 later, which now included a den set AND a lounge chair, along with tax, insurance against all rips; cigarette burns; gouges; dog bites; and other misfortunes, we were on our way home, looking forward to the day our new furniture would arrive, and we could finally watch TV in comfort.
As we were riding home, another thought occurred to me. "You know, honey", I said, "I was thinking that since we have to call the Salvation Army to remove all the old stuff, which means the room will be empty, why don't we have it carpeted? That old hardwood floor is badly scratched up." Is it any wonder that whenever Sid heard me say, "I was thinking", his standard response was always, "How much is this going to cost me?"
Then I thought about the TV. Ours was only 19", and the new digital technology was so superior to what we had, that a new TV seemed a necessity. Since Sid was in the retail electronics business, I left those types of purchases up to him to handle. He knew exactly which latest, state-of-the-art, large screen model he wanted and was thrilled to buy it. More money added to this den tab.
As I trusted him with electronics, he trusted me to choose carpet, since he was color blind. I had to coordinate the removal of the old furniture; the installation of the carpet; and the delivery of the new furniture. If all went well, everything would occur in the proper sequence.
The first hint of trouble was when Sid brought home the new TV. As I mentioned, this was 2003, which was before today's lightweight, ultra-thin models were common. This TV weighed about 250 lbs.. It took two young, strong neighbors to help Sid bring it into the house and place it on the den floor.
I'm not assigning blame, but let's just consider the possibility that Sid measured incorrectly, which may have accounted for the inability of the 3 of them to fit this monstrous TV into our entertainment center. Removing the top of the entertainment unit did nothing to alleviate the problem.
The following weekend, we were at ANOTHER furniture store, this one named "Affordable Furniture to Go", picking out a new Entertainment Center. We found a gem. No open shelves where DVD boxes, CD's, and books could get jumbled up and fall out. All the compartments were hidden behind closed and secret doors. It also had more than enough room for our giant TV.
This spectacular unit was only $359. Well, that was the price if we took it home ourselves (the reason for the "TO GO" in the "Affordable Furniture to Go" name), in pieces, in 5 heavy boxes, and put it together ourselves. The $359 price tag also listed $60 for delivery and $90 for assembly. The last item Sid assembled himself was our gas barbecue grill. It took 12 hours and there were 4 pieces left over. With that fiasco fresh in our minds, we opted for delivery and assembly. $359 was now $509.
2 months and almost $3300 later, I was finally sitting on my comfortable new couch. Sid was sitting in the chair that came with the couch, with his feet resting on the matching ottoman, in our newly carpeted den, watching our large screen digital TV, which fit perfectly into our beautiful new entertainment center.
This bliss was interrupted by a phone call from the Jennifer Leather salesman informing us that there was a problem with the shipment of the Italian lounge chair, and the order had been canceled.
The unfortunate lounge chair cancellation necessitated another trip to another furniture store, resulting in Sid's discovery of the Stressless Brand lounge chairs. The superior workmanship and unparalleled comfort (even better than the ill-fated Italian one) of the chair could not be denied, but $1800 for a CHAIR? $1200 on sale. For ONE chair? Apparently, yes, and that is how my idea of buying a $500 couch cost us $4000.
A lovely, amusing memory to look back upon with a chuckle. 18 years and 6 moves later, most of that furniture is now gone, but I will never give up Sid's Stressless lounge chair: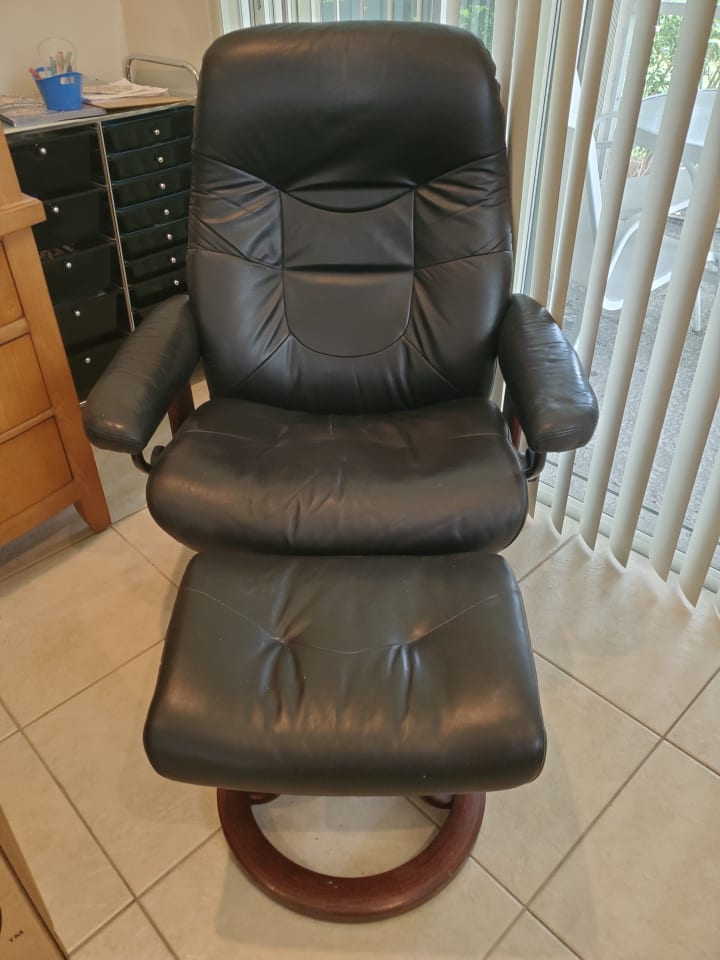 how to
Retired - Speech/language therapist, Special Education Asst, Substitute English teacher
Websites: www.thealzheimerspouse.com; talktimewithjoan.com
Whimsical essays, short stories -funny, serious, and thought-provoking
Weightloss Series