Dethroned
Two friends and one marigold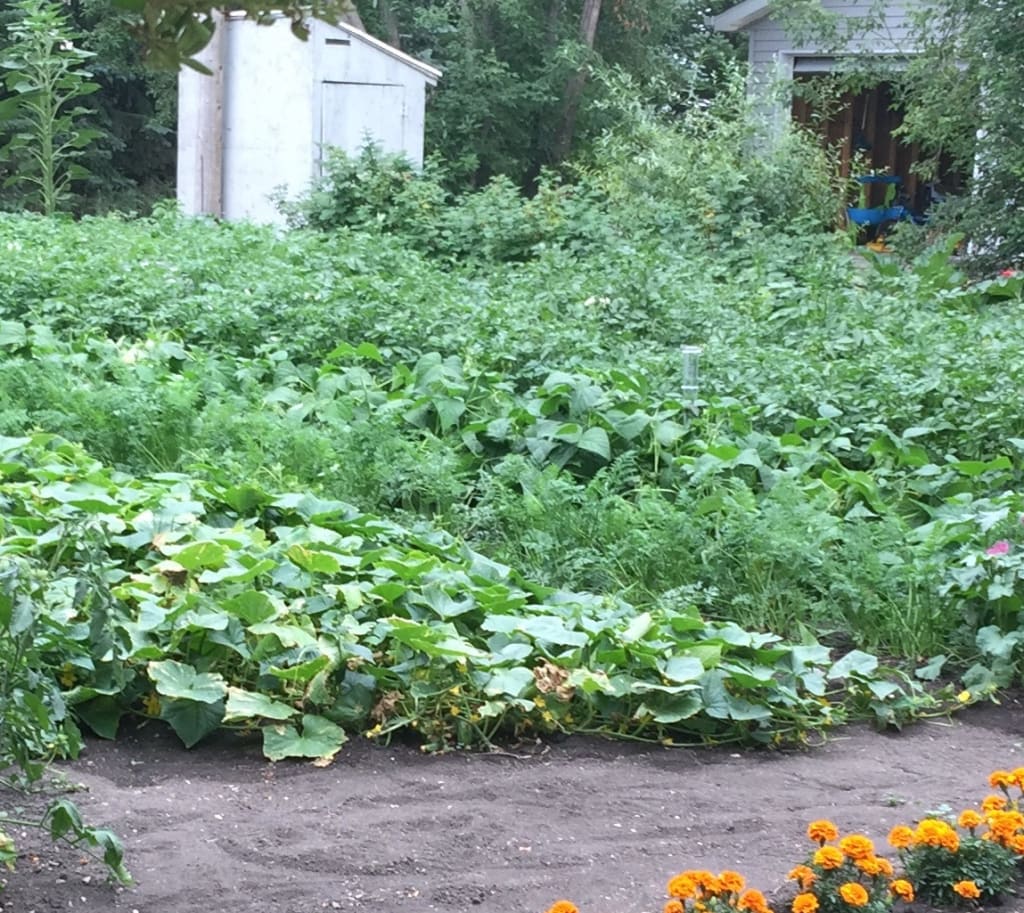 On the hilltop grew a marigold. It hadn't always been there and its existence was quite remarkable.
It began with a small, old women named Vira. Her skin was tanned and wrinkled but her eyes twinkled when she talked and she had a lively wit. She could tell you where to shove it and do it with such clever humor that you would feel compelled to thank her.
She had a large garden and a small yappy dog who barked day and night at anything and everything. Her dog's barking annoyed people but Vira didn't mind it one bit.
On one particular day, Vira left early for town pulling her pulling her hand cart. Her sturdy, round feet plodded along in old brown work boots. She had a red kerchief over her hair – red was her favorite color.
Today was an exceptionally beautiful day. The sun shone. The birds chirped. Vira's steps grew younger as she went along. She thought of her parents and how they had always made much of her. Vira's parents were not rich but they had enough. Vira had been their only child and had been lavished upon. She had been treated like a princess.
"Vira is so smart," they would say and, "Isn't she pretty." "She is such a darling girl," Unfortunately all this praise went to Vira's head and there were times she looked down her nose at others. She had stayed on the pedestal her parents had put her on and there was no room for someone else up there.
Vira was on her way to meet a childhood friend, Elsie, who she hadn't seen for fifty-two years.
When Vira saw Elsie her eyes tears up and she embraced her in a big hug.
"You've aged well," Elsie said.
"You like you're one hundred years old," Vera replied with a twinkle.
Elsie laughed and they started speaking Ukrainian together and talking about old times.
"How long can you stay?" Vira asked.
"I can stay for a month," Elsie replied.
"Do you think I can stand you for a whole month?" Vira said. Elsie's face fell until Vira started laughing. Vira said, "I'm happy to have you. Wish you could stay all year."
And so the visit began. There was lots of laughter but also some tense moments like when Vira said when they were in town one day and saw a passerby, "That man had hair like a donkey's bum. Doesn't he know his hair is awful? He should wear a hat."
"Vira, that is not a kind statement. What if people comment on your hair that way?" Elsie replied.
"There is nothing wrong with my hair," Vira sniffed haughtily and put her hand up to her hair neatly tied in the red kerchief.
"Who knows what people are saying behind your back?" Elsie continued, "Maybe they are snickering about your red kerchief."
"My red kerchief," Vira was visibly upset now. "This kerchief is top quality. I bet they wish they had one."
Vira's sarcasm and pride kept coming out and Elsie kept challenging her on it. It came to a head one day when Vira and Elsie were in the garden.
Vira said in her uppity tone of voice, "Red is the best color so I only grow red roses. Roses are the queen of the flowers so why bother with anything else?"
"No, no, no," Elsie replied. "You need to open your mind. All the flowers are lovely. Think of the marigold. Some find them commonplace and yet there have been many songs, poems and tales from our country written about marigolds."
"Harrumph," Vira answered. "Why would anyone write about a marigold? I'll take a rose any day."
"Roses are nice, Vira but they also have thorns and they are heavy feeders and can be a bit tricky to grow. Marigolds are easy care. Also, they are drought tolerant."
Vira stopped hoeing her cucumbers when Elsie mentioned that marigolds were drought tolerant.
The month flew by and soon Vira was saying goodbye to her old friend Elsie. She even teared up again which was unlike her. "Thanks for coming," Vira said.
"It was my pleasure," Elsie replied. "Now, you be nice to people, okay? I love you."
"I love you too," Vira replied.
Months later, Vira climbed up a hill in her yard with her hoe in one had and a package of marigold seed in the other. There was a spot at the top that was always dry and got lots of sun. She chipped out a little hole in the hard ground with her hoe and dropped in one marigold seed. "We'll see if you survive," she chuckled a bit harshly almost willing it to fail but there was also the slightest concession that maybe her friend Elsie had a point about marigolds.
Well, that marigold grew. It grew so well that it even survived the winter in a climate which made that just a little bit remarkable.
Vira grew too. She grew a little less caustic and a little more willing to listen to someone else's point of view.