Dad
... My First Great Love Story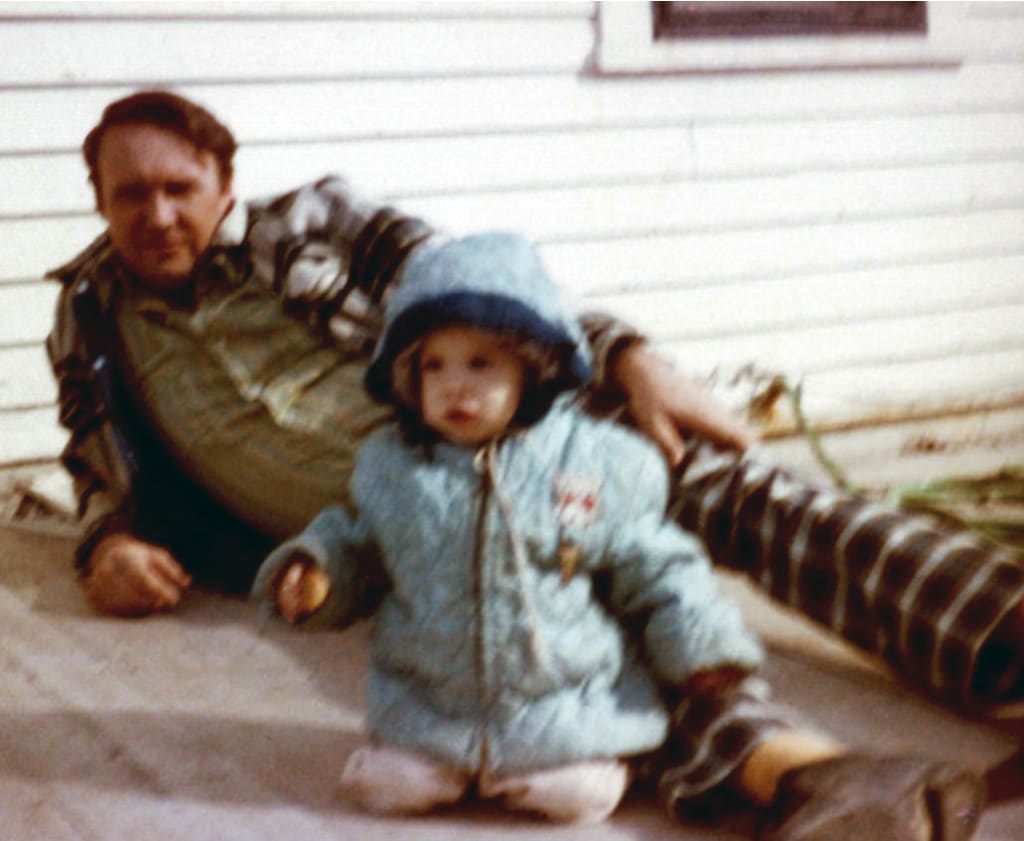 Me and My Dad - Family Photos
My dad died on Saturday while I sat next to him.
He wasn't supposed to go that day. None of us expected it to be so sudden.
He had gone downhill fast. A week before they had released him into the care of hospice, primarily so he could go home and hopefully finish his recovery. Ten days before, I had watched him walk up and down the hallway at rehab, seemingly gaining back his strength. Two weeks before, they let him out of the hospital and put him in rehab. Three weeks before they moved him out of ICU. Five weeks before, my mom called me, "Your dad has been acting strange since yesterday. I'm thinking of taking him to the emergency room."
I couldn't recognize him as we approached. He was so thin and gaunt. "Hi, Dad," I tried to sound normal. His eyes twitched as if they wanted to open. His breathing was consistent but there was a strange gurgling sound with every breath.
My dad was my first, great love. I came into this world with a great capacity to love which also meant I had a great capacity for pain. I was sensitive … Too sensitive. Too emotional. Too dramatic. And my dad was the primary object of my love. I had such a longing to be cared for and known by him when I was little.
He loved sports and athletics. I didn't really care about them, but I wanted to. I tried. My sister was the athletic one, she connected with dad there. All I had was me.
There's a home movie we have of Dad and my sister, Cheryl, using a kickball to learn to hit from a T-ball stand. She was probably five or six. In the middle of the movie, it pans over to me, sitting on the swing, playing by myself, uninterested in the game. Everyone always thought that was so cute. To me looking back on it, it felt lonely.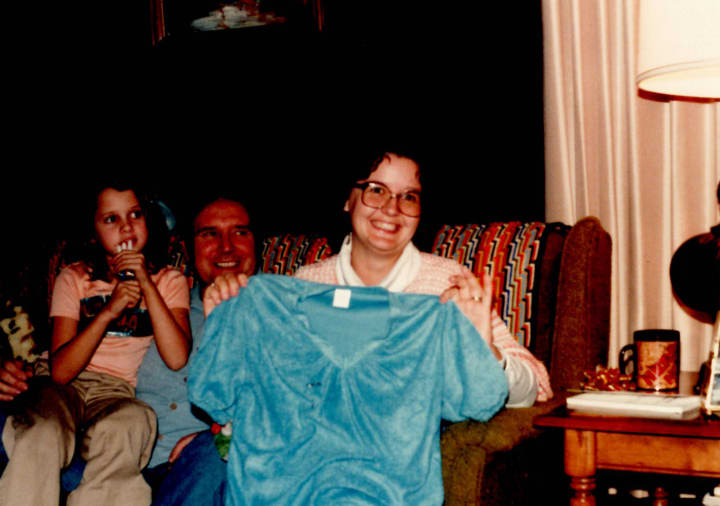 At some point in my life, I decided that I wasn't enough on my own. I started playing basketball and later volleyball in the hopes of connecting to him deeper. I wasn't great at either. I was short and I always stayed in Cheryl's athletic shadow.
Eventually, I reconciled the fact that my dad didn't love me the way I wanted him to. I forgave him and spent many years healing from having a dad who was distant, unengaged. I learned to accept that I would never know him or be known by him the way I had always wanted to. It was the great tragic love story in my life that drove the other tragic love stories in my life. Feeling like I wasn't enough but also, I was too much. Too needy. Too clingy. Feeling like letting the real Amy show up in any relationship would be met with disengagement, abandonment.
I sat by my Dad's side unsure of what to say or do. This man I felt like I barely knew was dying. I didn't care that they'd said two weeks. I could feel it in my soul. He was done. He was too strong to sit in suffering while death waited.
I got a text from a close friend who had no idea what was happening. "Nice job!!!" it said about some small thing I had done and forgotten about. I smiled, feeling seen and appreciated.
I leaned in, my hand resting on his clammy arm. "I love you, Daddy," I said hesitantly. Pausing, I could feel something pushing to come out of me as I began to cry. "You were a good dad," I whispered through my tears. That one simple statement. One that I had always known to be true — even in my pain — I knew he was a good dad. He took care of us. He provided for us. He loved us. My brain had known this … had never doubted it. But somehow, suddenly, there was a much deeper truth in that statement. In that moment, I knew my dad's love for me and I realized … I had known it before. There was a time when I did feel like enough, when I felt secure. I hadn't spent my childhood longing for love that I couldn't get from him. I had known it. Fully.
It was me who grew up and allowed hurt and insecurity to block that love. To block the memory of it. I stopped seeing it for what it was and could only see what I judged to be lacking in it. My dad wasn't good at communicating, but when I was little, he didn't need words. I knew.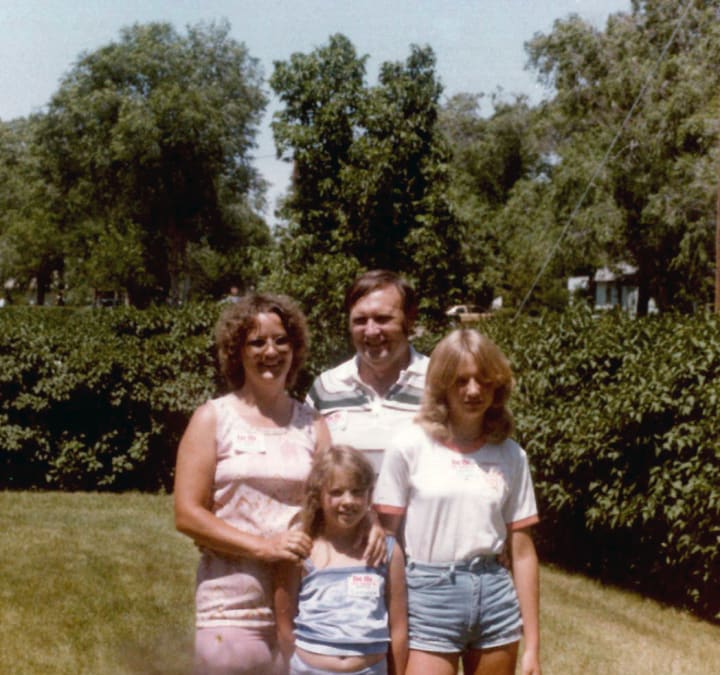 As I sat there, I felt the deep connection and love that ran between us. This was a love that had been known by my true self, the little girl who only knew how to show up one way … as me. Over the years, I forgot how to love that little girl. I forgot how to be that girl. I pushed her aside and withheld from her. It was me, not my dad, that didn't know how to love me.
I said more to my dad, while I sat there. I shared some memories with him and I cried. And then I called my older sister and told her she needed to come and I called my mom back into the room and I told her that he was dying. I knew it. I could feel it. He would stop breathing for long periods of time and then suddenly, he would suck in a breath.
The nurse came in and said, "That's normal, he's okay."
"No. He's dying." I told my mom when the nurse left.
She cried and said goodbye to him. I sat there as the final breath happened and the nurse finally came back. "I can't find a pulse. I'm sorry." She said.
But I already knew he was gone.
I think a part of me knew I would be there. Over the course of my life, I have had dreams of my dad's death multiple times. In each dream I'd watch him die and I'd wake up feeling panicked, scared, and helpless. The last dream I had was just over a year ago. In it, we were in a flood and I was trying so hard to hold him up out of the water. And then I just let go. He sank away from me and then came up out of the water swimming. I woke up excited and hopeful.
We call a love story that ends in death a tragedy. But a life that ends in love, that's a fairy tale … I think this story deserves a fairy tale ending …
… And they lived happily ever after.
About the Creator
I am on a journey of pursuing love fully and inviting others to join me.
I write to process what I've learned and share it in the hopes of inspiring others into this journey of experiencing real, true love for themselves.
Reader insights
Outstanding
Excellent work. Looking forward to reading more!
Top insights
Heartfelt and relatable

The story invoked strong personal emotions

Compelling and original writing

Creative use of language & vocab

Easy to read and follow

Well-structured & engaging content
Excellent storytelling

Original narrative & well developed characters

Masterful proofreading

Zero grammar & spelling mistakes

On-point and relevant

Writing reflected the title & theme
Add your insights